Talk turkey, make an evergreen wreath, go birding, try nature journaling, set out on an owl prowl, create herbal lip balm, and more at a wildlife sanctuary this weekend.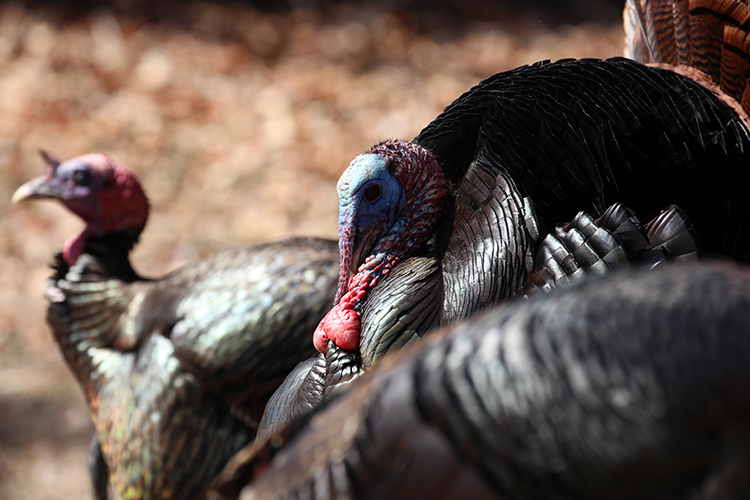 Central Massachusetts
Make a Holiday Evergreen Wreath at Wachusett Meadow in Princeton using greens, winterberry, seed pods, and ribbon—a perfect gift for the holiday season! (adults, registration required)
Connecticut River Valley
As part of Terrific Turkeys and Fall Harvest at Laughing Brook in Hampden, learn about wild turkeys, go for a hike, and look for evidence of these impressive birds, all the while scouting for autumn's woodland harvest.
More in the Connecticut River Valley
Berkshires
Relax into the beauty of the woods, waters, and trails of Pleasant Valley in Lenox while Nature Journaling. Guided writing and sketching deepens observations and expands creativity. (adults, registration required)
North Shore
During Birding for Beginners at Ipswich River in Topsfield find out how to choose the right binoculars and what to look for in a field guide. Then head out onto the sanctuary and learn what to look and listen for to help identify these beautiful creatures. (adults, registration required)
Go Birding in the Newburyport/Plum Island Area with Joppa Flats. Watch seabirds migrating, ducks as they feed and seek shelter, and a wide variety of land birds, which stop in the area to feed and rest before continuing their southward migration. (adults, registration required)
Greater Boston
As part of Afternoon Chores at Drumlin Farm in Lincoln, feed chickens and collect eggs, then bring hay to the sheep, goats, and cows. After finishing, we'll treat ourselves to a farm snack. (families, registration required)
Join in on an Owl Prowl Family Adventure at Broadmoor in Natick to learn about owl calls, behavior, and habitat as you search and listen for our resident screech, barred, and great horned owls. (families, registration required)
Learn how to Make Herbal Lib Balm at Boston Nature Center using herbal infused olive oil along with cocoa butter and natural beeswax. (adults, registration required)
During Fantastic Fossils at the Museum of American Bird Art in Canton, kids will listen to a story about dinosaurs and then go on a short nature hike to gather leaves and other natural materials to then imprint in pieces of air dry clay to make their own "fossils." (children, registration required)
Birders and non-birders of all ages and skill levels are invited to join Habitat in Belmont for a free HIP Morning Walk. (adults and children)
South of Boston
Get in the holiday spirit with Walkin' and Talkin' Turkey at Tidmarsh in Plymouth. Walk a former cranberry farm and learn all about the stars of many a Thanksgiving table, turkeys!  (adults and children ages 10+, registration required)
Oak Knoll in Attleboro is also Talkin' Turkey. Tell turkey facts from turkey myths and go on a hike to look for some on our trails. (adults and children, registration required)