Look for birds by day and owls by night, go on a nature walk, help maintain trails, practice yoga, and more at a wildlife sanctuary this weekend.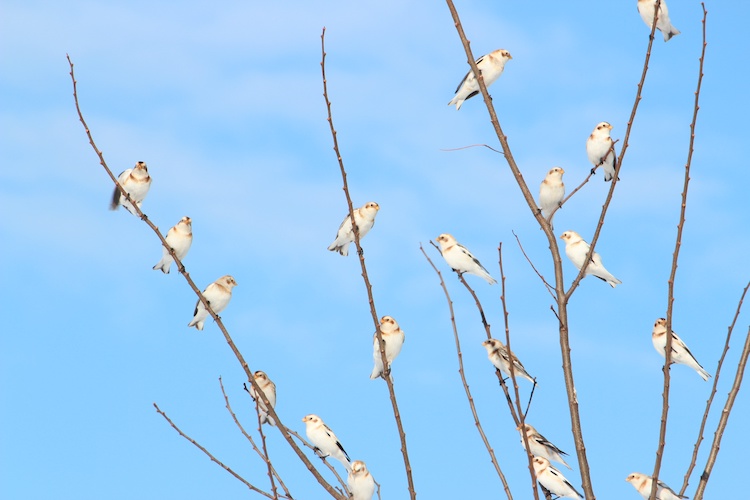 Greater Boston
Bring the whole family to Owl Prowl Adventures at Broadmoor in Natick. Under the moon and stars, learn about owl calls, behavior, and habitat as we search and listen for our resident screech, barred and great horned owls. (families, registration required)
Take a Winter Nature Walk at Boston Nature Center to explore the tracks left by nocturnal animals and spot birds in their wintering plumage. Learn about tracks, birds, winter animals and trees in winter. (families, registration required)
Help Habitat in Belmont out with some New Year Trail Tending. Bundle up and come pack down trails, look for wildlife tracks, or do some winter pruning.
North Shore
Go Saturday Morning Birding in the Newburyport/Plum Island, some of the best year-round birding locations in the country. Beginners and birders of all levels are welcome. (adults)
Head to Ipswich River in Topsfield for Sunday Morning Yoga. Soothe your mind, body, and soul with mindful breathing and meditation for a feeling of overall peace and well-being. (adults, registration required)
Central Massachusetts
Go on a New Year's Hike at Wachusett Meadow in Princeton to enjoy the fresh air, beautiful trails, good company, and some seasonal natural history along the way. (adults, registration required)
South of Boston
During Family Habitat Days at Oak Knoll in Attleboro look for interesting animals, plants, and see what has visited the sanctuary. (families, registration required)
Cape Cod
Explore the beaches, dunes, and waters of the Outer Cape during Birding the Winter Beaches. Search of winter birds including snow buntings, horned larks, sea ducks, loons, and snowy owls. (adults, registration required)