There's an old proverb that says great cities are filled with people who plant trees under whose shade they will never sit. On May 12, Mass Audubon and the City of Boston kicked off a program aimed at bringing that proverb to life.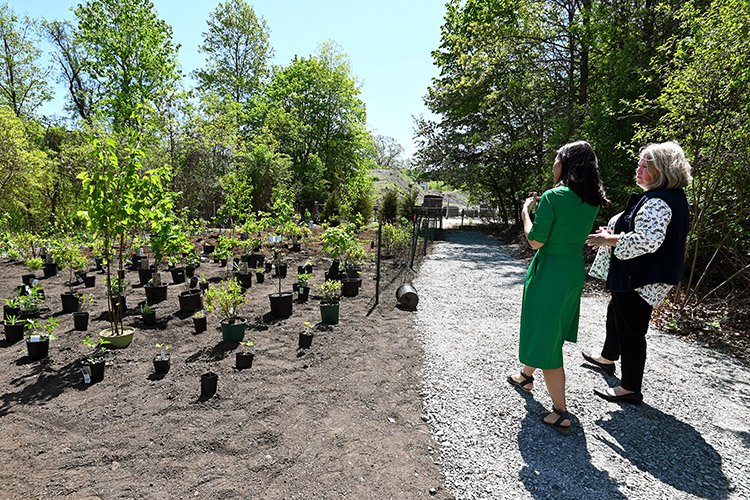 Mayor Michelle Wu joined Mass Audubon President David O'Neill and other guests at our Boston Nature Center & Wildlife Sanctuary in Mattapan to help plant a new microforest. Roughly 100 onlookers were serenaded at the event by the joyous shouts and giggles of children from Boston Nature Center's Pathways to Nature Preschool who were playing in the wildlife sanctuary's nearby woods.
The unusually warm 84-degree-day perfectly underscored the urgent need for more trees that help people breathe better, serve as a vital connection to the outdoors, and mitigate heat islands in the face of worsening climate change.
Forming the Alliance
Wu also announced that she has tapped Mass Audubon to bring together a group of nonprofits to plant hundreds of trees on privately owned land in Boston neighborhoods. This new Tree Alliance will bolster the city's tree canopy and give Boston residents more access to the physical and emotional benefits trees provide.
The Alliance follows the recommendations of Boston's first Urban Forest Plan (UFP), an assessment of Boston's urban forest, with suggestions to improve the way trees are cared for and ensure the urban forest is available to the entire community.  While Mass Audubon will convene the alliance of nonprofits undertaking this task, Mass Audubon President David O'Neill stressed the on-the-ground change will come from folks in the communities who most heavily bear the brunt of a lack of trees.
Planting the Microforest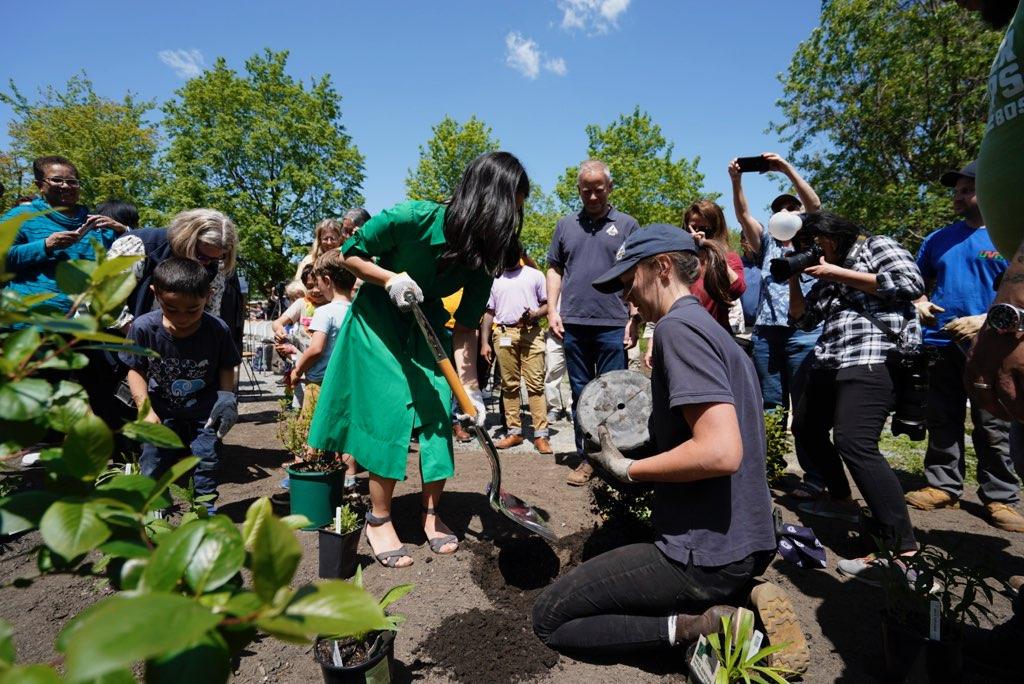 After Mayor Wu read her remarks in both English and Spanish, she and some of the preschoolers got down in the soil with Mass Audubon's Urban Ecologist Erica Holm to help plant one of the new microforest's trees.
With 96 trees and more than 200 shrubs and perennial plants of 33 species, the new microforest transformed an unused gravel roadway into a high-density planting inspired by the Miyawaki method. This will jump-start forest succession and re-establish a healthy pocket forest that mitigates urban heat island effects, supports biodiversity, and buffers against flooding and erosion.
Mass Audubon also gave five trees to city residents to plant on their own land.
Next Steps
Members of nonprofit organizations with interest in becoming a member of the Tree Alliance and private landowners in Boston who would like to inquire about potential tree plantings can email [email protected].
A kick-off meeting is anticipated for late summer/early fall. And, we are currently hiring an Alliance Coordinator, so please spread the word!