(Disclaimer: the post below includes a photo of a dead bald eagle)
Update 8/16/2021: A second rodenticide-related eagle death has now been documented by the state.
This week, Massachusetts passed a sad benchmark–the first documented case of a bald eagle death in the state from second-generation anticoagulant rodenticide (SGAR) poisoning.
Or, in clearer terms: rat poison.
Anticoagulant rodenticides kill rodents by preventing blood from clotting normally. But these poisons can have unintended victims when wildlife, like birds of prey, ingest them or eat prey that has consumed the bait.
Second-generation anticoagulant rodenticides (SGARs) can be especially problematic since they don't kill rodents immediately. Poisoned rodents can still live for a few days and consume more poisoned bait during that time, and the delay means they can ingest enough poison to kill a much larger animal.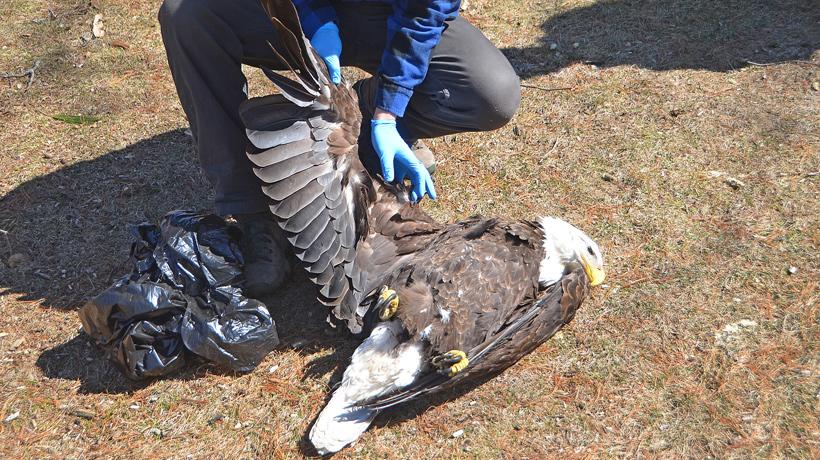 Aren't These Poisons Regulated?
Second-generation anticoagulants have been banned by the EPA from the consumer market, but licensed exterminators are still allowed to deploy them. Other rodenticides, called first-generation anticoagulant rodenticides and non-anticoagulant rodenticides, are still approved for residential consumer use if enclosed within a bait station.
While this was the first confirmed case of an eagle death in the state as a result of SGARs, the issue of birds of prey becoming the unintended victims of these poisons is a growing problem. Nearly every raptor species is vulnerable to rodenticide poisoning. For example, one recent study found that 100% of tested red-tailed hawks at Tufts Wildlife Clinic had been exposed to anticoagulant rodenticides. Secondary poisoning has also been documented in species like foxes, bobcats, and coyotes.
What's the Solution?
With rat populations on the rise, pest control measures continue to be necessary. But many poison-free options for preventing rodent problems exist. In addition to non-chemical traps, these include exclusion methods, like sealing up access points to buildings, and sanitation methods, like securing trash bins to reduce food sources.
If the situation necessitates hiring a pest control company, choosing one that uses Integrated Pest Management (IPM) can also make a big impact in reducing widespread pesticide use. IPM relies on a series of pest management evaluations, and its strategies can include trapping, sealing up entry holes in foundations, walls, and roofs, and removing or trimming vegetation that obscures the ground.
We also need laws to regulate the pesticides that do continue to be used. In California, legislation has passed prohibiting the use of SGARs until state agencies can reevaluate what long-term restrictions are needed to avoid impacts to nontarget wildlife. 
Here in Massachusetts, An Act relative to pesticides would better regulate the use of SGARs, in turn reducing their impacts on birds of prey and other wildlife. The bill would:
Increase use of IPM strategies in Massachusetts
Educate consumers about the benefits of IPM and impacts of SGARs
Require digitization of pesticide use forms, making them more accessible and searchable
You Can Help Stop Wildlife from Being Poisoned
Ask your state legislators to support An Act relative to pesticides today! By improving our approaches to pest management, we can reduce the need for rodenticides at their source and help our wildlife thrive.