Cruise, kayak, canoe, hike, and strike a yoga pose this weekend at a wildlife sanctuary. Here are just a few ways to enjoy the outdoors.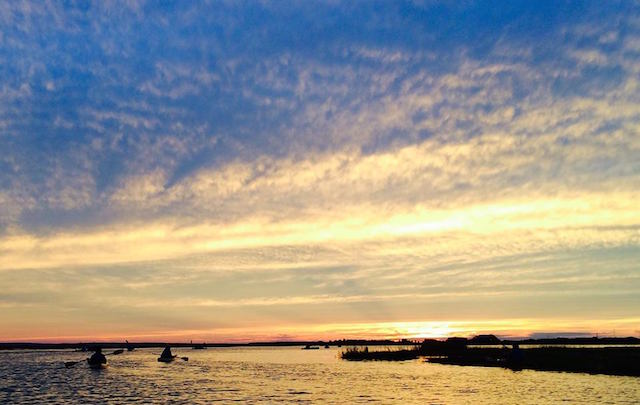 Cape Cod and the Islands
Check out four different habitats at Wellfleet Bay including the forest, freshwater, brackish water, and salt marsh in search of the tiny creatures that live there as part of Tiny Wonders. We'll use dip-nets, buckets, and magnifiers to get up-close looks. (families, registration required)
Explore Sampsons Island by Kayak with Long Pasture. As your kayak glides along, it is impossible to not be aware if the life that abounds in this protected area. Depending on the tide and conditions, part of the trip may include a tidal pool exploration that reveals different crustacean, mollusk and fish species. (adults, registration required)
Enjoy a breathtaking sunset Kayak Tour on Sengekontacket Pond. Relax, unwind, and appreciate the painted sky like never before while paddling the waters. As the sun sets, see the natural world come to a tranquil peace as you float and relish the view. (adults and children ages 11+, registration required)
July 4: Go on a Marine Discovery Tour of Vineyard Sound aboard The Skipper with a Felix Neck naturalist. We may tow a plankton net, use a scallop drag, and check lobster and fish traps for the diversity of crabs, fish and shellfish that live in the waters around the island. (adults and children ages 4+, registration required)
July 4: Discover the fascinating fish of Wellfleet Bay during Fish Printing.  Meet live fish to learn how these aquatic creatures are perfectly adapted for life underwater and then paint a fish replica with a beautiful array of colors to create a print on paper or a t-shirt to take home. (adults and children ages 2+, registration required)
July 4: Rise and shine with gentle Yoga at Long Pasture in Barnstable. Immerse yourself in a natural studio: breathing, stretching and yoga asana, all in sync with our surroundings. Beginners welcome. (adults, registration required)
South of Boston
Head to Allens Pond in South Dartmouth for Yoga at Stone Barn with nothing but the sounds of birds and nature serving as the backdrop to your practice. (adults)
Start your morning off right on the trails of Stony Brook in Norfolk learning about nature as part of Tiny Trekkers. There will be crafts, activities, and lots of laughter. (families, registration required)
Greater Boston
Curious about compost? Head to Boston Nature Center for a free Compost Pile Workshop and find out what you can do in your own backyard. (adults, registration required)
Be a Wildlife Detective at Boston Nature Center. Turn over logs to discover what is underneath, listen for a Baltimore orioles, search for praying mantises, and take a hike to investigate forests, wetlands, and meadows. (families, registration required)
North Shore
Drop in to Joppa Flats before the beach, after the beach, or instead of the beach to Meet Beach Creatures in a 110-gallon tide pool touch tank. Volunteers interpret the amazing animals you may or may not have seen on your own beach visits and answer all the "why, what, how" questions you want to know.
Central Massachusetts
Go on a Saturday Morning Bird Walk at Broad Meadow Brook in Worcester to discover the immense variety of birdlife that exists at this large urban sanctuary. We'll teach you the basics of birding and bird identification during an easy-to-moderate walk along the trails. (adults, registration required)
Enjoy a Moonlight Hike and Campfire at Wachusett Meadow in Princeton and get a chance to listen for owls or coyotes, catch a glimpse of beavers on the pond, and walk among lightening bugs in the meadows. After we hike we'll enjoy s'mores around the campfire. (families, registration required)

Connecticut River Valley
Look for Dragonflies and Damselflies by Canoe with Arcadia in Easthampton. Learn the differences between dragonflies and damselflies and how to identify each group then head outdoors in canoes for field experience. (adults, registration required)
More in the Connecticut River Valley
Taking Photos?
Be sure to enter the 2017 Photo Contest!