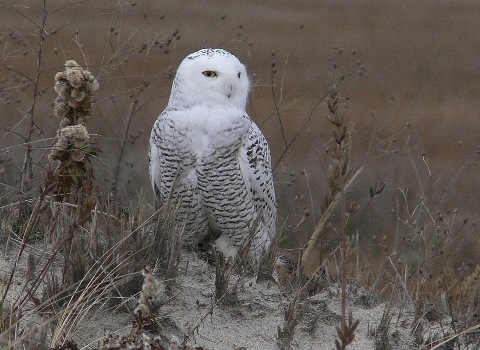 Snowy owl season has officially begun. So far, three of these "white terrors of the north" have been spotted in Massachusetts, including one that was banded by Mass Audubon's Norman Smith last year.
Will this year by anything like last year's invasion? Let's consider the facts.
A Look Back
The Cornell Lab of Ornithology has put last year's snowy owl event in excellent perspective. By December 5, 2011 snowy owls had been spotted in much of the northern half of the continental United States and as far south as Texas.
Here Massachusetts, they stuck mostly to the coast. Sightings came from Westport, New Bedford, Nantucket, Orleans, Duxbury Beach, and of course, Plum Island. One reporter even saw one in Central Massachusetts from atop Mt. Watatic.
But while the winter of 2011-2012 was the best recorded event of its kind, it was probably not as large as any number of historic flights. Just recent history shows that the 2008-2009 irruption was larger, when eBird input was at 44 percent of what it is today. In other words, fewer eyes reported more birds.
So, What About This Year?
Such irruptions happen every 3 to 6 years in the northeast, and, taking into account Christmas Bird Count data analyzed for the purposes of the State of the Birds report in 2011, it seems that the snowy owl population is currently holding in a stable position. Therefore, should we not expect another snowy owl invasion any time soon?
Well that gets down to the question of cause, which is currently unanswerable. It's hard to get a grasp on the drivers that force irruptions.
That said, we do have historic numbers to consider. In 2002-03, Christmas Bird Counters in Massachusetts found 28 snowy owls; the following year, they found 4. In 2008-09, it was 40 snowy owls. The following year, 7.  While the pattern does not always hold true, and there are variables to consider (i.e. the number of counters and the affectations of the weather on the counts), there does seem to generally be a drop off in the number of snowy owls in the state the year after an irruption.
Mass Audubon's Work with Snowy Owls
With questions still unanswered, one can see how important Blue Hills Trailside Museum Director Norman Smith's work on snowy owls at Logan Airport has been. Norman has captured and banded nearly 500 birds at Logan—saving them from the dangers of the runways—and has tracked 14 of them through satellite telemetry.
Every year we learn a little more about these fascinating birds; perhaps someday we'll find the key to the secrets of their unexpected mass visitations to the state.
Have you seen a snowy owl this year or in year's past? Tell us about it in the comments. Interested in learning more? Join us for an upcoming program on snowy owls.
Photo copyright Richard Johnson