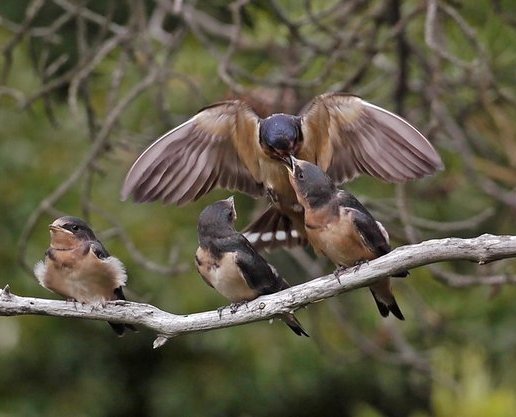 Every spring and summer, swallows grace our skies with their aerial acrobatics, diving to catch insects in mid-flight. Yet, Mass Audubon's 2011 State of the Birds report had troubling news: cliff swallows are rapidly declining and in need of urgent conservation action while barn swallows are showing the initial signs of wide-ranging decline.
The reasons for these declines are currently unknown (though we have our suspicions). One thing is clear: we need to unravel the mystery to help these agile birds, and fast! That's where you come in.
How You Can Help
Here's what we know about the swallow situation:
Barn swallows and cliff swallows rely on man-made structures to place their nests. Barns, bridges, and overpasses are all likely spots.
Many of these locations are disappearing from the Massachusetts landscape.
The ones that are still standing are also favored by the house sparrow, a non-native, aggressive bird that readily kick swallows out of their nests and destroys colonies.
In order to figure out how these factors are at play, as well as other issues like climate change and toxic chemicals, we need to learn more about how swallows are making their living in Massachusetts. Enter the Big Barn Study.
From now until July 8, we're asking willing volunteers to visit at least one potential barn swallow or cliff swallow nesting location three times. You don't need to know in advance if barn swallows or cliff swallows are present (in fact, it is better that you don't). Then report what you find (or don't find). It's as easy as that.
Learn more about the project, including how to identify barn swallows and cliff swallows as well as house sparrows, at our Big Barn Study site. Thank you in advance for helping to keep our skies full of dancing, bug-eating swallows.
Photo, barn swallows © Richard Johnson