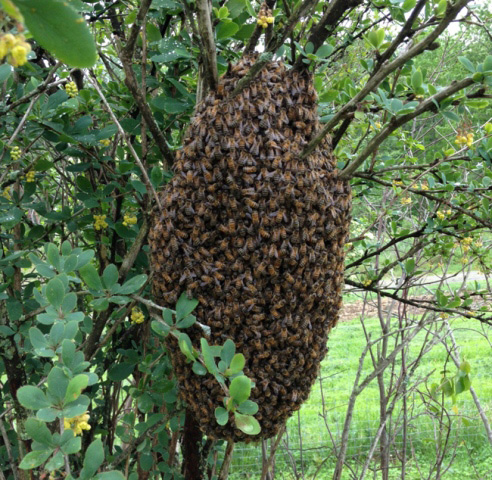 You may have seen the photo of a swarm of honey bees on a car in Dorchester back in early May and wondered what was going on. The short story: the bees were looking for a new home.
But why did they need a new home and what should you do if you are lucky enough to observe a swarm? Matthew Smith, Mass Audubon's Web Developer and hobby beekeeper, explains.
Why Bees Swarm
Honey bee swarms are a natural part of spring. Honey bee colonies that survive the winter begin to lay eggs and expand their colonies in early spring. By May, a strong hive could be overflowing with bees with hundreds more hatching each day.
At the same time, just-bloomed flowers provide bees with nectar and pollen, which is collected and brought back to the hive. It doesn't take long for a productive colony to outgrow its hive.
Bees start swarm preparations by starting to raise a few new queens. When the first of the new queens is about to emerge from her cell, the bees fill their stomachs with honey from the hive. The old queen and about half the bees fly out of the hive in what looks like a chaotic tornado of bees. The queen lands, usually in a tree, and the rest of the bees cluster quietly around her.
There they remain, usually in a volleyball-sized cluster, for a day or two while scout bees go out and look for new digs. The bees left in the hive will hatch a new queen and continue at the old location. If the swarm finds a new home safely, the colony has successfully split in two.
You See a Swarm, Now What?
Bees in a swarm are usually docile, if left undisturbed. In general, you can observe them from a good distance remaining very quiet. If a swarm is in the way, like it was in Dorchester, it's usually easy to find a beekeeper willing to come and get them. Beekeepers can give the bees a home and start a new colony with the swarm. The Massachusetts Beekeepers Association maintains a list of local bee clubs.
Learn More About Bees
Several Mass Audubon wildlife sanctuaries have observation hives during the warm months including Blue Hills Trailside Museum in Milton, Long Pasture in Barnstable, and Stony Brook in Norfolk. Call in advance to ensure the hives are on display.
On Friday, June 21, Boston Nature Center in Mattapan is hosting a free screening of the documentary Queen of the Sun: What are the Bees Telling Us?,  which takes an in-depth look at the global bee crisis.
Beyond Mass Audubon, this Sunday marks the 3rd annual Tour de Hives, a day-long adventure where you visit different hives around Boston by bike.
Have you even seen a bee swarm? If so, tell us about it in the comments!