UPDATE 3/23/20: As It brings us great sadness to inform you that, to support the stay-at-home advisory given by Governor Baker, we will be closing all of Mass Audubon's wildlife sanctuaries and trails to any visitation as of noon on Tuesday, March 24, until further notice. Please visit massaudubon.org/covid19 for more details.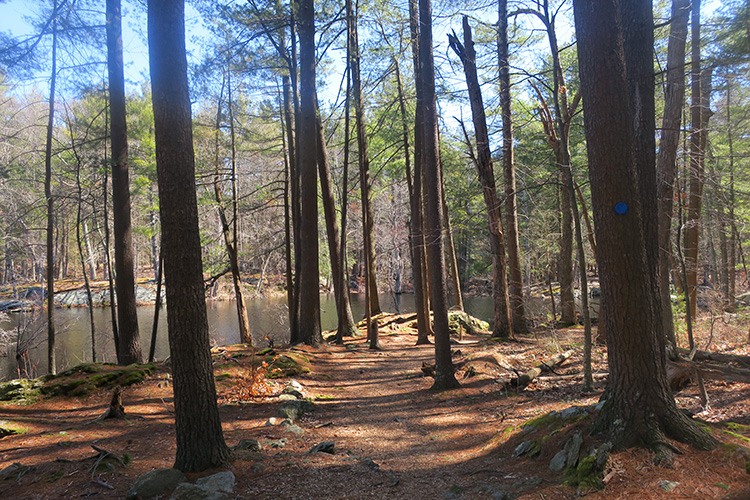 If ever there was a need for the benefits of being outside, it is now. Study after study has shown that being outdoors can do wonders for our health and well-being.
And while our buildings have temporarily shut-down, our 38,000 acres of protected land is there for you to explore.
Visit a favorite trail, or try a new one. While you're there, take a deep breath, slow down, listen to the sounds around you, seek out signs of spring, and share what you see on our Facebook page or tag us on Instagram.
We may have to socially distance ourselves in person, but we can continue to be a strong community online.
Need some inspiration on where to visit?
A few important notes if you do plan on visiting:
If you see others there, remember to socially distance yourselves and do not gather in large groups.
If we feel a sanctuary is getting so much visitation that socially distancing becomes challenging, we may need to close the sanctuary.
To prevent the spread of COVID-19, there will be no bathrooms available.
For your safety, please do not play in the Nature Play Areas.
See additional guidelines for the safety of people and wildlife.
Mass Audubon relies on memberships and admission fees to maintain our property and provide education programs. During this difficult time, we have opted to open our trails free to everyone. If you would like make a donation, you can designate your gift to the sanctuary you visited.
Be sure to keep visiting our blog, where we will be sharing more ways to engage with nature over the coming weeks. Until then, stay well and get outside.