Nature surrounds us and supports us, whether a large forest a few miles away or a street tree right in front of your home. The nature around you provides a number of services that help us withstand the impacts of climate change. So nature based solutions, like protecting existing natural areas and restoring damaged habitats, are key to solving climate change.
But it's important we remember that cities also have an abundance of nature, which means we can use these nature based solutions in every Massachusetts community. Let's explore a few examples.
Boston Food Forest and Boston Nature Center, Boston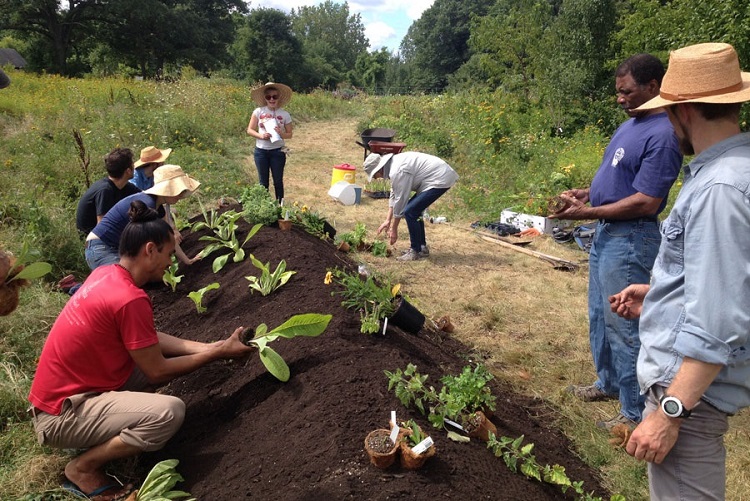 The Boston Food Forest Coalition (BFFC) is working with neighbors across the city of Boston to build a network of community-based edible gardens. Urban farms can offer pollinator habitat while boosting local access to green space and mitigating extreme heat felt in cities. Mass Audubon's Boston Nature Center & Wildlife Sanctuary is home to the first flagship food forest demonstration site, which provides access to healthy food reflective of the surrounding community's preferences.
Bridgewater State University Green Parking Lot, Bridgewater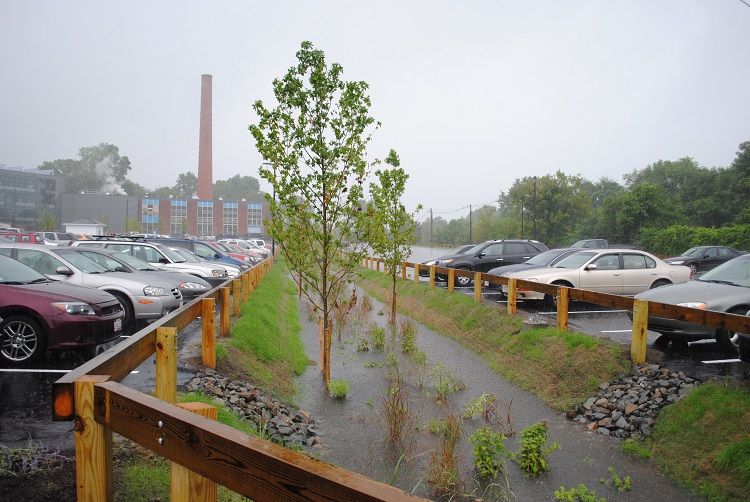 When Bridgewater State University needed to upgrade the parking lot for its Marshall Conant Science and Math Building, they worked with the Horsley Witten Group to incorporate a little bit of nature by planting vegetation in trenches between the parking rows. The design accommodated more parking spaces. It also created bioretention trenches that catch and store stormwater runoff from the parking lot, filtering it before it soaks into the ground. 
Alewife Stormwater Wetland, Cambridge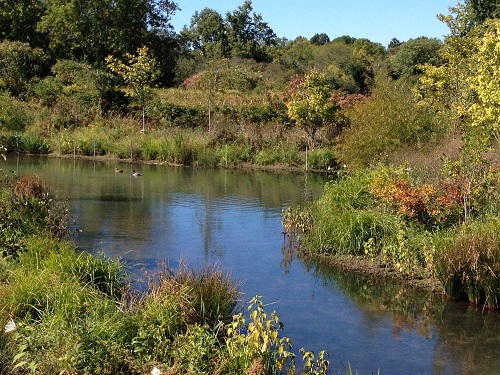 The City of Cambridge and partners restored the degraded banks of Alewife Brook with engineered stormwater wetlands that manage the surrounding community's stormwater and flows into the brook. Enhanced walking trails in the public park provide overlooks of the wetland, which is hard at work absorbing stormwater and filtering out pollutants.
Broad Meadow Brook Wildlife Sanctuary Rain Garden, Worcester
Impervious surfaces like roads, driveways, and buildings prevent rainfall from soaking into the ground, creating stormwater. Rain gardens, like the one at Mass Audubon's Broad Meadow Brook Wildlife Sanctuary, help to manage our stormwater problem. A rain garden is very intentionally designed to capture water and return it to the ground. The rain garden at Broad Meadow Brook purifies runoff from the parking lot and provides native pollinator habitat.
What You Can Do in Your City
You can help restore and protect the nature in your city. See whether your community participates in the state's Municipal Vulnerability Preparedness program. If they do, remind them that Action Grants can support land protection, and if they don't, urge them to join. And to take action in your own yard, check out ways to restore native habitat on lawns.
– Danica Warns, Climate Resilience Coordinator