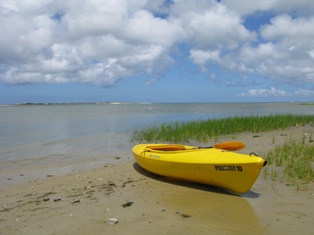 With temperatures on the rise and plenty of daylight hours, summer is a spectacular time to be outdoors (despite today's washout!). There are so many great things you can see—birds, butterflies, dragonflies, wildflowers… the list goes on!
Outdoor adventures can be as varied as what you might see while you're exploring. Duck into shady woods for some relief from direct sunlight and take a nature walk, or a more vigorous hike if you're looking for a longer, more physical activity.
For those who prefer to be out on the water during the hot summer days, kayaking or canoeing can be a great way to enjoy sunshine while staying cool. Or, take to the water by night during an evening canoe trip with Broadmoor in Natick or Wellfleet Bay on the Cape—a perfect ending to a summer day and you'll be able to see some wild nightlife.
Not much of a paddler? Joppa Flats Education Center is hosting cruises all summer long that will get you out on water looking for seabirds and marine mammals (that's right— whale watching!). Long Pasture and Wellfleet Bay also offer cruises throughout the summer off the Cape.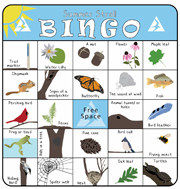 By land, you can go on an insect safari with Pleasant Valley in Lenox, join free weekly programs in Worcester, or take a nature walk with the Connecticut River Valley Sanctuaries at the Hawley Bog on July 8th—a great place to see blooming orchids and native insectivorous plants. Or just visit any of our wildlife sanctuaries and bring along our Summer Walk Nature Bingo cards for a fun way to take in the scenery.
Check out our website for a full list of our programs or our Summer Vacation Guide for ideas. We hope to see you around our sanctuaries soon…just don't forget to bring your hat, sunscreen, and some water!
Text by Emma Evans