Bird-a-thon is nothing new to Michael Pappone. As an active participant since 1995, Michael has a long-standing love of Mass Audubon's largest annual fundraiser. Here, he shares why he participates, how he started birding, his plan for birding at home, and what bird he would be, if he could be a bird.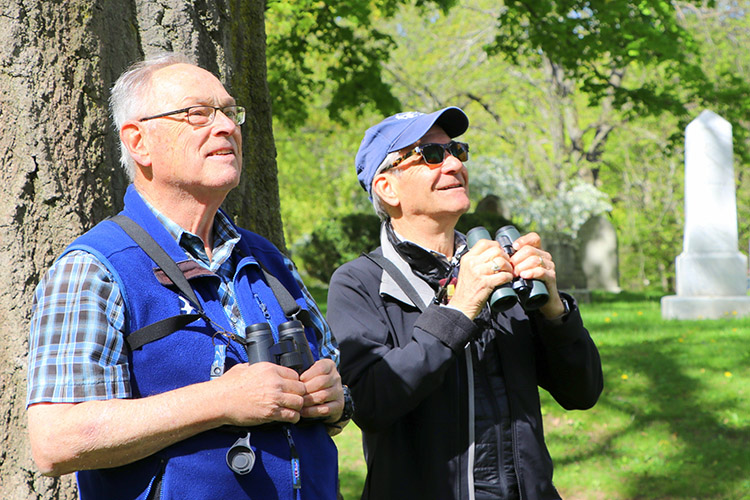 Why Bird-a-thon
The birds have been telling us for years about the challenges we face in protecting the environment for all living things. Bird-a-thon provides the ideal bully pulpit to take the urgency of our conservation work to all our friends and family who care about nature.
An Introduction to Birding
I was first introduced to birding as a boy growing up in South Dakota, right in the middle of the Central Flyway. My family grew up in a hunting culture. As my dad cleaned the game, Ring-necked Pheasants and waterfowl in particular, I would sit on my dad's knee and learn Bird Anatomy 101. My brother and I were fascinated by the iridescence of the Mallard's feathers and the inner workings of the wings.
Birding eventually became a way to bring a more systematic focus to my love of nature. It provided an impetus to see more birds and understand what makes each one special. It's been a fantastic way to connect with nature lovers across the continent who have become lifelong friends.
Elevating My Birding Game
I credit Wayne Petersen, Mass Audubon's Director of Massachusetts Important Bird Areas, and Jeff Collins, Mass Audubon's Director of Conservation Science, for deepening my knowledge of birds.
Birding with experts like Wayne and Jeff allowed me to learn the stories behind the birds and deepen my appreciation for the intricacies of birding. And to take it a step further, I completed Mass Audubon's Birder's Certificate Program at Joppa Flats.
Most Exciting Bird Sighting
My most exciting species sighting so far was of a Harpy Eagle. When scanning the Ecuadorian rain forest from a canopy tower proved unsuccessful, I eventually saw a Harpy, feeding her young no less, in Peru. With birding, you savor the special sweetness when patience is rewarded.
Bird-at-home-a-thon Strategy
By no means do you have to travel far and wide to have a good time birding. With the stay-at-home advisory, I have become even more familiar with my neighborhood and its many habitats. My Bird-a-thon day strategy will cover pine and hemlock woods, mixed deciduous, open meadows, vernal ponds, and another pond that has a heron rookery.
My Bird Spirit Animal
If I could be any bird, it would be a Barred Owl! I would fly noiselessly, avoid Great Horned Owls, and keep pesky Eastern Screech Owls off my hunting grounds. I'd give the resident Wood Ducks due respect, and bask in the chorus of the Wood Frogs and the Peepers down in the pool every spring. I'd delight the neighborhood with daytime sightings in plain view and help the nearby Cooper's Hawks keep the chipmunk population from getting out of control.
Feeling Inspired?
It's not too late to join a team, raise money, or both! Find out how at massaudubon.org/birdathon.
Thank you to our 2020 Bird-a-thon Sponsors!



Hostess Catering
Metlife
Michael Pappone serves as a member of Mass Audubon's Board of Directors.