Bird-a-thon, which took place May 14-15, was a great time to get outside to bird and enjoy nature. About 1,000 participants trekked out across their state, or stayed close home, to spot bird species, search for items on our 125th anniversary scavenger hunt, and/or complete nature activities like drawing a picture of a bird and playing nature bingo.
The weather was amazing, the birding spectacular (including sightings of a Tropical Kingbird, Swallow-tailed Kite, White-faced Ibis, Pacific Loon, Yellow-headed Blackbird, Sandhill Crane, Thick-billed Murre, Red-headed Woodpecker, Summer Tanager, and Prothonotary Warbler), and the fact that we could bird safely together again made moods soar.
Check out some favorite social shares, scroll down for results, and show our sponsors some love!
Social Shares
It's a Waiting Game
"Chimney Swift" Sees a Baltimore Oriole
Inclusive Birding
Nature Activity Fun
Follow the Leader
Crushing the Scavenger Hunt
Creating Bird Art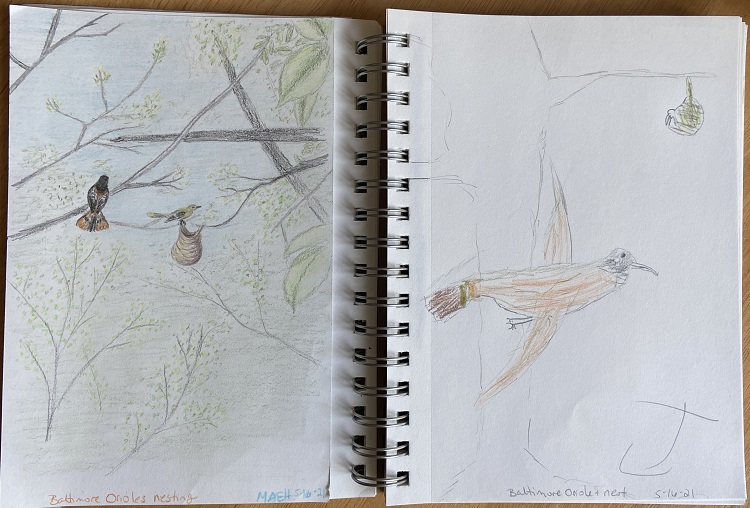 View more photos in the online photo gallery. Feel free to add your own Bird-a-thon pictures as well, and please be sure to include your name in the file name so we know who to credit.
The Results
Our 13 teams recorded an impressive combined total of 274 bird species in Massachusetts. Great job! We've finished tallying the species and activity lists and are excited to announce the winners of the 2021 Bird-a-thon birding and points awards.
Congratulations to our winning teams!
Brewster Cup (most species recorded statewide)
Team Metro South with 245 species
Forbush Award (2nd place in species recorded statewide)
Team Metro West with 238 species
County Cup (highest percentage of county par value)
Team West (Berkshire County, 146/142, 103%)
Sitting Duck Award (most species recorded while staying within a 25-foot circle)
Team West with 110 species
Eagle Eye Award (highest average number of activity points)
Team Cape Cod with 60 activity points
Mighty Migrant Award (highest average number of species points)
Team Central with 100 species points
It's Not Too Late to Get Involved
The birding may be over, but fundraising is open through Friday, June 11! So far we've raised over $270,000 to support nature education, land and wildlife stewardship, and so much more. We can't thank you enough for your generous support.
Thank you to our 2021 Sponsors!
Lead Sponsor

Media Sponsor

Supporting Sponsor: ZEISS
Community Sponsor: River Valley Co-op