Back in 1896, it was the passion and persistence of two Boston women who launched the modern-day conservation movement. When Harriet Hemenway and Minna Hall founded Mass Audubon to stop the killing of birds for fashion, they left a lasting impact on the environment and served as an inspiration for future generations.
To honor their intrepid spirit, Mass Audubon has created the Hemenway + Hall Wildlife Conservation Award. This honor, which will be awarded annually, recognizes excellence in wildlife conservation and celebrates an individual or organization whose research and related ecological management successes have amply demonstrated and provided a significant and lasting wildlife conservation benefit.
The inaugural recipient of the Hemenway + Hall Wildlife Conservation Award goes to Carolyn Mostello, a coastal waterbird biologist in MassWildlife's Natural Heritage and Endangered Species Program (NHESP).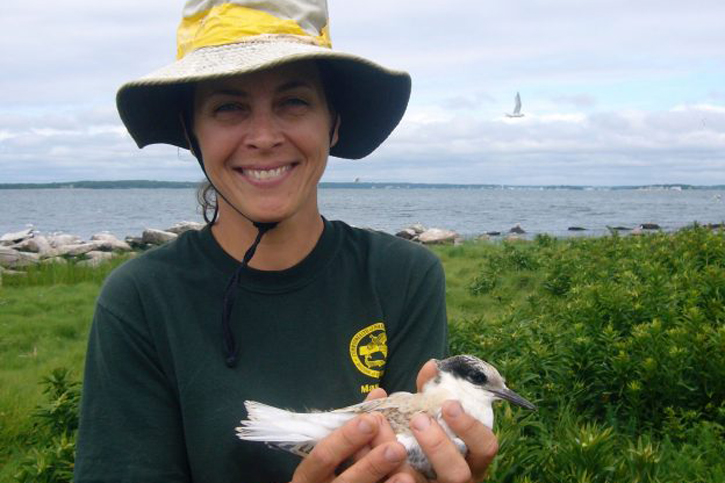 Carolyn has devoted her career to restoring and protecting the populations of, most notably, federally endangered Roseate Terns, as well as those of Common Terns, American Oystercatchers, Common Eiders, and various other island nesting species off the coast of Massachusetts.
Most recently Carolyn oversaw the restoration of Bird Island in Buzzards Bay. Rising sea level and erosion of the original seawall on the island turned the beaches into salt marsh and salt pannes. Common terns, who nested on the beach, were forced to move inland, displacing endangered Roseate Terns.
Working with the town of Marion and colleagues in other private, state, and federal agencies, as well as the U.S. Army Corps of Engineers, Carolyn and her team restored nesting habitat for both bird species by raising the elevation of the island, removing invasive plants, planting native ones, and protecting the island from additional erosion by rebuilding the seawall.
Carolyn Mostello's work on these islands has been critical to the persistence of the North American Roseate Tern population. Due to her work and the work of others, Roseate Tern numbers at the Buzzards Bay sites have increased by 37% over the past eight years.
Mass Audubon President Gary Clayton, who will make the award presentation at the Birders Meeting on March 11, notes that Carolyn's important efforts on behalf of coastal waterbirds align with the legacy of the organization's founding mothers.
"Carolyn personifies excellence in wildlife conservation every day as she demonstrates her commitment to the biodiversity of the Bay State," Gary said. "She has not only shown success in protecting endangered and threatened bird species, but has served as an inspirational role model for others to take up this crucial work. Thus she is a perfect choice to be the first honoree of the Hemenway + Hall Wildlife Conservation Award."
Slide to See Bird Island Before and After