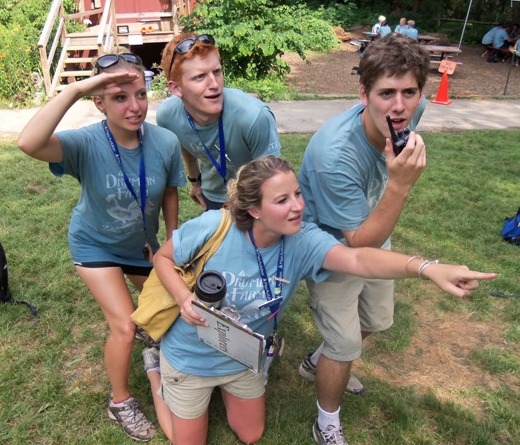 Amanda Zoellner, who works at Wildwood, Mass Audubon's overnight camp in Rindge, New Hampshire, sheds light on the importance of a summer camp being accredited by the American Camp Association.
What do camp directors do in the winter? Most Mass Audubon camp directors coordinate and teach other sanctuary programs during the school year, but they also spend significant time preparing for the upcoming camp season—including maintaining their camps' American Camp Association (ACA) accreditation.
All 18 Mass Audubon summer camps are ACA-accredited (that includes day camps and our overnight camp, Wildwood). Accreditation helps our camps reach a higher level, beyond the minimums required by state licensing. Accredited camps uphold up to 300 standards for camp operation, program quality, and the health and safety of campers and staff. For a large organization like Mass Audubon, the standards help ensure consistency among our diverse camps—each has unique attributes, but all adhere to the same standards.

ACA accreditation is a valuable tool to assist camp directors in thinking critically about our programs, continually refining our policies and procedures to ensure smooth, safe operations, as well as quality camp experiences for campers and staff. The ACA standards are updated regularly as the best practices for camp operations evolve, and camp directors are guided by the standards as they plan programs for the upcoming summer, hire staff, and participate in professional development.
Every three years, each accredited camp hosts an accreditation visit. After reviewing the camp's written materials before the summer begins, a team of ACA-trained visitors spends a day at camp to observe the program in action. A camp's accreditation visit is an exciting day for camp staff and for its ACA visitors. The visitors verify that the camp is upholding its standards and following appropriate policies and procedures, but it's also a welcome opportunity for our camp staff to introduce others to the programs we are proud of, and to learn from our peers in the camp professional community.
I've volunteered as an ACA accreditation visitor since I was trained in 2007 and have visited several camps each summer since. Several other Mass Audubon camp professionals are also trained as visitors, and we agree that accreditation is a worthwhile process, for visitors as well as for the camps being visited. I have never visited a camp without learning about something I can take back to my own camp—and when you love camp like I do, it's just plain fun to see other camps! When it's my camp's turn to have an ACA visit, I am always proud to share the programs at my camp.
Learn more online about ACA accreditation, or speak with the camp director at your nearest Mass Audubon wildlife sanctuary!