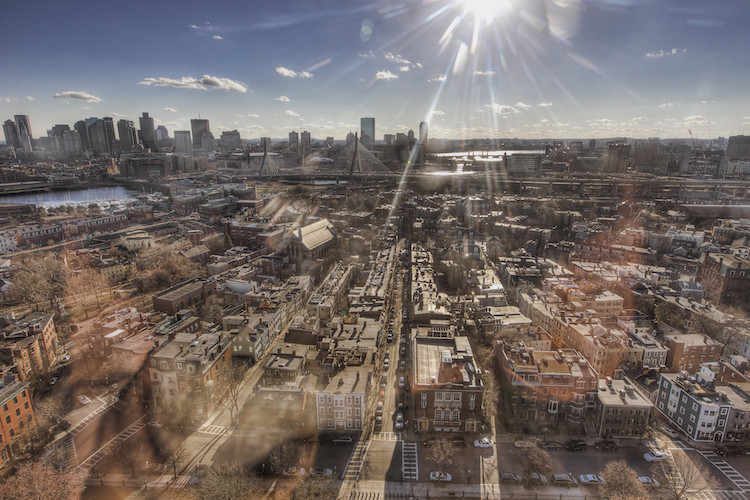 There is a good chance you know someone who lives in a city or you live in one yourself.
According to the United Nations, 55% of the world lives in cities and by 2050 that number will change to an estimated 68% of the world population. People throughout our planet are increasingly moving from rural to urban centers, making for larger cities with greater population density than ever before.
Everything from our coastlines to the health of people who live and work in cities is vulnerable to impacts of climate change. As global temperatures continue to rise, our urban infrastructure and residents will become even more at risk.
While so many people in one place means more environmental stressors, more people also leads to greater people power to create green solutions. Here's a look at some challenges cities face and solutions that are making a difference.
Rising Temperatures
Temperatures are rising and cities are feeling that heat to a higher degree then their rural counterparts. Why? Look no further then the Urban Heat Island Effect for the answer.
Dark objects like asphalt, sidewalks, and rooftops absorb a lot of heat, which in return raises surface temperature. These types of objects cause the city to "become its own heat island," which traps hot air from naturally circulating out long after the sun has gone down.
During very hot summer days, consumers require more electricity to cool their homes, particularly in hot, urban areas that lack nature to keep them cool. During "peak hours" when electric demand is highest, the state's energy grid operators are forced to use additional dirty fossil fuels in an effort to meet the extra demand. These "peaker plants" are generally the dirtiest and most expensive energy sources, charging for oil and gas at extremely high rates
Through programs like Greening the Gateway Cities, the state is working to reduce the Urban Heat Island Effect by increasing tree canopy cover in urban residential Gateway Cities. The tree canopy reflects heat that would otherwise cause residents to use more electricity to cool down their homes.
Coastal Storms & Flooding
In Massachusetts, 85% of residents live within 50 miles of the coastline, which means most Massachusetts residents are at risk of flooding from rising sea levels and powerful storms driven by climate change.
New England's largest city, Boston, is located right on the coast. In response to the powerful Nor'easters like the ones in March 2018 becoming more common, Boston has developed the Resilient Boston Harbor Plan. This goal of this plan is to protect neighborhoods from sea level rise and flooding.
High Energy Footprint
As hubs for people to live and work, as well as large drivers of economic activity, cities tend to require more energy to function. According to C40 Cities, a network of the world's megacities committed to addressing climate change, cities consume two-thirds of the world's energy, accounting for more than 70% of global CO2 emissions but only occupy 2% of the world's landmass.
Despite these large energy footprints, cities have also shown great leadership on energy reduction goals. Earlier this year, Boston announced an ambitious goal to be 100% carbon free by 2050. The Carbon Free Boston Report outlines the strategies necessary to achieve this goal including:
Deepening energy efficiency while reducing demand
Shifting to an all electric system that does not source its energy from fossil fuels
Purchasing 100% clean energy
Good News for Massachusetts Cities
Massachusetts is considered a national leader in addressing the threat of climate change and proactively preparing for its impacts. The State is providing support for cities and towns in Massachusetts to begin the process of planning for climate change resiliency and implementing priority projects to protect people, infrastructure, and the environment through the Municipal Vulnerability Preparedness Program (MVP).
You Can Lead the Way, Whether You Live in a City or Not
We know that change starts at the local level, which means each of us must use our voices to ensure our cities are taking action to reduce their greenhouse gas emissions and prepare for the current and future impacts of climate change.
This change can start at your own home as long as you have the right information. We can usually predict when peak events will occur a few days in advance, so if we plan accordingly, consumers can reduce their reliance on the dirtiest and most expensive power generators. The Green Energy Consumers Alliance issues "Shave the Peak" alerts that will remind you to use less electricity when it matters most.
Sign up for "Shave the Peak" alerts to help clean up the New England power system and advocate for forward-thinking policies that can transform our electric grid.
— Post by Adonis Logan