Looking for a way to get out and give back? Consider lending a hand at one of our wildlife sanctuaries.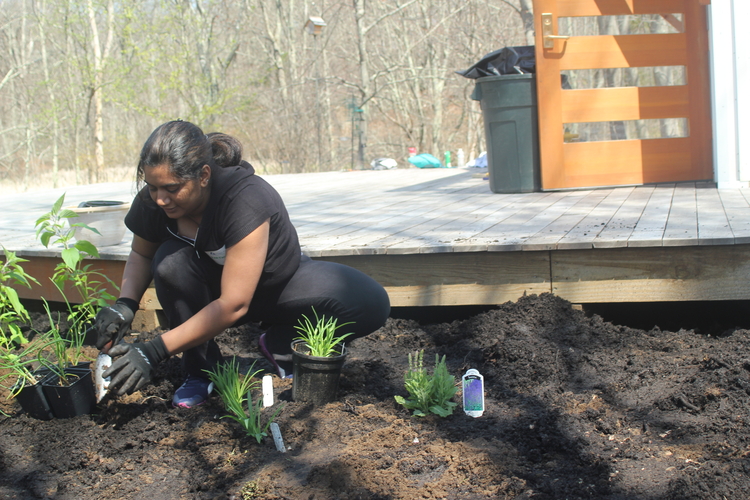 West
June 11: Water Chestnut Removal by Canoe with Arcadia Wildlife Sanctuary in Easthampton
Water chestnut is an invasive plant that wreaks havoc on native plant and animal life, chokes out waterways, and interferes with recreation. Enjoy a beautiful day on the water pulling water chestnut and helping to preserve the habitat of this vulnerable waterway. This project was made possible through our cooperation with the Connecticut River Conservancy. Registration is required. This event was rescheduled from June 4 to June 11.
Metro South
June 19: Volunteer Work Day at Museum of American Bird Art in Canton
Work alongside staff with seasonal tidying all around this beautiful 120-acre wildlife sanctuary, just 15 miles south of Boston. Registration is required.
North Shore
June 26 and July 12: Pepperweed Pull in the Newburyport Area
Help keep this invasive plant from taking over the edge of the Great Marsh and learn about our additional efforts to steward this important area. Registration is required.
Metro West
Garden Volunteering at Habitat Education Center in Belmont
Give staff a hand with chores in our beautiful formal gardens and our Community Garden. Projects include planting, pruning, weeding, watering, fence clearing, mowing, and compost management.
Habitat Restoration at Drumlin Farm in Lincoln
Help improve habitat quality for native species; learn about plant ID and restoration techniques; and spend time outside.
South East
Trail Stewards at Tidmarsh in Plymouth
Walk the trails at Tidmarsh on a regular basis, taking notes about seasonal changes, reporting changes to the property including potentially hazardous or unpleasant trail conditions (storm damage, trash, tracks), and more.
Trail Blazers at Allens Pond in South Dartmouth
Blaze new trails and construct trail features along 9 miles of trails, helping to preserve the ecological integrity of areas in and around the sanctuary. Examples of projects include trail maintenance, boardwalk construction, removing invasive plants, burning brush piles, or planting native plants.
Trail Stewards at Oak Knoll and Attleboro Springs in Attleboro
Walk trails or boundaries weekly on Oak Knoll or Attleboro Springs Wildlife Sanctuaries and identify management problems (such as trash deposits, tracks of motorized vehicles, damage to natural assets); identify animal and plant species; observe and document seasonal changes (make field notes, and if possible photographs or drawings); and assist in routine maintenance of trails.
Central
Weekly Volunteering at Broad Meadow Brook in Worcester
Every Wednesday morning and the 1st Saturday of every month help care for the sanctuary and enjoy a few hours of fresh air, fun and fulfillment. Help put up signs and markers, look for wildlife tracks, pick up branches, fill the bird feeders, and more.
Islands
Weekly Volunteer Work Days and Butterfly Garden Clean Ups at Felix Neck Wildlife Sanctuary in Edgartown
Every Thursday morning you can help with projects, gardening, hiking trails, or other needed work around the Sanctuary. And Thursday afternoons, work alongside knowledgeable garden volunteers and learn about which plants provide food for Island butterflies and birds.