Over the years, we've had all sorts of people volunteer with us—scouts, corporate groups, schools, families, etc. But on Tuesday, October 16, we officially added a new group to our roster: professional football players!
As part of the New England Patriots Celebrate Volunteerism campaign, three Patriots players (Zoltan Mesko, Ryan Mallett, and Danny Aiken) joined our regular volunteers from HMEA (an organization committed to working with people with developmental disabilities) at Stony Brook Wildlife Sanctuary in Norfolk. The task at hand: spreading wood chips at the future site of Stony Brook's new Nature Play Area. The project is especially meaningful to Dan White, of Wrentham Boy Scout Troop 131, who is leading the charge of creating the play area as a way to earn Eagle Scout status.
The crew was able to accomplish a tremendous amount during the 45-minute work session. In between hauling and raking wood chips, there was plenty of time for laughs and a chance to learn more about Mass Audubon. Mesko was especially enthralled with all that the organization is doing in the realm of solar power, emphasizing how important it is to be proactive in conservation. "Mass Audubon is an organization that is leading the way."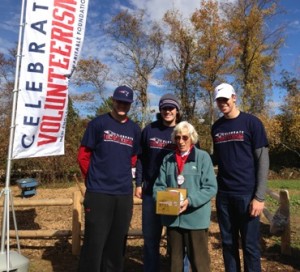 The day was capped off with the Patriots announcing their "Difference Maker of the Week" —our very own Ruth Connaughton, a 15-year Wellfleet Bay volunteer. Among the many volunteer 'hats' Ruth has worn are Trail Naturalist, Front Desk Greeter, and Nature Center Docent. As a former teacher, she is a natural interacting with visitors of all ages two afternoons a week, and she shares their excitement as they discover the natural world around them—one bird, fish, plant, fiddler crab, or turtle at a time.
Ruth says, "Seeing the enthusiasm and excitement of our visitors is the reason I love what I'm doing." It is volunteers like Ruth that make the Wellfleet Bay a favorite destination for residents and visitors to the Outer Cape.
We were so honored to be selected by the New England Patriots to spread the word about volunteerism and grateful for the players hard work. We hope to see them again soon! Go Patriots!