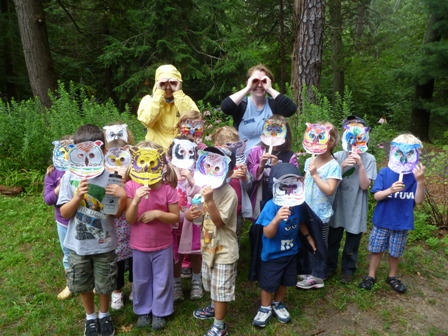 When you choose a summer camp for your child, we know there's no shortage of options. We also know that as parents, you're always looking to provide your kids with the best possible experiences.
Perhaps we're a bit biased, but we think our camps are the bee's knees, the snake's hips, the kipper's knickers, monkey's eyebrows, oyster's earrings* … you get the drift.
Just why do Mass Audubon summer camps rock? In brief:
We're everywhere! We currently have 17 American Camp Association-accredited day camps from the Cape to the Berkshires, plus Wildwood, our accredited overnight camp in Rindge, New Hampshire.
Kids come home dirty, tired, happy, and hydrated every day they're at camp.
We're flexible. Our camps typically offer 1- and 2-week sessions, plus before and after care, allowing our sessions to work with many summertime schedules.
Our campers develop a bond with nature that lasts a lifetime.
Kids build confidence, whether your child is safely completing a challenge course 30 feet up in the trees at Wildwood, learning to identify a red eft, or making new friends in new social situations.
No two sessions are alike. Our camps have organized activities but leave plenty of room for personal exploration and group decisions.
Kids sing, explore, dance, paint, get dirty, and discover that the world is literally at their fingertips.
After camp, parents and families learn a great deal about nature from their very own family nature-guide.
We give families the opportunity to partake in the fun with Family Camp at Wildwood.
Kids flex their science, math, social studies, and language arts muscles without even realizing it.
Did we mention that kids get dirty?
Camps help Mass Audubon advance our mission at a local and statewide level to protect the nature of Massachusetts for future generations to enjoy.
Don't just believe us, take it from a camper: "The most awesome camp anyone could ever go to. No offense other camps. Fun counselors, awesome games, cool nature."
Are you a Mass Audubon camper or parent of a camper (past or present)? Tell us what one thing you learned or took away from your Mass Audubon camp experience.
Ready to sign up? Don't delay as spaces are filling up.
* We just love all of the nonsensical wildlife inspired catchphrases used in the 1920s to indicate something excellent.