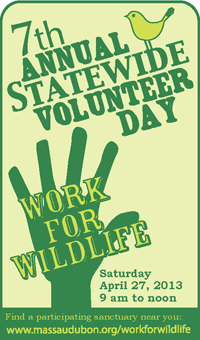 Connect with nature and have fun while helping one of 15 wildlife sanctuaries around the state spruce up and get ready for spring during our Statewide Volunteer Day. No special skills required—just a desire to make a difference while having fun.
Here are just a few good reasons to join us on Saturday, April 27, from 9 am to noon.
Working for wildlife is worthwhile.
Last year more than 750 volunteers helped us restore trails, prepare garden beds for spring planting, haul brush, battle invasive species, pick up trash, build raised garden beds, and plant trees. Projects this year include spreading wood chips on the trails, sprucing up the scarecrows, pruning shrubs and orchard trees, clearing an area for turtle nests, staining picnic tables, spring cleaning, and more.
It's not all work, though!
Volunteers of all ages participate in a variety of engaging educational programs, nature walks, and other fun activities provided by the sanctuaries. Last year's volunteers went on a hayride, met a great horned owl up close, toured our "green building" facilities, were led on guided nature walks, and observed a bald eagle catching a fish.
Work up an appetite!
Snacks are provided and volunteers are encouraged to bring a picnic lunch and spend time exploring the sanctuary property after the work is done. Last year, several sanctuaries sliced up pizza, grilled hot dogs and veggie burgers, and hosted a BBQ for their volunteers.
Learn more about this year's projects and register online. Invite your family and friends to come along and see what a difference one morning can make for the wildlife of Massachusetts.
Participating Sanctuaries
Berkshires
Canoe Meadows, Pittsfield
Cape Cod and the Islands
Felix Neck, Edgartown
Long Pasture, Barnstable
Wellfleet Bay, Wellfleet
Connecticut River Valley
Graves Farm, Williamsburg
Laughing Brook, Hampden
Greater Boston
Blue Hills Trailside Museum, Milton
Boston Nature Center, Mattapan
Drumlin Farm, Lincoln (almost full)
Habitat, Belmont (almost full)
North of Boston
Ipswich River, Topsfield (full)
South of Boston
Allens Pond, Dartmouth
Moose Hill, Sharon
North River – South Shore, Marshfield
Oak Knoll, Attleboro