When you're in the business of protecting land as we are, we're often sending out requests for help. And when it came to the Sibley and Warner Farms property in Spencer, you heard our calls loud and clear. On Monday, June 4, we permanently protected the 350-acre property for conservation, farming, and public use, for all time!
What's so special about this land? The former Sibley and Warner Farms make up one of the most spectacular undeveloped properties in central Massachusetts. Its rolling hayfields, upland forests, and wetlands offer clean water, productive farmland, and an abundance of wildlife, including otter, beaver, fisher, waterfowl, and songbirds.
Many people know the property from hiking the Mid-State Trail, hunting its woods, snowmobiling the Snowbirds trail, or just driving past and admiring the beautiful view of the pond and hayfields along Route 9.
The property seemed lost to development forever when developers won approval for a shopping center and 300-unit condo development in 2005. But then the economy turned down, the bank foreclosed, and suddenly the land had a second chance.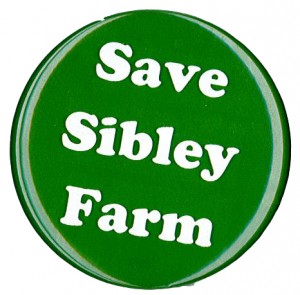 Along with our partners (Town of Spencer, Greater Worcester Land Trust, and Common Ground Land Trust), we needed to quickly raise $2.91 million. A tall order, for sure. But thanks to over 400 generous donors, the residents of Spencer, the Massachusetts Landscape Partnership and Agricultural Preservation Restriction Programs, and enthusiastic 7th and 8th graders from Central Tree Middle School in Rutland, we met our goal just in time. Now the land is safely and permanently in the hands of the Greater Worcester Land Trust and Mass Audubon.
Since June, we've barely had time to catch our breath. We've been busy preparing plans, obtaining permits, and beginning construction on the new parking and trailhead on Greenville Street that will serve not only the Sibley and Warner farms but also as the new main entrance to our Burncoat Pond Wildlife Sanctuary.
The dilapidated buildings on the site came down over Labor Day weekend; trails are being improved and meadows mown. And plans are well underway for our big celebration on Sunday, October 14, at 2 pm, which is open to all. Email us for details on the event and to RSVP.