Provide a home for birds, learn about their nests, and make your own nest cozier with these picks from the Audubon Shop. Find a selection of items in our online shop or visit us in person at Drumlin Farm Wildlife Sanctuary in Lincoln, MA.
Also, don't miss our in-store only events:
Spring Optics Sale on April 2-10.

Author and illustrator David Sibley gives a presentation and bird walk on April 10. Separate registration for the talk and walk are required.  
Author and illustrator Julie Zickefoose introduces her new book, Baby Birds, on April 28.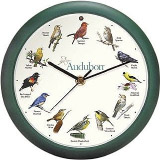 Audubon Singing Bird Clock
Member price: $23.35*
Nonmember price: $25.95
Enjoy a different authentic bird song at the top of each hour, including favorites such as the American goldfinch, eastern bluebird, and more. This wall clock measures 13″ across. A light sensor deactivates the sounds when the room is dark.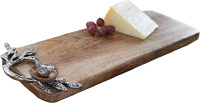 Bird & Nest Wood Serving Tray
Member price: $32.40
Nonmember price: $36.00
This tray is a work of art. It's made of mango wood with rounded corners, and the detailed metal handle is shaped like a branch with a bird in a nest. Soft pads on the underside prevent scratching.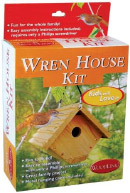 Wren House Kit
Member price: $13.45
Nonmember price: $14.95
Wrens are a cheerful addition to any backyard. Welcome them with a house you assemble yourself. This kit includes everything you need except for a screwdriver. It's an easy and fun project for the whole family.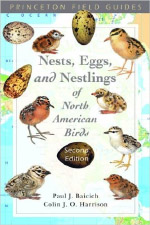 Nests, Eggs, and Nestlings of North American Birds
Member price: $26.95
Nonmember price: $29.95
By Paul J. Baicich and Colin J. O. Harrison
Both professional birders and amateur nature lovers will find this book invaluable. Discover the breeding habits of over 600 North American birds. Learn how, when, and where they build their nests, how they raise their young, and much more. Color and line illustrations show nests, eggs, and selected nestlings.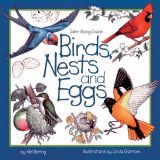 Birds, Nests, and Eggs
Member price: $7.15
Nonmember price: $7.95
By Mel Boring
This fun guide introduces children to 15 common birds. They'll learn all about nests, eggs, baby birds, and much more. Plus, they'll find instructions for building a simple bird blind and a water bucket bird shower. Kids can record their sightings and make drawings in the last few pages.
*Mass Audubon members always receive a 10% discount (applied at checkout)