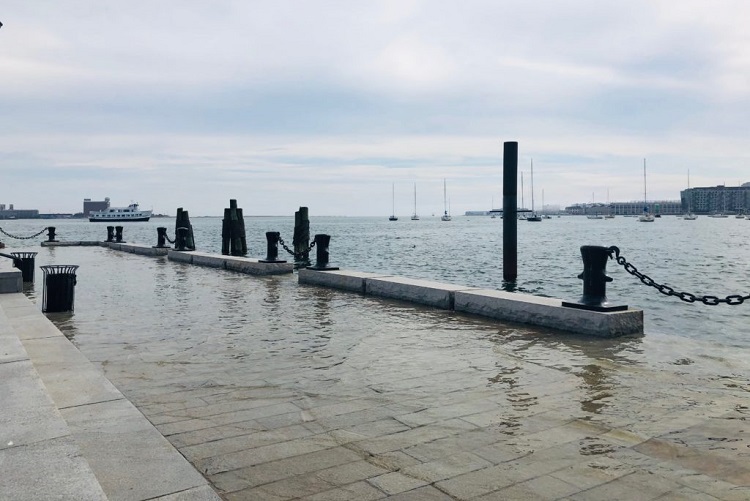 Ebbing and flowing, tides are a constantly moving part of nature. At high tide, waters creep up the shore, filling salt marshes and covering our beaches. At low tide, we watch the waters pull back, revealing a plethora of exciting marine critters and hidden landscapes to discover.
Royally High Heights
Tides are influenced by the gravitational forces exerted by the moon, sun, and Earth's rotation. According to the National Oceanic and Atmospheric Administration, these are one of the most reliable natural phenomena in our world – even though both high and low tides range in intensity. The highest of all high tides has a very fitting name: the king tide.
"King tide" is an informal term that refers to the time (once or twice a year) when tides reach exceptionally high levels. These king tides occur in conjunction with new moons and full moons when the Earth is closest to the moon.
What we "Sea" in the Tides
We know that climate change impacts are happening here and now, and will only become more severe in the future. One we can see right now is sea level rise. We already experience sea level rise impacts through increased coastal flooding, extreme storm surges, beach erosion, and indicators like the presence of flood-tolerant flora (such as cordgrass) in high salt marsh areas. King tides are a way to help us understand and adapt to this threat.
That's because while king tides are a purely natural phenomenon, they actually allow us to visualize what normal high tides will look like by 2050 if we continue to burn fossil fuels and release greenhouse gas emissions at the rate we are currently. King tides, even just bi-annually, can lead to coastal erosion and flooding, which puts shoreline communities at risk. These highest tides serve as a reminder that we must urgently act to both adapt to and mitigate the effects of climate change.
Calling All Community Scientists
That's where you come in! We need all hands on deck to document king tides. Community photographs help scientists analyze coastal vulnerability to flooding and prepare ways for us to adapt to climate change.
So grab your camera, and find out when and where your nearest king tide will be this month, which are expected to be between 11 and 13 feet. Plan to arrive at least 15 minutes before the listed time as local conditions may vary. Once you've snapped a photo, submit them to the King Tides Project at MyCoast for this climate science initiative.
But don't stop there! Save your photos to share with us on Facebook or via email.
Remember, safety first – visit MyCoast for tips and tricks on how to stay safe and still snag the best photo.
Find a King Tide Near You
Check out our map and list of king tide locations in Massachusetts along with their date and time to see if there's a photo-opportunity near you. If you don't see your community's coast on our map, it means while you will be experiencing high tides, you won't be seeing king tides.
Stay tuned on our social media pages for details on future king tides, including dates, times, and locations.
Download our maps here: