Wellfleet Bay's sea turtle staff is used to getting phone calls or emails about sea turtles. As a member of the federal government's stranding network for the Greater Atlantic Region, the sanctuary responds to sea turtles that strand year-round, whether the result of cold-stunning or injury, such as vessel strike.
But on September 20th, the turtle team was notified of something they'd never heard before in our region. A Florida man walking on Siasconset Beach on the southeast end of Nantucket saw what he thought looked like sea turtle crawl tracks!
Crawl tracks occur when mature female sea turtles crawl onto sandy beaches to dig their nests and lay eggs in the tropics and subtropics, including Florida. The man alerted the Marine Mammal Alliance Nantucket (MMAN) organization, an all-volunteer group that mainly responds to marine mammal strandings. MMAN sees lots of tracks from seals hauling out to rest on beaches, but these tracks looked different, and there were also what looked like two excavation sites along the tracks.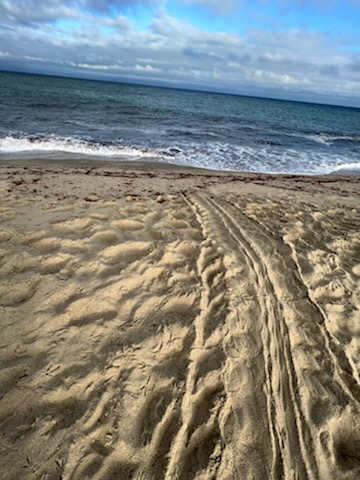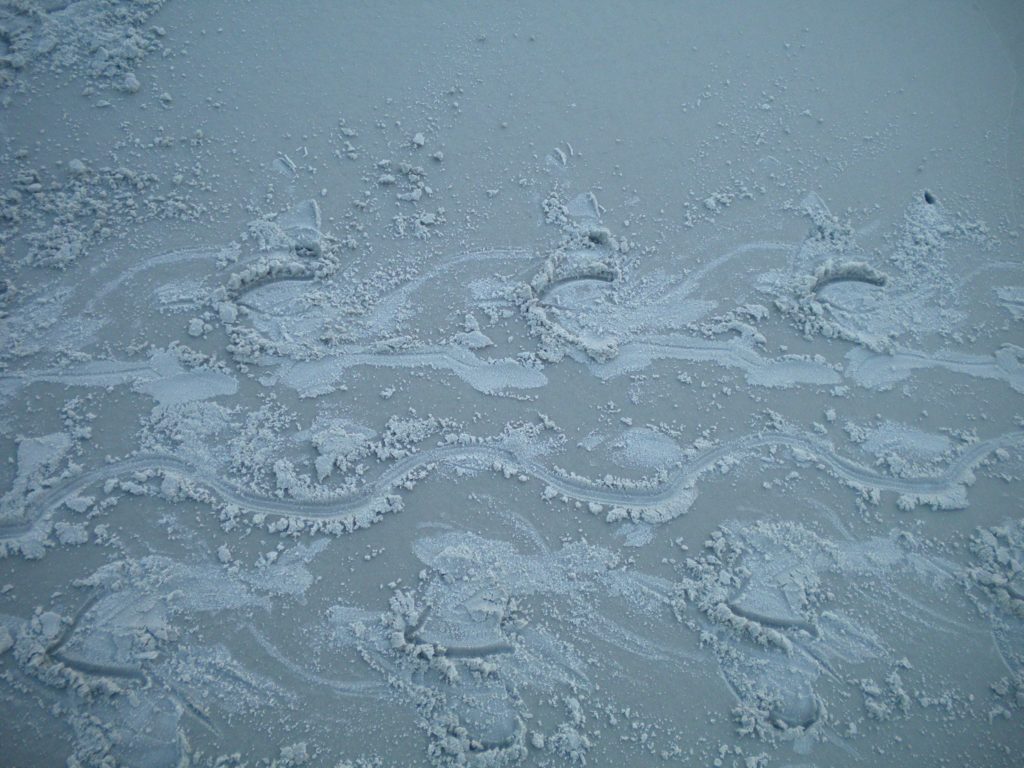 Confirming the Evidence
Fortunately, the two MMAN members who went to investigate the mystery tracks, Kim Schulam and Peter Meerbergen, are also Wellfleet Bay-trained sea turtle responders. Kim and Peter called the sanctuary which led to many emails, texts, photos, diagrams, and conversations flying around, with nesting experts from NOAA's Southeast Region weighing in. Ultimately, US Fish and Wildlife Service staff took over the investigation since they have jurisdiction over sea turtle nesting. The consensus from nesting experts was that the tracks were indeed made by a sea turtle that may have attempted to nest. Even more surprising was that the experts said it was a Green sea turtle due to the distinctive pattern of the crawl marks in the sand (see first photo, above).
---
"Whoa! A Green?" was the initial reaction from Wellfleet Bay's Sea Turtle Research Coordinator Karen Dourdeville. Karen manages the sanctuary's 20-year-old sea turtle sightings database which records all sea turtle sightings reported by recreational and commercial vessel operators and anyone else who spots a sea turtle in our waters.
"We know that juvenile Greens occur here due to an occasional summer sighting and a small number of juvenile Greens strand during the cold-stun period in the fall," Karen notes. "We do sometimes see mature loggerheads, but we've never had a credible sighting of a mature Green sea turtle," she says.
Was it a Nest?
The US Fish & Wildlife Service authorized MassWildlife to send an agent to excavate the two dig sites along the nest crawl tracks. But– there were no eggs.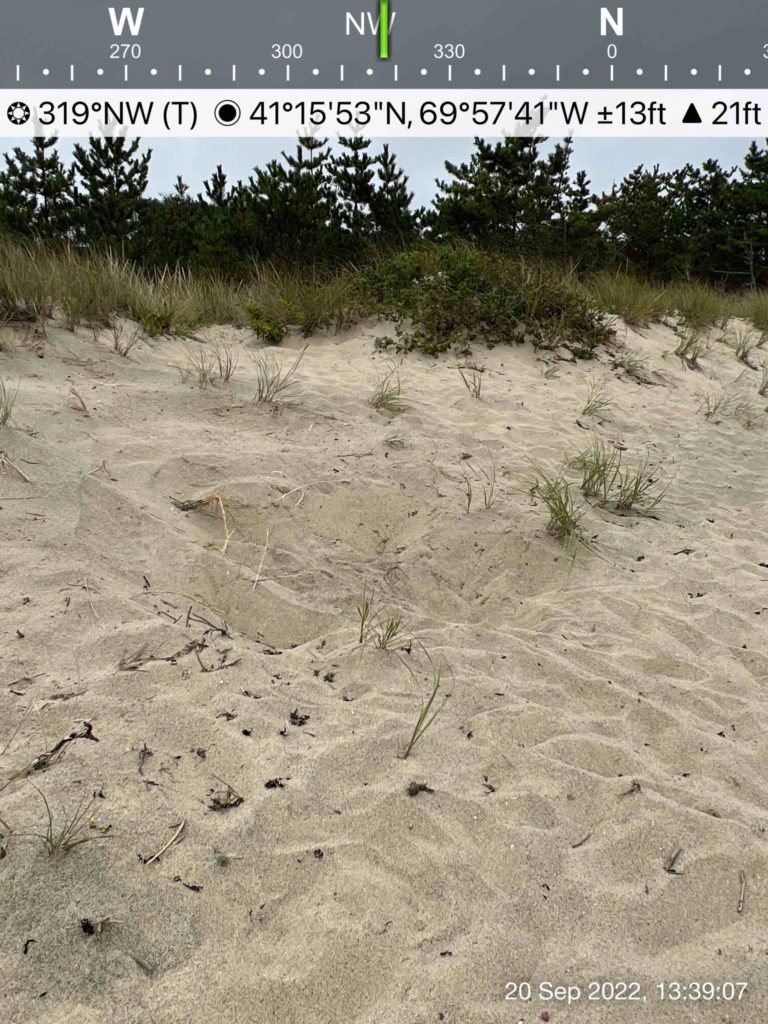 So-called "false crawls" are not unusual on true sea turtle nesting beaches. But what happened on Nantucket is the northernmost record of a sea turtle nesting attempt in the western North Atlantic. Outlier nests do occur, and this is certainly one. While there won't be any baby Green sea turtles hatching on Nantucket from this event, it does serve as a cautionary reminder that climate change is moving sea turtle activity northward.
This post was contributed by Wellfleet Bay Sea Turtle Research Coordinator Karen Dourdeville.
---