The Eastern Meadowlark is in serious decline in our state and nationwide. To understand what we can do to turn this around, we're enlisting the help of volunteer birders and citizen scientists. By entering observations on our project webpage, anyone can contribute to conservation efforts for this iconic species.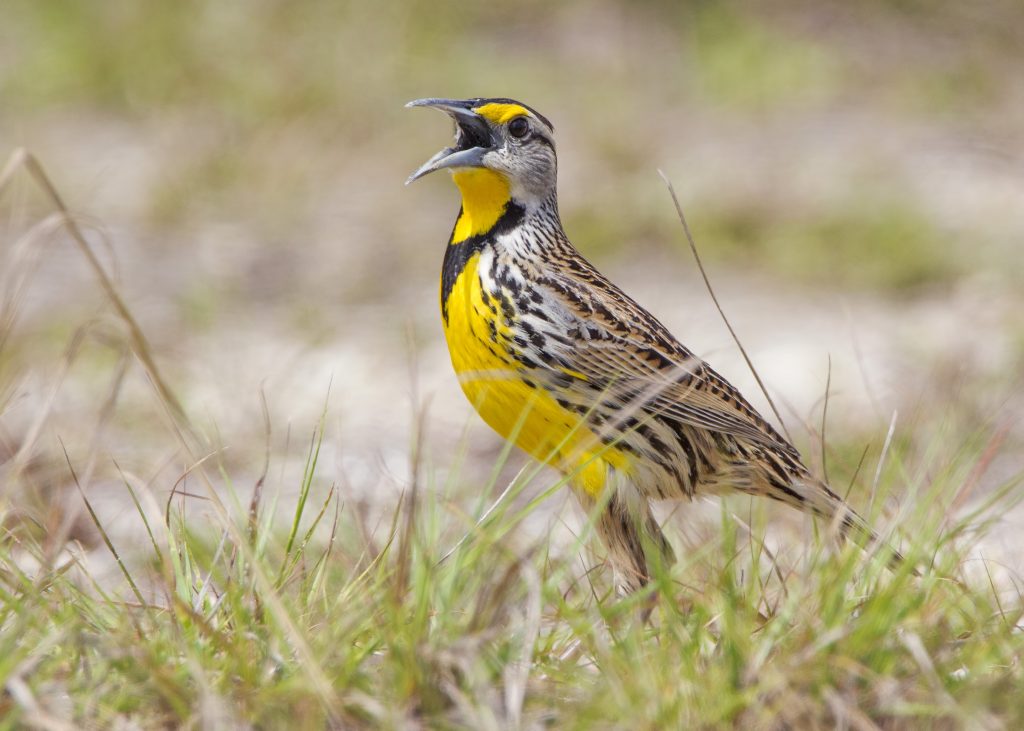 Photo by Phil Brown
Meadowlarks disappeared from over 78% of their Massachusetts breeding sites since 1979, according to Mass Audubon's Breeding Bird Atlas.  This decline is only partially explained by meadowlarks' habitat requirements.
Conservation scientists know that meadowlarks need a certain kind of grassland habitat— vegetation that's short, but not too short; fields over 20 acres with no standing trees. These days, however, suitable fields that once rang with meadowlark song are quiet and still.
Agricultural intensification certainly plays a role: 95% of Eastern Meadowlarks nest on private land. Fallow farm fields are harder to come by and pesticide application increases apace; more and more pastures and grassy fields are either overgrazed or developed. But this is only part of the story, and it's up to us to figure out the rest.
Go Birding—For Science!
All you need to do is visit our Anecdata webpage and select sites where you can help look for meadowlarks.  To view a map of sites, click on "add an observation," then click "use a hotspot" in the upper left, and then click "map."  Be sure to sign up for the hotspots you choose on the signup list mentioned in the project description!
To keep our data uniform and reliable, a volunteer should survey a site three times between April 20 and June 15, for any ten-minute period between 5:30AM and 9:30AM.  Not all of our sites may have meadowlarks, and that's perfectly fine— knowing where they aren't, and figuring out why, is just important to us as knowing where they are.
These surveys can be great fun. It's no longer every day that casual observers see the bold pattern and lemon-yellow blaze of a meadowlark standing, flaglike, atop a fencepost. Fewer and fewer people recognize their ringing whistle. There's always some pride in finding an uncommon bird. But the joy of a meadowlark sighting can also be colored by nostalgia, whether for the historical abundance of grassland birds, or the broader decline of pastoral landscapes.   
The great thing is, we can do something about it.