When winter weather drags on into late March, our earliest spring migrants still show up on schedule!  Birders often hear the sharp, reedy "peent!" of American Woodcocks in mild weather amid other spring sounds, like the clamor of wood frogs and spring peepers. Hearing them calling from fields covered in several feet of snow can seem incongruous. So how does lingering snow affect these enigmatic birds' ability to find food?
Beak Superpowers
Woodcocks find insects by probing underground with their beaks. The tips of their beaks pack a bundle of highly sensitive nerves, which they use to pick up on vibrations from insects moving in the soil.
The tip of their beak can also flex open while the rest of it stays closed, allowing woodcocks to delicately pick up food without having to pry their whole bill open underground. The ability to open just the end of the beak is called distal rhyncokinesis  (rine-co-kin-EE-sis), or simply rhycokinesis  when discussing beak flexibility more generally. It's a trait shared by many members of the sandpiper family, woodcocks included.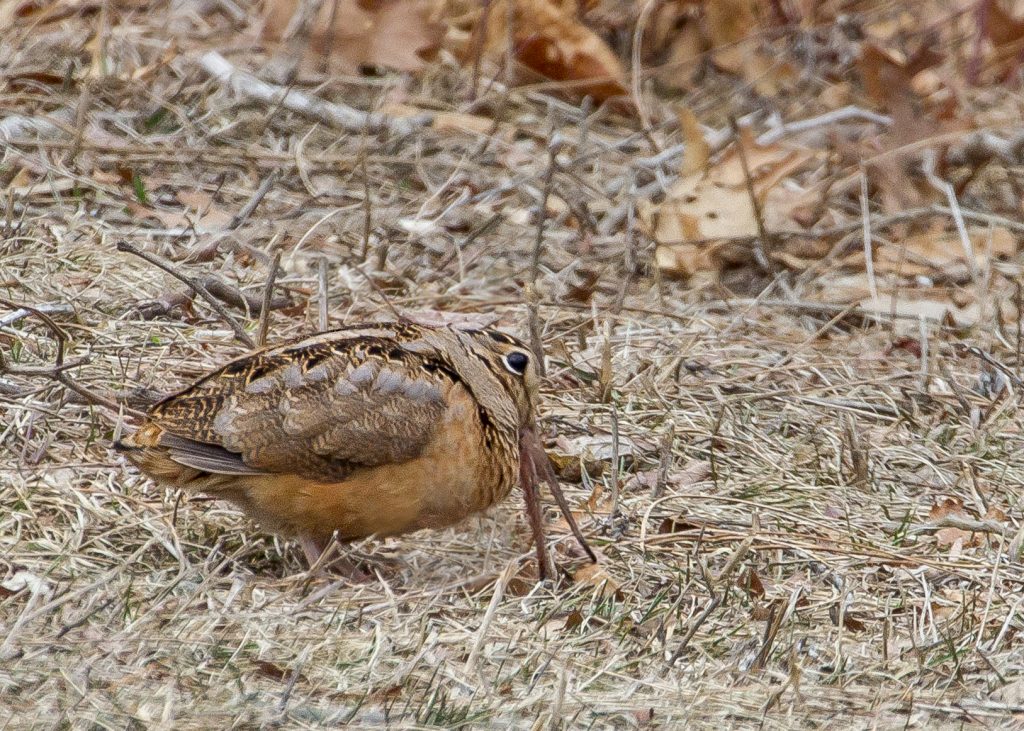 This photo only partially shows how flexible the tip of a woodcock bill is– underground,  they can close the lower two thirds and move just the outer third. (Photo: Will Freedberg) 
With such particular feeding habits, spring snowstorms might seem to spell trouble for these ground-dwelling insect-eaters. In particular, 2018 has seen a spate of nor'easters barreling through New England, dumping foot after foot upon snow.
Snowed-in Woodcocks Seek Open Ground
Woodcocks can often feed successfully through a shallow layer of snow, but only if the ground is not frozen through. If the ground has already thawed, a covering of snow will in fact keep the ground from freezing fully again, if temperatures return below freezing.
But March 2018 has seen snowpack deeper than a woodcock's bill is long, even when the ground hasn't been frozen solid. In years like this, woodcocks feed near any natural features that keep snow off the ground—along the banks of streams and flowing water, or under coniferous trees that partially shelter the ground from snow.
Birders in the know will look for them in these areas, and are careful not to scare or flush these easily-stressed birds. Their flight displays have continued along the edges of fields so far regardless of snow cover, and should keep going into April.
For more tips on how to find woodcocks, check out our list of sites and programs!