Grassland bird species are in steep decline in Massachusetts, New England, and beyond. Mass Audubon's focus on grassland bird conservation, triggered by findings reported in the State of the Birds 2013, includes initiatives to protect birds on working lands. Grasslands in the Northeast have provided home and sanctuary to grassland birds and other wildlife for hundreds of years. The majority of New England's agricultural acreage consists of privately owned hayfields, so any concerted conservation efforts MUST involve significant participation from farmers and land owners.
Agriculture is the only widespread land use that maintains the open land that grassland birds depend upon for breeding. However, financial pressures force farmers to mow their fields during the weeks that birds like Bobolinks are actively nesting. The issue, in terms of grassland bird conservation, is one of timing and economics: birds settle into fields for nesting in May, and farmers typically harvest their first cut in June, when the monetary value of the hay crop is highest. The cutting, raking and bailing of hay typically results in a complete loss of eggs and nestlings, and even breeding adults may be killed.
One of the most promising new strategies for conserving grassland birds is The Bobolink Project, which finances bird-friendly mowing practices. There are many hay farmers in New England who are willing to delay their harvest schedule for the sake of nesting grassland birds, but to do so costs money – late season hay is less valuable than early season hay. The Bobolink Project "buys time" for grassland birds to successfully nest on working farms by providing financial support, collected from conservation donors, which is paid to farmers who are willing to manage their fields for grassland birds.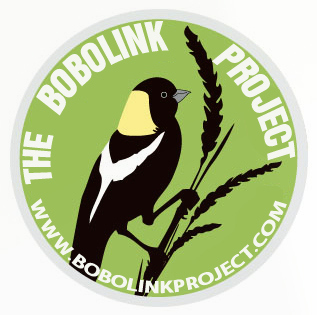 The Bobolink Project started as a collaborative effort between the University of Vermont and the University of Connecticut; research and administrative costs were initially covered by a U.S. Department of Agriculture grant through the National Institute of Food and Agriculture's Agriculture and Food Research Initiative. The main focus of The Project was the Champlain Valley in Vermont.
In 2015, approximately 550 young fledged from fields enrolled in The Bobolink Project. These hayfields also supported other declining grassland bird species such as Savannah Sparrows, Eastern Meadowlarks and Northern Harriers. The Project was so successful that founders, participants and contributors wanted The Bobolink Project to continue despite the ending of federal funding at the end of 2015.
All was in jeopardy until Mass Audubon joined forces with Audubon Vermont and Audubon Connecticut, and took on administrative and oversight responsibilities. The Bobolink Project is now collaboratively coordinated by Mass Audubon Bird Conservation staff and our Audubon partners, with The Project's founders still supporting the effort.  We are expanding the geographic range of The Project and can only succeed with your support. We need the cooperation of both farmers and donors by April 22.  Pass this information to your friends, farmers or donors, and ask them to tell their friends too!
Donate, Sign up, like us on Facebook and spread the word to help save our grassland birds!