People are buzzing with excitement (and maybe a little fear) about the possibility of billions of cicadas emerging after almost two decades of living underground. If you fall into the excitement category and hoping to witness this phenomenon here in Massachusetts, alas, you'll have to hold on for a few years.
When they emerge after 17 years underground, swarms of Cicada Brood X could be spotted in parts of the Southeast, Midwest, and North Atlantic. While we may not experience the 2021 version this event, we do have our fair share of annual cicadas that contribute our summer soundtrack.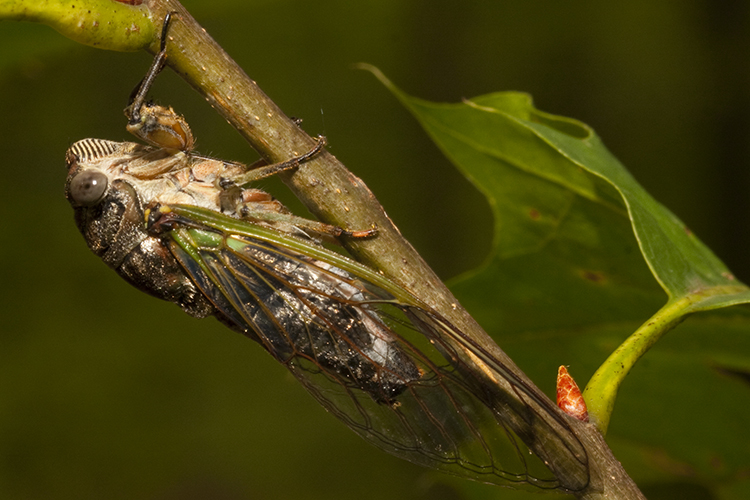 Cicadas in Massachusetts
Of the more than 2,000 species of cicadas that exist worldwide, nine species have been documented in Massachusetts including one periodical cicada species and eight annual cicada species. The most common cicada here in Massachusetts is the "Dog Day" Cicada.
The annual, dog day cicada emerges every one or two years. It's approximately 2.25 inches long, medium brown, with a green venation (the vein structure in its wing). Though we hear them each summer, these cicadas are solitary insects; we seldom see them.
Hearing Cicadas
Cicadas are sometimes referred to as harvester flies because their "song" is characteristic of late summer days. This astonishingly loud sound comes from a pair of organs called tympana located at the base of the males' abdomen.
The tympana are complex mechanisms that consist of a series of three membranes inside a resonating chamber. A powerful muscle flexes one of these membranes (the tymbal), somewhat in the way we pull and release a metal, can top to create a loud click. Done in rapid succession and amplified by the resonating chamber, the familiar whine is produced.
Mark Your Calendar
We may not witness Brood X this year, but those in Southeastern Mass or on the Cape and Islands can anticipate being treated to Brood XIV, emerging summer 2025.