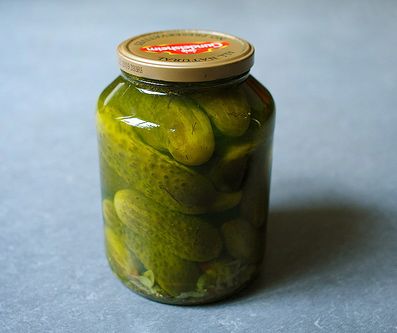 The process of preserving food via pickling (or fermentation) dates back centuries. In fact, according to the New York Food Museum, people have been "curing" cucumbers since long before the Dark Ages. Cleopatra herself was known to consume pickled cucumbers, and even attributed her good looks to the delicacy.
Of course, these days, pickles are relatively commonplace. But have you ever been curious how pickles are made, or what else you can pickle? Find out during Drumlin Farm's 3-part series this summer. First Up: A Pickled Pageant on Friday, July 19. To give you a taste of what you may learn during this hands-on program, which is part-lecture, part tasting, read a few interesting pickling facts.
"Pickling" is a process of preserving food. For those who want the nitty gritty details, it uses anaerobic fermentation in brine to produce lactic acid or marinating and storing it in an acid solution, usually vinegar (acetic acid).
Pickles are not just cucumbers. Anything that is preserved in an acidic brine can be called a pickle and virtually any produce can be pickled including tomatoes, peaches, onions, watermelon rind, etc.
Pickles made and stored properly won't spoil. In order to achieve this, the pH of the brine needs to be ~4.5 or less, which is low enough to kill off most bacteria.
Almost every culture in the world developed its own form of pickle using local staples, from mangoes in South Asia to olives in the Middle East to turnips in Northern Europe. Some of these are very familiar to us in the U.S. (kosher dills, sauerkraut, pickled eggs) while some are less known (pickled dates, almonds, or lemons).
Ready for more? Sign up now for the A Pickled Pageant. Can't make it but love to pickle? Share your tips and techniques in the comments.
Photo via flickr/dom dada