News from Mass Audubon Visual Arts Center: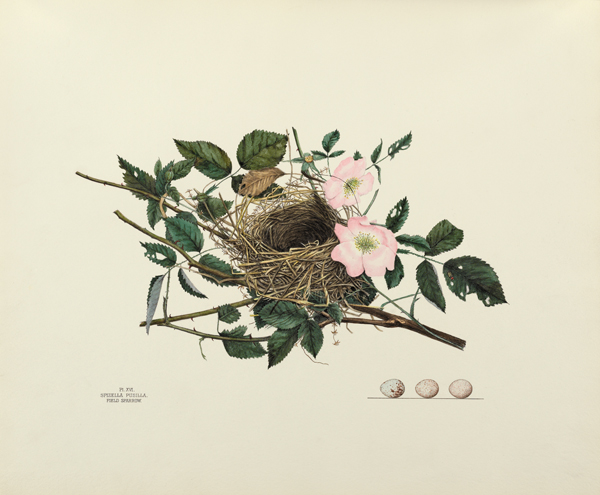 A rare 19th-century book, with stunning illustrations and a dramatic history, was donated to the Mass Audubon Visual Arts Center in June, and now the exhibition Nests, Eggs, Heartbreak & Beauty (September 30 – January 13) has been organized around it.
Though the historic volume bears a dry, unwieldy title (Illustrations of the Nests and Eggs of Birds of Ohio), it's a compelling blend of ornithological observation and artistry, and its creation was a triumph of love through adversity.
In 1876, 29-year-old amateur artist and naturalist Genevieve Jones saw John J. Audubon's Birds of America at the Centennial Exposition in Philadelphia and conceived the idea for a companion publication—of similarly high quality—to depict the nests and eggs of American birds. Her father, who had forbidden her to marry the man she loved, financed the project to provide her a distraction from heartbreak.
Jones' brother Howard collected the nests and wrote the text, and she learned to draw on lithographic stones to create the printed images (which would later be colored by hand). After completing only five drawings, Genevieve died of typhoid fever, and her grieving family determined to finish the book, with her mother taking the role of artist.
Only 90 copies of the book were printed, and fewer than 25 are known to exist today. Mass Audubon's copy, which belonged to Howard Jones, is considered the most significant because its color plates served as the patterns for other copies, and it includes a unique gilt title-page and important manuscript material.
In 1878, Harvard ornithologist William Brewster, who would later be Mass Audubon's first president, described one of Jones' drawings as "in its kind a perfect masterpiece."
Nests, Eggs, Heartbreak & Beauty will open on Sunday, September 30 at the Mass Audubon Visual Arts Center in Canton. The exhibition opening will be celebrated by a reception with light refreshments from 1 to 5 pm. Joy Kiser, whose research uncovered the story behind this remarkable volume, will be at the reception, signing copies of her new book America's Other Audubon.
Image: Field Sparrow by Virginia Jones, Courtesy of the Smithsonian Institution Libraries