On August 7, Zach D'Arbeloff, Education Coordinator and Camp Director at Blue Hills Trailside Museum took over Mass Audubon's Instagram story to answer all your questions about climate action!
We took it back-to-basics this month to discuss what it means to act, who can get involved, and how we can all start collectively acting on climate.
Here Were the Top Three Most Asked Questions: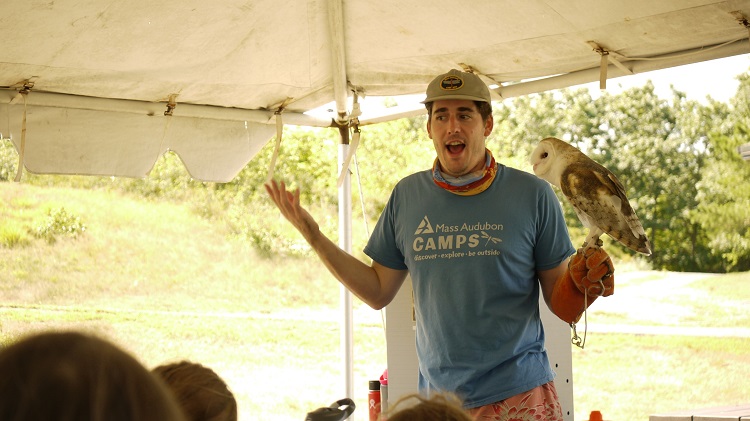 Q: What is the age group most involved in climate action?
A: Whether you're 3 or 93, it's never too early or late to start thinking about climate action. Climate action at its core starts with small lifestyles changes and then builds up to community, collective impact – which adds up to make a big difference.
For example, you might start out by trying to eat more plant-based meals. Then you might get your family or friends to start eating more plant-based meals with you. After, you might then figure out how you can get your whole community to join you in eating and serving more plant-based meals: perhaps you look towards local schools or restaurants, even!
Q: What's the most effective climate action for my neighborhood to take on?
A: Think about things that start in a neighborhood but expand beyond it. Planting a rain garden in our backyards, making sure we're refusing and reusing (and then recycling) single-use plastics, and even composting start right at home, but have regional and even global impacts. Engaging our neighborhoods in simple, daily challenges to embark on your journey is a great way to build up your climate action, together.
Q: What are daily actions I can take to help fight climate change?
A: Starting out our climate action journeys is all about consistent, daily actions – from driving your car less to eating less meat to even drying your clothes in the sun in the summer. Remember to continue challenging yourself in your climate action, scaling up as you get more comfortable with what you started with, and looking for ways to get the people around you involved.
It's Up to Us to Tackle Climate Change
No matter who we are, we all have a stake in our collective climate fight. The crisis is something we can solve when we put our hearts and minds together, challenge ourselves, and empower each other. Visit our website for ideas on where you can start.
Tune in Next Time
If you didn't have time to submit your questions, you can ask away in the comments below. We'll be back the first Friday of every month to takeover Mass Audubon's Instagram and talk about Climate Action. Visit our Instagram Story in September to learn more about land and climate change and submit your questions. See you then!