For 50 years, the entire world has gathered on one day to celebrate our environment. Since 1970, Earth Day reminds us that we have the power to protect our planet and effect change. This year, Earth Day's theme, climate action, urges us to once again use our voices and tackle the current climate crisis.
During the entire month of April, Mass Audubon is celebrating climate action in commemoration of Earth Day, April 22. Here are some tips on how you can join us: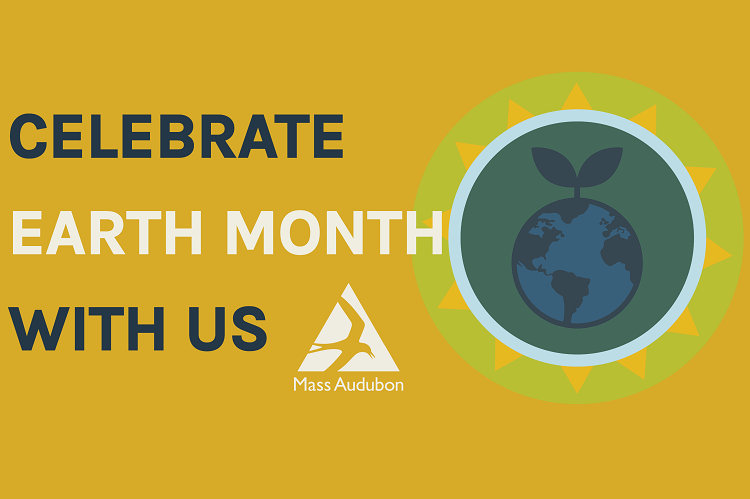 Read a Book About Climate Change
If you're suddenly finding yourself with much more time on your hands, sit back, relax, and read a good book about your world and climate change. Here are 12 books about climate solutions as inspiration for action and a source of hope.
Reading can help us build connections to the world around us and understand how climate change impacts that world. Once you learn about the climate crisis through a good book, you might feel better equipped, maybe with new climate language, to communicate to your friends, family, and community why they should care about it.
Channel Learning Through Art
Artistic expression can combat feelings of anxiety or stress that come with dealing with the novel coronavirus. Take some time to get creative with your household: paint, draw, or color your favorite part of the environment or a special place that you love to visit.
After you're done, do some research with your household and talk about how climate change affects the subject of your art. Then, draft a plan for what you can do to protect that subject together and start taking action.
Need ideas? Mass Audubon offers nature coloring pages that depict Massachusetts' wildlife! Share your masterpieces and climate action plans with us by tagging @MassAudubon on social media. You can also email us.
Explore your Neighborhood (Safely!)
With spring's warmer temperatures comes the desire to go outdoors. If you can do so while maintaining appropriate social distance and compliance with any public health advisories, take a walk or bike around your neighborhood. Getting into the habit of biking can inspire more eco-friendly methods of commuting to work once we return to the daily grind, providing a muscle-powered alternative to cars.
Additionally, Project Drawdown explains that going on walks around our neighborhood can provide us with insight about its infrastructure—namely, how "walkable" it is. In other words, your walk can help you determine if your neighborhood prioritizes safe, walking-based travel, or if you would need to depend on greenhouse gas emitting cars to get around. You can take these insights to your local, elected official to advocate for a more walkable community.
Join a Digital Group to Talk About Climate Change
It's easy to start feeling isolated and disconnected while socially distancing, and it can be hard to find ways to talk about these feelings. Similarly, people may feel isolated when it comes to talking about climate change. A recent study indicated that over half of all Americans say they rarely or never talk about climate change with their friends and family.
Many have taken to the web to stay engaged with their friend groups and communities during COVID-19 through video calls or online forums. These very tools can also help address any anxiety or isolation you may feel talking about climate change.
For example, Mass Audubon has a Climate Action Facebook Group, where people can create friendships and community over a shared dedication to climate action. You can also join Mass Audubon's Drawdown Ecochallenge team to fight climate change as a digital community. Community learning and discussion help make social distancing a little easier, while providing us with hubs for climate action.
Donate to Mass Audubon's Climate Change Program
Mass Audubon's Climate Action Program can only succeed with your help. Your support makes a difference in our collective fight for a livable planet. Our members, donors, and volunteers provide critical support to keep our climate action initiatives impactful and active.
From building a corps of climate action leaders at all ages, advocating for impacting climate policies, to protecting and stewarding the most important land, your support will help us realize our vision of a carbon neutral Massachusetts.
Start Celebrating
Earth Day's 50th anniversary gives us the opportunity to engage in climate action close to home, while also building our collective power with others from both in our community and around the world. Social distancing has shown us that collective engagement is still possible and more important than ever. This month, join Mass Audubon for climate action, inspiration, and community!
Stay tuned: Earth Month is the perfect way for all of us to come together and celebrate community climate action. If you found these tips useful, stay tuned for an Earth Week Climate Action Calendar, full of even more actions, webinars, and events you can partake in!