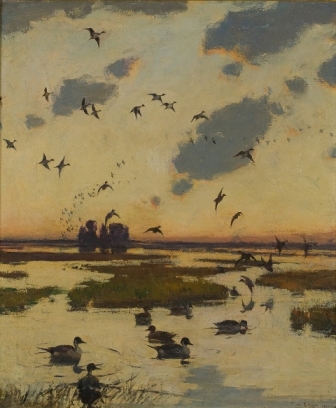 From the moment our "founding mothers" chose to name our organization after the iconic bird artist, John James Audubon, Mass Audubon and art have been closely connected. Now, 116 years later, Mass Audubon's art museum in Canton connects people and nature through art, educates about the beauty and significance of the natural world, and engages new audiences for our conservation mission.
The museum also stewards our extraordinary art collection including paintings, sculptures, and works on paper by some of the most acclaimed bird artists of Europe and America: Louis Agassiz Fuertes, Charley Harper, Robert Verity Clem, Lars Johnson, and Frank W. Benson, among others.
Bird conservation was the focus of Mass Audubon's founders, and although the organization's mission has broadened over the years, our art collection remains consistently focused on American birds. It spans many styles and categories, including fine art, illustration, impressionism, folk art, even pop art.
Since an art museum within a conservation organization is an unusual, if not unique, concept, it is critically important to have a name that clarifies what we do. This is why we have decided to change our name from the Visual Arts Center to the Museum of American Bird Art at Mass Audubon (MABA).
While our name may have changed, our focus remains the same. Our rotating exhibitions feature renowned professional artists from around the world. And we will continue to offer programs in many formats, including hands-on art classes in drawing, photography, watercolor, and other mediums; gallery talks, summer day camp, and nature exploration. On- and off-site programs serve children, adults, families, and school and community groups.
If you haven't had the chance to come check us out yet, now is a wonderful time. Our current exhibition, Nests, Eggs, Heartbreak & Beauty (through January 13) is centered around a rare 19th-century book, with stunning illustrations and a dramatic history.
Image: Frank Benson's Pintails, part of the MABA collection