Habitat Education Center and Wildlife Sanctuary in Belmont has a long and interesting history. At the heart of the sanctuary is a 1914 Georgian-style mansion that was once a private residence. In 1971, it became the home for the Habitat Inc. and a few years later Habitat Institute for the Environment, an innovative school for environmental education for adults and children.
It wasn't until 1994 that it became Mass Audubon's Habitat Education Center and Wildlife Sanctuary. While the name has evolved, the mission hasn't: the sanctuary continues to welcome visitors and students of all ages to its forests, meadows, and ponds for walks, talks, and more. Check out five fun facts and come visit!
All A-Bloom
Take in the sights, sounds, and smells of the beautifully maintained formal garden designed by the famed Olmsted Bros. landscape firm. Over the years, these gardens have become a favorite of everyone from those seeking a moment of solitude to guests attending intimate weddings. In bloom now: rhododendron, peony, iris, Amsonia (blue star), false indigo, bleeding heart, geranium, Jacob's ladder, beauty bush.
The Path Less Traveled
For a more secluded brush with nature, follow the Weeks Pond & Meadow Trail located off Somerset Street. Woodland birds frequent the forest. At the pond, covered in duckweed in summer, see a mother duckling leading her young, bullfrogs peeking through the tiny floating leaves, or damselflies skimming the surface.
G is for Goat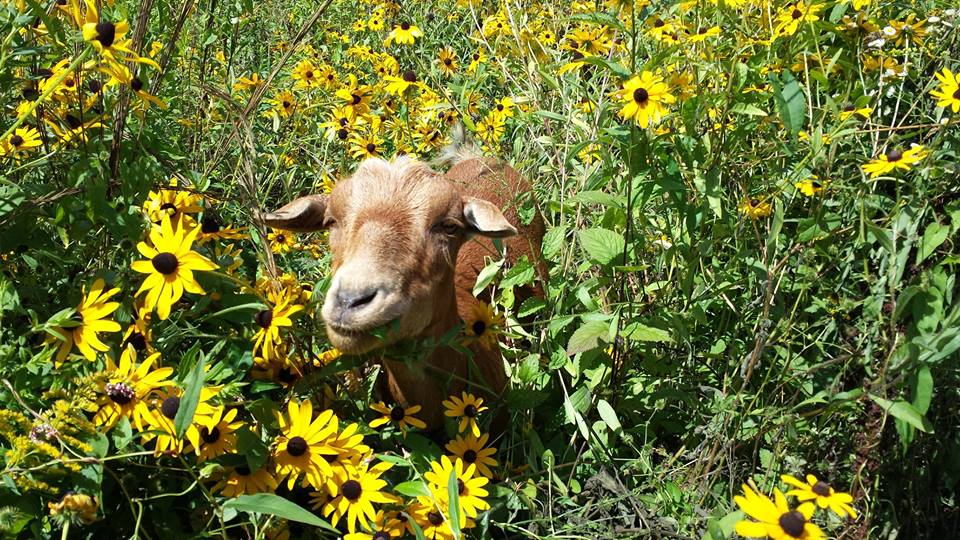 For several years, Habitat has kept a small herd of Nigerian Dwarf goats. These goats help manage our meadow by eating invasive plants. Watch them in action in the Weeks Meadow or better yet, take part in the Work with Goats program on July 7.
Hit the Greenway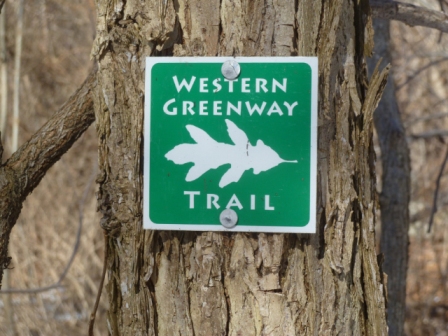 Habitat's trail system is part of the Western Greenway, more than 1,200 acres of linked, undeveloped land in Belmont, Lexington, and Waltham. Walk its seven miles of emblazoned trails, which start at Habitat and end at the Robert Treat Paine Estate in Waltham.
Making Habitat More Accessible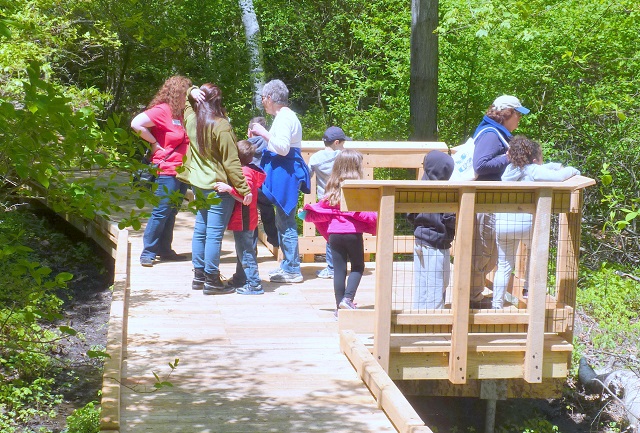 The All Persons Trail is this half-mile trail loop follows a wide, gently sloping path with a smooth, packed surface. The trail construction complies with ADA guidelines for accessibility and is suitable for wheelchairs, strollers, and those who find walking on uneven trails difficult.
The trail goes to Turtle Pond, a favorite destination at Habitat, which lives up to its name. You can often find many turtles sunning themselves on logs and rocks. Coming in December: an Audio tour of the All Persons Trail.