Dave Williams and I led today's Wednesday Morning Birding program out of Joppa Flats Education Center first to Perkins Park in Newburyport, then to the boat ramp at Joppa Park, and finally on to Plum Island. Skies were overcast with occasional breaks of sun; temps in upper 70s to 80 with significant humidity; the air was calm.
Our primary focus in Perkins Park was Black-crowned Night-Herons with the possibility of a Yellow-crowned Night-Heron or two. Sharp eyes located a couple of Black-crowns with one or two blowing their cover and flying to exposed perches. Our final count in this roosting spot was one adult and three immature Black-crowned Night-Herons. No Yellow-crowns were seen. We enjoyed seeing a male Belted Kingfisher in this marshy setting.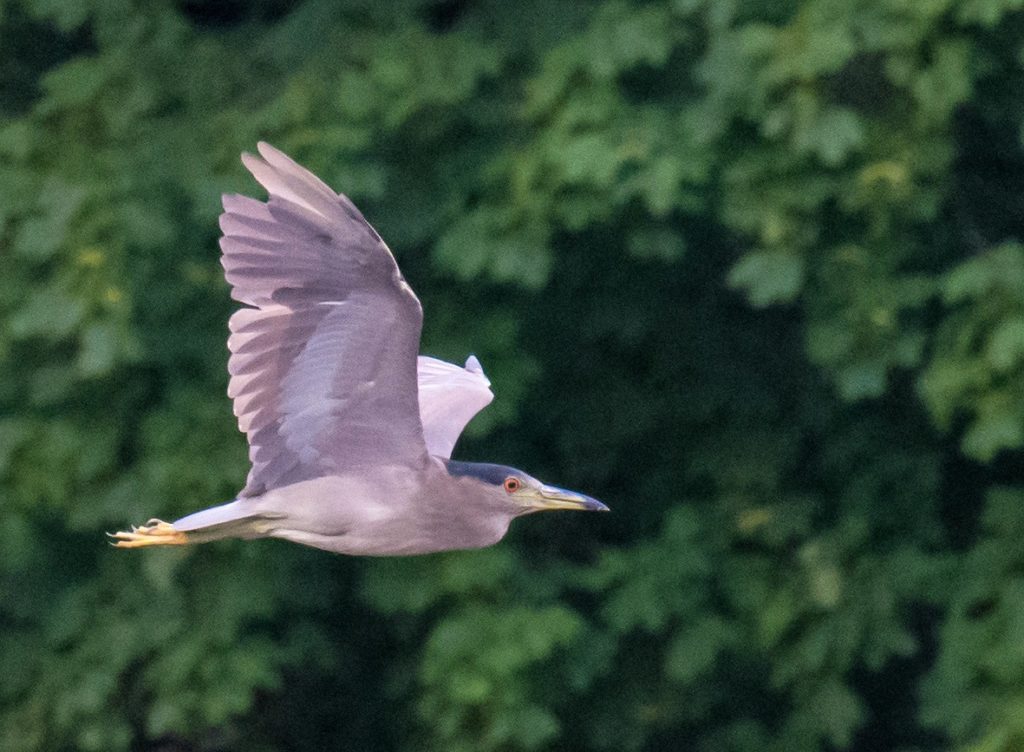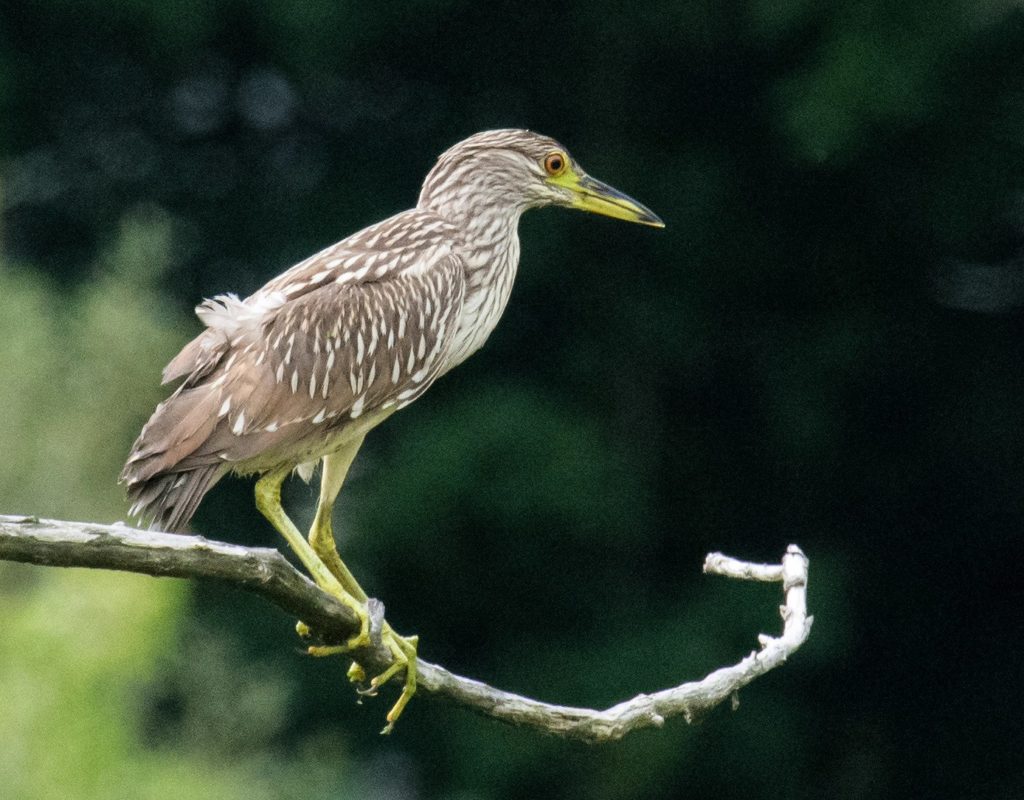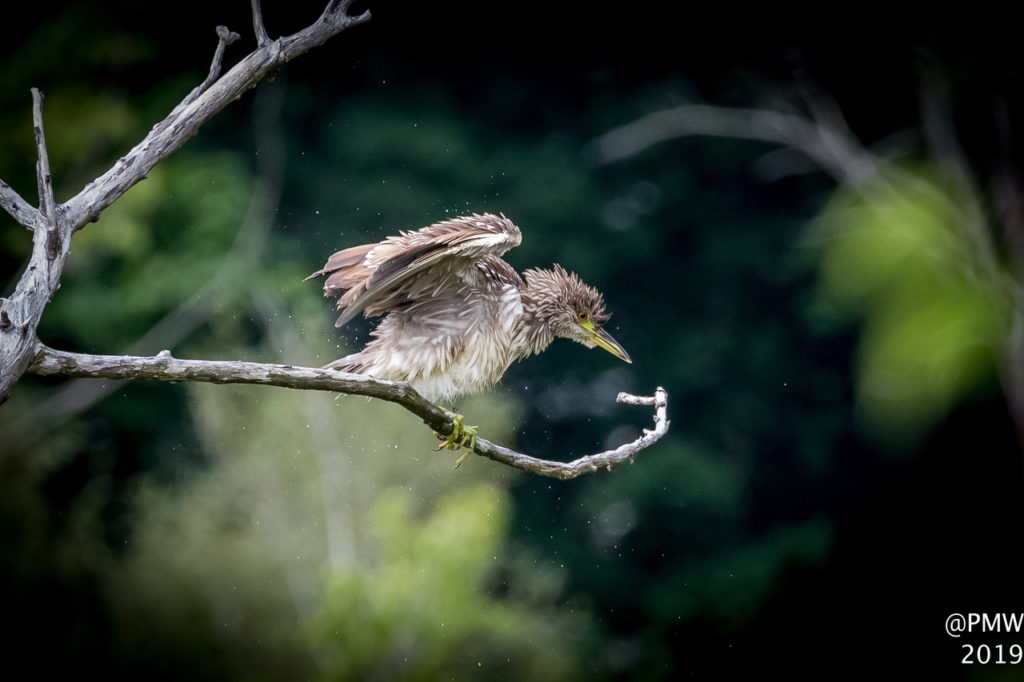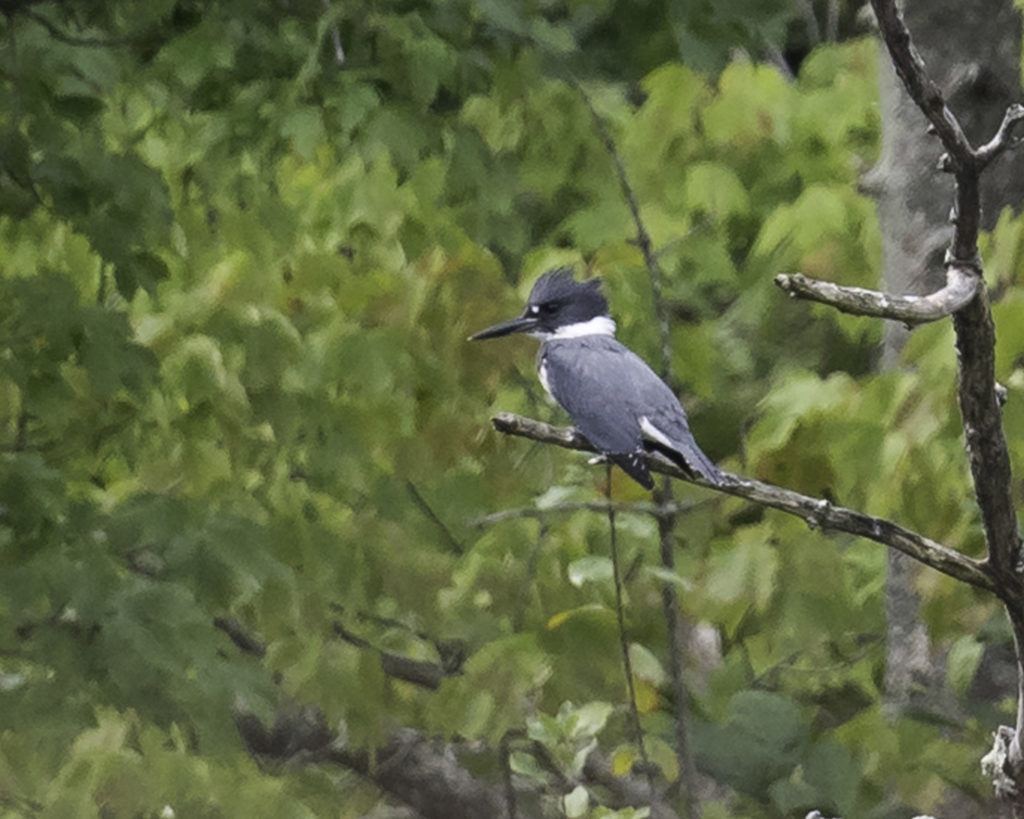 From Perkins Park, we made the short drive to the boat ramp at Joppa Park on Water Street. The tide was low with exposed mudflats. Partaking of the food source therein were 75 or so Black-bellied Plovers, somewhat fewer Semipalmated Plovers, many Semipalmated Sandpipers, 40-some-odd Greater Yellowlegs, and about 20 Short-billed Dowitchers, the latter probing the mud for invertebrates in their sewing-machine fashion. At one point, a soaring Osprey above the flats put most of the shorebirds up.
Some members of the gull family put on a good show for us. There were the usual Herring Gulls, a number of Ring-billed Gulls, including some juvenile birds, and about seven Great Black-backed Gulls. In addition, some adult Bonaparte's Gulls showed off the black hoods of their breeding plumage, while others were already on their way into nonbreeding or winter plumage with simply a vestige of their black hoods showing. We enjoyed the fishing behavior of 20-or-so Common Terns. We spotted a single Forster's Tern in the mix. Unbeknownst to us until a photo of Mike Densmore's revealed its presence, there was another black-hooded gull out there — an adult Laughing Gull. Just goes to show you, we don't see every species!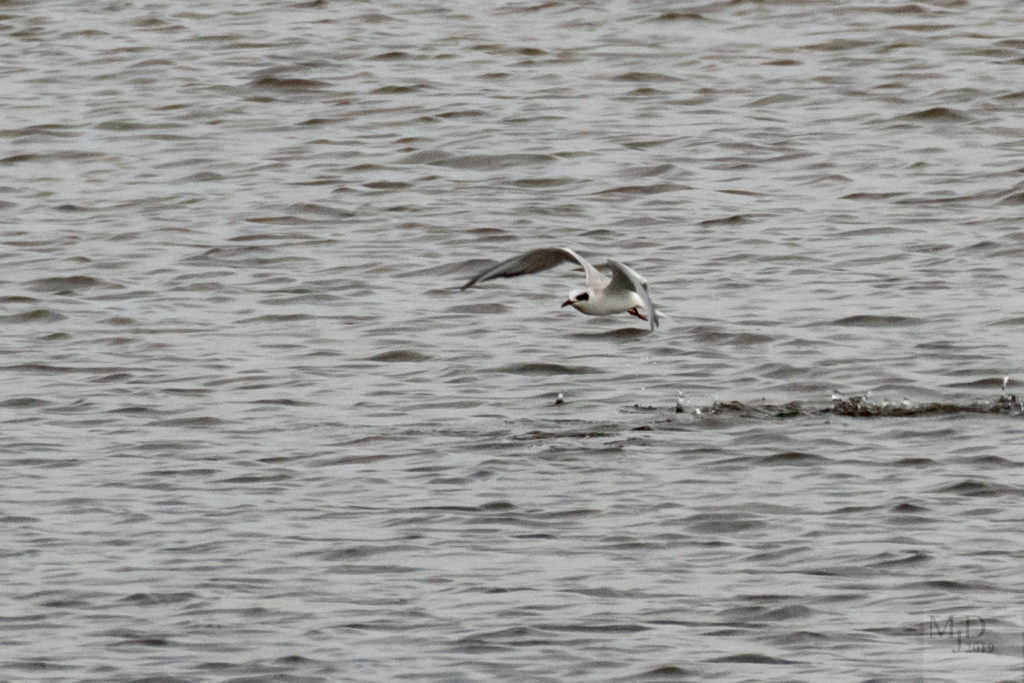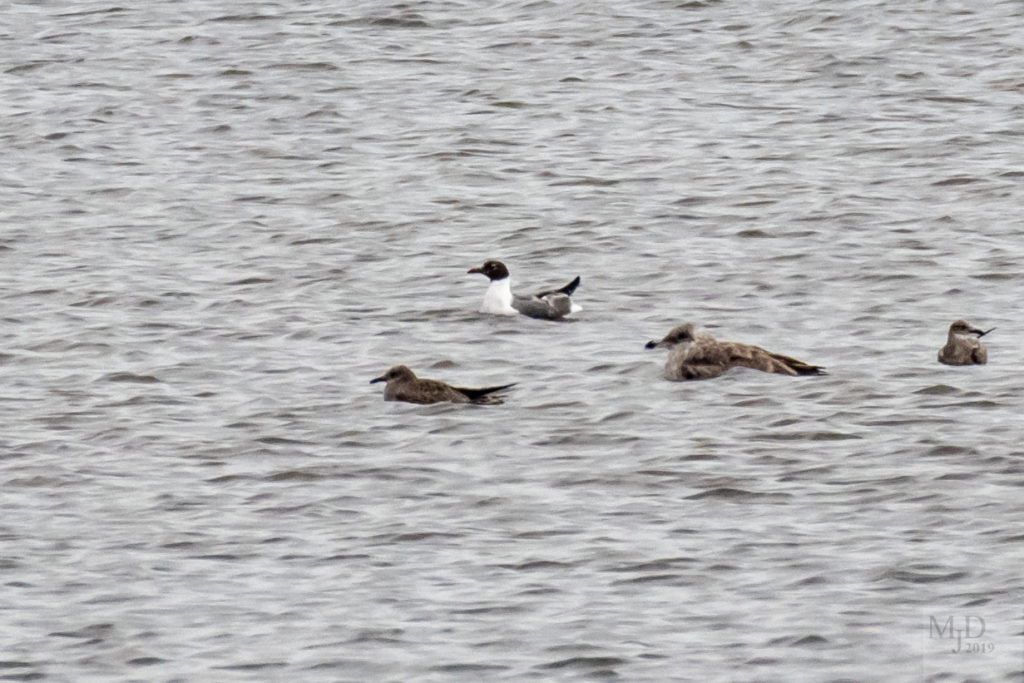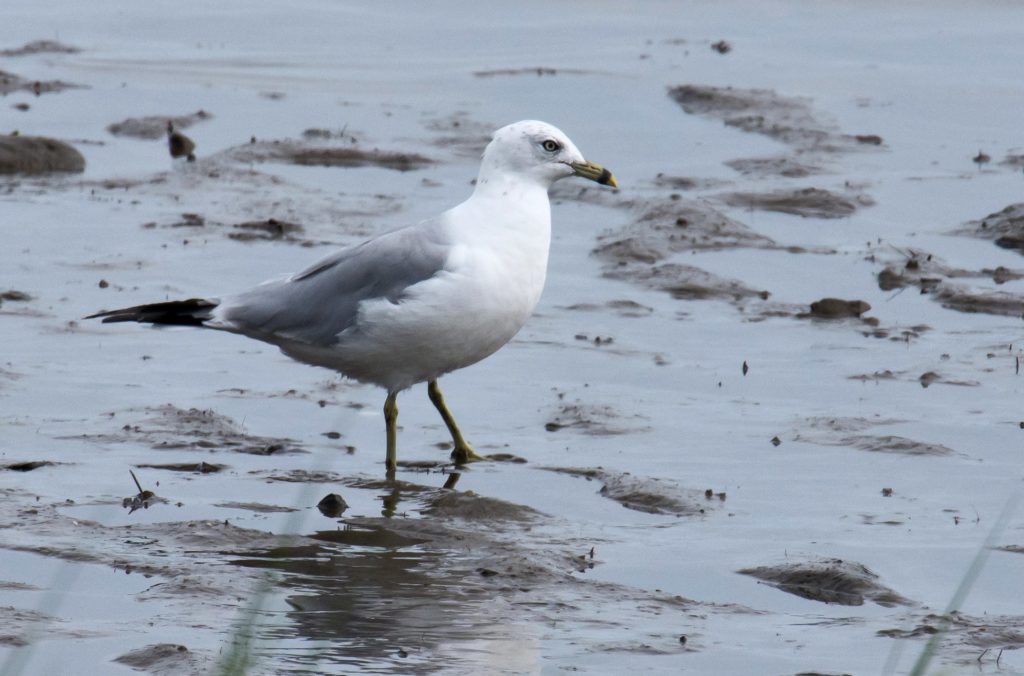 On to Plum Island, the usual gathering of Semipalmated Sandpipers on the Main Panne's algae mat was absent, no doubt because the Merrimack River mudflats were still attracting shorebirds. The small pannes were also devoid of any shorebird activity. Bill Forward Pool held a few shorebirds, including a single White-rumped Sandpiper and a Least Sandpiper, noticeably smaller than the White-rump. About 10 Short-billed Dowitchers foraged in the shallow water along both shorelines. At one point, about 75 Black-bellied Plovers in two flocks flew into Bill Forward Pool, but did not linger, off for parts unknown. Nonetheless, always an impressive sight! It's possible that these Black-bellies were the very same we saw from the Joppa Park boat ramp being forced off the flats by the incoming tide.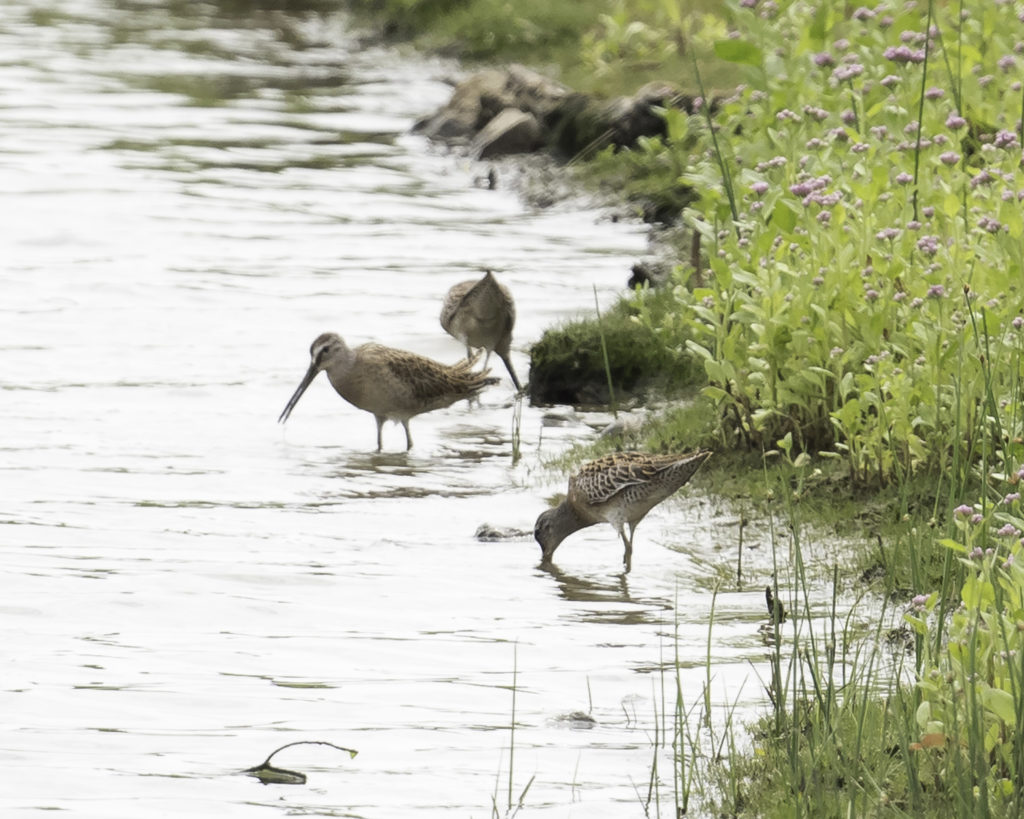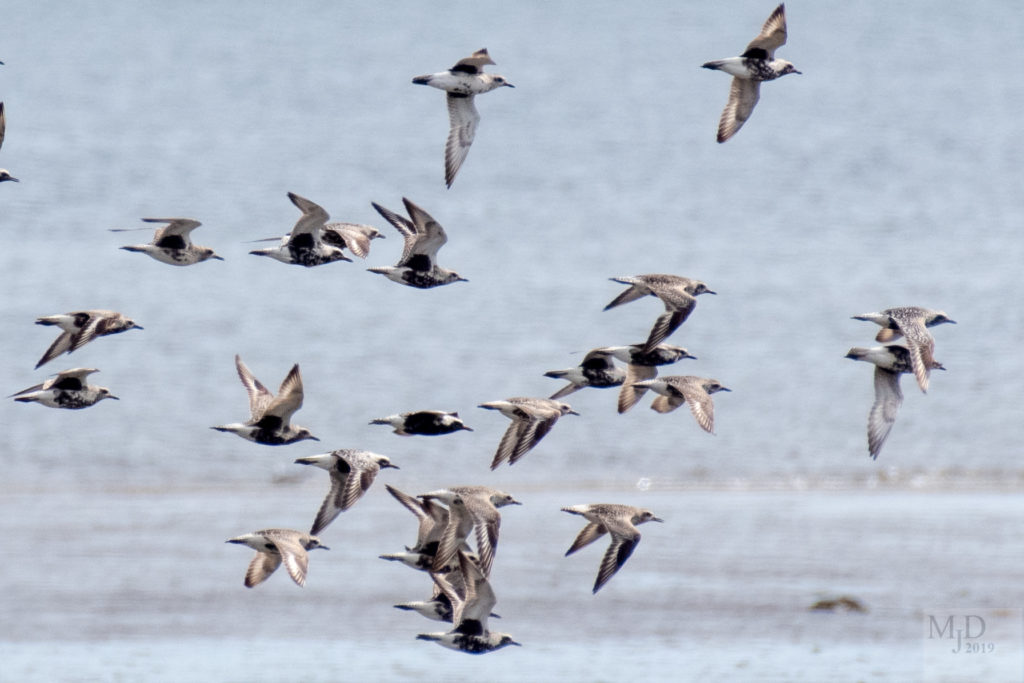 A number of ducks fed and loafed in and around Bill Forward Pool. There was a Gadwall hen and her three youngsters; lots of Mallards; and the first somewhat big increase in the number of Green-winged Teal present, about 20.
Doing an about face on the Hellcat dike, we could see a small flock of yellowlegs, both Greater and Lesser Yellowlegs, loafing on the flats of North Pool — a great comparison of the two species. Earlier, a Spotted Sandpiper was seen on those same flats.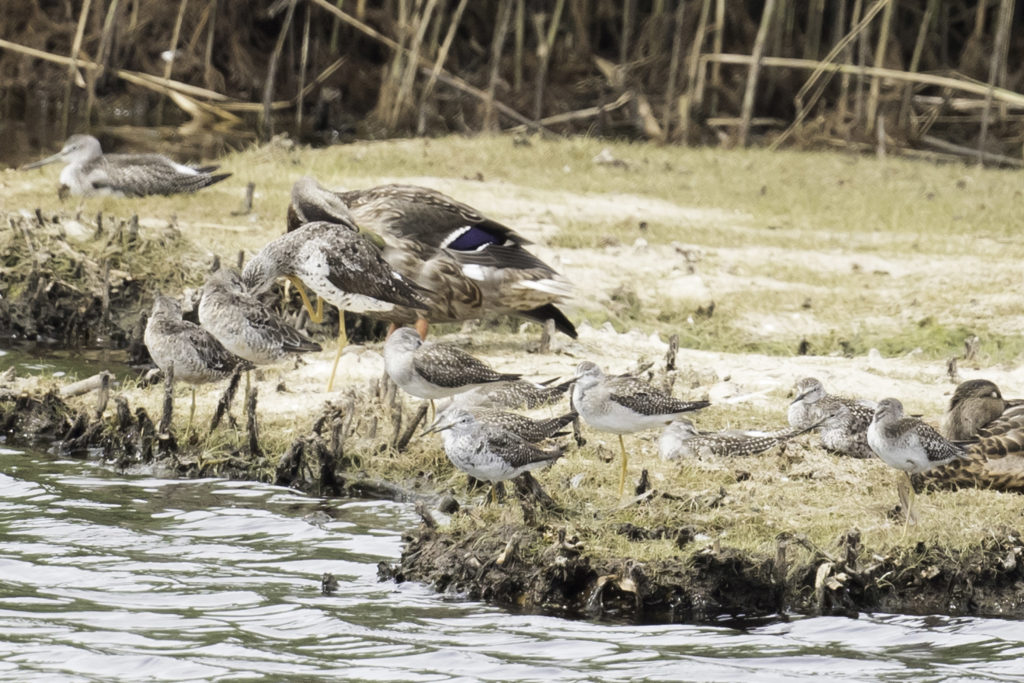 While observing the various shorebirds, Tree Swallows were commonly in view. Many were hawking for insects above us; many paraded from the Bill Forward Pool area up over us on the dike, skimming the waters of North Pool for a drink here and there; and many alighted briefly in the Phragmites and cattail before taking off again to fill the sky with their zigging and zagging. It's quite the spectacle at sundown to see these birds massing over North Pool Marsh readying themselves for a night's roost in the tall vegetation.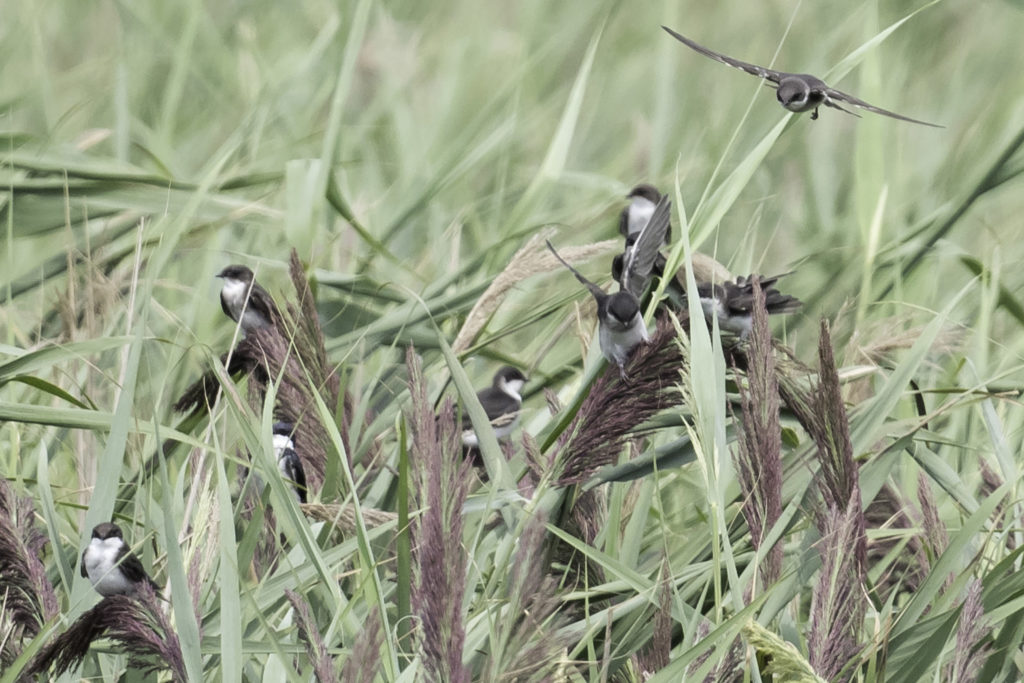 The shorebird migration continues! I hope that you will join us for the next edition of Wednesday Morning Birding — my goodness, the last Wednesday in August . . . . Hard to believe that summer is essentially over. Hope to see you next week.
Cheers and all the best!
Dave Weaver
Our list:
Perkins Park —
Black-crowned Night-Heron (4) – 1 ad, 3 imm.
Belted Kingfisher (1) – male.
Downy Woodpecker (1)
Carolina Wren (1)
American Goldfinch (2)
Joppa Park —
Great Egret (2)
Turkey Vulture (3)
Osprey (1)
Black-bellied Plover (~ 75)
Semipalmated Plover (~ 15)
Greater Yellowlegs (~ 40)
Semipalmated Sandpiper – common.
Short-billed Dowitcher (~ 20)
Bonaparte's Gull (~ 25)
Ring-billed Gull – many.
Herring Gull
Great Black-backed Gull (7)
Common Tern (~ 20)
Forster's Tern (1)
Rock Pigeon
Plum Island —
Canada Goose (~ 15) – Bill Forward Pool (BFP).
Gadwall (4) – hen & 3 imm.; BFP.
Mallard (~ 30) – BFP.
Green-winged Teal (~ 20) – BFP.
Double-crested Cormorant (3) – 1, BFP; 2, North Pool from Hellcat dike.
Great Blue Heron (1) – BFP.
Great Egret (5) – various.
Black-bellied Plover (~ 75) – 2 flocks flying into & out of BFP (with tide coming, Black-bellies from river flats??).
Semipalmated Plover (1) – BFP.
Spotted Sandpiper (1) – North Pool from Hellcat dike.
Greater Yellowlegs (~ 10) – North Pool from Hellcat dike.
Lesser Yellowlegs (5) – North Pool from Hellcat dike.
Least Sandpiper (1) – BFP.
White-rumped Sandpiper (1) – BFP.
Short-billed Dowitcher (~ 10) – BFP.
Rock Pigeon
Mourning Dove (1)
Eastern Kingbird (2)
Tree Swallow – common.
Gray Catbird (4) – various road crossing.
European Starling – many flocks.
Cedar Waxwing (~ 7) – BFP.
Song Sparrow (2)
Red-winged Blackbird (1) – Hellcat dike.
House Sparrow