Donna Cooper joined me in leading Wednesday Morning Birding on what turned out to be a rather quiet morning birdwise. Skies were overcast to mostly cloudy; the air was calm; and the temp was a steady 64 degrees F. When all said and done, we realized 38 species of birds. To date, our tally for 2019 is 167 species.
With low tide at 8:30 am, we decided to go directly to Sandy Point. Surely with the overcast conditions, there would be very few "beach creatures" to deal with and, therefore, parking places available. En route, we spied a pair of Gadwalls on the Main Panne, an American Black Duck (unusual at this time of year) in flight, and an Osprey perched atop the Pines Trail nesting platform.
While on the beach at Sandy Point, we saw about six Piping Plovers; one was on a nest. In addition to the usual Herring Gulls and a Great Black-backed Gull or two, there were about seven Least Terns, two of which were on a nest. Mates were seen bringing food to the nest-bound mate. Aside from the size difference, recall that the Least Tern's outstanding field marks are a yellow bill with black tip and a white forehead contrasting with its black cap; as compared with the larger Common Tern's orange-red bill with black tip and complete black cap. A second Osprey was a fly-by. Other than the plovers, terns, and gulls, not a lot going on on the beach. Walking to and from, we could hear a couple of Song Sparrows singing along with the "your teeeee" of an Eastern Towhee. We heard a number of towhees singing up and down the island as we drove, and saw and heard Gray Catbirds and Eastern Kingbirds.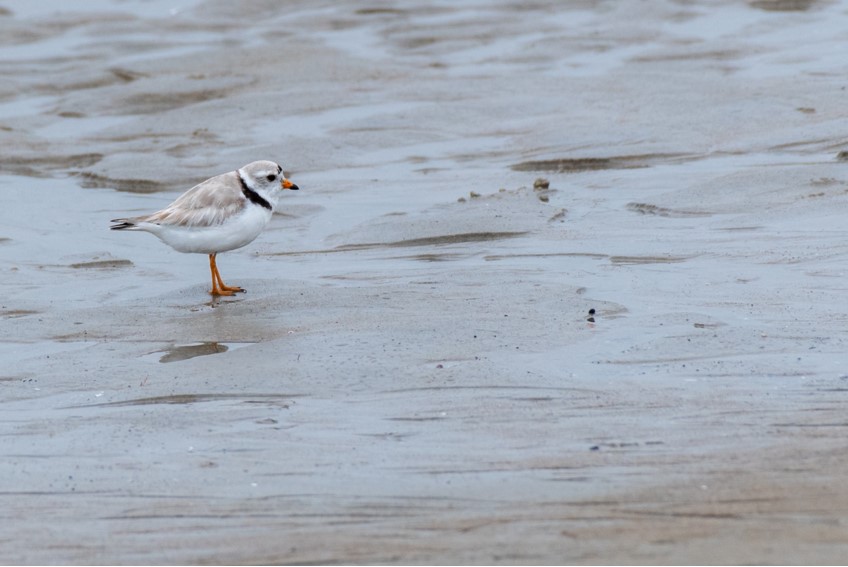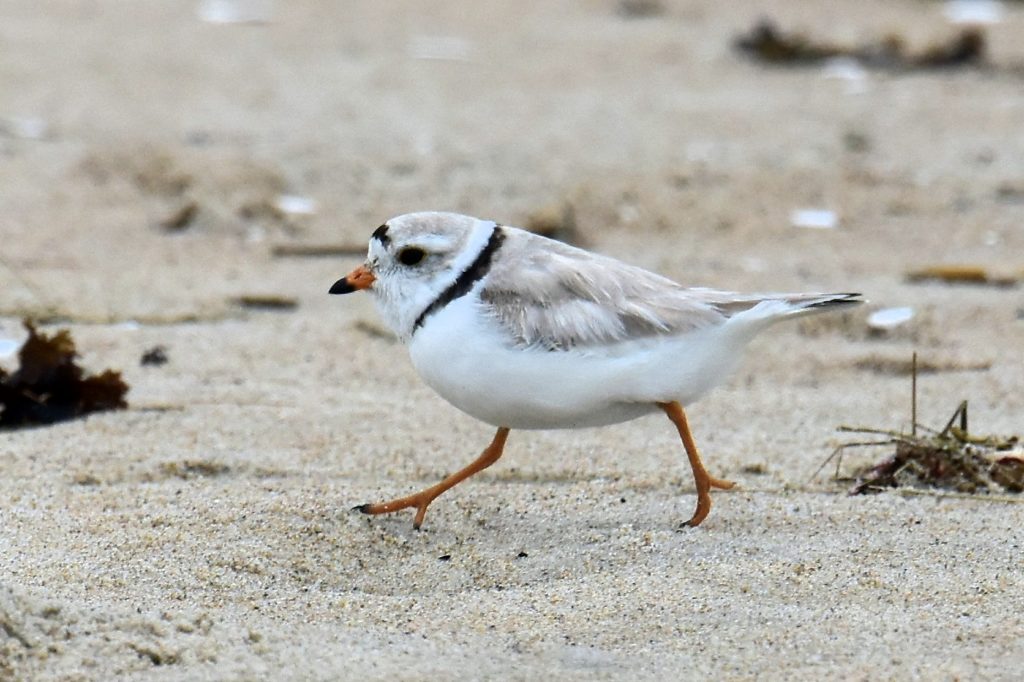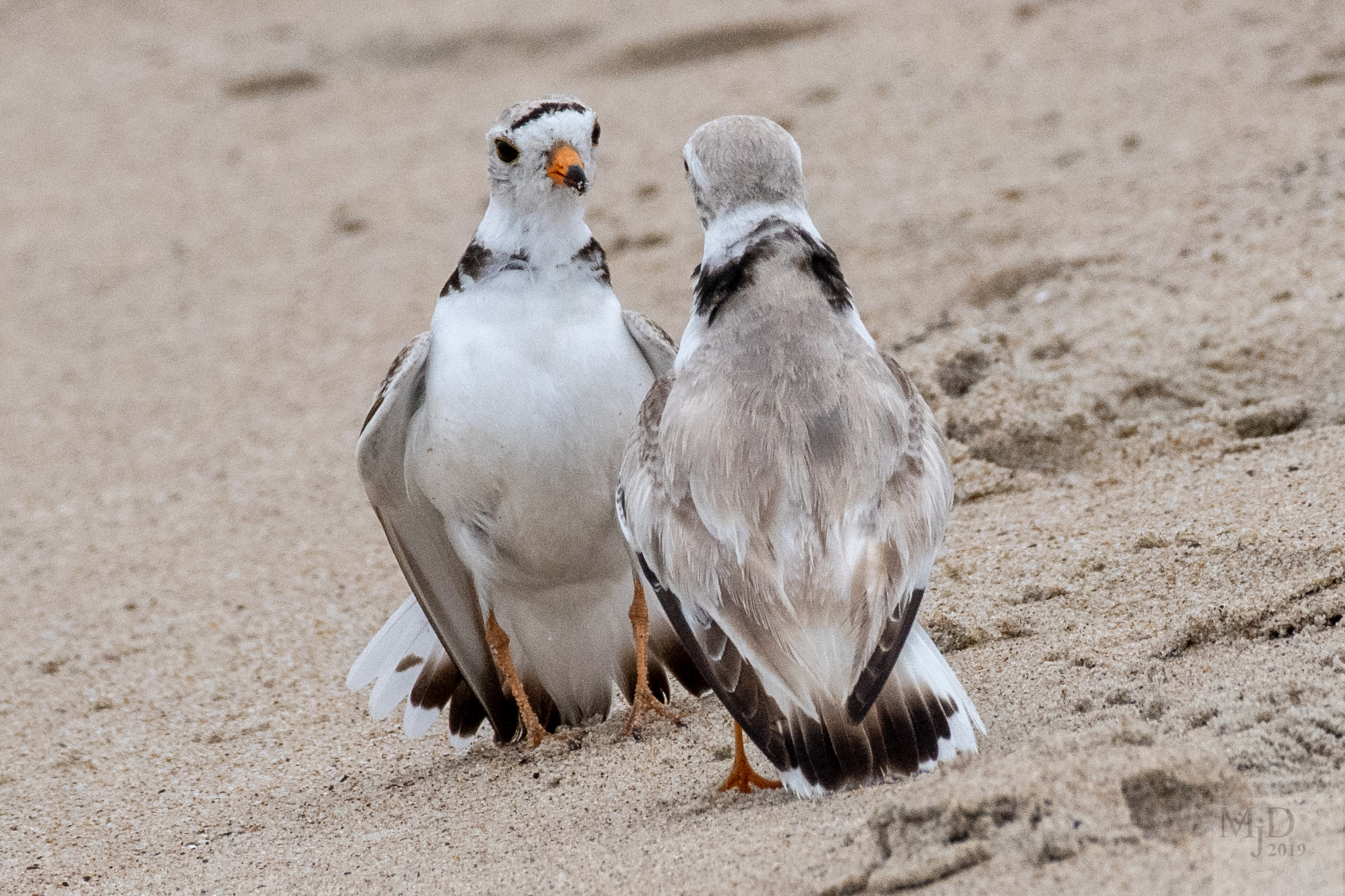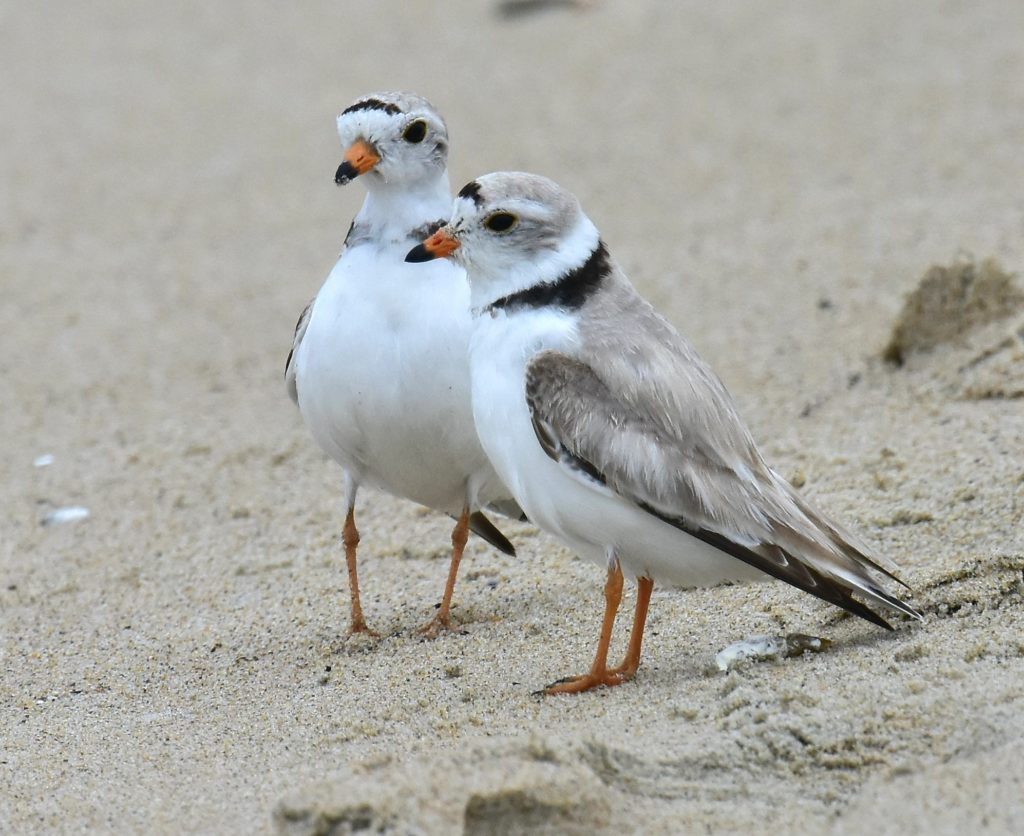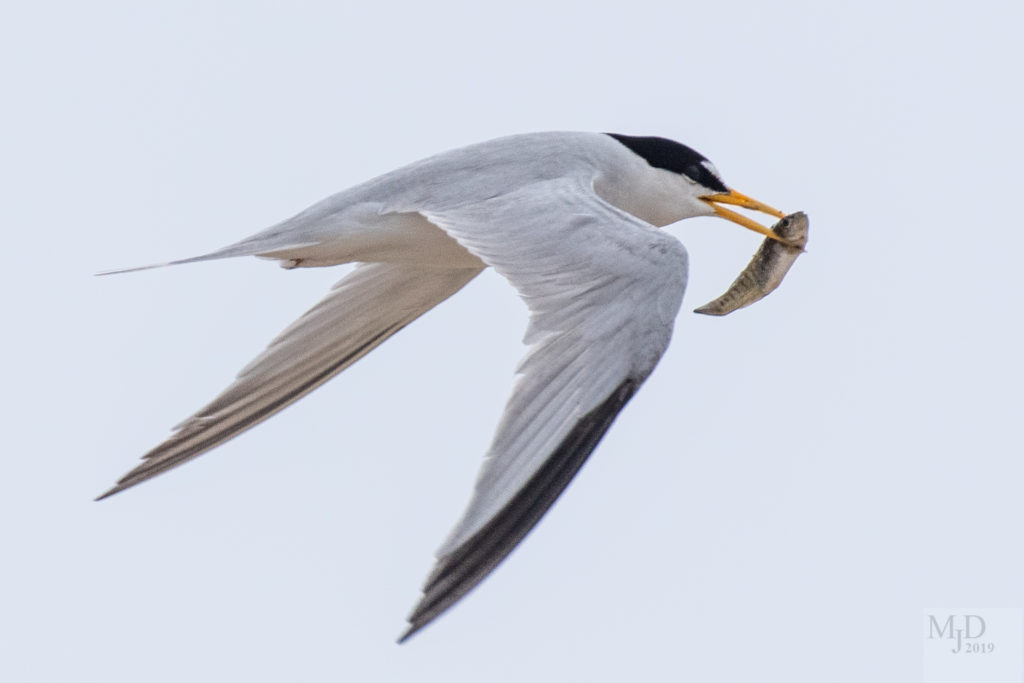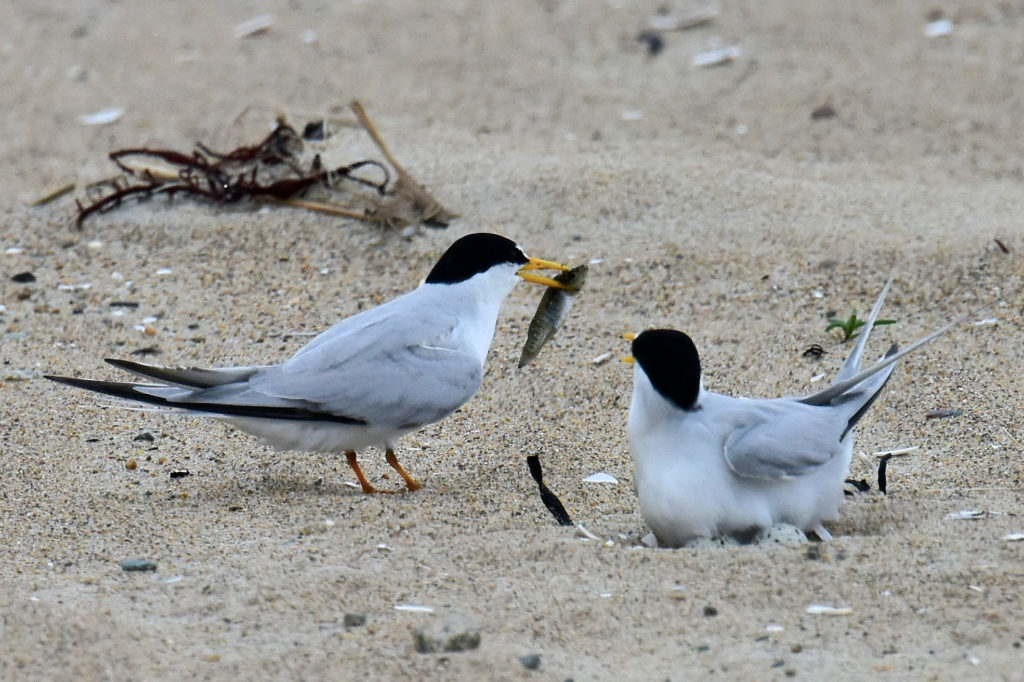 At the Hellcat parking lot, a Baltimore Oriole briefly sang, as did a Purple Finch — otherwise, with nesting in full swing, there was very little song. A Yellow Warbler quickly flew from one side of the parking lot to the other. From the Hellcat dike, many ducks were feeding and loafing on Bill Forward Pool. The vast majority of ducks were Mallards, about 75 of them. Most of them were drakes in eclipse molt. The "best of show" award went to three drake Green-winged Teal, which were very close to us — the best looks many of us had ever had. Yes, one was in the early stages of eclipse molt, but the other two were pretty sharp continuing in their nuptial plumage. While we were enjoying the waterfowl spectacle, a pair of Gadwalls flew in fairly close by. Also on the pool were a Great Egret and several Double-crested Cormorants, including two young of the year. A pair of Willets put on a rather late courtship flight with attendant vocalizing — quite the show . . . . and a Killdeer fed in the mud nearby.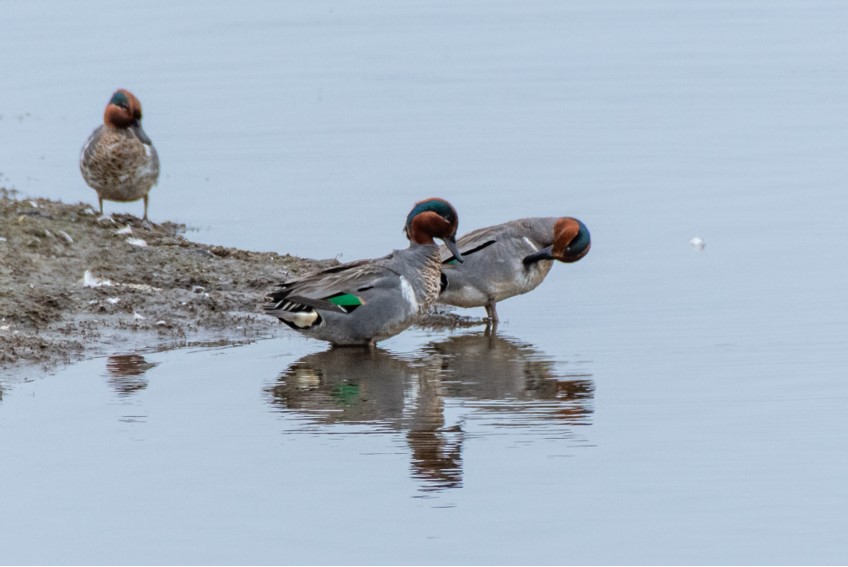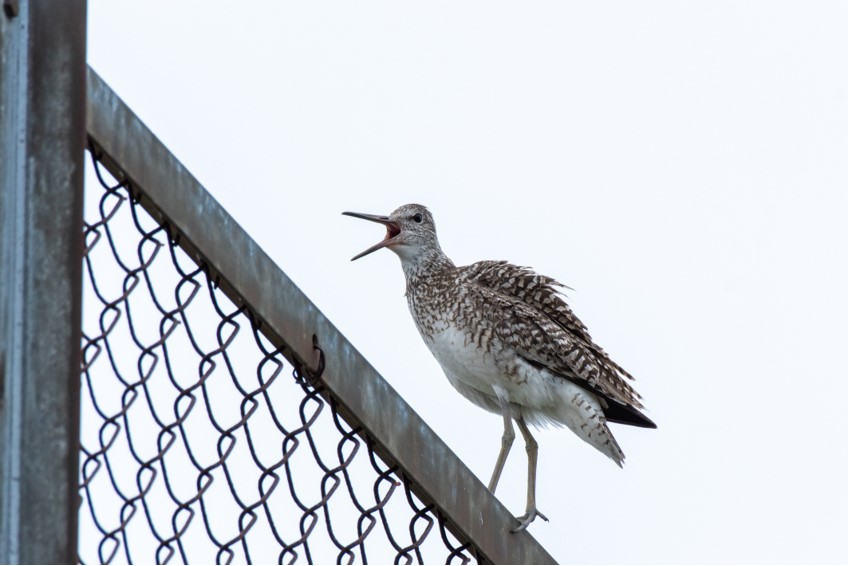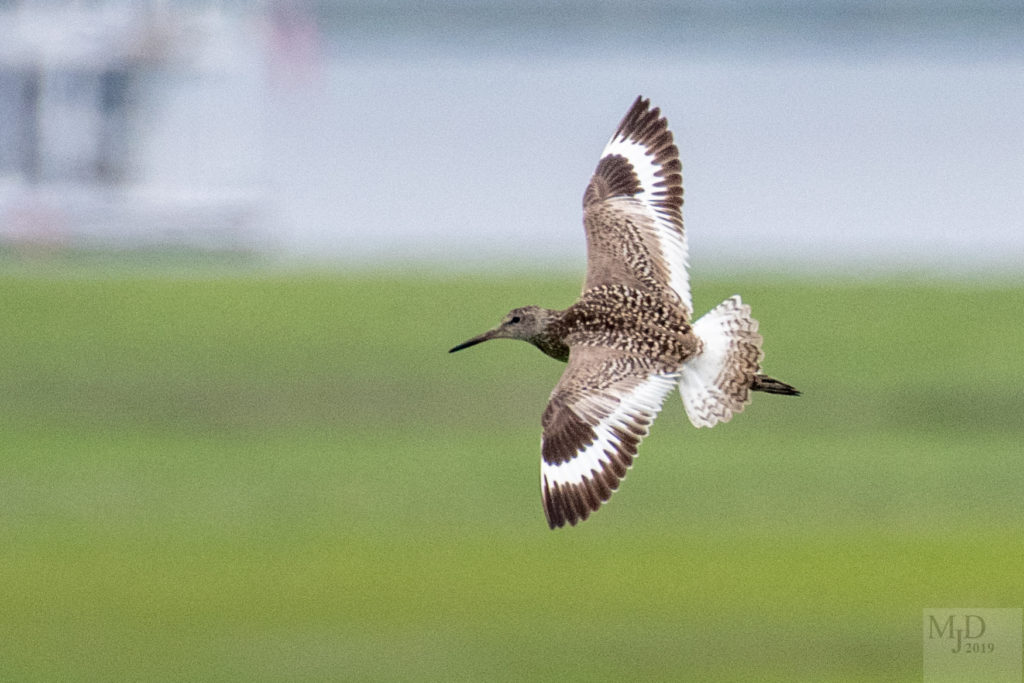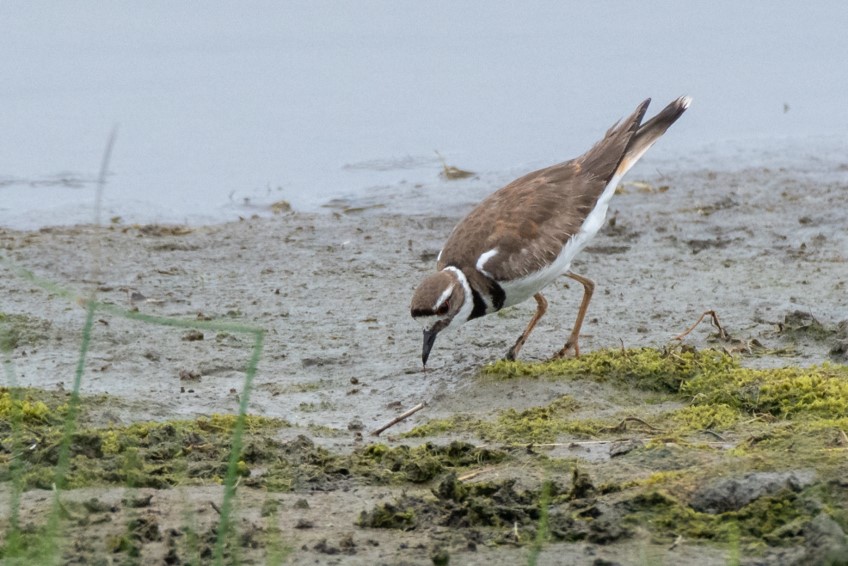 At Joyce Spencer's suggestion, we walked up the refuge road to check on the American Redstart nest David Moon had located a couple of weeks earlier. We were able to find the nest just south of Goodno Crossing and were rewarded with seeing the female redstart brooding her young before going on a grocery run. As we watched, there were several feedings. We were able to see only one nestling, but surely there were more. That was a nice way to wrap up our visit to Hellcat.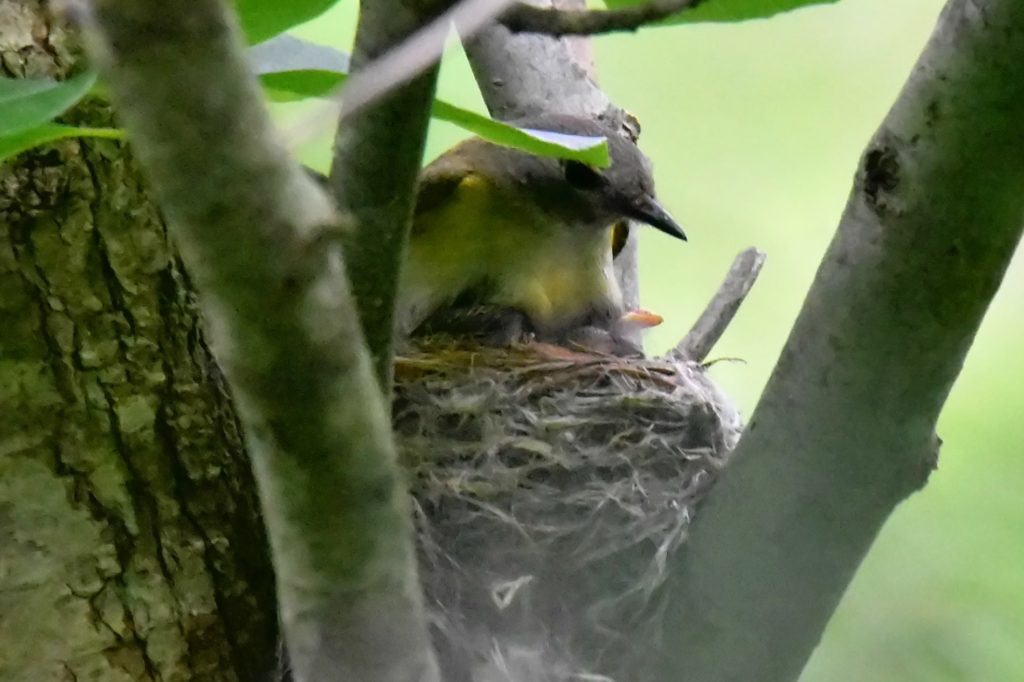 On our way back to Joppa, we stopped briefly at the small pannes to try for Saltmarsh Sparrow. Donna caught fleeting glimpses of small, dark objects in the marsh — the typical "Johnnie Jump Ups" behavior of Saltmarsh Sparrows, but we were never able to catch one perched.
Please join us next Wednesday, June 26, for our last Wednesday Morning Birding before the July hiatus. David Moon will be back from his Iceland adventure. Following next Wednesday, August 7 marks the next WMB program.
All the best!
Dave Weaver
Our list:
Canada Goose (~ 20) – Bill Forward Pool (BFP).
Gadwall (4) – pr. on Main Panne; pr on BFP.
American Black Duck (1) – in flight over marsh n. Main Panne.
Mallard (~ 75) – BFP.
Green-winged Teal (3) -drakes, BFP; probably 6 more Green-wings at s.
end BFP.
Wild Turkey (1) – roadside.
Double-crested Cormorant (~ 7) – various; including 2 juvs, BFP.
Great Egret (4)
Osprey (2) – 1 on Pines platform; 1, Sandy Point.
Piping Plover (~ 6) – Sandy Point.
Killdeer (2)
Greater Yellowlegs (1) – Main Panne.
Willet (~ 12) – various, active courtship displays at BFP.
Herring Gull – Sandy Point.
Great Black-backed Gull (2) – Sandy Point.
Least Tern (~ 7) – 2 on nest; Sandy Point.
Mourning Dove (2)
Eastern Kingbird (~ 7) – various.
Purple Martin (~ 10) – parking lot #1.
Tree Swallow (1)
Black-capped Chickadee (1) – near Goodno Crossing.
Carolina Wren (1) – singing in vicinity of Goodno Crossing.
American Robin (~ 6)
Gray Catbird – common.
European Starling
Cedar Waxwing (2) – shrubs across road from South Marsh.
Common Yellowthroat (1) – Hellcat.
American Redstart (3) – pr. & 1 nestling, s. Goodno Crossing.
Yellow Warbler (~ 5) – various.
Eastern Towhee – common.
Song Sparrow(~ 5) – various.
Northern Cardinal (1) – shrubs across road from South Marsh.
Bobolink (3) – various.
Red-winged Blackbird – common.
Common Grackle – common.
Brown-headed Cowbird (1)
Baltimore Oriole (2) – 1, Hellcat parking lot; 1, Goodno Crossing.
Purple Finch (2) – Hellcat.