This Wednesday, Susan Yurkus and I met a group of fifty birders in Gloucester for our monthly winter excursion around Cape Ann. Was it reports of alcids? Lovely, mild weather? The alignment of the stars? Having seen such a crowd four years ago on my first such outing, I decided that we would stay calm and bird on, which turned out to be a great strategy.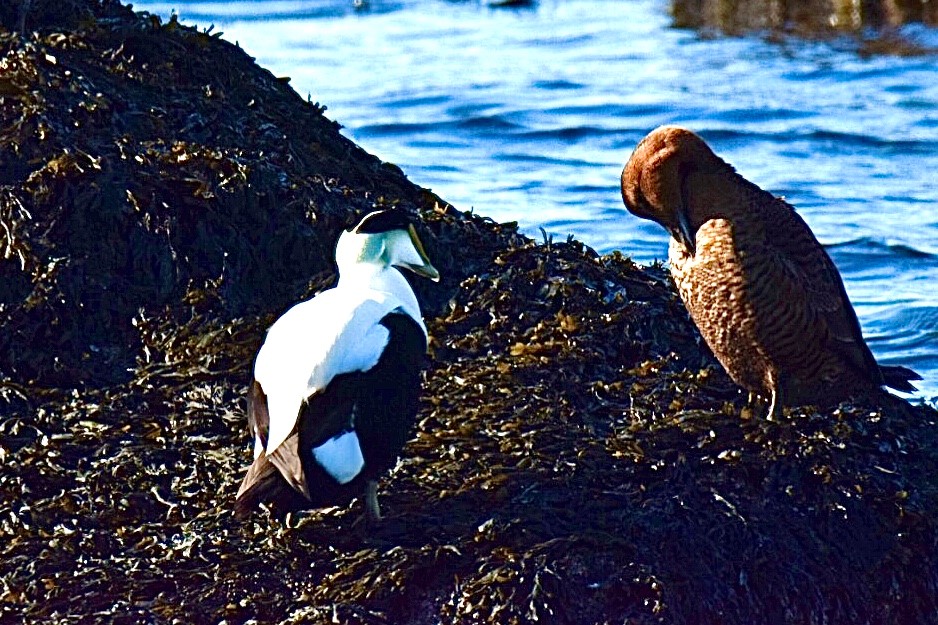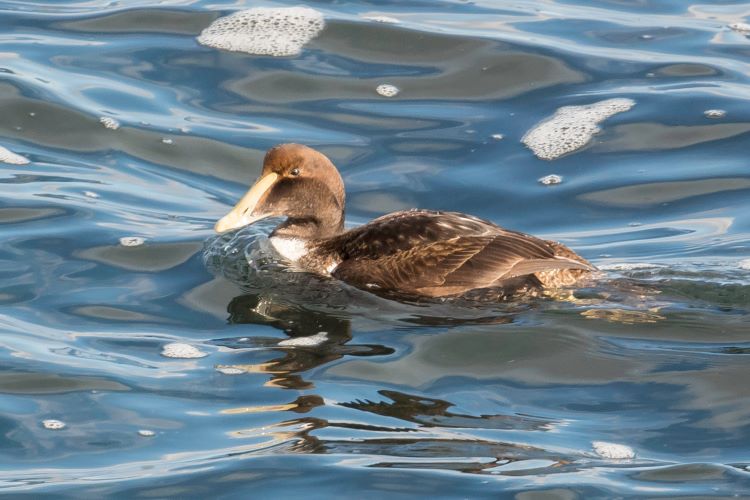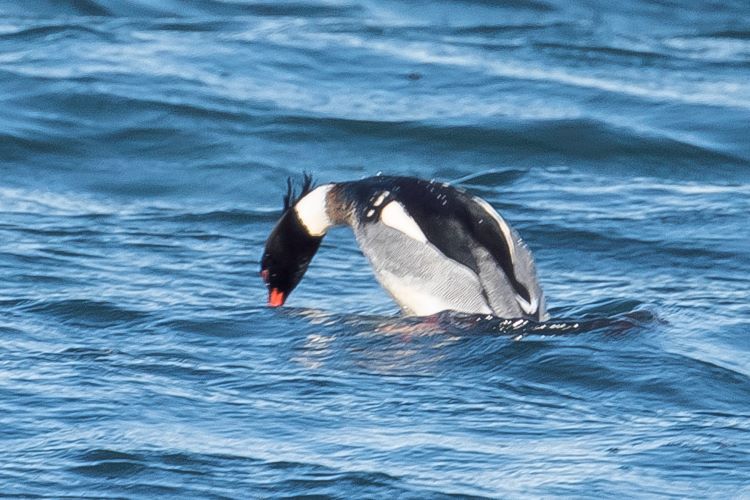 The harbor was busy from the fish pier, with plenty of gulls and eiders all about, smattered with Red-breasted Mergansers and eventually some scoters and a Dovekie. The Peregrine Falcons of City Hall's roof were foraging or roosting elsewhere, and we had no sightings. At this point in the year, the motley appearance of male mergansers has sharpened into beautiful alternate plumage. For those kind birders who tried to point out the Dovekie, it gave a merry chase, and unfortunately we were not able to get everyone on the bird before we had to move on.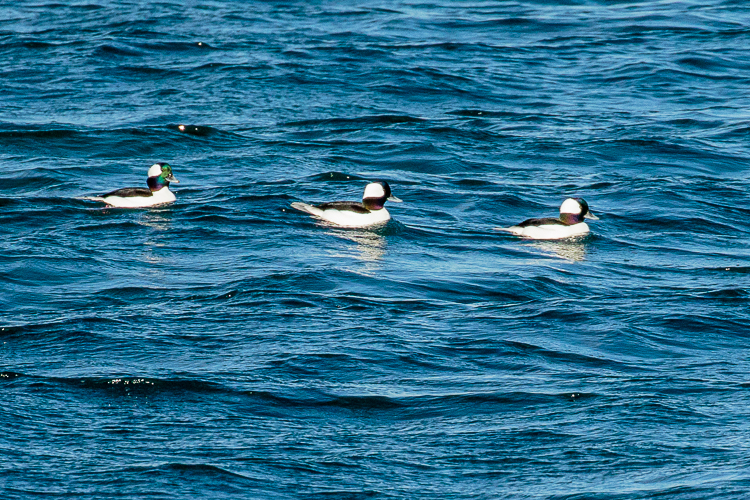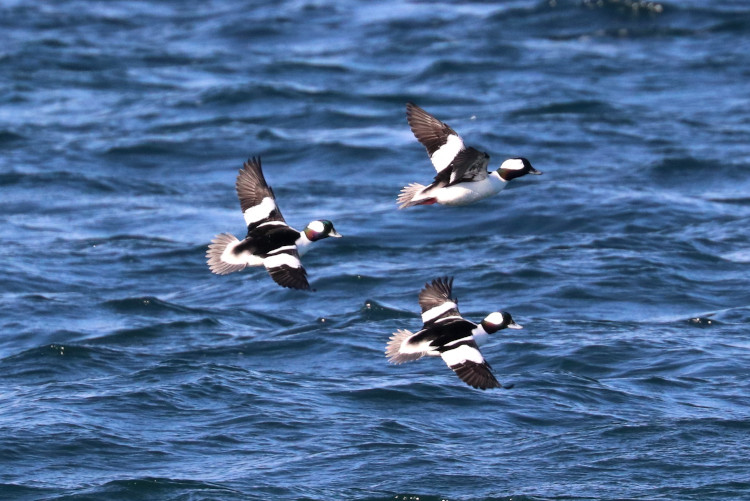 With such a big caravan, we could only slow a bit to check Niles Beach, and only saw Buffleheads, but plenty of them. Eastern Point was more interesting, with a close flock of resplendent Gadwall drakes in perfect light, some close Buffeheads and mergansers, and not too far off, gorgeous drake Surf Scoters. White-winged Scoters stayed farther out.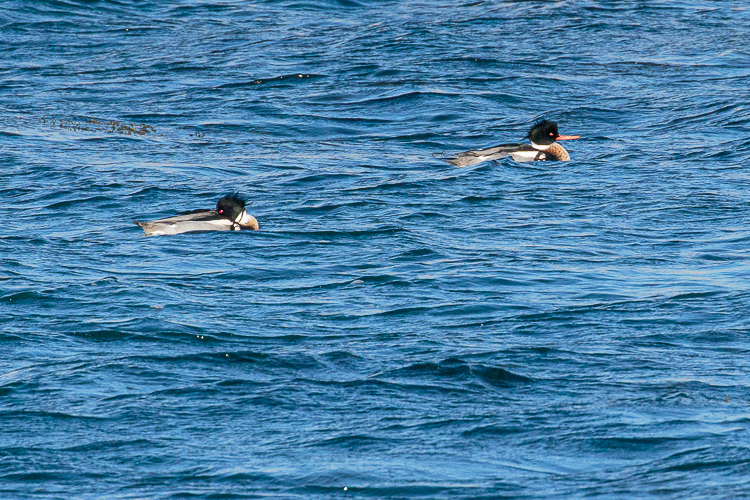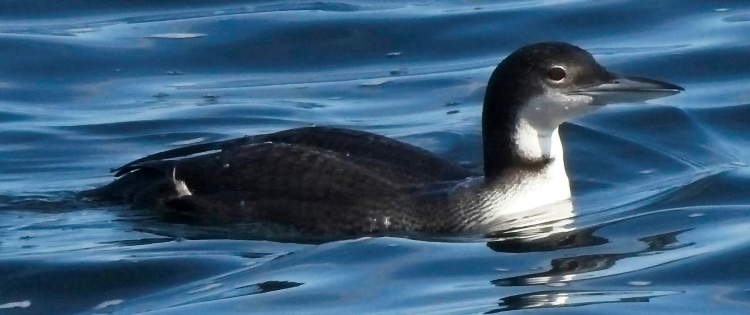 Moving along to Atlantic Road, Cormorant Rock was festooned with a little crowd of Great Cormorants, including some juveniles, and adults in alternate plumage with soft-part colors appearing. As "great" as they were, they still slouched just like "DCs" (Double-crested Cormorants). The Elks Club is a good place for alcids; we particularly hoped for Black Guillemots there, but instead we saw more Dovekies, one of which took a dive with some Buffleheads the moment we stepped across the road. I was starting to suspect hungry sharks, when a Dovekie finally surfaced far away from the first close-in spot. Par for the course. Another Dovekie eventually joined that first one. As usual, White-winged Scoters showed off just off shore there, and around the corner the cove hosted plenty of Buffleheads.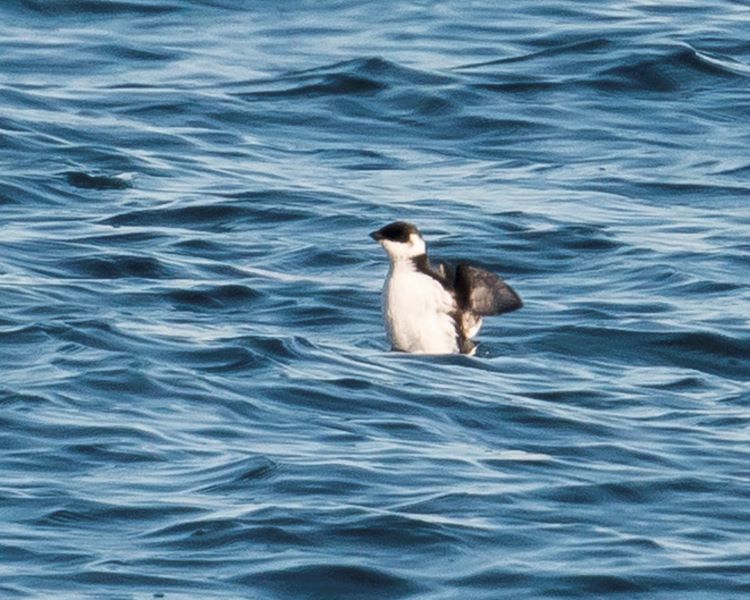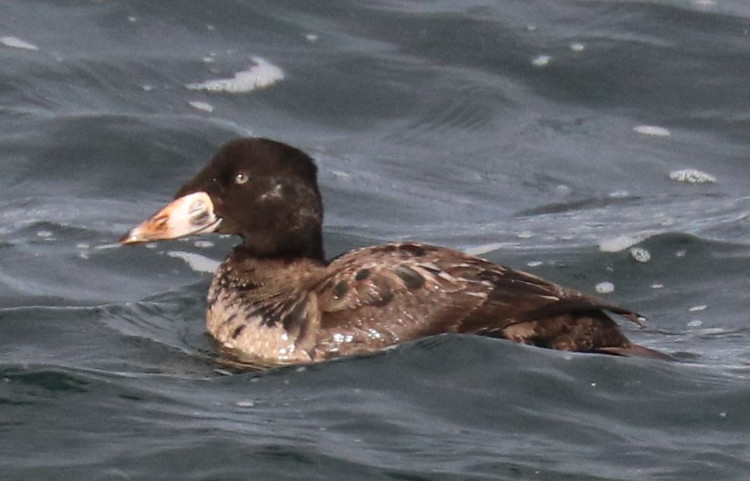 Cruising through the marsh behind Good Harbor Beach, we picked up a flock of Canada Geese, a few American Black Ducks, and a soaring Red-tailed Hawk that we have seen there on many other occasions. Rockport Harbor was quiet, but afforded us Rock Pigeons and a huge chorus of unseen House Sparrows. I wonder, if House Sparrows were to start to decline in the US as they have in Europe, would we begin counting them with more attention? The coves on the way to Cathedral Ledge held only gulls, so we were ready for something special. Sure enough, one lone Purple Sandpiper gave us views of every feather as it cavorted on the nearby rocks. Harlequin Ducks were visible very nearby shortly, and at all times farther off.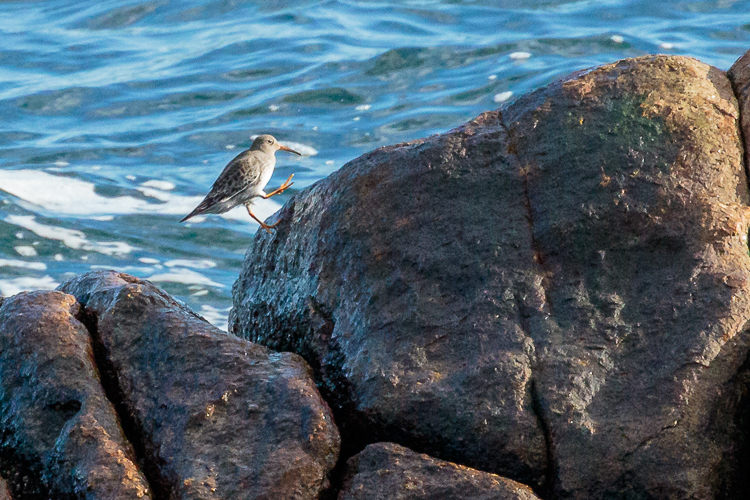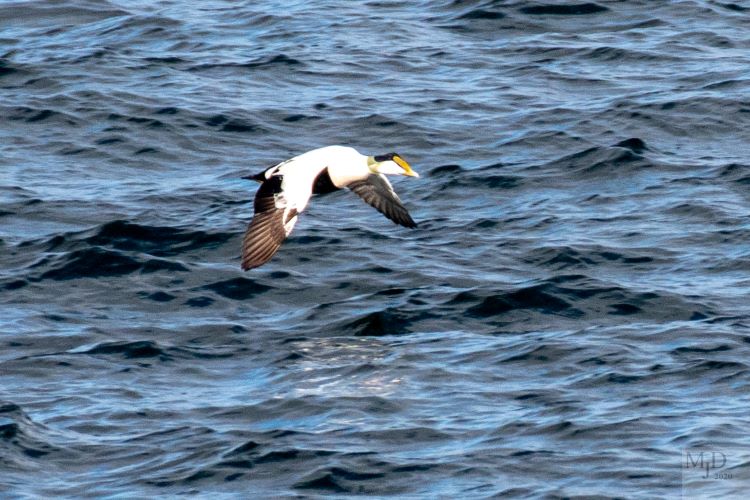 At Andrews Point, a group of birders from western Massachusetts reported Razorbills as they trudged off. After enjoying great views of more "Harleys" and some handsome drake Black Scoters, some of us caught views of those reported Razorbills flying in a characteristic headlong, rushing line out over the sea. It was a sweet day to be out in a place that often numbs us to the bone at this time of year. There are a couple of more chances to suffer aching fingers and watering eyes, but with joyful views of really cool birds. Future Cape Ann Wednesdays are February 12 and March 11. And then, spring!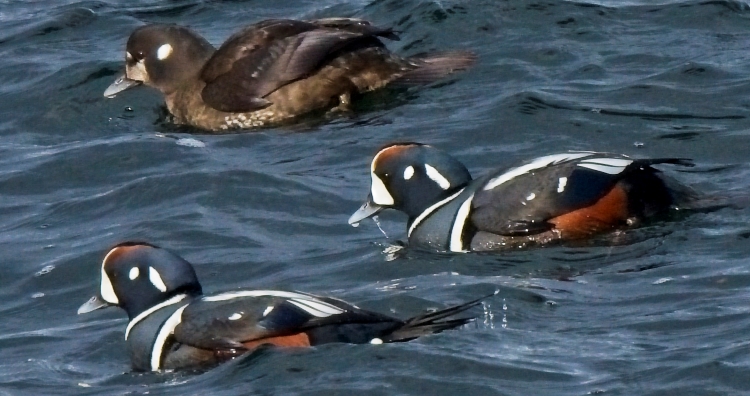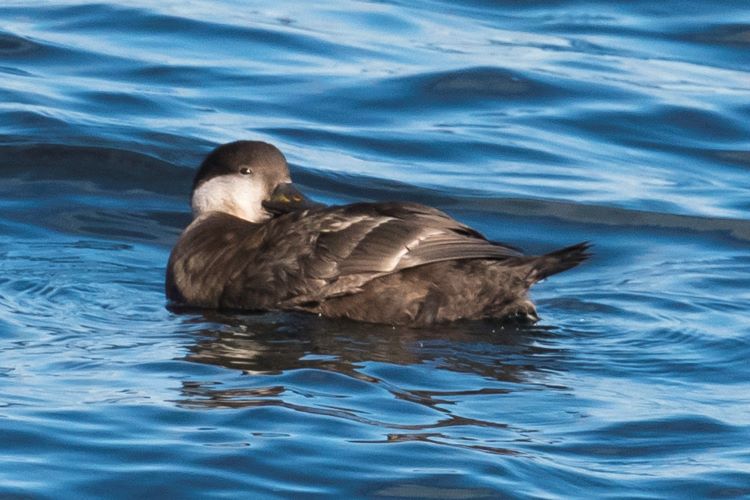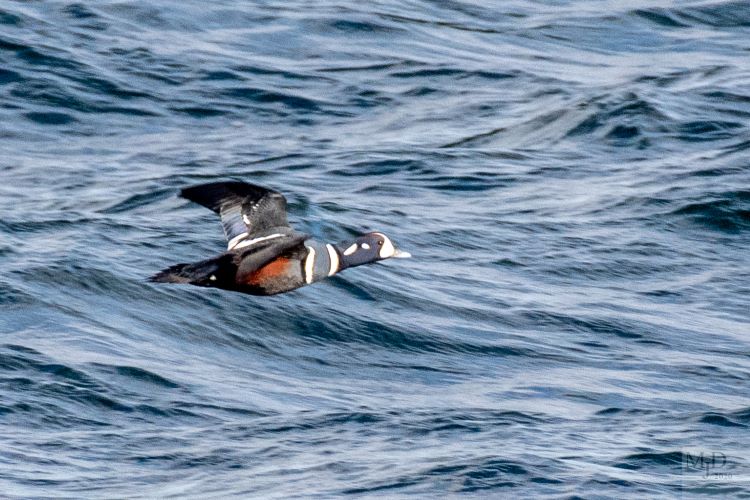 Our list:
Canada Goose (45) – Good Harbor Marsh.
Gadwall (11) – Eastern Point marsh.
Mallard (20) – Niles Pond.
American Black Duck (7) – Good Harbor marsh.
Greater Scaup (30) – Niles Pond.
Common Eider – common.
Harlequin Duck (20) – 12, Cathedral Ledge; 8, Andrews Point.
Surf Scoter (18) – various.
White-winged Scoter – common.
Black Scoter (8) – 4, Cathedral Ledge; 4, Andrews Point.
Long-tailed Duck (3) – 2, eastern, 1Andrews Point.
Bufflehead – common.
Common Goldeneye (2) – Elks Club.
Red-breasted Merganser – common.
Wild Turkey (1) – Roadside yard, Gloucester.
Rock Pigeon
Dunlin – probable flock of 200 on Sandy Bay Breakwater (from Cathedral Ledge).
Purple Sandpiper (1) – Cathedral Ledge.
Dovekie (3) – 1, Gloucester Harbor from Jodrey Fish Pier; 2, Elks Club.
Razorbill – (3) Andrews Point.
Ring-billed Gull (25) – Niles Pond.
Herring Gull – common.
Iceland Gull (1) – Niles Pond.
Great Black-backed Gull – common.
Common Loon (6) – 3, Eastern Point; 1, Bass rocks; 2, Andrews Point.
Great Cormorant (7) – Cormorant Rock, Atlantic Road.
Red-tailed Hawk (2) – 1, Niles Pond; 1, Good Harbor Beach parking lot.
Blue Jay (1) – Eastern point.
American Crow – common.
Black-capped Chickadee (1) – Niles Pond.
European Starling
House Sparrow