During our two sessions of Wednesday Morning Birding last week, one at 7:30 am and the other at 9:30 am, we moved about according to the dictates of the tide. With the early low tide expected to reveal all sorts of avian goodies on Joppa Flats, for our first session with Dave Weaver we met at the Joppa Park boat ramp, which has been recently renovated by the city. We spent a leisurely time observing gulls, shorebirds, Common Terns, and a few Bald Eagles as the tide pushed birds closer and closer to shore. What a treat when we have the timing right! I was careful to count the many egrets (and one Glossy Ibis!) near the wastewater treatment plant to get a good ratio of Great to Snowy Egrets, 42 vs 14. I did a similar survey of Greater to Lesser Yellowlegs, 91-18. We are wishing we could find a godwit out there – it's one shorebird that's easy to pick out when the birds are far down the flats!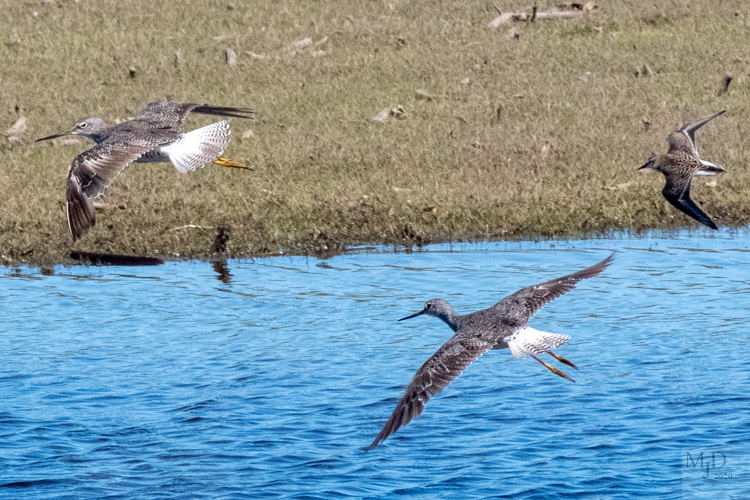 Having wrung every identification opportunity out of the flats, we headed for Plum Island, hoping the American Avocet from the day before would be in the Main Panne. Alas, no avocet. The Main Panne was transformed since the previous evening, when there had been an extensive mud flat fringe around the edge of the panne. The high tides had been getting higher each day as they do through the monthly cycles, and had reached 8.8 feet in Newburyport. That was enough to fill the Main Panne, temporarily obscuring a lot of roosting and foraging habitat, and perhaps making it less attractive to an avocet.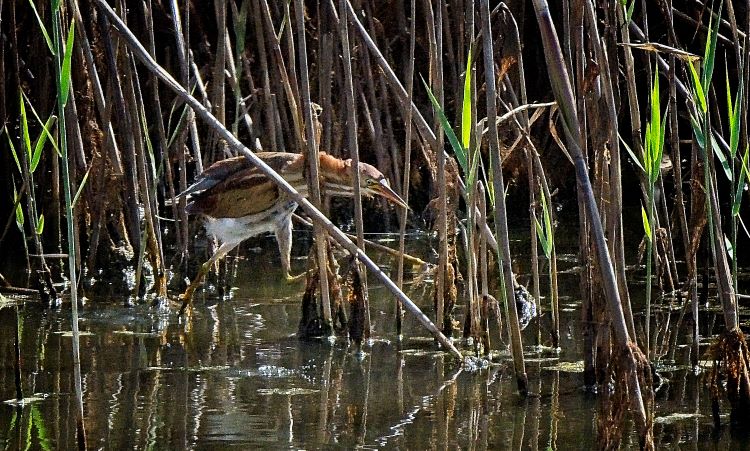 We went on to Hellcat, where one of the Least Bitterns that's been regularly seen there was again visible. The week before we had seen about ten thousand Tree Swallows at Hellcat, but this week there were few in evidence there. The numbers and locations of large flocks of Tree Swallows shifts about in time and location. Although we didn't see too many in our early session at Hellcat, as our first group of participants departed and I went on to meet the next one at the Main Panne, we found a huge congregation at the Main Panne that had not been there earlier.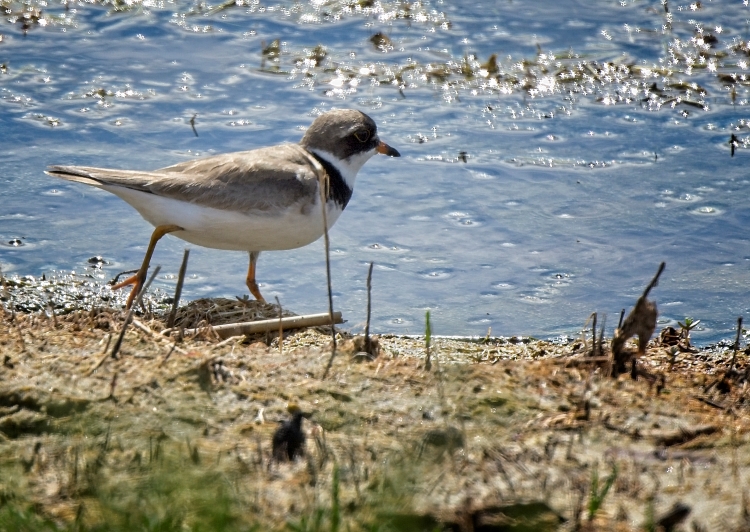 The numbers of shorebirds at Bill Forward Pool were not very great during the early session, but they did build as the morning wore on. By the time the second session of Wednesday Morning Birding was drawing to a close, the high tide roost congregation was significant. One particular treat for us was spotting a Northern Harrier flying by over the marsh. Other birders have started to report harriers recently, but that moment of seeing a bird that represents a new season is special when it happens "live."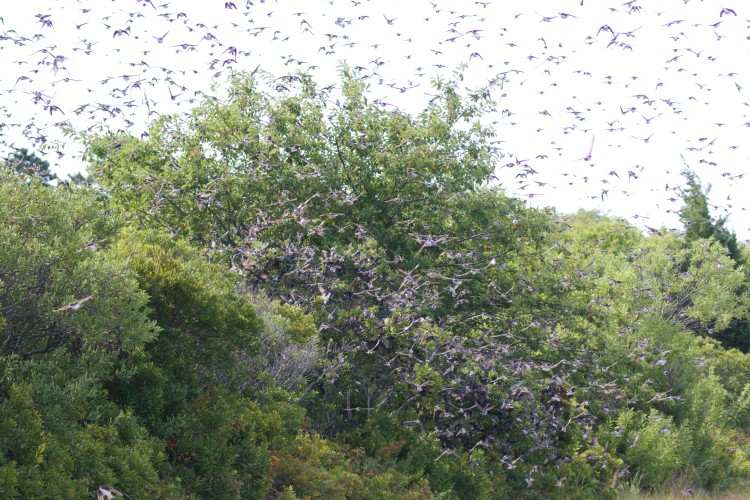 The 9:30 group kicked off at the Main Panne, then moved on to North Pool Overlook, where a couple of night-herons were visible as they roosted, and where one lone Glossy Ibis (perhaps the one we'd see earlier?) was foraging and preening. There are lots of Mallards around right now, with some very small ones and others that were hatched early enough to be full grown swelling the ranks. Ducks are mostly in "eclipse" plumage now, which is rather dull to look at compared to the finery the drakes will be showing by fall.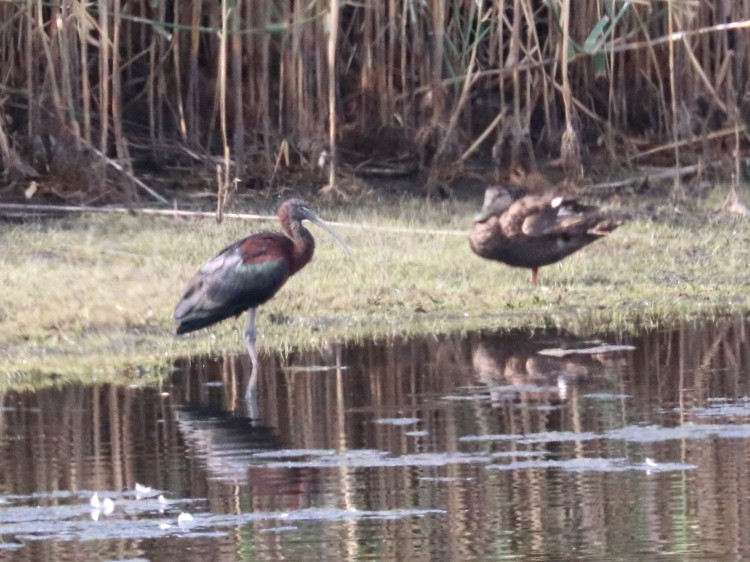 We have two reliable bird spectacles in our area during these weeks of late summer: a big egret roost at Perkins Park in Newburyport, and the evening flights of Tree Swallows in the reeds at North Pool on the Refuge. Rare shorebirds and waders keep popping up, not to mention a Crested Caracara that visited Woodsom Farm in Amesbury for a few days early this week, so Wednesday Morning Birding is bound to have one uncommon species show up during our gatherings soon, right? We hope we will see you for one of those!
Our list:
Legend: (7:30 am session – x/y = mainland/island, 9:30 am session)
Canada Goose (3, 1)
Gadwall (0, 2)
Mallard (35/30, 30)
American Black Duck (0, 2)
Green-winged Teal (0, 2)
Wild Turkey (2, 2)
Mourning Dove (5, 0)
Black-bellied Plover (50/25, 150)
Killdeer (2, 1)
Semipalmated Plover (100's/40, 400)
Least Sandpiper (3, 2)
White-rumped Sandpiper (1, 0)
Semipalmated Sandpiper (1500+/50, 750)
Short-billed Dowitcher (5, 2)
Spotted Sandpiper (1, 1)
Lesser Yellowlegs (18/5, 3)
Willet (1, 0)
Greater Yellowlegs (91/25, 35)
Bonaparte's Gull (72, 0)
Ring-billed Gull (15, 0)
Herring Gull (200/15, 12)
Common Tern (25, 0)
Double-crested Cormorant (10/, 6)
Least Bittern (1, 1)
Great Blue Heron (3, 1)
Great Egret (42/12, 7)
Snowy Egret (14, 0)
Black-crowned Night-Heron (0, 2)
Glossy Ibis (1, 1)
Osprey (1/2, 3)
Northern Harrier (0, 1)
Bald Eagle (3, 1)
Eastern Kingbird (4, 4)
American Crow (1, 0)
Tree Swallow (2000, 7000)
Barn Swallow (7, 0)
Black-capped Chickadee (2, 0)
Red-breasted Nuthatch (1, 0)
American Robin (0, 50
Gray Catbird (3, 2)
Northern Mockingbird (0, 2)
European Starling (3, 15)
Cedar Waxwing (2, 2)
House Sparrow (15, 0)
American Goldfinch (4, 5)
Song Sparrow (4, 5)
Eastern Towhee (2, 1)
Common Grackle (2, 0)
Yellow Warbler (1, 0)
Northern Cardinal (2, 0)