Hello, Wednesday Morning Birders!
Dave Williams joined me in leading this week's Wednesday Morning Birding program on to Plum Island — the north end and points south. Skies were cloudy to partly cloudy to clear; temps 32-40 F.; and winds SW-NW/5-15 mph and freshening. Passerines were in short supply, but outside of that, we had some pretty "good" birds.
Based on Dave's recent experience conducting a winter raptor workshop for Joppa volunteers, our first stop was in the parking lot immediately west of Plum Island Bridge — and to good effect. In rather poor light, one of our group found the silhouette of a Bald Eagle perched just below the Osprey nesting platform west of the Parker River Refuge boat ramp. It was quite large, no doubt a female, and appeared to be an immature bird. Another eagle was seen perched on a snag to the southwest at the edge of the marsh. In addition, three Northern Harriers were hunting at the western edge of the marsh. Far to the south, over the marsh, a bird of prey was seen kiting on the wind or hovering — either a Red-tailed Hawk or Rough-legged Hawk. It's silhouette with a longer tail and, with some imagination, smaller head, ID'd this bird as a Rough-leg.
On the north end of Plum Island, we had a number of waterbirds drifting toward the ocean on the outgoing tide, but many of them would return opposite us for what must have been the better feeding grounds. We didn't have great numbers, but there were Common Eiders, a few White-winged Scoters, a single Black Scoter, three Red-breasted Mergansers, a Common Goldeneye, and about 10 Long-tailed Ducks, the latter in what can be confusing plumages. One field mark to remember in differentiating male Long-tails from females — all males have a pink and black bill, and females do not. In addition to the ducks, there was a Red-throated Loon and a Common Loon, and the three common gull species — Ring-billed, Herring, and Great Black-backed. For a change, standing on the beach at the north end was a rather pleasant experience; we normally must deal with uncomfortable strong, northwesterly breezes. The winds were forecasted to increase out of the northwest in the afternoon. Ahhh, timing is everything!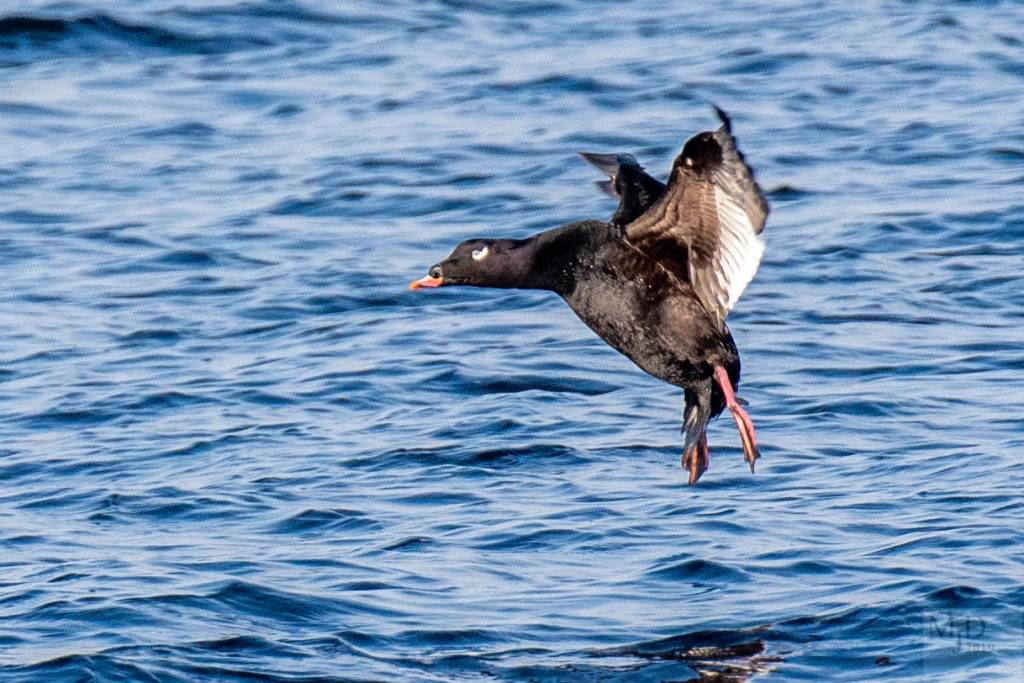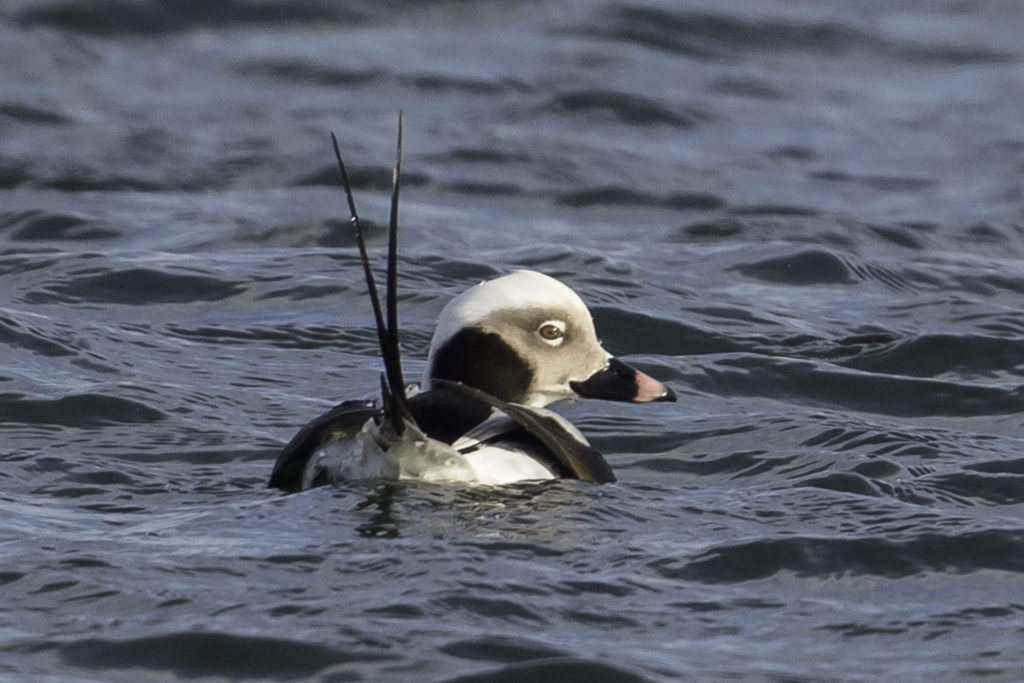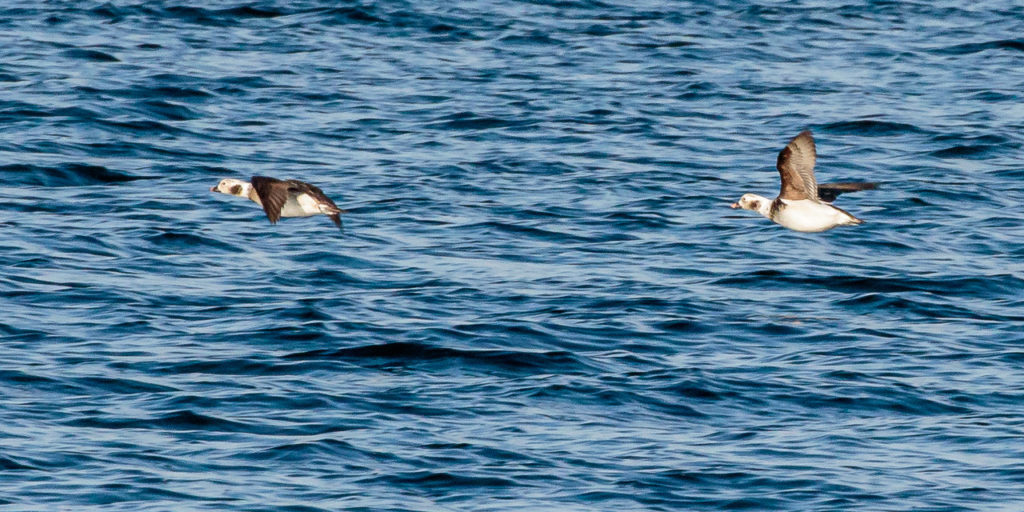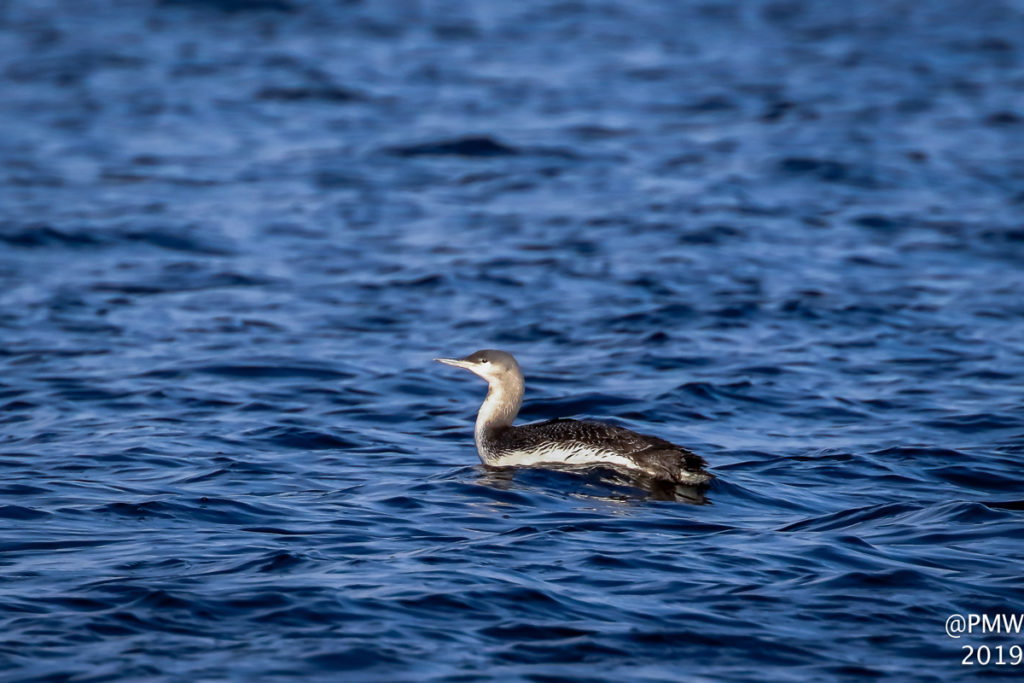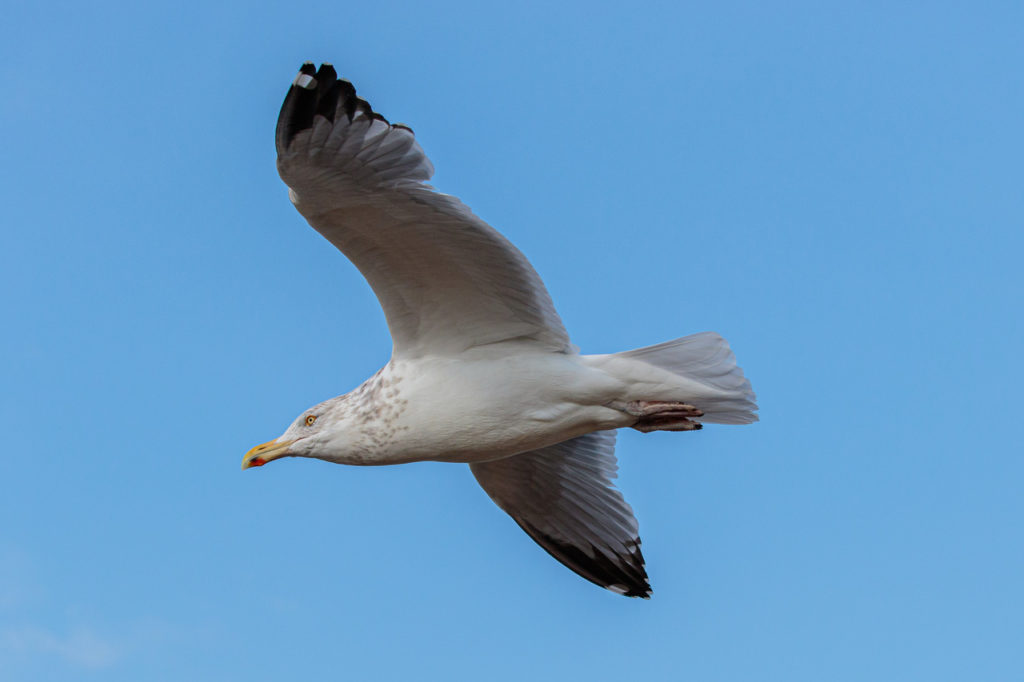 Our caravan made its way on to Parker River Refuge in search of the winter species often found there. As we moved into the S-curves, Kathy spotted a raptor perched in a tree at the edge of the marsh. There were cars parked on the edge of the road with folks out and looking at that same raptor — a Snowy Owl! What great looks we had, as you can see from the photo below. We spent a good deal of time there, as you can imagine. The owl was facing away from us into the light breeze from the southwest. So, the photographers in our group waited patiently for this Arctic denizen to turn its head for a better picture.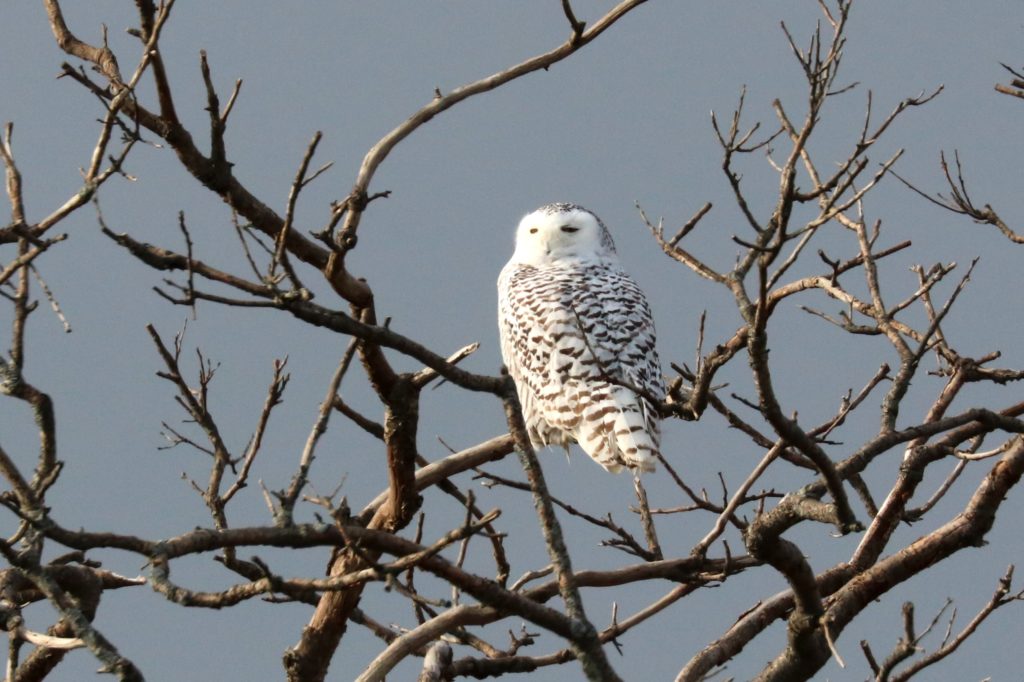 Next stop was Hellcat where construction of the new boardwalk has begun. The construction activity is occupying a number of spaces there in parking lot #4, so this popular spot will become a bit more difficult to access as 2020 moves along. From Hellcat dike, we watched as sizeable flock of American Black Ducks lift off from the marsh to the west. Whenever we see ducks or shorebirds all get up and move, we are programmed to immediately look around for a bird of prey, the catalyst for these birds to exit the area, avoiding becoming a predator's meal. Sure enough, the catalyst this time was an adult Bald Eagle. The eagle did take, we presume, a duck. It landed in the marsh and busily ate whatever the hapless prey was. We could not get an identifying look.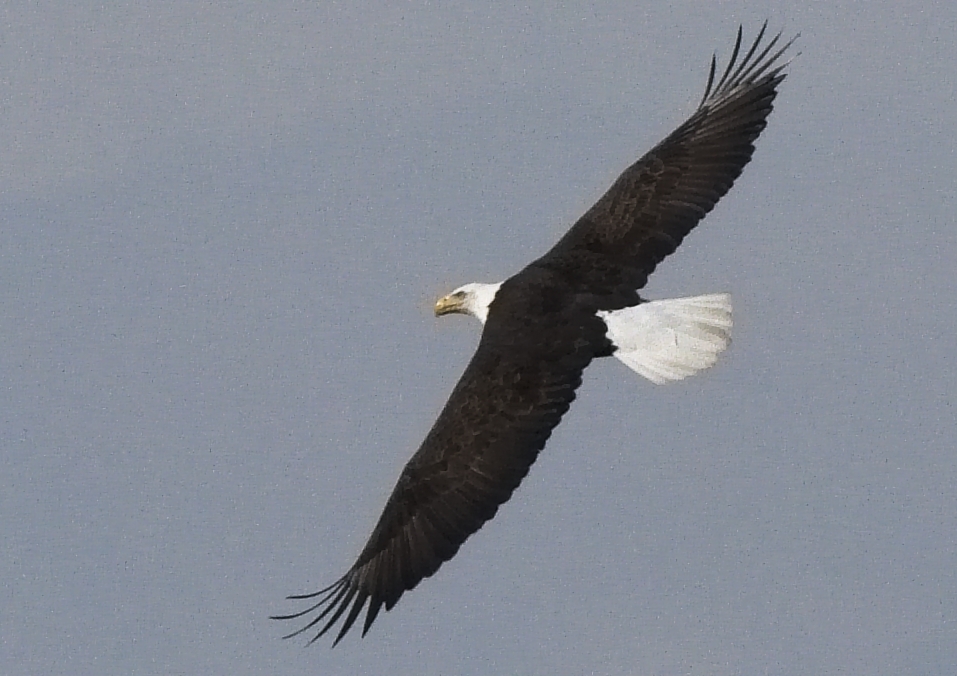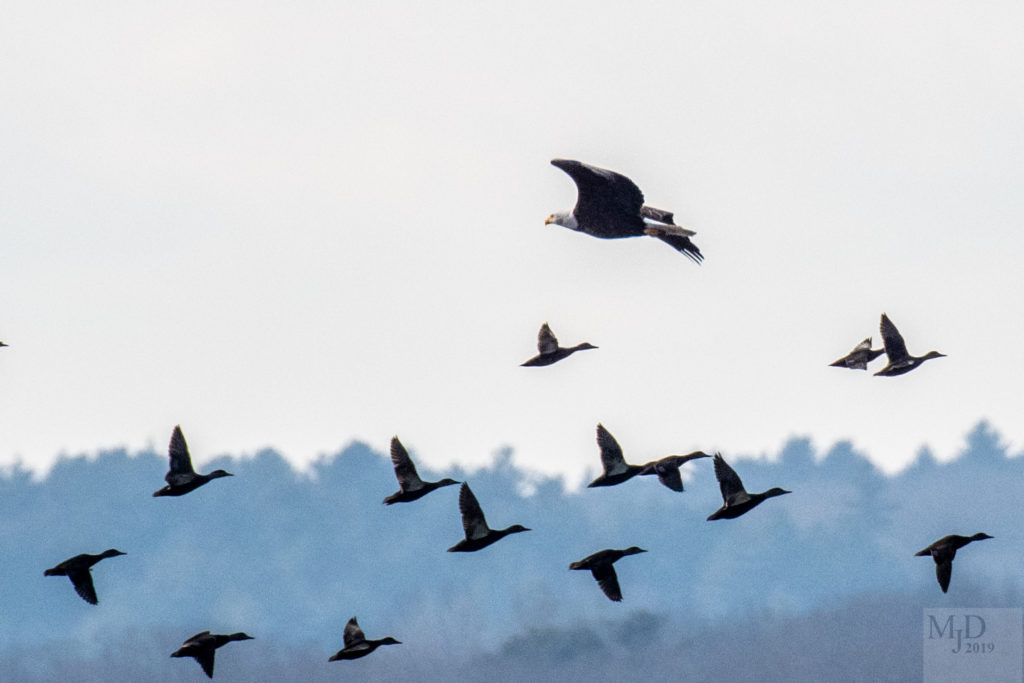 In the meantime, we found a second Snowy Owl, this one sitting in the marsh to the west of Bill Forward Pool. Another great look at this predominantly white bird. The eagle was soon up and on the wing. It flew closely to the owl, which spooked and took off to the east toward the Bill Forward Blind when we lost track of it — at least for a little while. Little else at Hellcat, aside from a few Mallards on Bill Forward Pool. And, as I write this, I realize that we had a couple of Red-breasted Mergansers on BFP that I failed to include in "Our list."
From Hellcat, with the time remaining, we headed for parking lot #7 to see what there was to see on Emerson Rocks and the ocean. After we drove by the Bill Forward Blind, the sharp-eyed Isabelle spotted what she thought might be a shrike in flight. We pulled over and, indeed, located an adult Northern Shrike perched atop a Red Cedar behind some birches at the north edge of South Field, right at the south end of the "Old Pines" in which the blind is found. The shrike then dropped down and was not seen again. However, we relocated the Hellcat Snowy Owl — it was perched atop one of the Old Pines. With the dark green of the pine and the clear, blue-gray sky as a backdrop — stunning!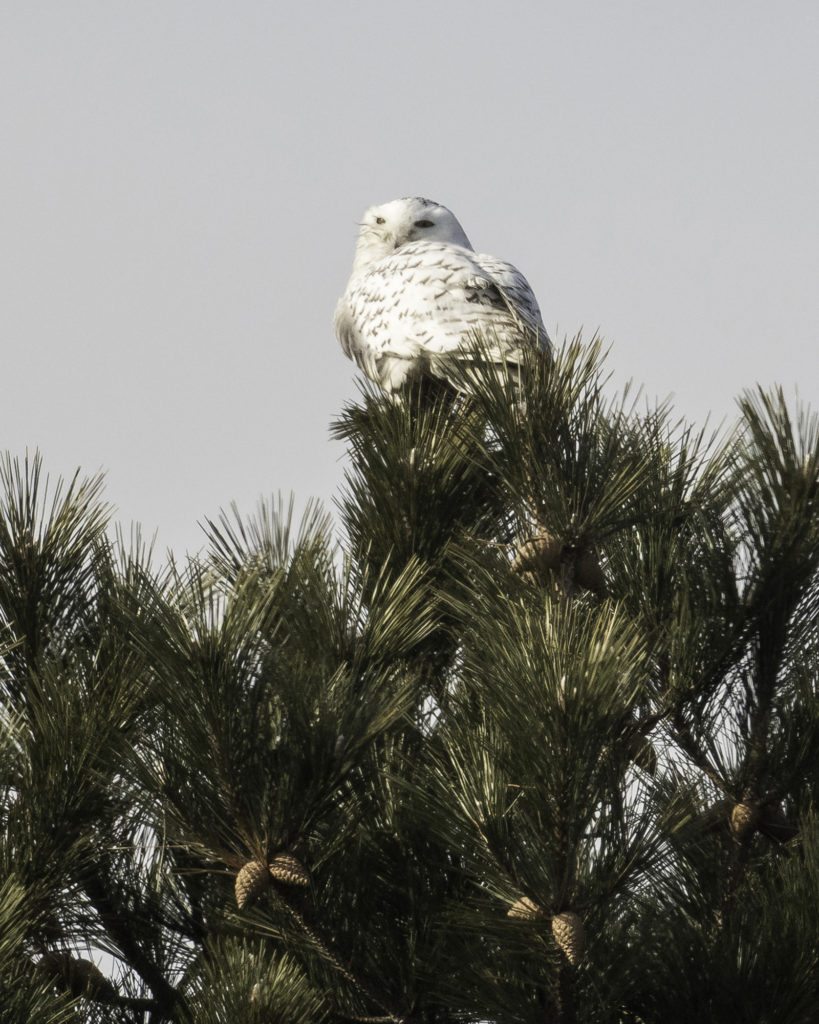 Approaching Cross Farm Hill, a Rough-legged Hawk was hovering over the hill's west end, a common spot during the winter for this Arctic species. On the beach at lot #7, we were greeted by a large mixed flock of Sanderlings and Dunlin — we figured around 50 Sanderlings and 80 Dunlin — all busily feeding in the pools created by the receding tide. Quite the sight! A number of times, they all got up and spread out along the beach's water edge. Yes, that was a treat, but then another treat flew in before our eyes — a small flock of seven Brant, which landed in and among Emerson Rocks. "In my humble opinion," this is our most beautiful goose — just love seeing these guys!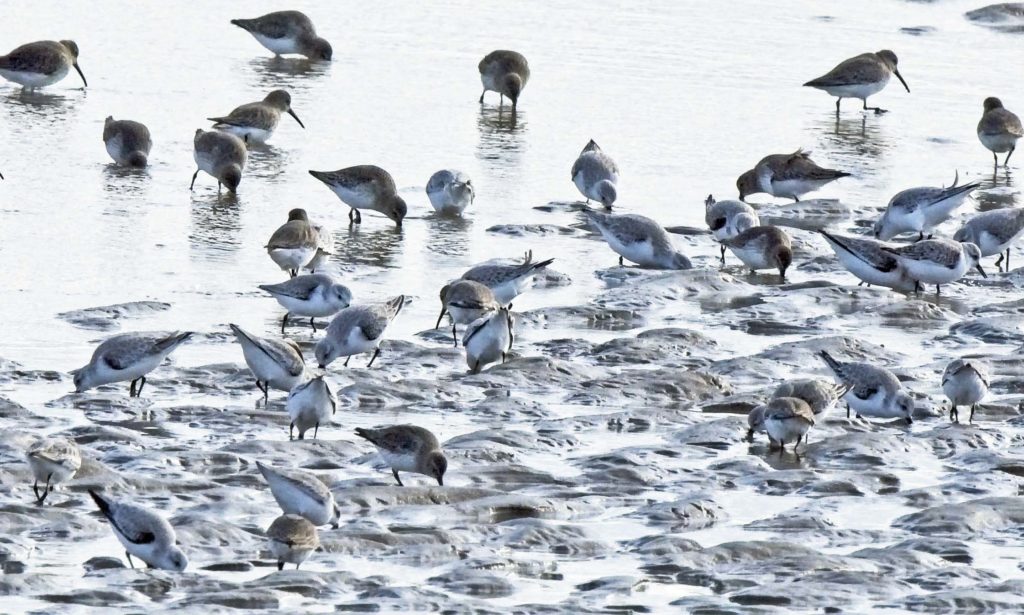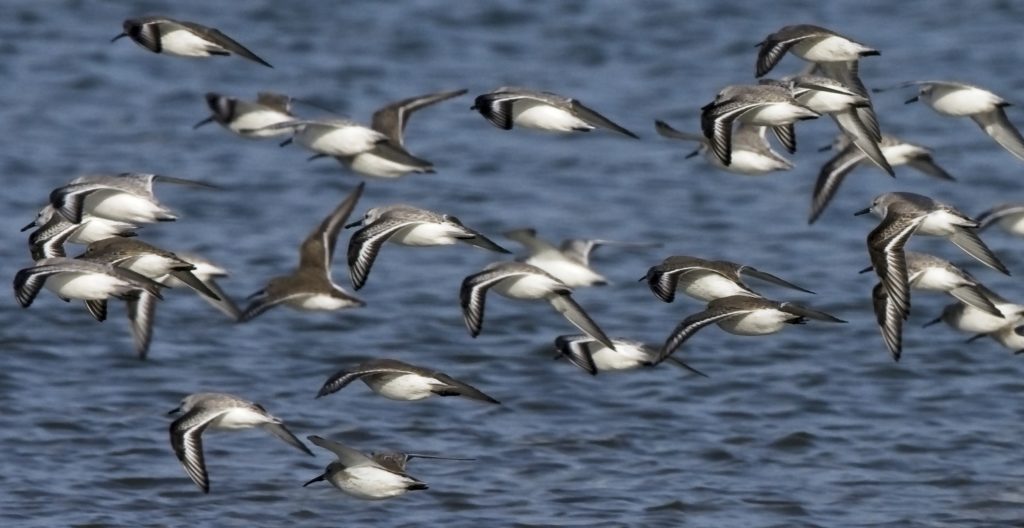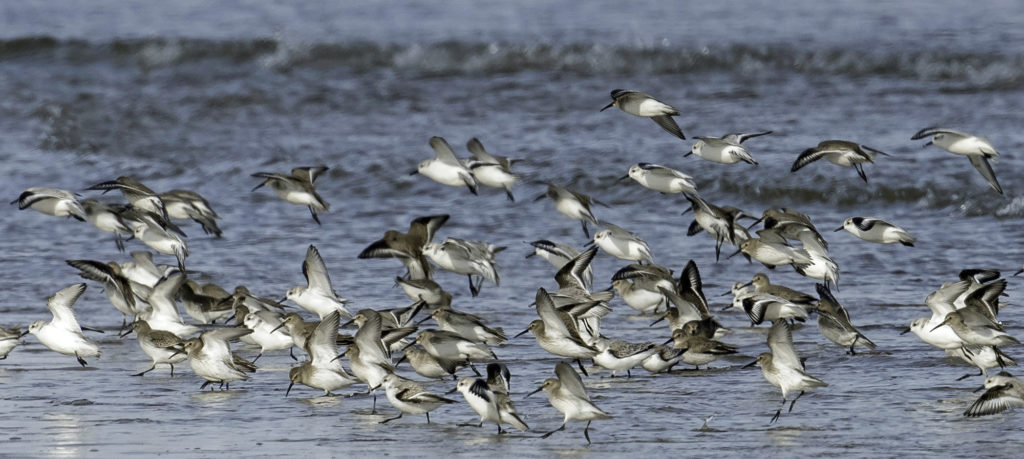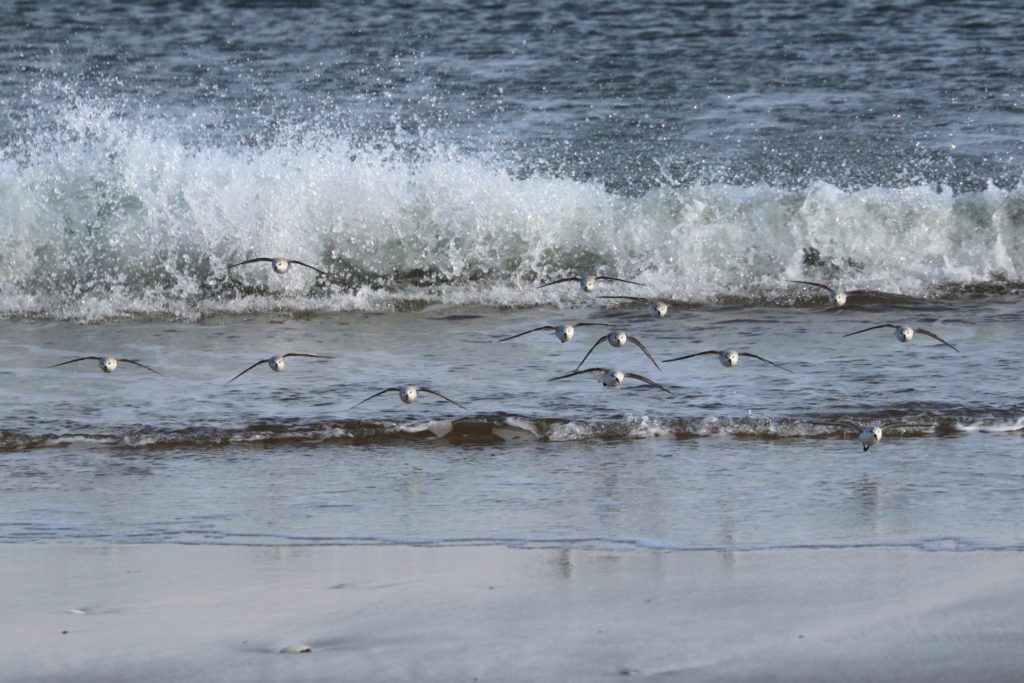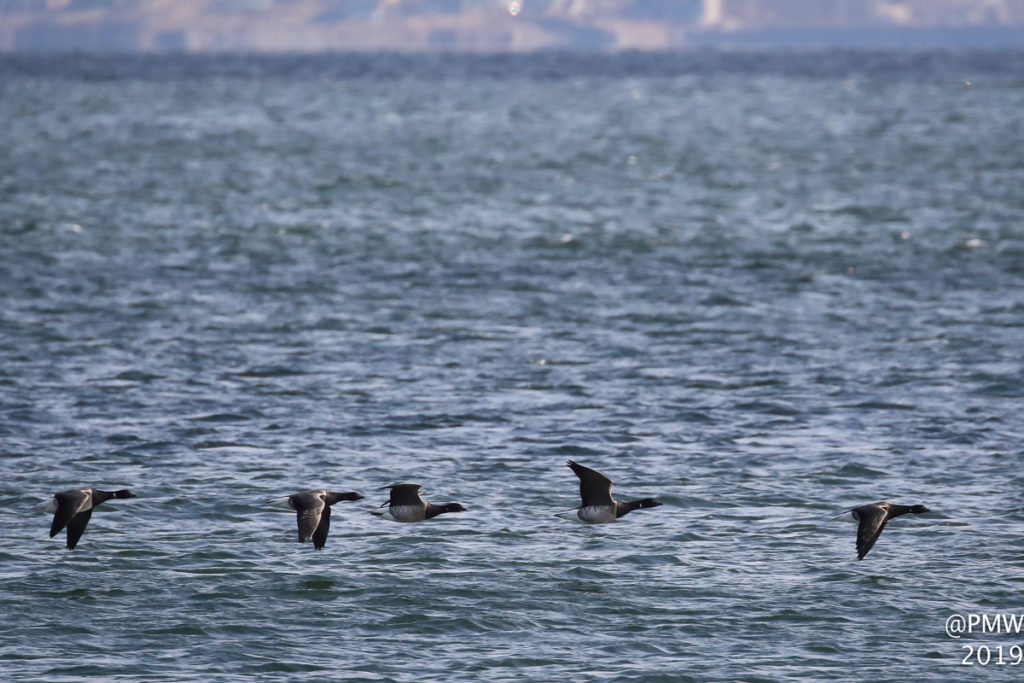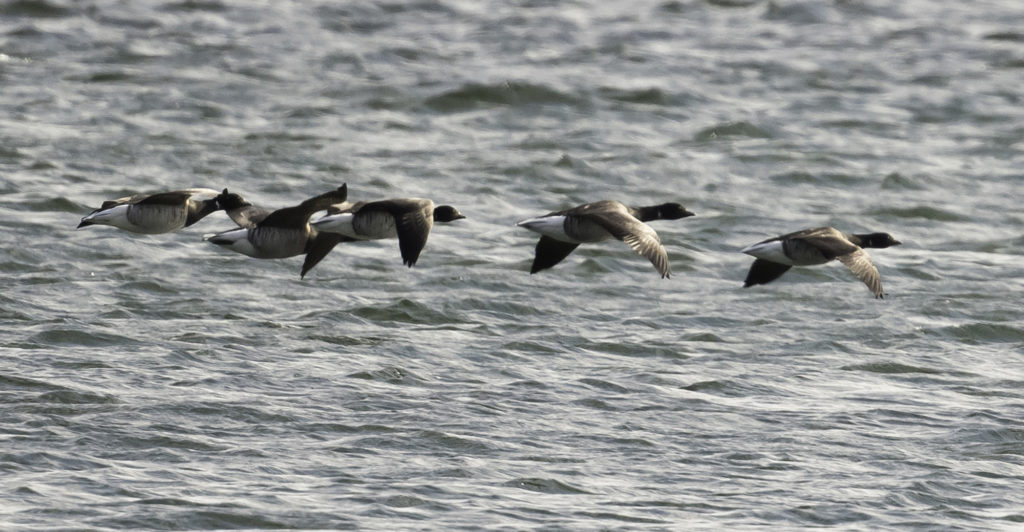 On the ocean there at lot #7, we also had Common Eiders, a couple of Black Scoters, a few Long-tailed Ducks, and a pair of Common Goldeneyes. Also present were four Horned Grebes, a Common Loon, and some Herring Gulls and a lone Ring-billed Gull.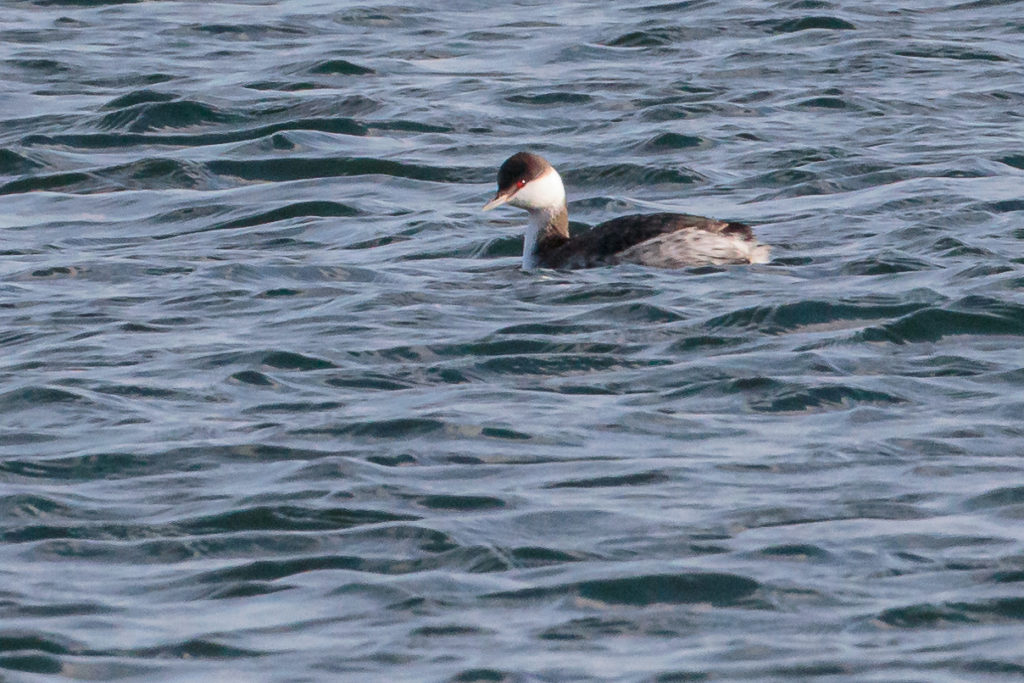 Making our way back to the north, we had great looks at a female Northern Harrier coursing to the south ever so low over "the Middens," across from parking lot #1. Dave Williams and I agreed that it was a pretty good morning of birding — once again, quality over quantity.
Next Wednesday, January 15, we will meet at 9:30 at Gloucester Crossing in front of Marshalls for a visit to Cape Ann. Anyone wanting a ride from Joppa, please be there no later than 8:30. Hope to see you then.
Best regards!
Dave Weaver
Our list:
Brant (7) – Emerson Rocks.
Canada Goose – common.
Mallard (6) – Bill Forward Pool (BFP).
American Black Duck – common.
Common Eider (~ 40) – ~ 15, north end; ~ 25, seven ocean.
White-winged Scoter (4) – north end.
Black Scoter (3) – 1, north end; 2, seven ocean.
Long-tailed Duck (~ 15) – ~ 10, north end; 5, seven ocean.
Common Goldeneye (3) – 1, north end; 2, Bar Head ocean.
Red-breasted Merganser (4) – 3, north end; 1, seven ocean.
Horned Grebe (4) – seven ocean.
Sanderling (~ 50) – seven beach.
Dunlin (~ 80) – seven beach.
Ring-billed Gull (2) – 1, north end; 1, seven beach.
Herring Gull (6) – 3, north end; 3, seven beach.
Great Black-backed Gull (1) – north end.
Red-throated Loon (1) – north end.
Common Loon (2) – 1, north end; 1, seven ocean.
[Northern Harrier (3) – marsh sw PI Bridge w. parking lot.]
Northern Harrier (1) – over Middens.
[Bald Eagle (2) – imm., 1 perched beneath refuge boat ramp Osprey
platform, 1 perched on snag edge of marsh; both sw PI Bridge w. parking
lot.]
Bald Eagle (1) – ad. on prey in marsh w. North Pool dike (presumably a
duck) after having put up a sizeable flock of black ducks; seen from
Hellcat dike.
[Rough-legged Hawk (1) – hovering over marsh s. PI Bridge w. parking lot.]
Rough-legged Hawk (1) – hovering over Cross Farm Hill.
Snowy Owl (2) – 1, perched in tree on edge of marsh, S-curves; 1, first
seen in marsh immediately w. BFP (later spooked by aforementioned eagle
on a flyby; owl landed atop one of BFP blind pines).
Northern Shrike (1) – n. edge South Field atop red cedar, ~ 50 yards from refuge road.
European Starling – large flock on wires leading to PI Bridge from east.