Donna Cooper and I had a great day leading Joppa Flats' Wednesday Morning Birding program on Plum Island. We beat feet down to Sandy Point and then made our way back up the island to Stage Island Pool, Bill Forward Pool blind, and Hellcat. Our high-tide hopes of roosting shorebirds on Sandy Point bore fruit and aside from missing Doug's and MaryMargaret's Buff-breasted Sandpiper at the blind, we had some pretty "good" birds. Skies were partly cloudy to cloudy; temps in the low 70s; and winds SE/5-10 mph.
Many schools opening this week and less-than-perfect beach weather combined to provide us with ample parking at Sandy Point. With high tide just shy of 10:00 a.m., a walk up the beach brought us to the hoped-for roosting shorebirds comprised of about 500 Semipalmated Plovers. In the mix were probably 10 Sanderlings and a good 100 Semipalmated Sandpipers. Many of these birds were loafing with bills tucked under their wings. The important thing was that needed, energy-conserving rest was being achieved to help these shorebirds realize their ultimate goal — a successful landing at their wintering home somewhere far south of Sandy Point.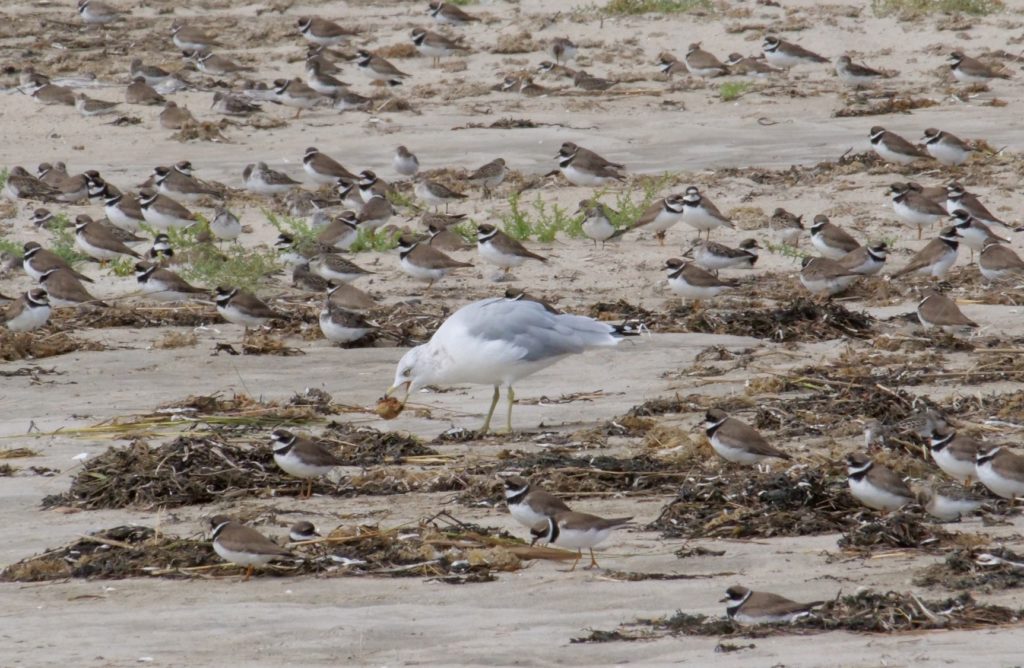 In addition to the Semipalmated Plovers and Sandpipers, and Sanderlings, there were a couple of juvenile Least Terns and their attending parents. A juvie Least Tern with fresh, crisp contour feathers is really quite handsome. Here, have a look . . . .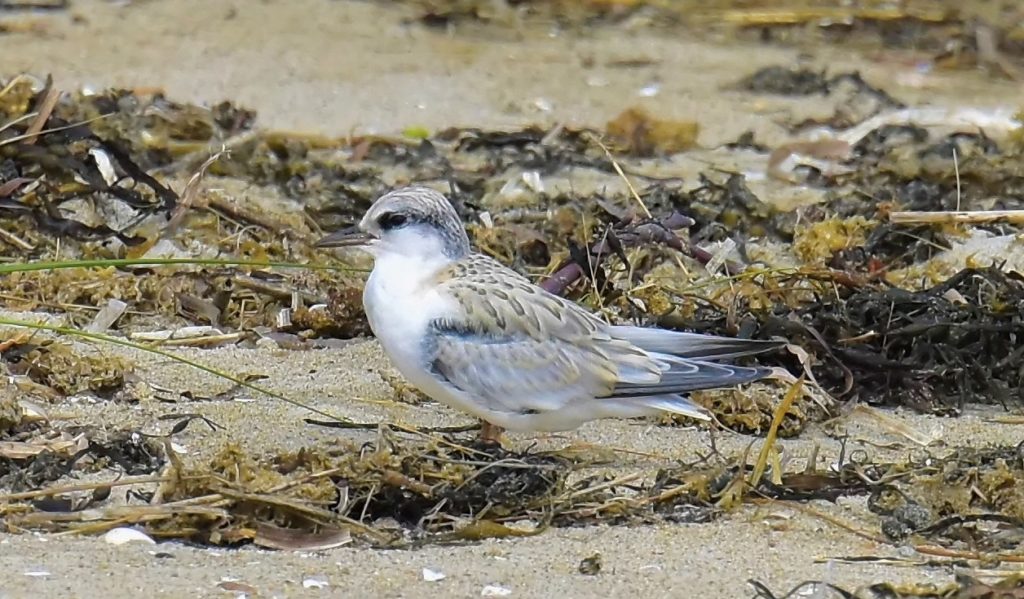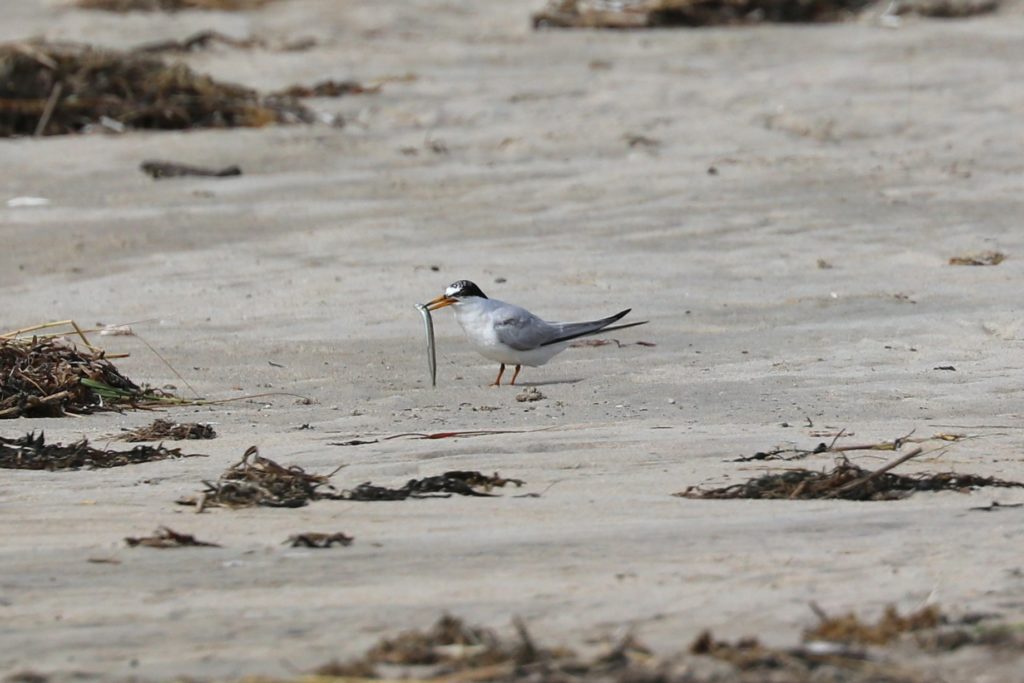 While focused on the shorebirds, as a backdrop, staging, congregating Tree Swallows continued to put on a rather spectacular show — not just at Sandy Point, but up and down the island.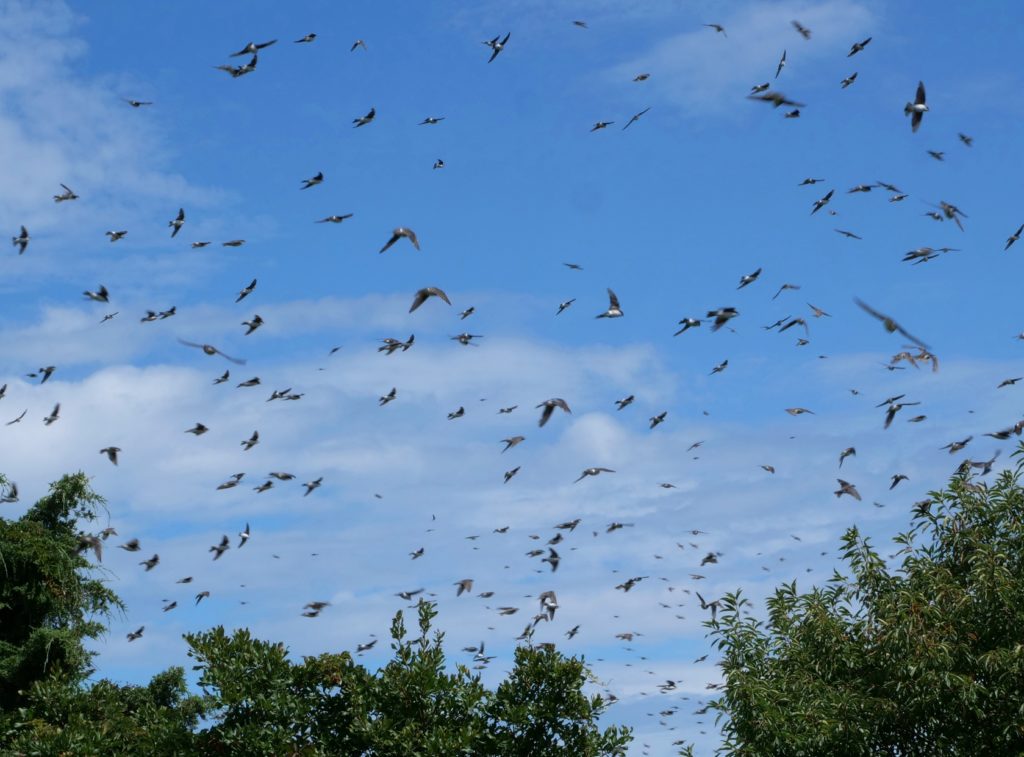 Next stop was Stage Island Pool, its water level being at the lowest that I can remember. Assembled near the water level control structure, about 30 (mostly immature) Snowy Egrets and a lone Great Egret interacted doing some running and chasing about. Some of the Snowys moved into the water for some foraging in concert with Greater Yellowlegs and a few Double-crested Cormorants. We looked closely for an immature Little Blue Heron, knowing that this species' plumage is very much like the Snowy Egret's, but to no avail. In amongst the egrets were some Greater Yellowlegs and Mallards. On the near shore of the pool, just below us, were a number of yellowlegs, both Greaters and Lessers together with more Mallards. At one point, all of the yellowlegs flew up into the air in panic as a large — probably a female — immature Cooper's Hawk came swooping in from the marsh to the north. The Coop's did no damage and landed in a tree on the far side. As it flew in, the rounded tail of a Cooper's Hawk and its head extending in front of its wings were quite evident. A couple of Great Blue Herons were moving on the periphery.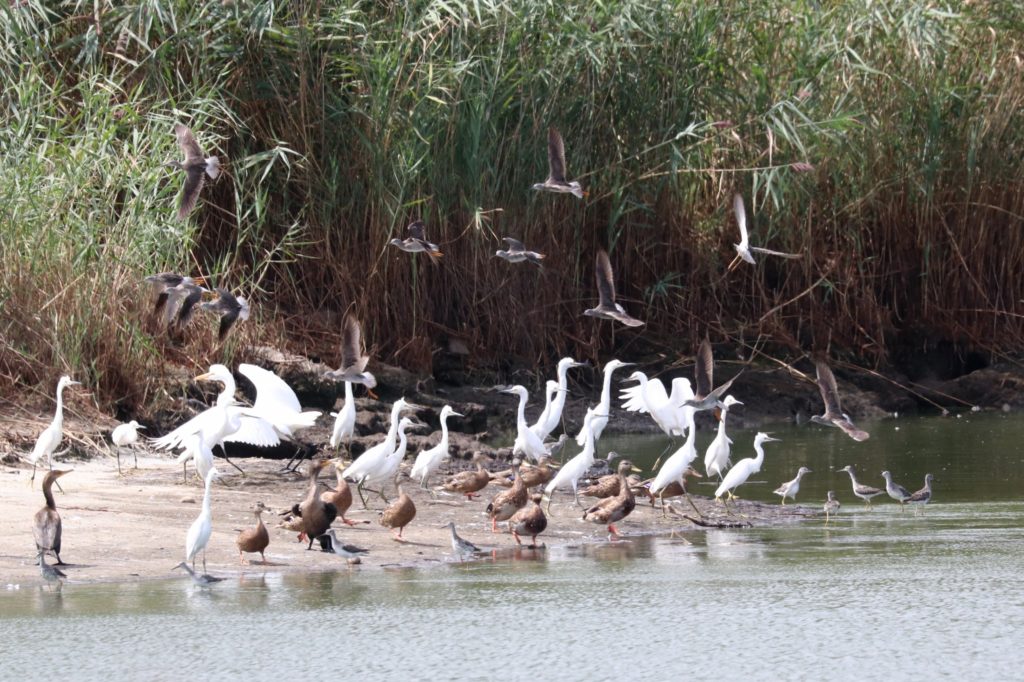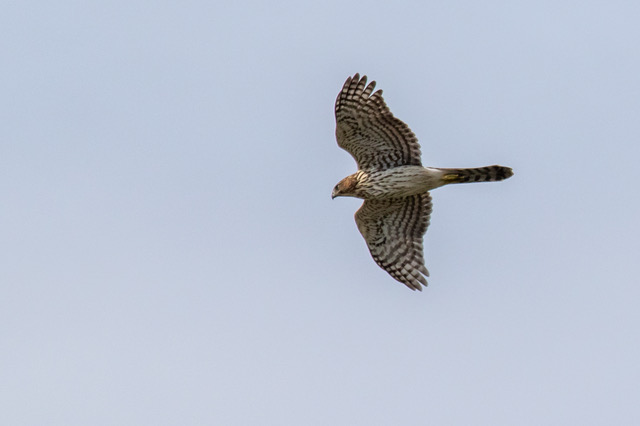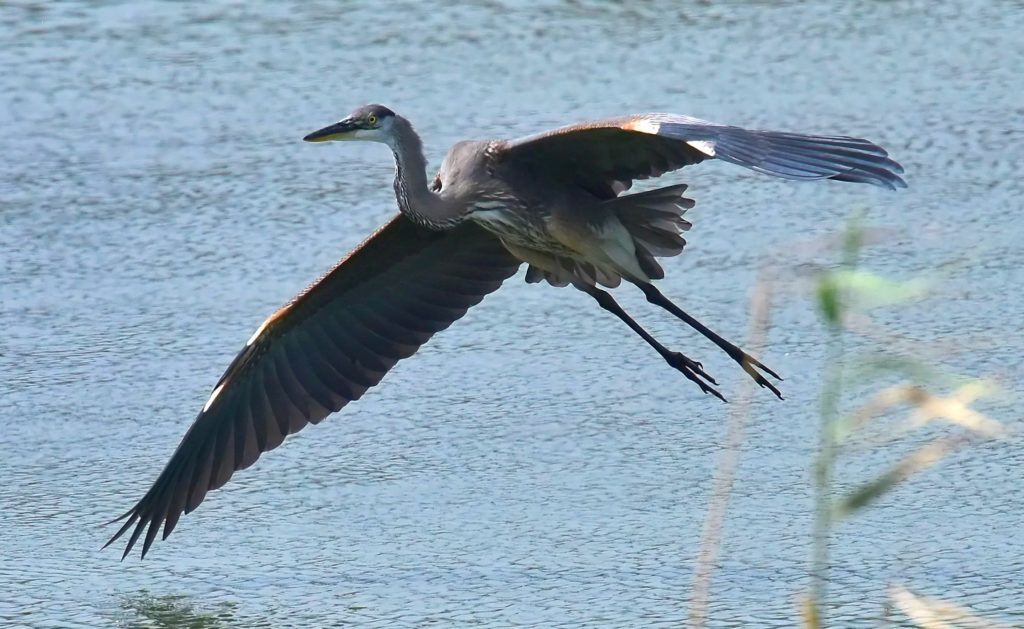 Parking being available, we made a stop at the Bill Forward Pool blind to see if the Buff-breasted Sandpiper we were told about earlier by MaryMargaret Halsey and Doug Chickering was still there. Not only was it not there, there were only a few Semipalmated Plovers seen. Where was everyone??!!
On to Hellcat . . . . Despite the state of the tide, Bill Forward Pool was somewhat empty of shorebirds. However, in the interest of saving the "bestest" for last, we had a triumvirate of rather special birds! From out of nowhere appeared the American Avocet, which has been entertaining many birders for over a week. In just 5 days' time (the last time I had seen it), this western shorebird had molted to the point that its amber-colored head, neck, and breast, making up its breeding plumage, were all but gone. Needless to say, WMB folks were thrilled to see this larger shorebird with the recurved bill.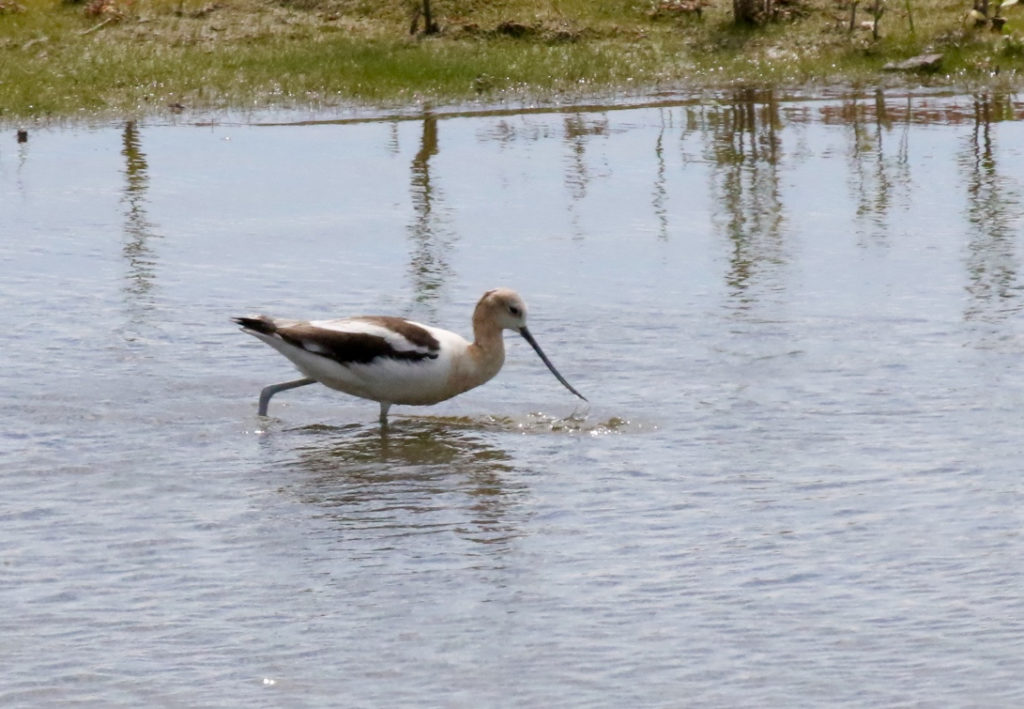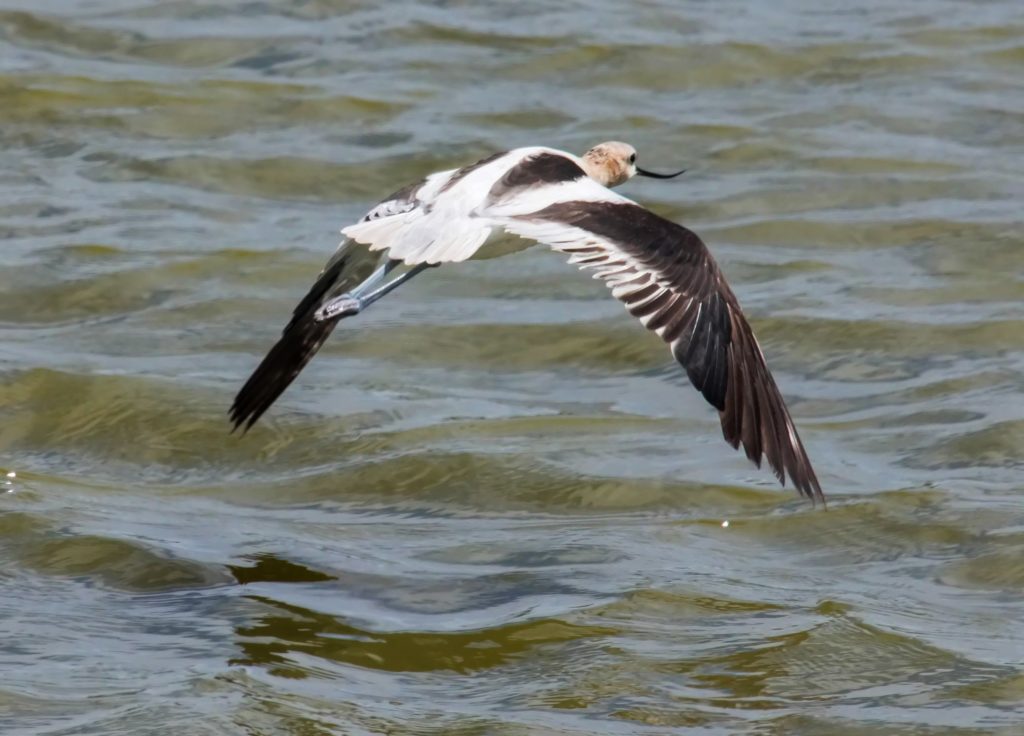 Then, just behind us in the North Pool, there were three Long-billed Dowitchers! Many thanks to Bob Murphy for pointing those out to us. To help us distinguish between Short-billed and Long-billed Dowitcher, a lone Short-bill landed right next to the three Long-bills. We could readily see the humped-back appearance (like it swallowed a softball) of the Long-bill as compared to the flatter back of the Short-bill. Also, the Long-bill's tail appeared darker than the Short-bill, whose tail was more white in appearance. Long-billed Dowitchers nest in the high western Arctic and are uncommon migrating through our wetlands. These birds were a real treat to see . . . .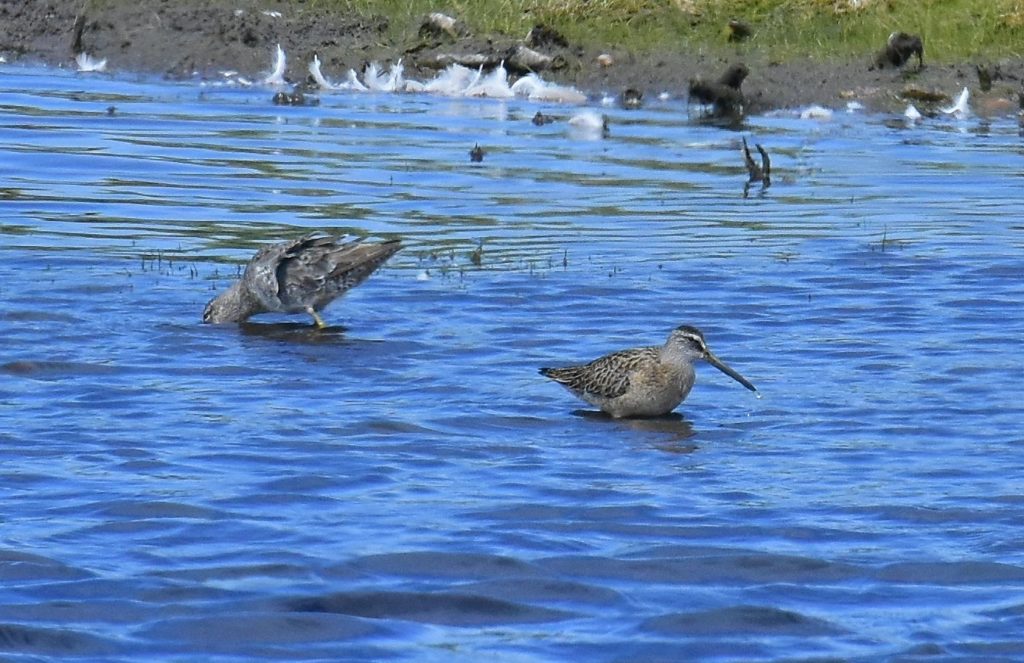 Just beyond the dowitchers, on the flats was a nice gathering of yellowlegs, both Greater and Lesser, which provided a nice comparison between the two species. Would that we could have similar comparisons every time out.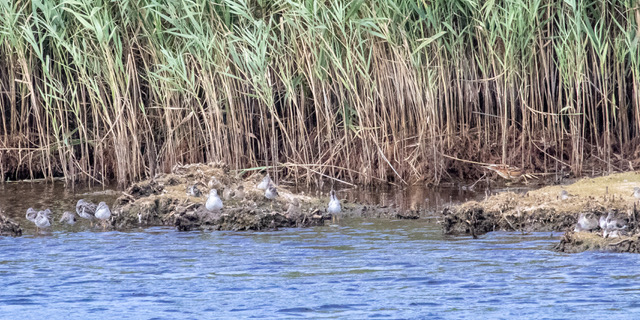 To cap the morning off, Linda from East Hampton, Mass., spotted movement beyond the yellowlegs at the edge of the Phragmites. At first, she thought it might be a Sora, but, in fact, it was a juvenile Least Bittern, still sporting down here and there. This bird gave us a great show — very accommodating!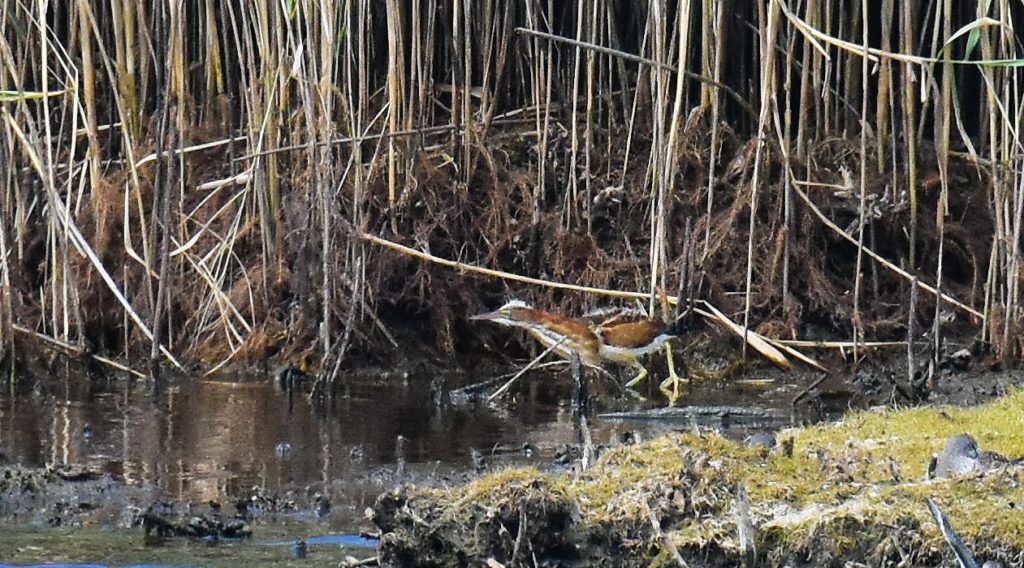 All in all, it was a pretty good morning of birding — the weather cooperated, the birds cooperated! Come next Wednesday, 4 September, we'll do it all over again. C'mon down! David Moon will be back to regale us with his tales of Ecuador. By the way, he will be rather jealous of our list in this report.
We hope to see you next week!
Cheers! Dave Weaver
Our list:
Canada Goose (~ 40) – various.
Gadwall (4) – hen & 3 young; Bill Forward Pool (BFP).
Mallard (~ 30) – Stage Island Pool (SIP) & BFP.
Common Eider (1) – Sandy Point.
Double-crested Cormorant – common.
Least Bittern (1) – North Pool from Hellcat dike.
Great Blue Heron (2) – SIP.
Great Egret (~ 5) – various.
Snowy Egret (~ 30) – most all immature; SIP.
Osprey (2) – 1, Pines platform; 1, flyover n. lot #2.
Cooper's Hawk (1) – SIP.
Red-tailed Hawk (1) – n. end refuge.
American Avocet (1) – BFP.
Semipalmated Plover (~ 500) – roosting on Sandy Point.
Greater Yellowlegs (~ 50) – major share, SIP; balance, BFP/North Pool
from Hellcat dike.
Lesser Yellowlegs (~ 15) – some, SIP; most, North Pool from Hellcat dike.
Sanderling (~ 10) – roosting on Sandy Point among Semipal Plovers.
Semipalmated Sandpiper (~ 300) – ~ 100 roosting on Sandy Point among
Semipal Plovers; ~ 200, algae mat, main panne (unfortunately ran out of
time to search for Least & Western Sandpipers).
Short-billed Dowitcher (4) – North Pool from Hellcat dike.
Long-billed Dowitcher (3) – North Pool from Hellcat dike (thanks, Bob
Murphy!).
Ring-billed Gull – Sandy Point.
Herring Gull – Sandy Point.
Great Black-backed Gull (1) – Sandy Point.
Least Tern (4) – 2 juvs, 2 ads; Sandy Point.
Rock Pigeon
Mourning Dove
Eastern Kingbird (2) – juvs; lot #7.
Tree Swallow (5,000+) – spectacular scene!
American Robin (1)
Gray Catbird (3)
European Starling – common.
Eastern Towhee (1) – Sandy Point parking lot vicinity.
Song Sparrow (1) – Sandy Point.