Two sessions of Wednesday Morning Birding ventured into the chilly, intermittent rain on October 28 to discover a wonderful world of ducks, both on the ocean and in the impoundment at Stage Island on the Parker River National Wildlife Refuge. This fall has seen a very robust migration of seabirds off Plum Island. While we always expect the scoters, eiders, and other seabirds to appear now, we have delighted in the unusual abundance this year. This Wednesday was no exception.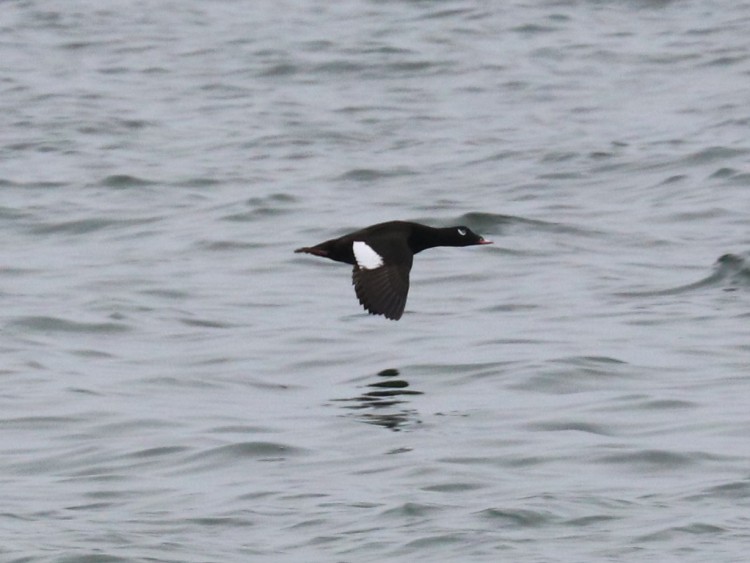 When you're on the refuge, and you walk up one of the boardwalks that crosses the dunes to the beach, the first view of the sea is often a small revelation, particularly if the sea is either unusually calm or unusually rough. Last week it was the former, and that feeling of awe was enhanced by the sight of the sea ducks covering the calm surface. Flocks of over 100 birds moved across the sky above a sea dotted with individuals and small groupings. Perhaps most notable this time was the repeated performance of flocks of loons flying south. These were nothing like the size of the flocks of scoters, but they still inspired observers to call out, "There goes eight more!" and then, "Here's another three!"  When we first walked up to the beach in the 7:30session, a Red-throated Loon was foraging right off shore. While Common Loons and Red-throated Loons can be distinguished in flight, many of the flocks and individuals were so far out that identifying them was pretty difficult. All of the loons had one thing in common, however: they were moving south at a good clip.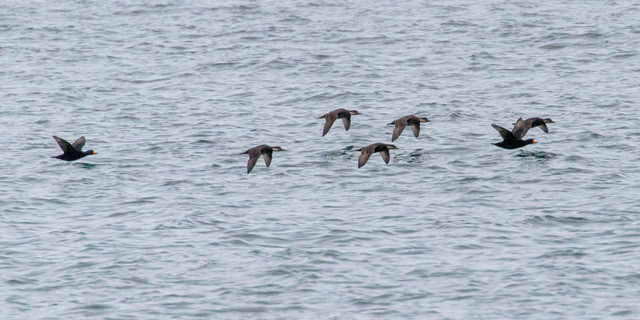 There was so much movement to observe from our spot on the beach, and so many field marks to work on, that while we were no longer noting new species, it was hard to walk away from the spectacle. In our second session, we witnessed from afar a raft of approximately 1,000 birds formed at the mouth of Plum Island Sound. If this had been a pre-pandemic program, we would've hopped into our three vans and sped south to view them off of Bar Head or Sandy Point State Reservation. But, because carpooling is forbidden these days, we think twice before we mobilize the many vehicles we arrive in.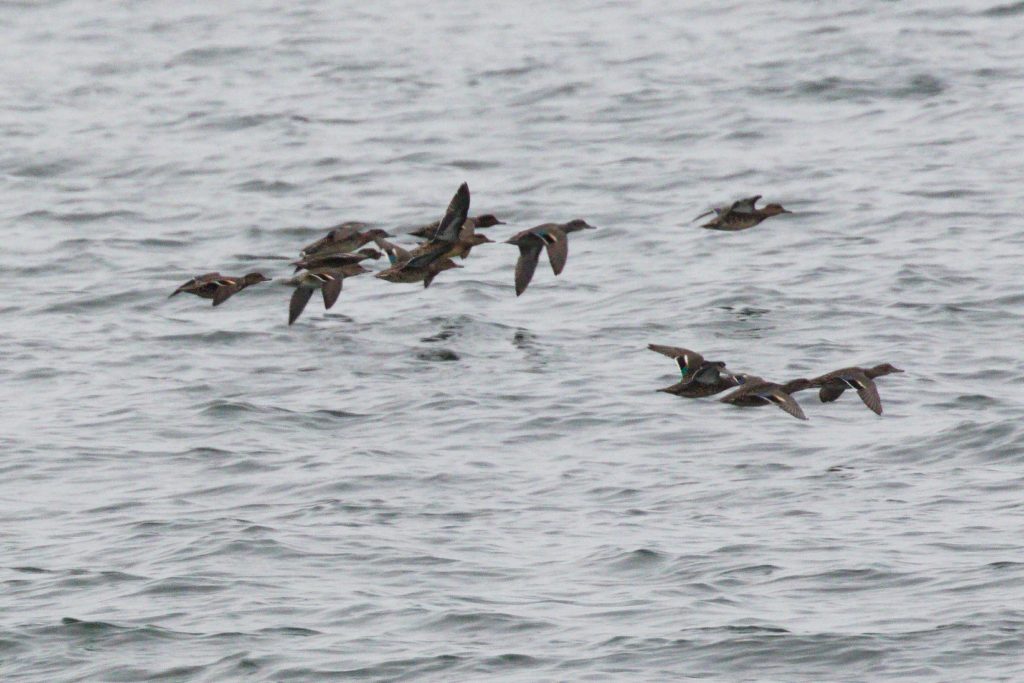 Stage Island proved very fruitful, however. Chickadees, sparrows, siskins, Yellow-rumped Warblers, and others kept us looking into the thicket on our way over to Stage Island Pool. In our 7:30 session, a couple of hours before high tide (if that makes any difference), the pool was awash in dabbling ducks. The back of the pool and the far side were covered in Mallards, Northern Pintails, American Black Ducks, Green-winged Teal, and some that were too far to identify for sure, as most of us were not using spotting scopes. Respecting pandemic safeties, we are practicing a stricter adherence to not sharing equipment. We birding leaders on the North Shore decided recently that until we can share views through scopes with our participants again (somehow or someday), we will stick to binoculars. You miss some things, but it forces you to look more carefully, and think. Of course, when regular participant Mike Densmore comes along, with his penchant for taking photographs of birds in flight, we can add birds to the list that we never even knew were flying by. This week those additions include Common Goldeneye, Greater Scaup, and Hooded Mergansers.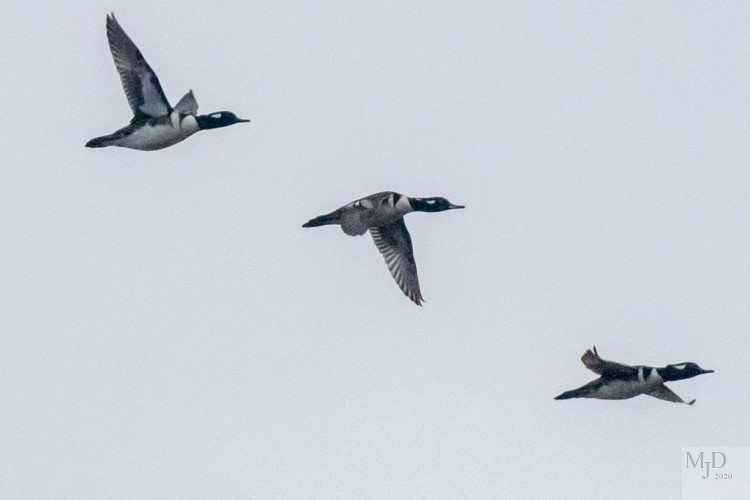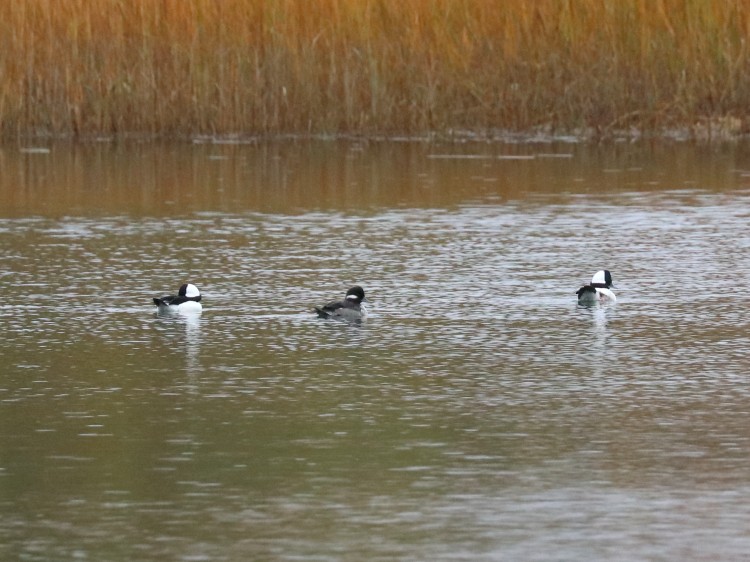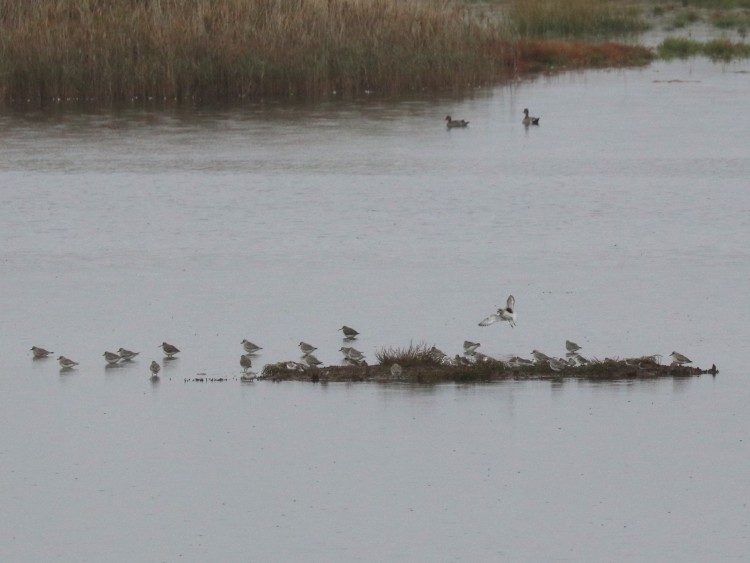 Here's to hoping that the beautiful abundance we are now seeing in the waterfowl migration will continue on through the winter, on both the sea and ponds while they're still open. The abundance of seabirds off of Plum Island varies from year to year in the wintering months. Last year when we walked up to the beach, we often found only a few individuals, and there was a long period with almost no loons at all. Other years there have been a great many more. Sometimes patterns appear as the winter months wear on, such as a couple of years ago, when a giant raft of sea ducks would appear, during the outgoing tide, in a gyre that formed in front of Crane Beach.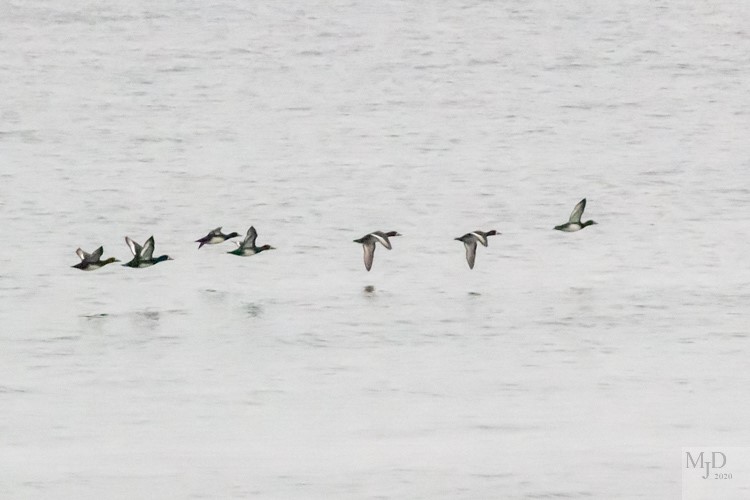 This year, winter birding will be spiced up at least by the presence of a lot of Pine Siskins; of course, for all we know, other boreal species might also irrupt into New England. I've been seeing reports of Evening Grosbeaks, and I heard one in town in Amesbury last weekend. We hope all the exciting birds that are in our area now bring you a great measure of the potentially inexhaustible hope that springs from nature. Goodness knows we need it.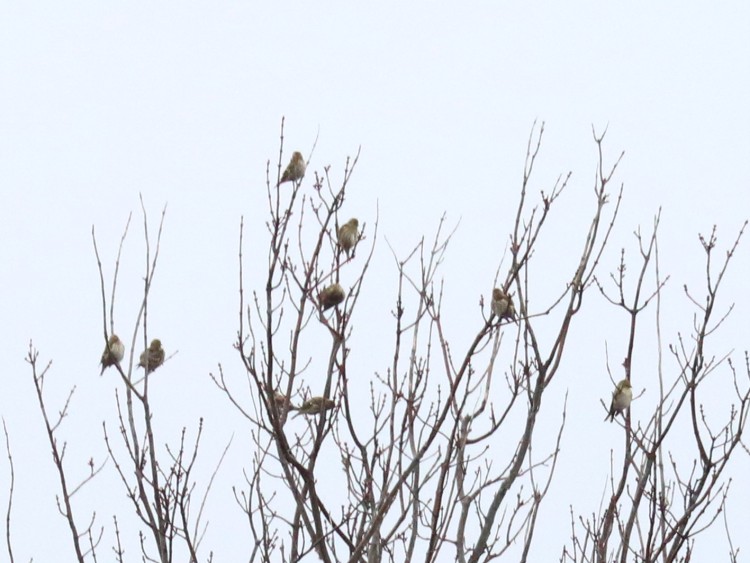 Our Lists 
Key: 25/31 = 7:30 am session/9:30 am session
Canada Goose  7/11
Mallard  35/12
American Black Duck  350/20
Northern Pintail  25/15
Green-winged Teal  25/0
Common Eider  30/0 – There most certainly were many, probably hundreds of Common Eiders out there, but our count of definite observations is suppressed due to the position we had at parking lot #6, and without using spotting scopes. 
White-winged Scoter  300/150  – Many flocks of 50 – 150 flying by or rafting and scattered everywhere close enough to recognize.
Black Scoter  400/125 – See note above.
scoter sp.  1500/2000
Bufflehead  5/3
Common Goldeneye 1/0
Hooded Merganser 3/0
Red-breasted Merganser  15/2
Black-bellied Plover  40//60
Sanderling  10/0
Dunlin  20/7
Short-billed/Long-billed Dowitcher  8/0
Greater Yellowlegs  25/25
Ring-billed Gull  1/0
Herring Gull  25/25
Great Black-backed Gull  2/4
Red-throated Loon  1/0 – Probably more
Common Loon  3/25 – Definitely more but out at sea flying south.
loon sp.  30/15
Northern Gannet  3/2
Double-crested Cormorant  35/1
Great Blue Heron  1/0
Northern Harrier  1/1
Downy Woodpecker  1/0
Hairy Woodpecker  1/0
Northern Flicker  1/0
Black-capped Chickadee  4/2
Carolina Wren  2/0
European Starling  30/0
Northern Mockingbird  4/0
American Robin  55/3
House Finch  1/0
Pine Siskin  3/15
American Goldfinch  7/0
White-throated Sparrow  5/3
Song Sparrow 3/2
Red-winged Blackbird  4/2
Yellow-rumped Warbler  4/2
Northern Cardinal  2/3