Dave Weaver and I had one thing going for us as we prepared for Wednesday Morning Birding this week: lots of eagles! The reason we have so many Bald Eagles in the Great Marsh and along the lower Merrimack River this year is unknown. We assume they come to our area when they are forced away from frozen lakes and rivers, but there have been colder winters than this one, with fewer eagles. The influx of eagles in our area, or the lack of one, may have to do with the timing of freezes, or maybe the timing of freezes in a given region. But so far, no one has trackers on all of the eagles of North America, so we can only speculate. In any scenario, we really enjoy them!
We started at the north end of Plum Island to leave time for the falling tide to expose Emerson Rocks, which helps draw sea birds to that spot. The wind had picked up to a frenzy; we estimated 20 – 30 mph! While it was not very cold, the wind chill was real. The tide was going out, so there was no eddy on our side of the river, which on incoming tides will bring birds close to the Newburyport bank. Therefore, we squinted over at the Common Eiders and Red-breasted Mergansers sheltering on the Salisbury side of the river, and squinted even more tightly at a few scoters out on the wide section toward Joppa Flats. Yikes!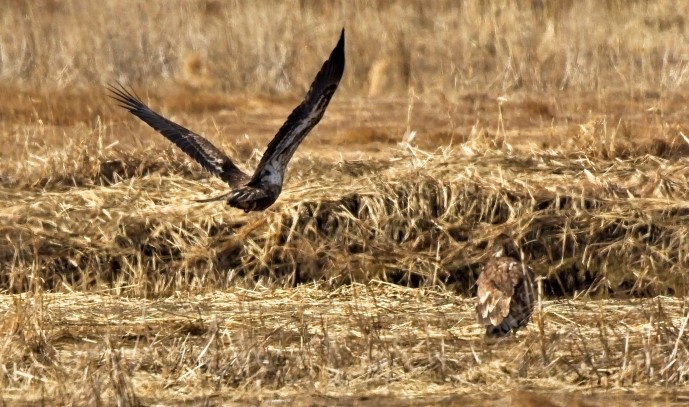 All speculative avoidance of authoritative statements about Bald Eagles aside, just after we entered Parker River National Wildlife Refuge, we spotted two young ones standing in the marsh fairly close to the refuge road. Soon they were being buzzed by a Northern Harrier, and we wondered if there was a kill there that we could not see. As we got out of the vans, someone pointed out an adult eagle, also on the ground a bit farther south.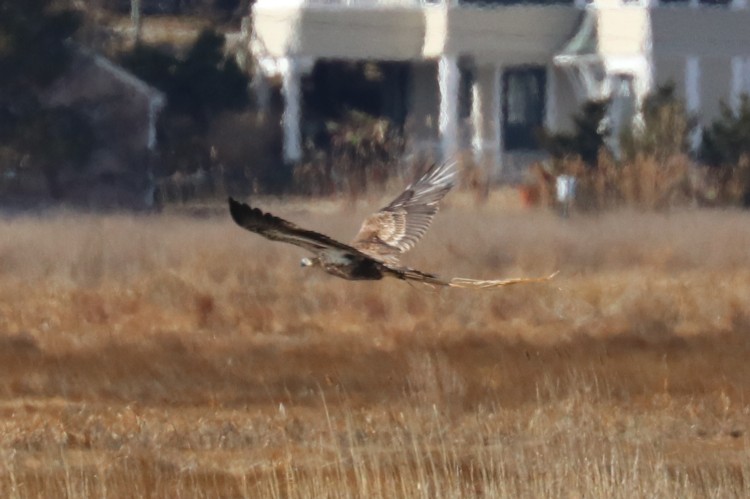 Before we left, one of the young birds flew off clutching some rather wispy vegetation. Since Bald Eagles use sticks to build nests, and do not breed before they attain definitive adult plumage in their 5th year, we again can only speculate that the bird was "practicing." To make the scene even more interesting, a Peregrine Falcon flew through, making a little false dive at the young eagle. The poor kid couldn't catch a break!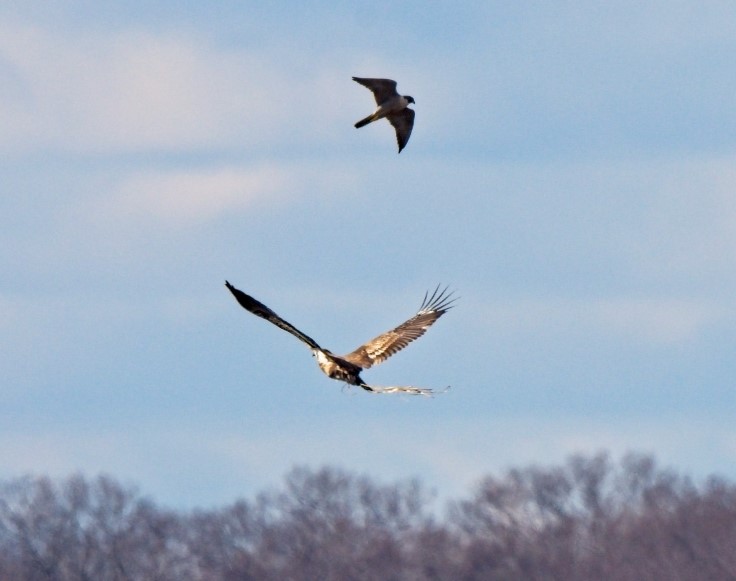 After our refuge visit started with such picturesque activity, we proceeded south past the salt pannes, where the surface was frozen, so no ducks were present. We looked for birds in North Field and didn't see any. We looked for a wintering Northern Shrike in the thicket, but couldn't find one, and continued all the way south to parking lot #7. By the time we headed out to the beach, a good amount of the rocks had appeared, and there were some birds present, but only a few loons and other sea birds. Common Eiders and Horned Grebes, one Common Loon, and a couple of Common Goldeneyes and Long-tailed Ducks were the tally in the water. A group of Sanderlings landed on the exposed rocks; another flock of 11 performed classic Sanderling foraging in the edge of the wash in front of us.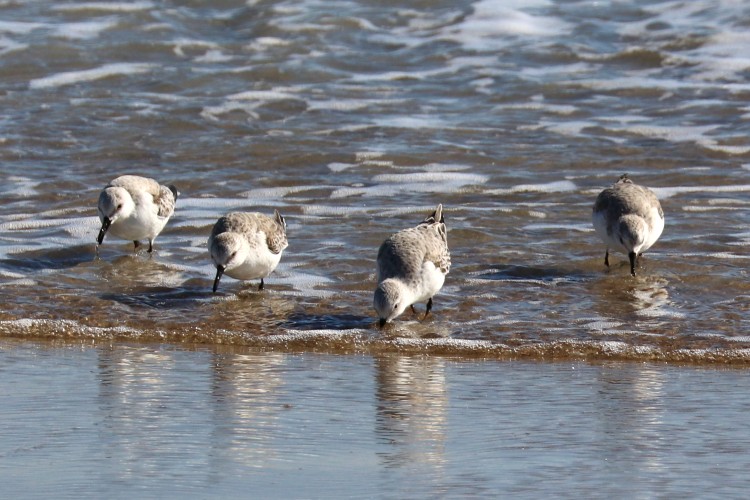 Stage Island Pool had a good amount of open water, but only a couple of small groups of Buffleheads took advantage of it. An adult Bald Eagle flew over Grape Island out past the South Marsh, but we don't know if it was a different bird than the first one we saw. Hellcat was really quiet this week. As we sometimes do, we imagined that standing repeatedly in the rather chilly gale was enough suffering, what with the lack of birds, to build metaphysical credit for future outings. Everybody needs a story to tell themselves when the birds don't show up! Here's another one: standing in these open coastal areas in the teeth of fierce wind makes one feel very alive; nature is wild and wonderful, even when people are misguided or acting in other unfortunate ways.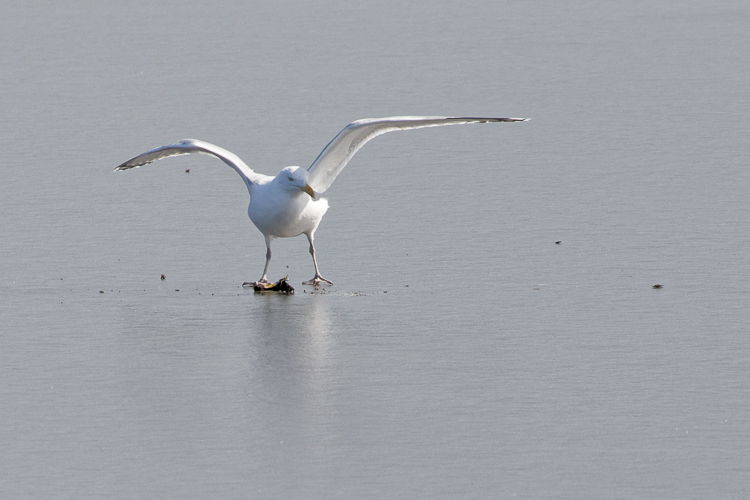 We got another dose of eagles when we arrived at the salt pannes, where two young Bald Eagles, but older young eagles than the first ones we found, were also standing, then flying about. One took off over the marsh, giving us good views of the white marks on its back and in the axillaries, which told us it was a 2nd- or 3rd-year bird. The individuals we first encountered had the dark bodies of 1st-year birds.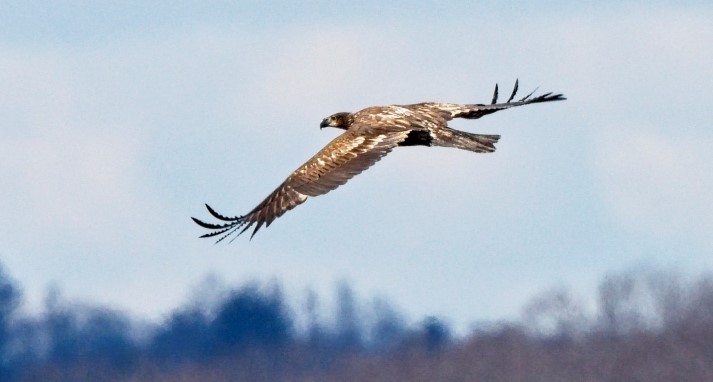 We still had a bit of time, and we decided to try one more spot on the ocean at parking lot #1. Often when you arrive there and see very little, birds soon begin to appear as you look carefully. Not this week. We saw not one individual floating on the surface. So we called it a day, all of us looking forward to that future trip where the birds just fill the trees or cover the sea. We hope that you can get out there now too and find joy in the beauty in spite of the effort and sometimes even pain: it will make those easy days feel all the more luxurious!
OurList:
Canada Goose – common.
Mute Swan (1) – marsh sw. pannes.
Mallard (~ 10) – mostly marsh w. Hellcat.
American Black Duck – common.
Common Eider (~ 40) – ~ 30, north end; ~ 10, Emerson Rocks.
White-winged Scoter (2) – north end.
Long-tailed Duck (2) – seven ocean.
Bufflehead (~ 15) – Stage Island Pool.
Common Goldeneye (2) – seven ocean.
Red-breasted Merganser (5) – north end.
Horned Grebe (3) – seven ocean.
Rock Pigeon
Mourning Dove
Sanderling (~ 26) – 11, seven beach; ~ 15, Emerson Rocks.
Ring-billed Gull (2)
Herring Gull – common.
Great Black-backed Gull (2) – seven beach.
Common Loon (1) – north end.
Great Cormorant (2) – probable, perched on marker at end of Salisbury
jetty; seen from lot #1 platform.
Northern Harrier (3) – 2 females, 1 male.
Bald Eagle (5-6) – 1 ad, 2 juvs – initially on ground in marsh just s.
lot #2; 1 ad (possibly same ad cited first) flying s. adjacent to Grape
Is.; 2 2- to 3-yr-old birds in marsh n. pannes.
[Red-tailed Hawk (1) – on power line along Plum Is Tpk, n. PI Airport.]
Peregrine Falcon (1) – flyby, marsh n. pannes.
Blue Jay (2) – vicinity Stage Island Pool.
Northern Mockingbird (1) – vicinity s. Cross Farm Hill.
European Starling
House Finch (2) – in housing while en route north end.