Last Wednesday, our birding outings were held in the morning and evening. Susan Yurkus co-led at 9:30 am, and Linda Hunnewell co-led at our evening session at 6:30 pm. We began at 9:30 with an awkward tide level, 3.7 feet and falling in Newburyport, which is the beginning of the lower third of the tide cycle. This meant that when we arrived on the dike at Hellcat, there was still a smattering of Semipalmated Sandpipers and others on the flats in Bill Forward Pool, but most had skedaddled for better foraging as the tide exposed previously inundated flats.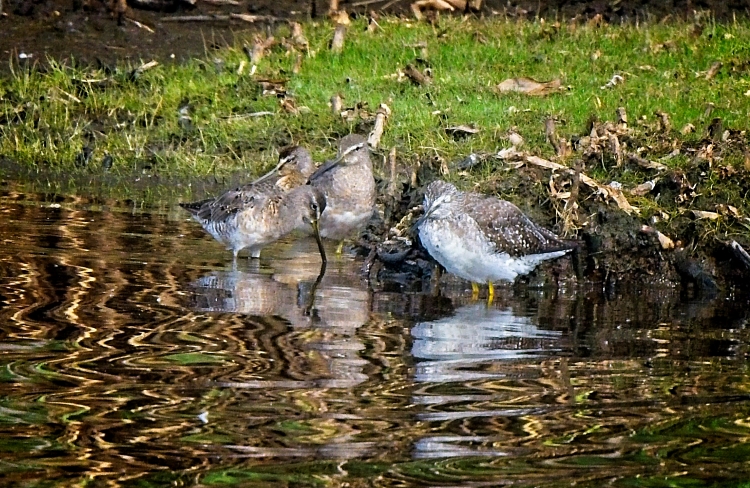 Shorebirds in Migration
Shorebirds (and other migrants) make longer stops as they go south than they do on their northward migration. They linger at stopovers such as the Great Marsh as they build fat reserves for epically long flights to the Caribbean, tropical South America, and even the southern tip of Argentina, though only a few species go to the farthest extreme, species such as White-rumped Sandpipers and Red Knots. The "leisurely" notion of the southward migration is belied by the voracious foraging they engage in on these stopovers, and in the case of all the species that utilize tidal mudflats to find food, they are intimately tied to the tidal cycle. What drives the birds is the exposure or inundation of tidal flats that are rich in invertebrate prey. So predicting where tidal-flat-foraging species will be at any given time relates to the availability of the food resources in those tidal flats.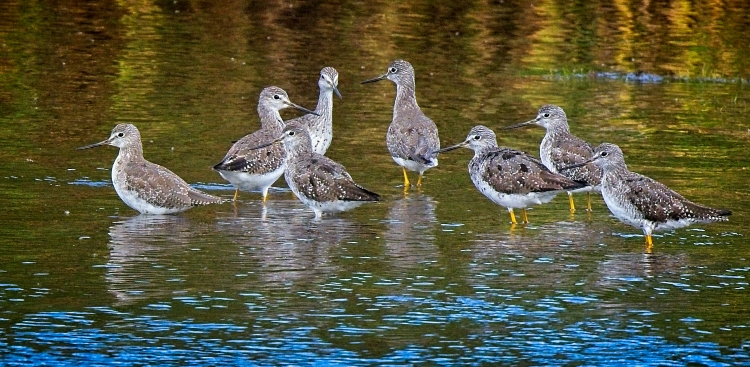 A Digression on Shorebirds and Tides
For finding shorebirds, predicting where they will be using an amount of time relative to a high or low tide of the day is a blunt instrument. The height of a mudflat relative to sea level and the extremity of the tides on a given day determines when and how long the flat will be available for foraging. In Newburyport, the actual levels of high and low tides on any given day vary through the month by almost 3 feet! The water level gauge on the Rt. 1 bridge in Newburyport is useful for predicting the exposure of Joppa Flats, one of the few tidal flats in our region to have a widely recognized name. The ideal tide level and action on Joppa Flats is at 1.0 feet on a rising tide, though a falling tide is good too at that level, as we observed last Wednesday.

At a water level of 1.0′ on the gauge, much of Joppa Flats is covered by water, but a band of exposed mudflat is visible near shore, making the birds on the flats easy to observe as the birds forage mostly on that exposed area. Tide levels are measured from "zero" at the height of the mean low tide, which is regarded as "sea level." All we can see on a tide chart, however, is the predicted level, which can be greatly altered by the flow rate of the river, by wind, by variation in ocean currents, and by barometric pressure. I nevertheless am finding that 1.0′ predicted tide level in Newburyport is useful for planning birding outings to Joppa Flats, but that is only because of smartphone apps such as "Tide Chart – Free," which give you the time of day that the gauge in Newburyport is predicted to read 1.0′. Tides also affect the movement and foraging of gulls, so there are probably perfect gull moments that could be predicted by the tide height as well. The perfect gull observation tide height could be the next project, though it took a few years of observations to feel confident of what I have shared here…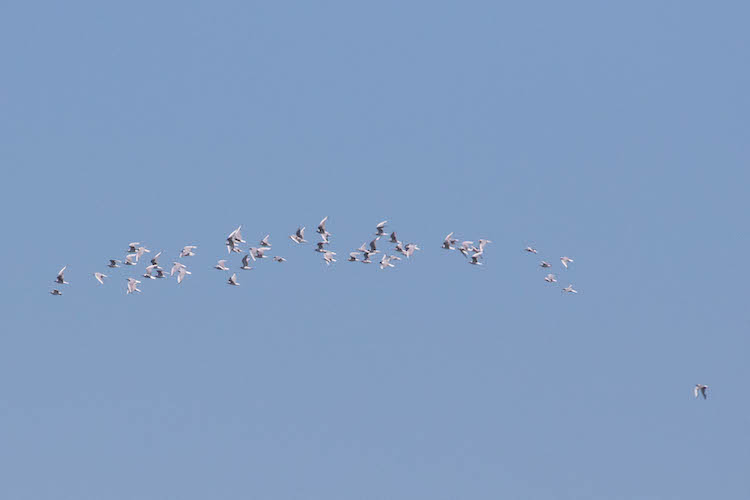 Back to Birding
We enjoyed the scene at Hellcat for a while, but the flats emptied about 30 minutes after we arrived, so after standing around watching the shorebirds leaving, and getting some looks at a Merlin, maybe a Peregrine Falcon, and some Ospreys, we moved on to North Pool Overlook.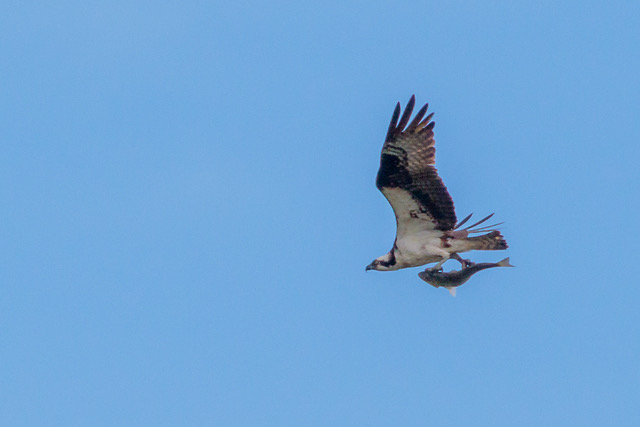 The ducks in North Pool should have been categorized as "Large Grayish-brown Ducks," and "Small Grayish-brown Ducks," the only two types of ducks one finds at this time of year as they linger in their "eclipse plumage." We did our best to distinguish them according to accepted taxonomy, however, and enjoyed seeing the first decent number of Green-winged Teal ("Small Grayish-brown Duck" adults – "Small Grayish-brown Duck" juveniles were young Gadwalls, distinguished by the color of the speculum, a section of secondary flight feathers). While this is a birding post, we love all earth's critters, so were delighted when a coyote trotted by, totally unconcerned by our observation from a good distance.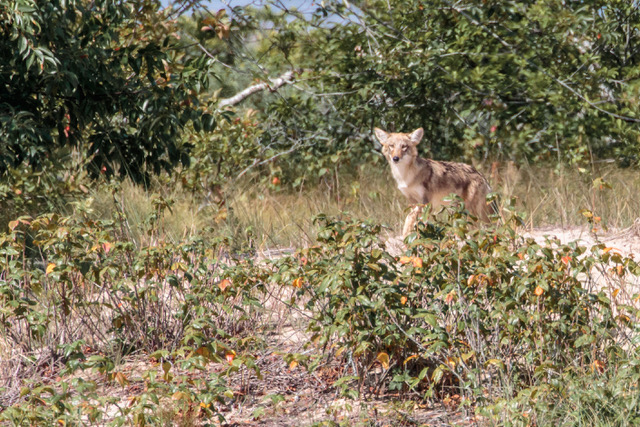 With not much time left, I decided to offer everyone either an early lunch or some extended birding time at the Joppa Park boat ramp. When we arrived there, the flats were fixin' to open, and the name of the game was dancing gulls. Bonaparte's Gulls have a dancing way of flying above the water and dropping for prey at the edges of submerged flats, and we got a nice view of that action as the flats emerged. "Boneys" also are dainty in the way they sit on the water, but as we looked at them, one stood out as larger and with a different-looking "hood" – a Black-headed Gull!! The back of the bird's hood ended even higher on the nape than it does on a Bonaparte's, and the color was obviously brownish, not black, even though it was molting to the winter-white around the face. The bird's bill color was also easy to see, not all dark like a Bonaparte's Gull, but reddish-orange at the base. We spent a long time observing that bird, and enjoying the arrival of the shorebirds promised by the opening of the flats. Finally (!), our own rare bird for WMB that I had been writing about here in the absence thereof. What will be next?!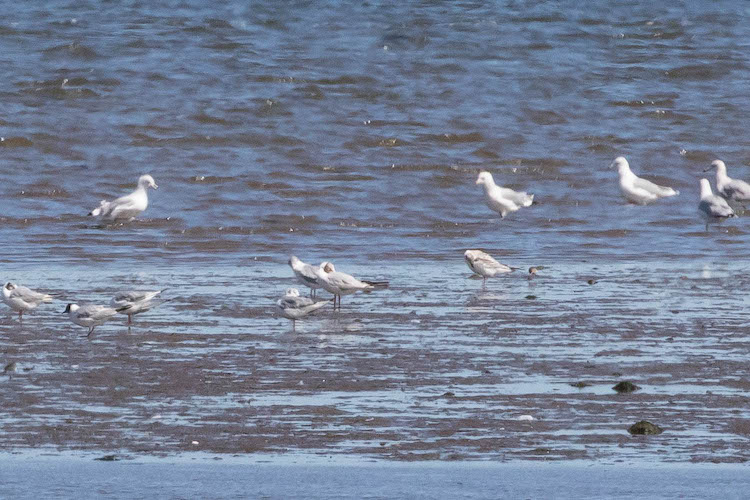 Our evening outing should be recorded here, as our "itinerary" is one that I can still recommend at this point in the season. Linda and I met birders at Perkins Playground in Newburyport, where a wonderful egret spectacle takes place every evening behind the ball field. About 400 Great and Snowy Egrets arrive there by dark, and the finale of the last third of the roost arriving in a concentrated period is a thrilling show. Night-Herons of both species cavort about as they get their engines revving for the nighttime feeding frenzy. As darkness arrives, they "bark" more and more, and as the egrets become ever more crowded, their prehistoric-sounding squawks and growls fill the air while they tussle for position, sounds that belie their usual elegance during the awkward period in which they find purchase on the branches of the trees.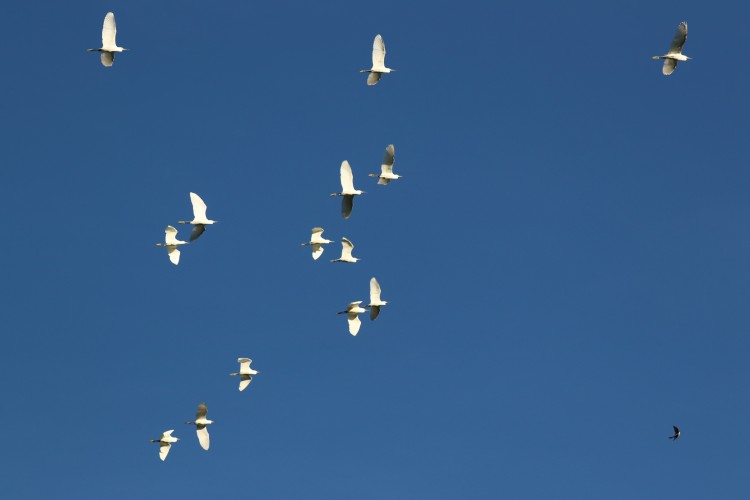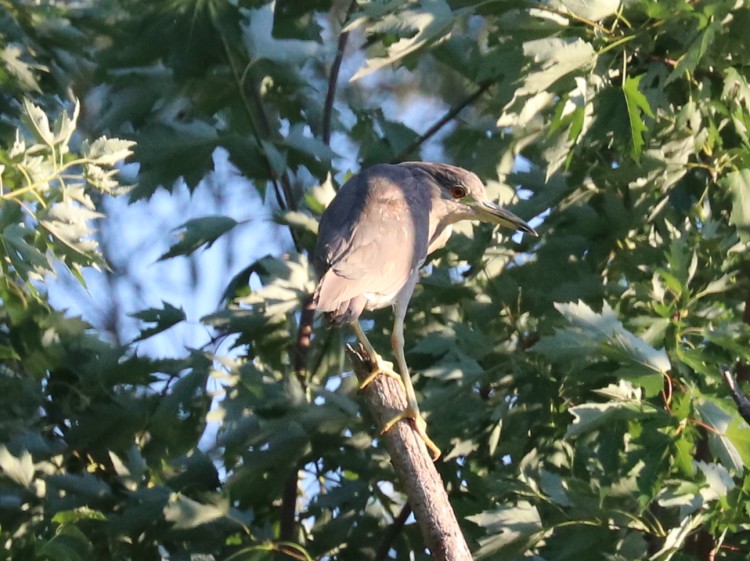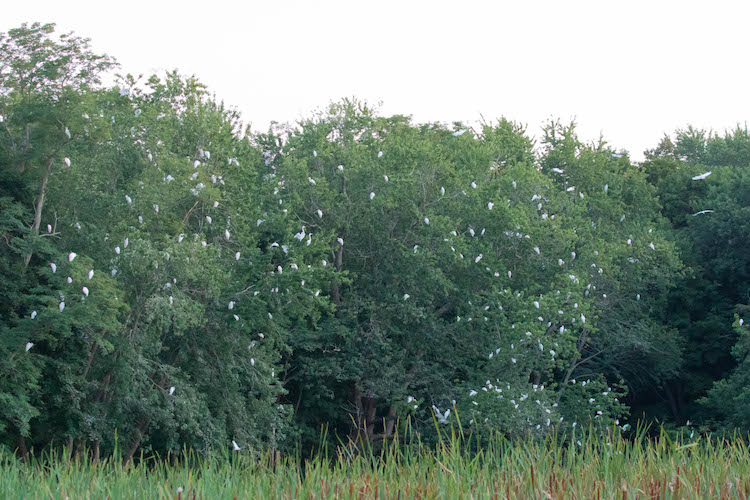 But we didn't stay for that finale, as we wanted to see the final flight of the day for Tree Swallows in the reeds of North Pool at Parker River NWR. We ran out there and had a very nice show of that odd final flight, when swallows roosting in the tops of the reeds inexplicably lift up in a swirling cloud, make dramatic dashes and rotating vortices, and then drop like stones back into the reeds for the night. This was happening as recently as last night, Sunday August 30, so I recommend you shut off your screen and get to one of those spots to see the best show on the North Shore. But which one you end the day with is up to you to decide, as you can't be in both places at once!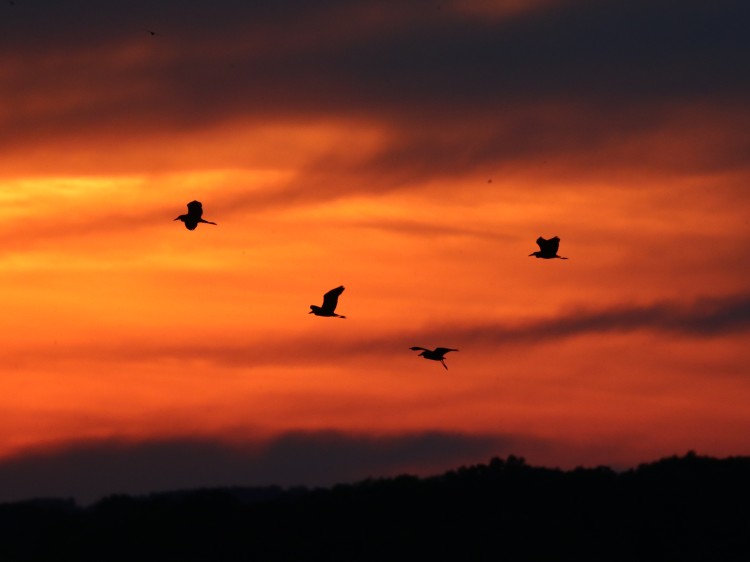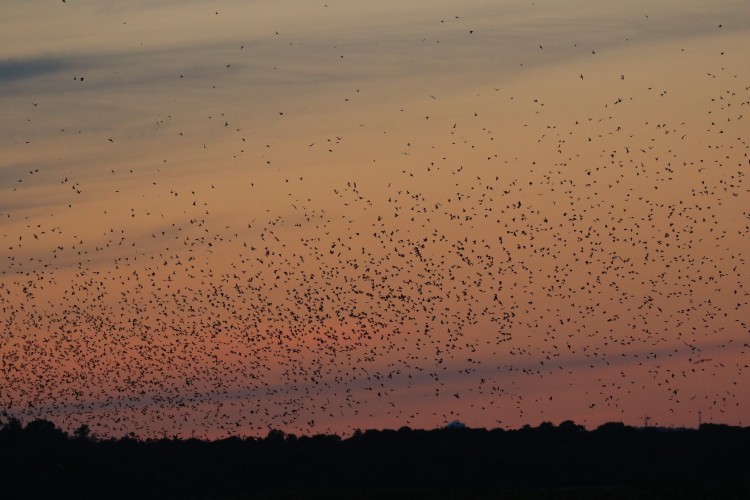 Our List (9:30 am session only. Key: 100/150 = 100 on Plum Island, 150 at Joppa Flats):
Canada Goose (10) – various on Plum Island (PI).
Gadwall (8) – North Pool Overlook (NPO).
Mallard (35/25) – various on PI.
American Black Duck (2) – NPO.
Green-winged Teal (12) – NPO.
Wild Turkey (2) – roadside, PI.
Rock Pigeon (9) – various.
Black-bellied Plover (100) – Joppa Flats (JF).
Killdeer (1) – Bill Forward Pool (BFP).
Semipalmated Plover (200/150)
Least Sandpiper (1) – BFP.
Semipalmated Sandpiper (25/150) – BFP on PI.
Short-billed Dowitcher (17/10)
Lesser Yellowlegs (4/10) – BFP on PI.
Greater Yellowlegs (35/15) – various on PI.
Bonaparte's Gull (60) – JF.
Black-headed Gull (1) – JF.
Ring-billed Gull (35) – various.
Herring Gull (20/100) – various on PI.
Great Black-backed Gull (5) – JF.
Common Tern (1) – JF.
Double-crested Cormorant (5/15)
Great Blue Heron (2) – salt marsh from Hellcat dike.
Great Egret (25) – various on PI.
Snowy Egret (10) – various on PI.
Osprey (4/1) – from Hellcat dike on PI.
Bald Eagle (1) – JF.
Merlin (1) – over the Bill Forward Pool dike.
Peregrine Falcon (1) – same as above.
Eastern Kingbird (1) – roadside on PI.
Tree Swallow (20K+) – On Parker River National Wildlife Refuge, all spread out above thickets and dunes from parking lot #1 to the S-curves.
Barn Swallow (4) – mixed with above.
American Robin (5) – various on PI.
Gray Catbird (2) – roadside on PI.
European Starling (35) – roadside on PI.
House Sparrow (5) – along Sunset Drive on PI.
American Goldfinch (8) – various on PI.
Song Sparrow (4) – various on PI.