On August 14, Dave Weaver and I led the Wednesday Morning Birders to Plum Island, where the high tide had pushed shorebirds to roosts where they could rest and forage. The first thing we noticed after passing through the gatehouse was a swarm of Tree Swallows that sashayed back and forth across the road from the Middens on the right to the patchy thickets on the left. The most impressive flocks we saw yesterday were there at the north end of the refuge road, but in all, with big numbers in the Phragmites stands of North Pool and in North Field, we estimated the hordes at somewhere near 10,000 swallows, now staging for the southward migration. Those numbers are likely to peak at some point above 100,000.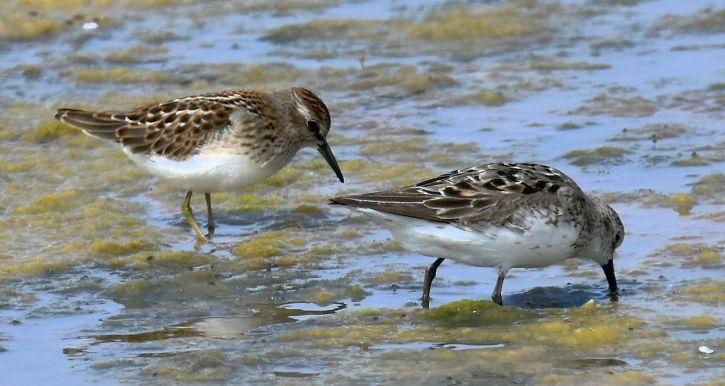 Our first shorebird encounter was at the Main Panne, where we pulled off the road and enjoyed looking through scores of peeps. The many Semipalmated Sandpipers were joined by a couple of Least Sandpipers, a White-rumped Sandpiper, and at least a few Semipalmated Plovers. A couple of Least Terns foraged where the water was open. The shorebirds were foraging on the mats of algae that are covered noticeably by large black fly-like insects. Managers at the Refuge have opened channels that let a more natural flow of tidal water enter and exit the Main Panne, and it appears that the water level has dropped. We certainly are enjoying the common sights and sounds of shorebirds close to the road.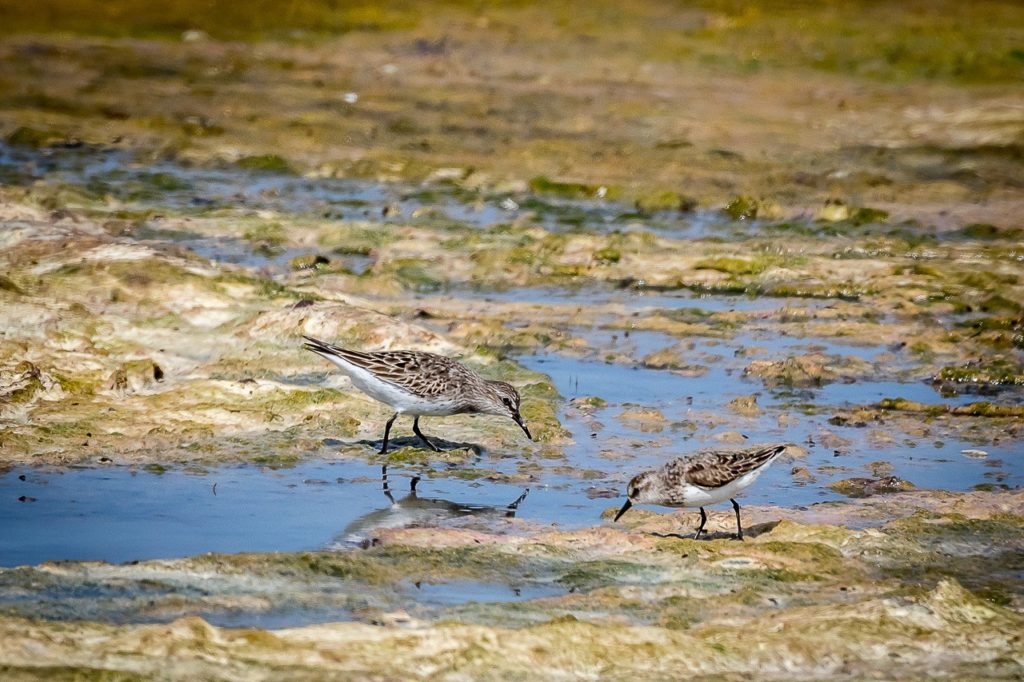 From there we went to see the many birds at Stage Island Pool, where the water level has been dropped to expose sizable mudflats. A couple of groups of five or more Greater Yellowlegs were scattered on the shoreline and in the shallows, and we got some short views of cooperative feeding. A small number of Great and Snowy Egrets and Double-crested Cormorants roosted in the middle distance, as they usually do when exposed mud is available. Shorebirds were scattered along the shoreline and in the distance, including one Pectoral Sandpiper and a Baird's Sandpiper that unfortunately was only visible through a narrow window when it was close. Some Short-billed Dowitchers roosted near the road with yellowlegs, mostly Greaters.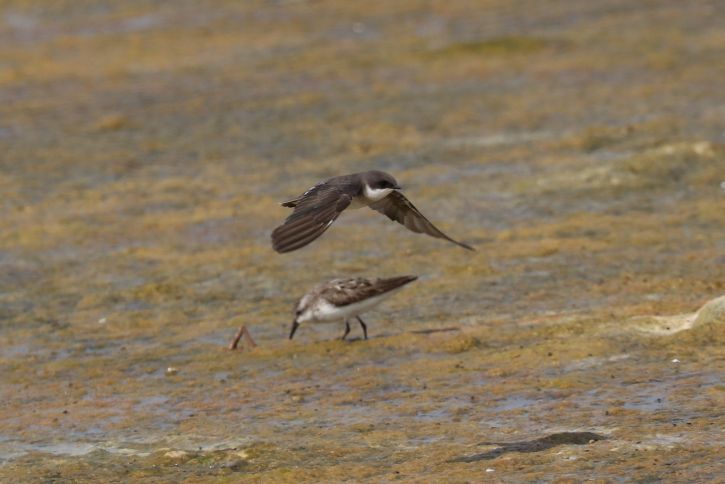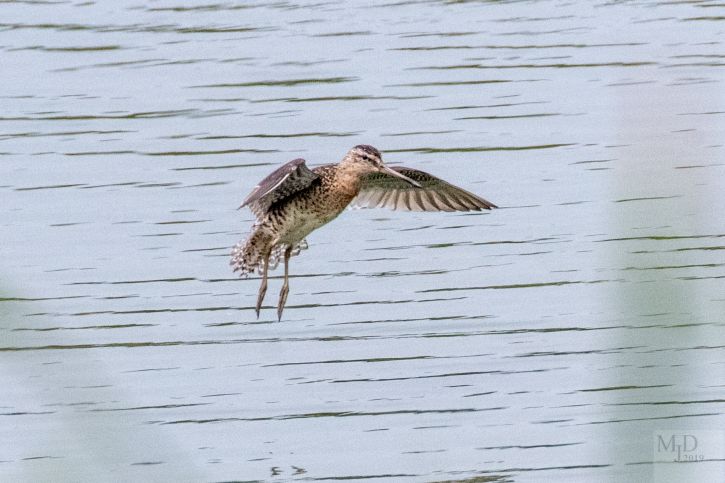 It had been a long time since we could go to the platform at parking lot #7, so we took a quick look up there. On the way up the ramp, one of us noticed below us a bright orange bird, which turned out to be an older adult female Baltimore Oriole. Female Baltimore Orioles attain brighter plumage with age, sometimes approaching that of males. Cedar Waxwing juveniles called from the shrubs, and both adult and young Eastern Kingbirds cavorted about. The ocean was fairly empty, as Emerson Rocks were covered by the tide, but some juvenile Common Eiders loafed right off the beach. They were so dark, we first thought they were scoters. These motley birds are now in juvenile plumage, which they will lose most of as winter approaches to become the "immatures" we recognize.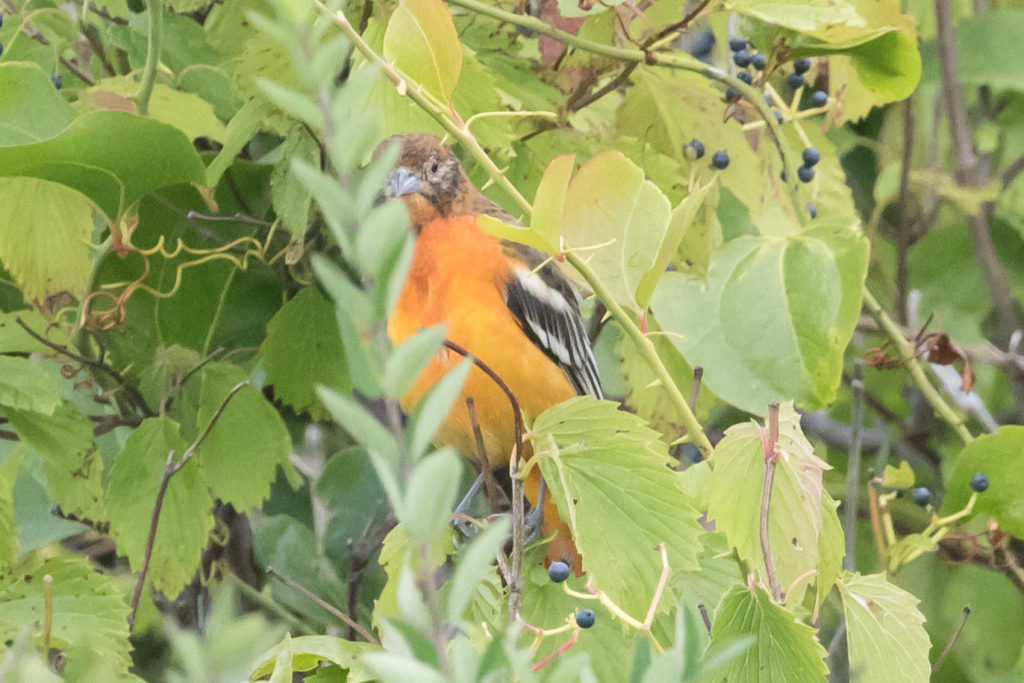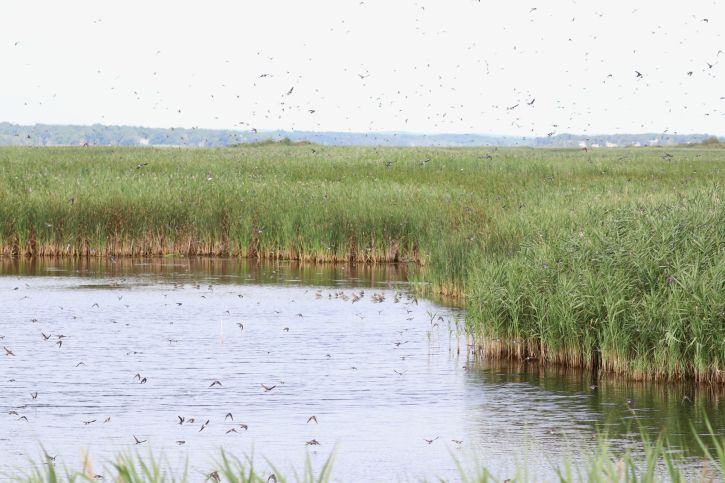 We saved Hellcat for last, as we often do, particularly in order to maximize the chances of seeing shorebirds that roost there at high tide. There were hundreds of Semipalmated Plovers sitting quietly in the short vegetation on the flat in Bill Forward Pool. Hundreds of Semipalmated Sandpipers did the same thing further south on the flats there. Plenty of these birds and other less abundant ones foraged around for us to pick through, giving the group good views of the set of small shorebirds we expect to see. Another Pectoral Sandpiper was easier to see, as were dowitchers, yellowlegs, and Cedar Waxwings, which forage in an odd but regular way on those flats. Scores of Tree Swallows flew over the dike and dipped for drinks in North Pool. Two families of Gadwalls charmed everybody with their fluffy young.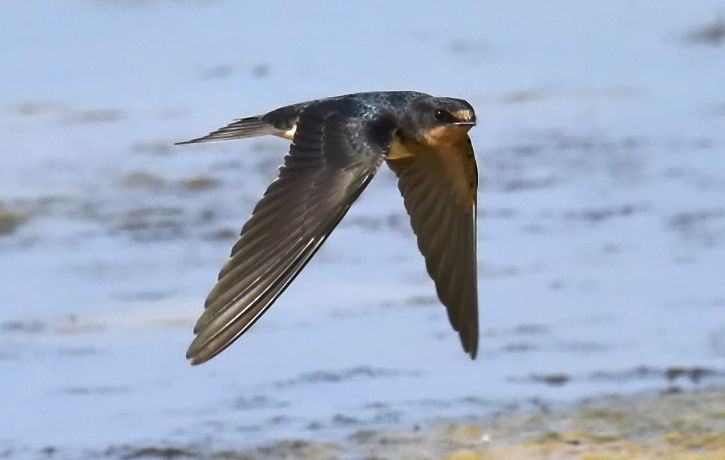 A note about Wednesday Evening Birding: The tide was low during our late-day outing, but we enjoyed a nice variety of birds at Hellcat Dike, including a juvenile Sora, which poked out of the reeds in North Pool for a while. We had been drawn to look that way by a couple of dowitchers, and, sharp-eyed as ever, co-leader Linda Hunnewell spotted that surprise. We also enjoyed a spectacular display of a Northern Harrier's acrobatic foraging flight over the reeds in Bill Forward Pool. That is the first Northern Harrier we've seen since they departed in spring.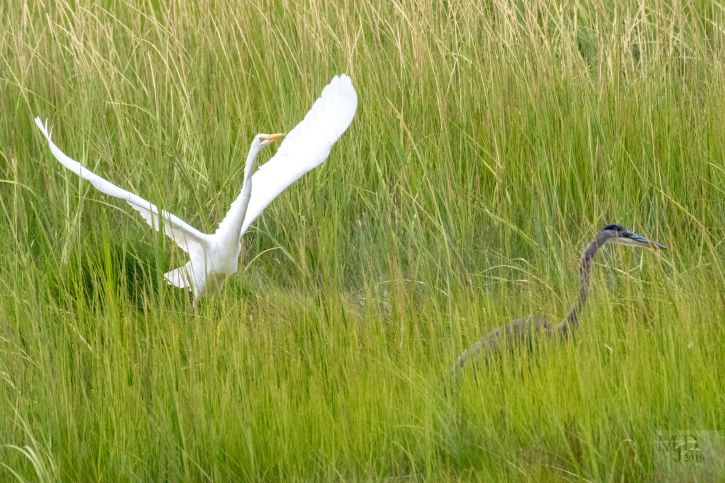 Our list:
Canada Goose (~ 17) – Bill Forward Pool (BFP).
Gadwall (10) – 2 broods of 3 & 5, 2 hens; BFP.
American Black Duck (2) – Main Panne.
Mallard (~ 10) – various.
Common Eider (~ 12) – seven ocean.
Double-crested Cormorant (~ 25) – mostly BFP.
Great Blue Heron (2) – 1, Stage Island Pool (SIP); 1, BFP.
Great Egret – common; various.
Snowy Egret (~ 10) – SIP & BFP.
Osprey (2) – Pines platform/pole.
Black-bellied Plover (~ 25) – BFP.
Semipalmated Plover – common; mostly BFP.
Spotted Sandpiper (1) – SIP.
Greater Yellowlegs (~ 15) – SIP & BFP.
Lesser Yellowlegs (3) – SIP.
Semipalmated Sandpiper – common; various.
Least Sandpiper (6) – 2, Main Panne; 4, BFP.
White-rumped Sandpiper (5) – 1, Main Panne; 4, BFP.
Baird's Sandpiper (1) – SIP.
Pectoral Sandpiper (2) – 1, SIP; 1, BFP.
Short-billed Dowitcher (~ 20) – ~ 10, SIP; ~ 10, BFP.
Herring Gull
Great Black-backed Gull (2) – seven beach.
Least Tern (4) – 2, Main Panne; 2, BFP.
Rock Pigeon
Mourning Dove
Eastern Kingbird (~ 5) – various.
Tree Swallow (10K +/-)
Black-capped Chickadee (3) – S-curves.
American Robin (1)
Gray Catbird (4)
Brown Thrasher (1) – lot #7 boardwalk.
European Starling – common.
Cedar Waxwing – many; various.
Common Yellowthroat (1) – Hellcat dike.
Yellow Warbler (3)
Song Sparrow (2)
Bobolink (3) – Hellcat dike.
Baltimore Oriole (1) – lot #7 boardwalk.
Purple Finch (1) – Hellcat.
[House Finch (1) – Joppa.]