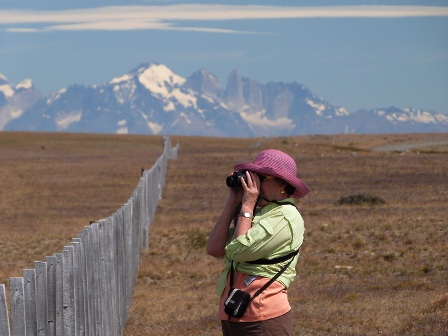 In January 2013, 14 travelers joined Mass Audubon ornithologist Wayne Petersen for our Patagonia birding trip in southern Argentina and Chile.
Over the course of 14 days, we saw the towering spires of the Andes mountains as a backdrop to a soaring Andean condor; emerald waters of the Laguna Sucia with huge Magellanic woodpeckers (South America's largest woodpecker species); and hanging glaciers with torrent ducks diving in the rushing river water.
The new Ice Museum in Calafate, Argentina was particularly amazing and as was the stunningly blue ice on the face of the Moreno Glacier calving right before our eyes.
Other fantastic sightings included:
The endemic Magellanic plover (whose estimated world population is thought to be less than 1,500) unobtrusively working the water's edge in Calafate.
Hundreds (thousands?) of juvenile and molting adult Magellanic penguins dozing near their desert nest burrows at Punta Tombo. Our local guide, Carol Mackie de Passera, lived here for many years, raising her children while banding hundreds of penguins for Wildlife Conservation International.
The humorous spectacle of gangs of road-running lesser rheas racing across the Patagonian steppe.
The irritatingly close (yet totally invisible!) squeaks of a rare austral rail calling practically at our feet.
And the sight of a rare huemul doe nursing her fawn on a distant Patagonian hillside.
See some great shots from the trip in our photo slideshow and check out some of our other trips we have planned for the future.
Photo © Carol Passera