Last Wednesday began with gloomy, wet weather and cool temperatures, bracketing a week and a half of great warbler weather distinctly for WMB. Susan Yurkus and I decided to follow Dave Adrien's advice, and head straight for Sandy Point, in search of Roseate Terns. To get to the far stretch of strand where the larger terns roost and forage, we past by a vast plain of sand and wrack abounding with Least Terns! It was almost healing to see so many back at Sandy Point after two years where the "Toy Terns" were forced to abandon the area due to the loss of a beach platform higher than most flood tides, and that are covered with adequate wrack. Many showed up at the north end of Plum Island, and of course we won't know how many moved there and how many absconded to Crane Beach. It was great to see so many back on Sandy Point, however, along with some large, dashing flocks of migrating Semipalmated Sandpipers, with several Semipalmated Plovers. Plenty of Piping Plovers were about as they set up shop, ignoring the flocks of migrating shorebirds.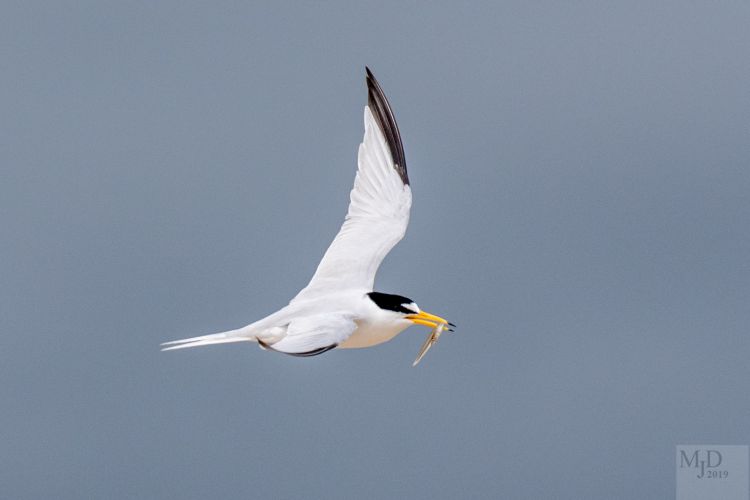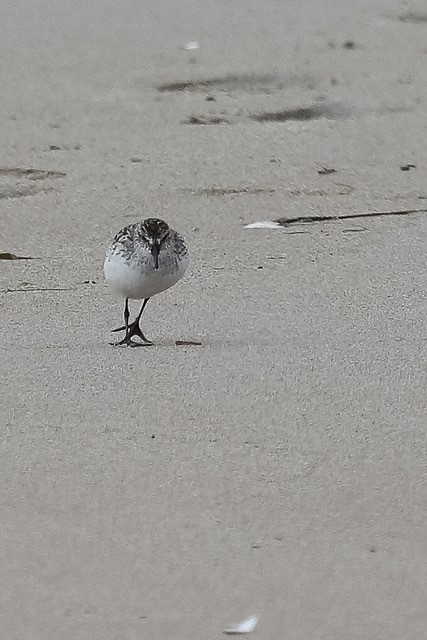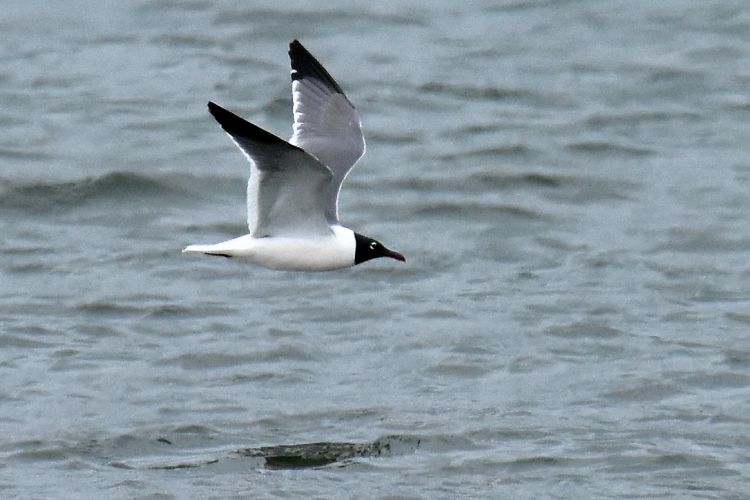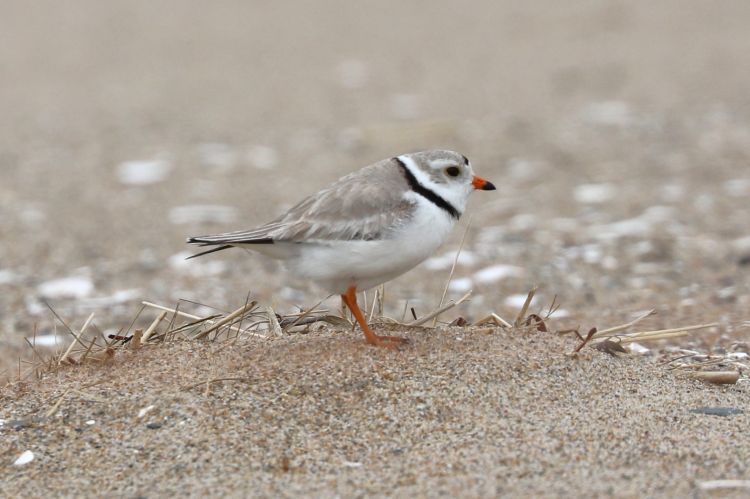 As we neared the inland side of the point, where a few larger terns were hidden by the beach scarp, some bigger birds went by, including Common Terns and a Roseate Tern that not many in the group saw, followed by a breeding-plumage Laughing Gull that was easy to distinguish from possible Bonaparte's by the darker mantle and lack of white in the forewing. The terns, some Bonaparte's Gulls in basic plumage, and the Laughing Gull, later settled on a sand flat further along. As the terns rose and settled, two Roseate Terns stood out with long tails and very light mantles. Later, we could discern them among the birds sitting on the sand. The gray sky served to highlight the white-and-gray birds, and the new stretches of almost empty space they were moving through lent the scene the otherworldly feel of an outer beach.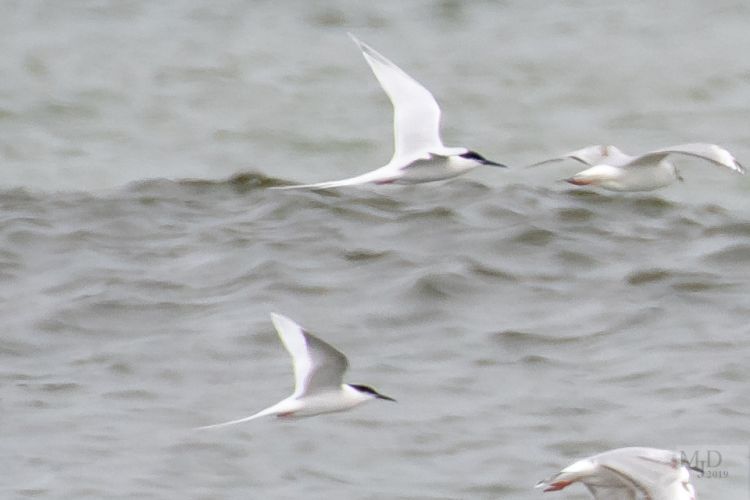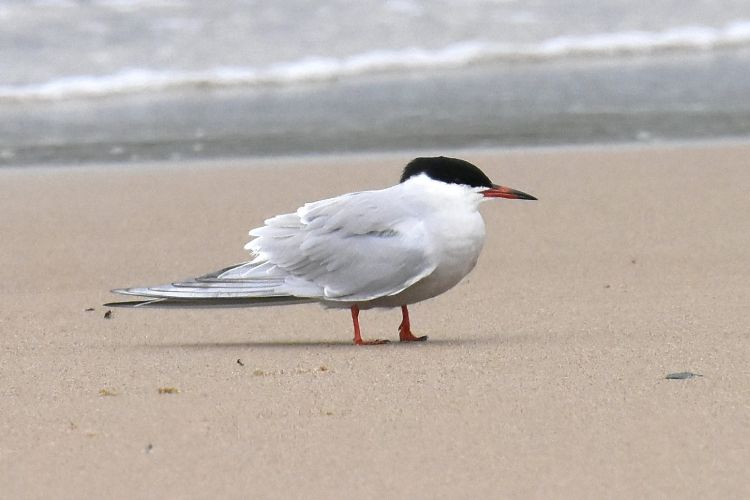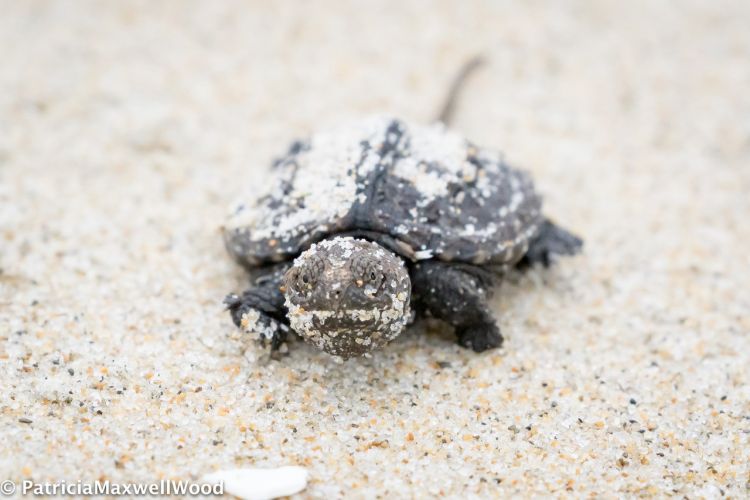 After such a satisfying venture, it seemed a bit much to hope for a sighting of the Least Bittern that had been reported at Hellcat, but hope springs eternal. When we arrived on the dike there, we were immediately struck by the number of shorebirds on the flats at Bill Forward Pool. Many Dunlin and Semipalmated Sandpipers along with three dowitchers we assumed to be Short-billed Dowitchers, and a White-rumped Sandpiper. An egret foraged along the edge of the water along the outer dike in BFP, and putting the scope on it, we were treated to the very fleeting, bright red facial skin color of a Snowy Egret in the early stages of its breeding plumage.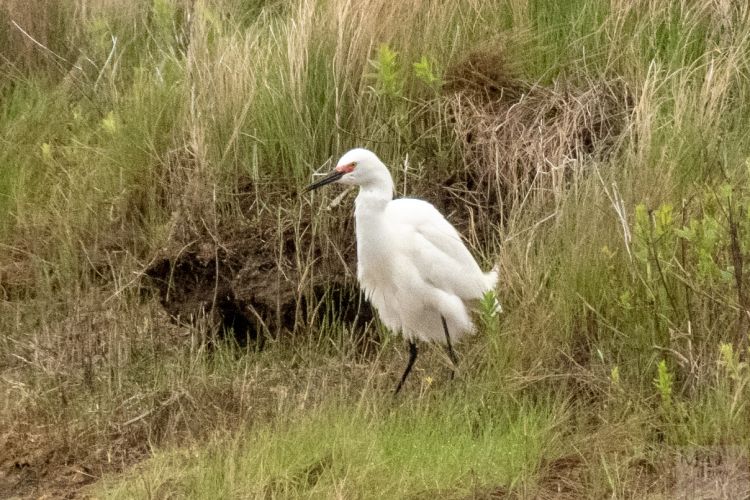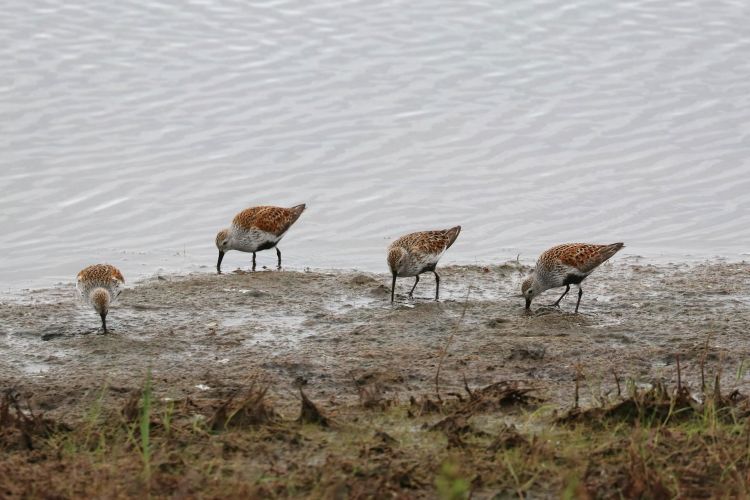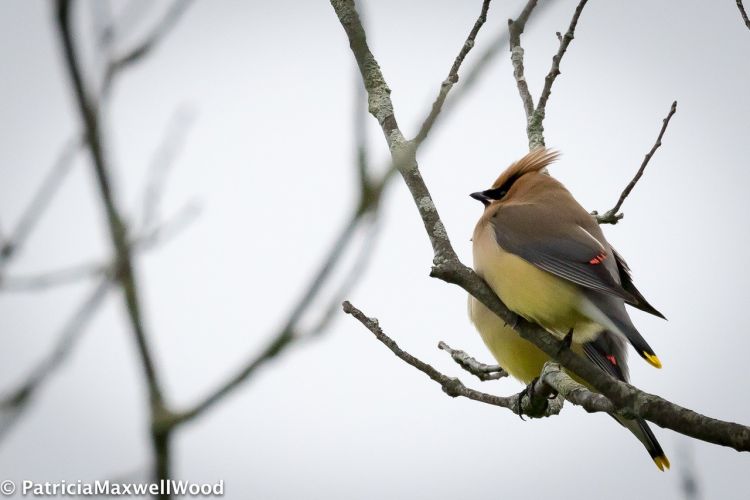 After our first session of staring at shorebirds this year, we headed to the road to see if we could dig up any warblers. There were a few around, though nothing like what was happening the previous week. It was like somebody had switched off the migration faucet, leaving a small, but persistent drip. Still it was pleasant to seek the American Redstarts that always nest in Goodno swamp, hear the "whisper song" of a Magnolia Warbler, and barely glimpse one Canada Warbler hurrying to some vernal pool in Maine. As we arrived in the parking lot, we were cheered immensely by spotting a male Baltimore Oriole with extensive reddish plumage on his breast, looking just like the one we dubbed "Champ" last year. This year, we need a recording of his song to determine if the same bird is indeed returning there to be a model for the species, as each one has his own particular, identifiable version of the species' song. Feel free to go out there to obtain a recording we can use as a "voucher!"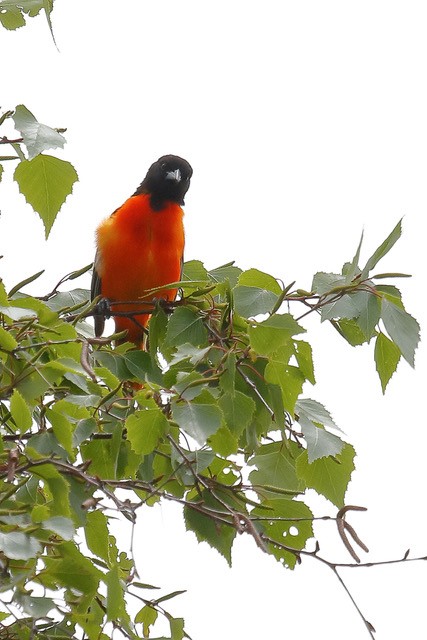 Our Lists:
Canada Goose (2) – Main Panne.
Mute Swan (4) – Main Panne.
Gadwall (4) – 2, Main Panne; 2, Bill Forward Pool (BFP)
Mallard (6) – various.
Common Eider (2) – Sandy Point.
Common Goldeneye (1) – Stage Island Pool.
Wild Turkey (2) – roadside.
Mourning Dove (1) – powerlines north of refuge.
Black-bellied Plover (3) – Sandy Point.
Semipalmated Plover (~25-30) – 5, Sandy Point; many, BFP.
Piping Plover (~15) – Sandy Point.
Killdeer (2) – Main Panne.
Dunlin (~150) – BFP.
White-rumped Sandpiper (1) – BFP.
Semipalmated Sandpiper (~160) – ~60, Sandy Point; ~100, BFP.
Short-billed Dowitcher (3) – BFP.
Willet – common.
Bonaparte's Gull (6) – Sandy Point.
Laughing Gull (1) – Sandy Point.
Herring Gull – common.
Great Black-backed Gull (2) – North Marsh.
Least Tern (~100) – Sandy Point and pannes.
Roseate Tern (3) – Sandy Point.
Common Tern (~20) – Sandy Point.
Double-crested Cormorant – common.
Great Egret (4) – various.
Snowy Egret (5) – various.
[Turkey Vulture (4) – over Pine Island.]
Osprey (2) – North Marsh.
Red-tailed Hawk (1) – Plum Island Turnpike.
Traill's Flycatcher (2) – Goodno.
Eastern Phoebe (1) – Hellcat parking lot.
Eastern Kingbird (~12) – various.
Red-eyed Vireo (1) – Hellcat road.
Blue Jay (2) – Goodno.
Purple Martin (10) – parking lot #1.
Barn Swallow (1) – Sandy Point.
Black-capped Chickadee (2) – Hellcat.
Tufted Titmouse (1) – singing near Dunes Trail.
Marsh Wren (~3) – singing from North Pool marsh.
Carolina Wren (1) – singing in Dunes Loop.
American Robin – common.
Gray Catbird – common.
Brown Thrasher (2) – roadside.
European Starling – common.
Cedar Waxwing (19) – South Marsh thicket.
House Sparrow – common.
Purple Finch (2) – Hellcat.
American Goldfinch (1) – Hellcat.
Common Yellowthroat – common.
American Redstart (5) – various.
Magnolia Warbler (1) – Hellcat.
Yellow Warbler – common.
Black-throated Blue Warbler (1) – Hellcat.
Canada Warbler (1) – Hellcat.
Eastern Towhee – common.
Song Sparrow – common.
Northern Cardinal (1)
Red-winged Blackbird – common.
Common Grackle – common.
[Orchard Oriole (1) – Joppa/PRNWR HQ]
Baltimore Oriole (3) – Hellcat. (Including bright male, aka "Champ," near parking lot.)
Additional species from Wednesday evening:
Tricolored Heron (1) – in panne north of Hellcat tower.
Black-crowned Night-Heron (3) – over marsh at The Wardens.
Merlin (1) – Perched along road near parking lot #2.
Chestnut-sided Warbler (1) – Hellcat.
.