On Wednesday, June 5, we anticipated a review of breeding birds on Plum Island, and that is what we got; migration was over. We began at parking lot #1 on Parker River National Wildlife Refuge, where I was accused of having a "soft spot" for Purple Martins. The thing is, I do have one. Purple Martins have big eyes, they trill softly, the males are a great color, and they like to live with humans. What's not to like? So, after a bit of martin gazing, we were headed straight for Emerson Rocks, when co-leader Dave Weaver suggested we stop to see if the Saltmarsh Sparrows have "gotten visible." We pulled over south of the Main Panne, just before the wooden guard rail, because we saw a number of sparrows there last year after breeding was well under way. But – not even one sparrow made the "20 yard dash" that we expect from them, which usually leaves them invisible again. Instead, John Linn spotted a Wilson's Phalarope! We watched this breeding-plumage male bird hunting around a salt panne near the road for a good while, as the word got out and other humans showed up to join us. In addition to the Least Terns that were foraging in the pannes, a Common Tern was sitting on a clump of peat and grass as if it were nesting. Another Common Tern foraged above the Main Panne, and the bird on the ground never moved, so it did look like the two of them made a pair that could be nesting.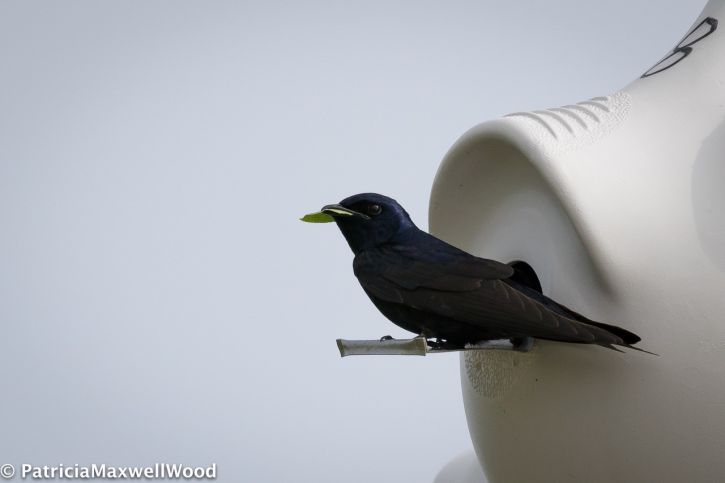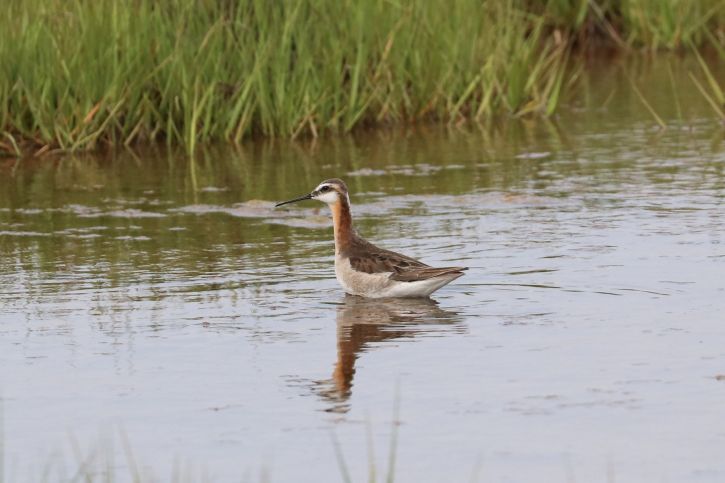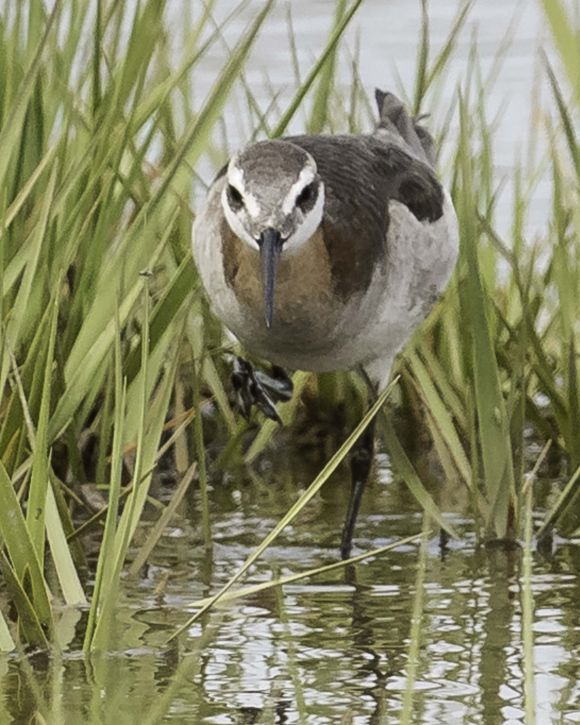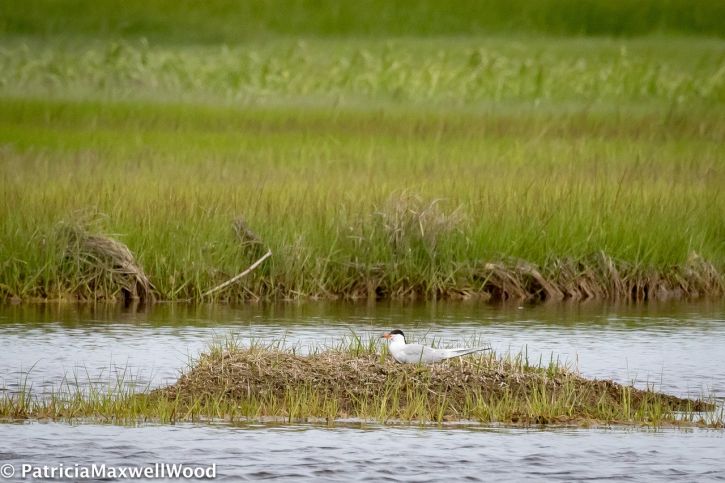 Though a number of WMBers were so delighted by the phalarope that they blurted "We can go home now!", we soldiered on to view the beach at Bar Head. By then, Emerson Rocks provided only a few perches, but there were lots of shorebirds on the beach: Semipalmated Sandpipers, Ruddy Turnstones, Black-bellied Plovers, Sanderlings, a Piping Plover, and a few Dunlins. A bigger group of turnstones lounged on the rocks remaining above the flood tide. A few Common Terns flew about over the sea. To our surprise, a Solitary Sandpiper walked along the edge of the ocean, bobbing its tail a bit. We enjoyed the active shorebirds and calm sea for a good while, then headed back to Hellcat.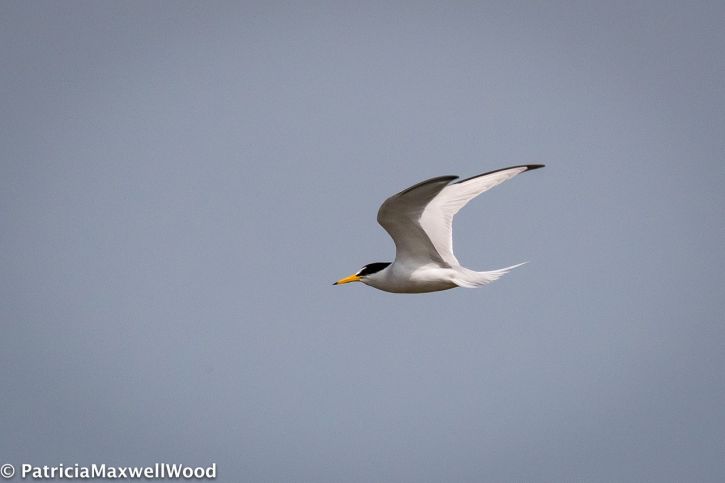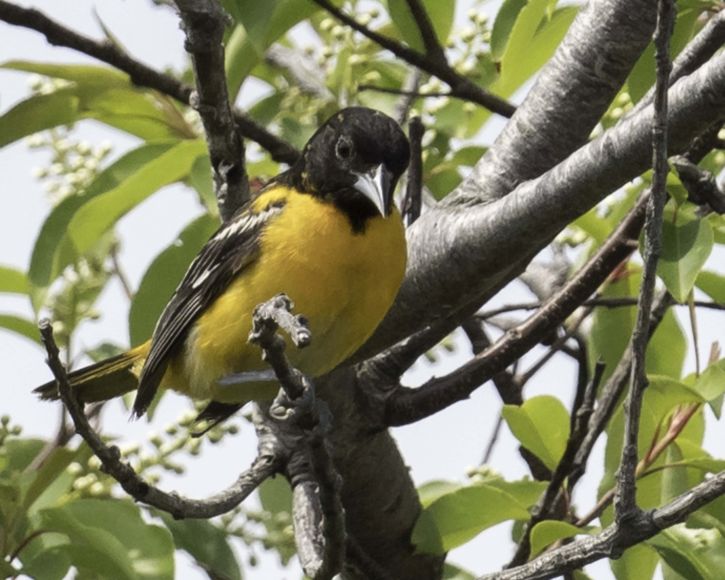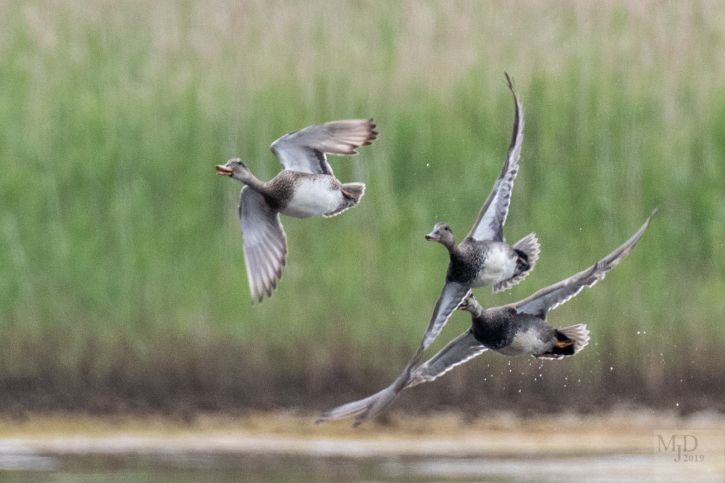 Because the tide was rising, there were not as many shorebirds on the flats in Bill Forward Pool as there were a couple of weeks ago. We found a clump of Semipalmated Sandpipers and Semipalmated Plovers, along with a few Least Sandpipers running around on the vegetated flats. A number of Gadwall were actively flying about, and a male Green-winged Teal foraged in the reeds near the dike in Bill Forward Pool. A sighting of a female there last Saturday gives us the idea they may be breeding there.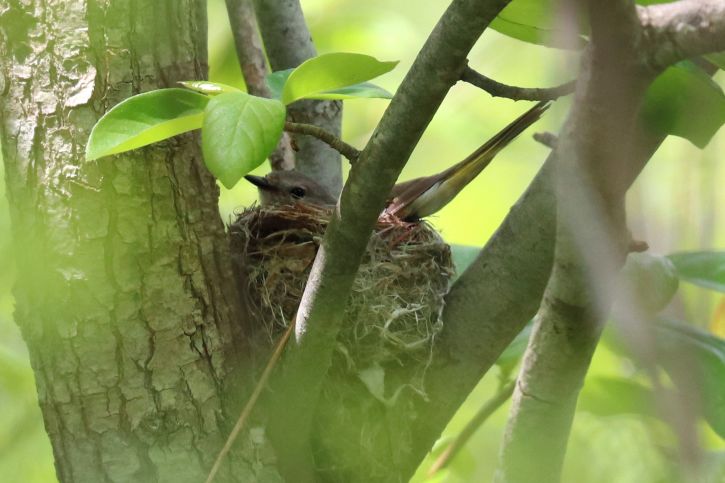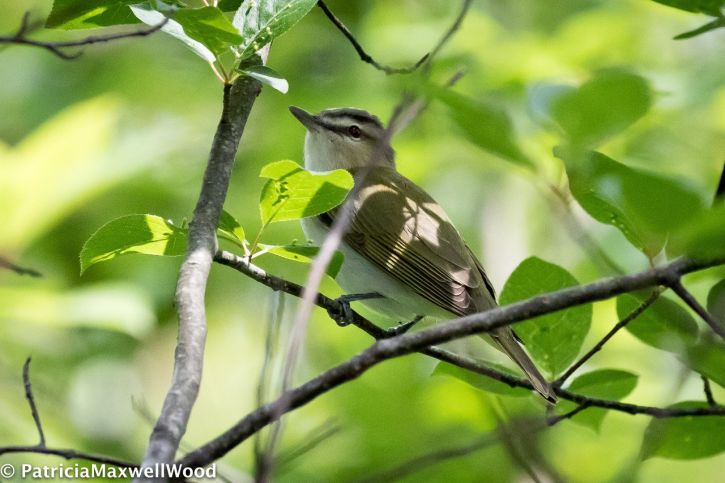 Out on the road, it was nice to relocate the American Redstart nest pictured here, with the female sitting on eggs. We think that the male is a 2nd-year bird (looking much like a female), as a couple of second-year male redstarts were seen tussling in the area, and we have not seen a fully adult male there for a couple of weeks. A Red-eyed Vireo sang along the road, and we spotted two of them. We did see a handsome Baltimore Oriole down near Goodno Crossing, but this week we did not find the bright male that we think might be nesting near the parking lot. This week during Wednesday Morning Birding, we will explore some inland sites to see if cuckoos and other species we enjoy are found in their usual haunts. It is always very satisfying to see them getting down to the business of nesting and raising young again.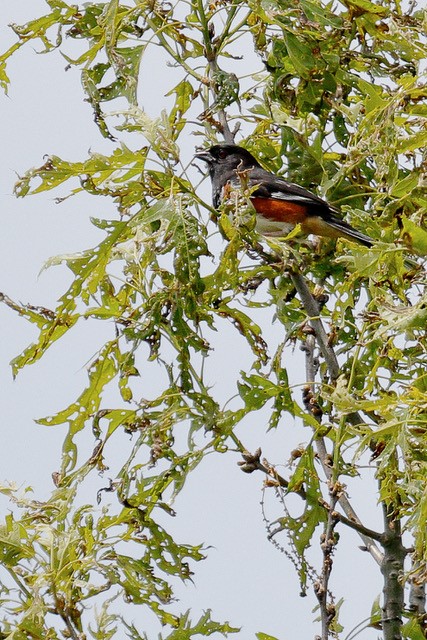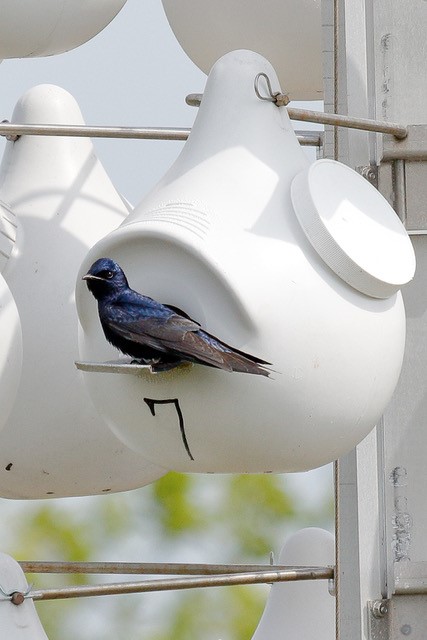 Our list:
Brant (1) – on beach at Emerson Rocks (ER).
Canada Goose – common.
Mute Swan (3) – ads, Main Panne.
Gadwall (5) – Bill Forward Pool (BFP).
Mallard (22) – BFP.
Green-winged Teal (2) – drake, BFP; drake, small pannes.
Common Eider (~ 10) – on beach ER.
Double-crested Cormorant (~ 20) – ~ 15, ER; ~ 5, various.
Great Egret (~ 7) – various.
Snowy Egret (~ 5) – various.
Osprey (3) – 2, vicinity of Cross Farm Hill; 1, Pines Trail platform.
Black-bellied Plover (~ 15) – ~ 14, on beach ER; 1, BFP.
Semipalmated Plover (5) – BFP.
Piping Plover (1) – refuge beach from Bar Head.
Solitary Sandpiper (1) – on beach ER.
Greater Yellowlegs (1) – small pannes.
Ruddy Turnstone (~ 20) – ER.
Sanderling (5) – on beach ER.
Semipalmated Sandpiper (~ 90) – ~ 70, on beach ER; ~ 20, BFP.
Least Sandpiper (3) – BFP.
Dunlin (4) – on beach ER.
Wilson's Phalarope (1) – female vs. male being debated; small pannes.
Herring Gull – common.
Great Black-backed Gull (1)
Least Tern (5) – pannes.
Common Tern (2) – pannes; one apparently on nest on island in small
panne just s. Main Panne.
Morning Dove (1)
Chimney Swift (1) – north of parking lot #1.
Great Crested Flycatcher (2) – vicinity of Goodno Crossing.
Eastern Kingbird – common.
Red-eyed Vireo (2) – Goodno Crossing.
Blue Jay (1) – S-curves.
Purple Martin (~ 10) – parking lot #1.
Tree Swallow (1)
Black-capped Chickadee (2) – 1, S-curves; 1, Hellcat.
Marsh Wren (1) – heard from Hellcat dike, North Pool marsh.
American Robin – common.
Gray Catbird – common.
Northern Mockingbird (1)
Brown Thrasher (1)
Cedar Waxwing (~ 10) – parking lot at Bar Head.
Common Yellowthroat (4) – Hellcat & Goodno.
American Redstart (5) – Hellcat & Goodno.
Yellow Warbler – common.
Eastern Towhee – common.
Song Sparrow (4) – various.
Northern Cardinal (2) – Bar Head.
Bobolink (1) – Hellcat dike.
Red-winged Blackbird – common.
Common Grackle – common.
Baltimore Oriole (2) – 1, Bar Head parking lot; 1, Hellcat.
Purple Finch (1) – Hellcat.
American Goldfinch (3)
House Sparrow