Dave Larson and I led this edition of Wednesday Morning Birding on to Plum Island. The skies were overcast to partly cloudy; temps in the upper 60s; and winds light and variable. It was a lovely day for birding. With the tide falling from a 06:48 a.m. high and with the overcast conditions, we beat feet for Sandy Point, once again counting on parking spaces being available. We were not disappointed.
We didn't have to go far on the beach to have a wonderful show presented by Piping Plovers and Least Terns. Least Tern parents in a couple of nests were busy ferrying in fish for their recently hatched chicks and at least one pair of plovers was busy shepherding its brood of four chicks. I have to say, Piping Plover chicks are "cute!" Down the path en route to the beach, a couple of Song Sparrows sang and an Eastern Towhee called for "teeeee" back in the shrubs.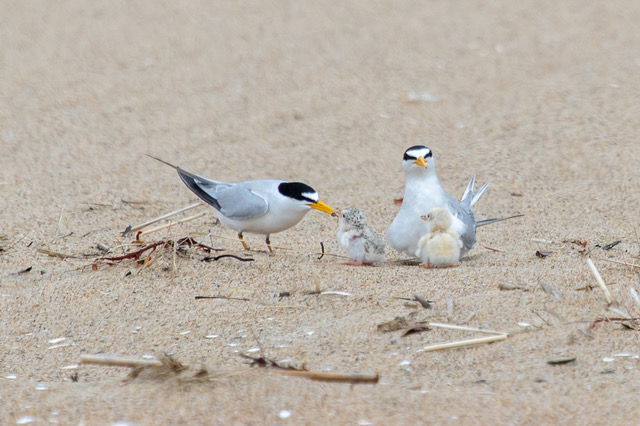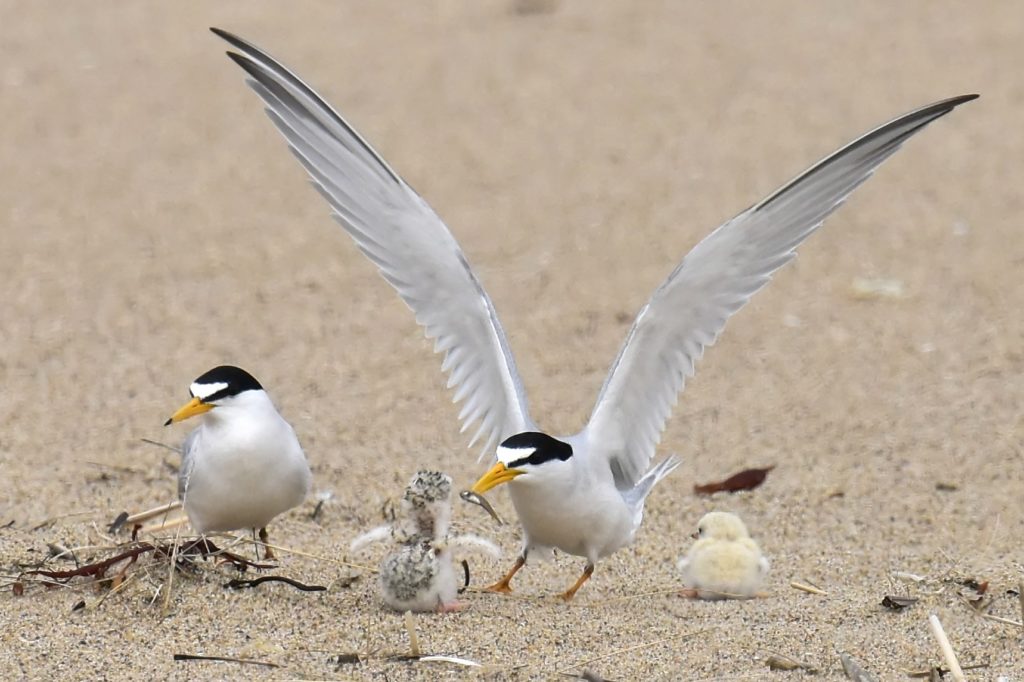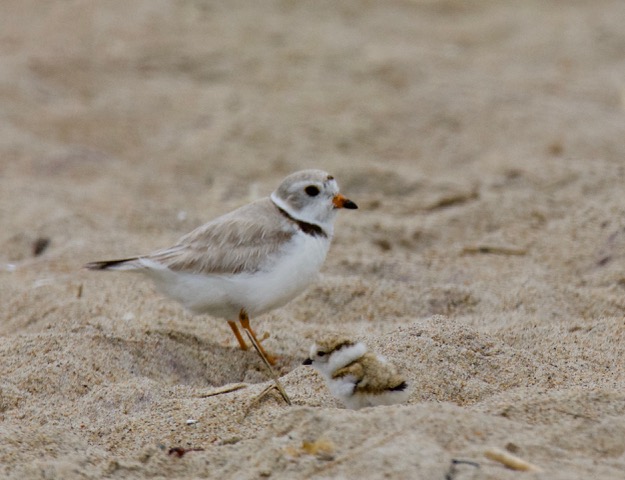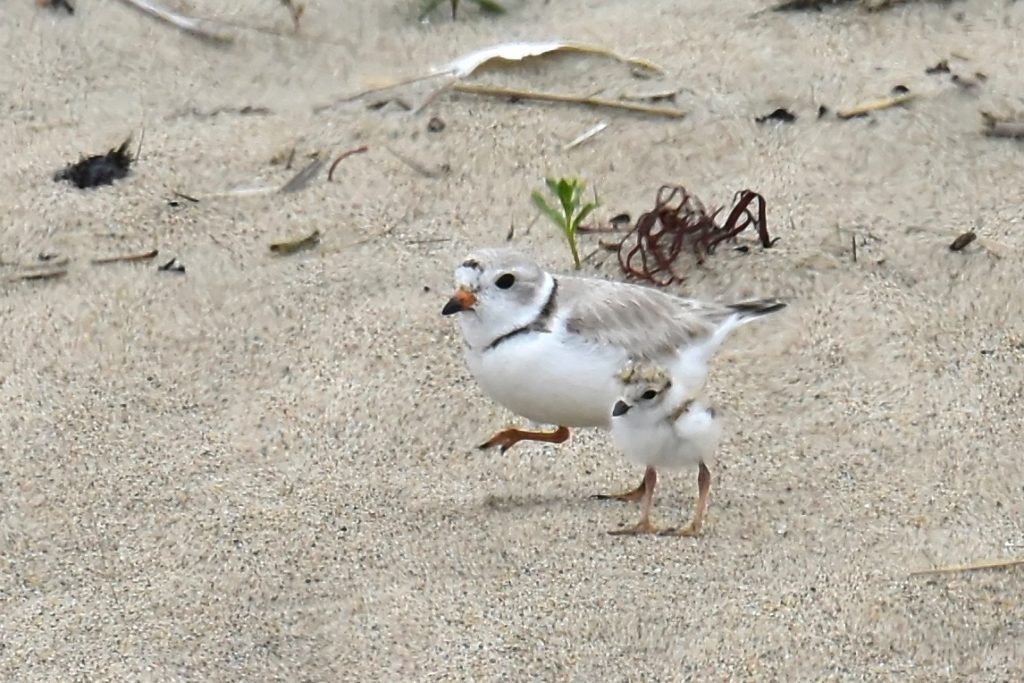 With parking available in the upper parking lot, we paid a visit to the beach at Bar Head. We found two lone sea ducks loafing on Emerson Rocks — a hen Common Eider and a late White-winged Scoter. A 2nd-year Common Loon was just offshore, fooling some of us with its narrower and slightly upturned bill — obviously not fully adult in appearance. About 30 Double-crested Cormorants and a small gathering of Great Black-backed Gulls all congregated on the beach beyond Emerson Rocks. A pair of Piping Plovers and its four chicks were not far away in the closed and protected area of the refuge beach under the watchful eye of the on-duty "Plover Warden." With the somewhat tranquil weather of late, absent any nor'easters, this season's plover production could be rather good. Time will tell. While on the beach, we had a Great Blue Heron fly-by and a single Killdeer made its presence known.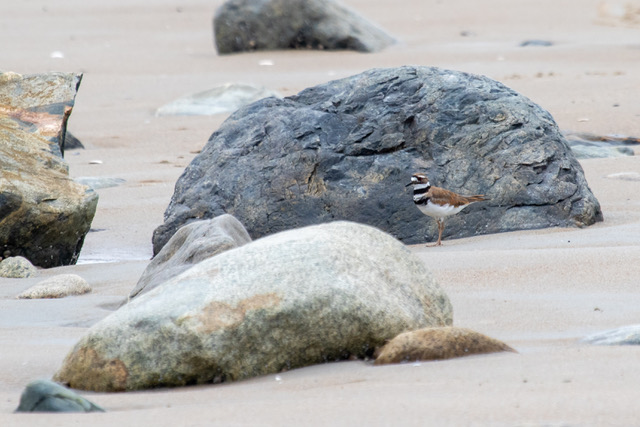 As we made our way back up the island to Hellcat, a number of Snowy Egrets and a few Great Egrets could be seen in the marsh. Also, Cedar Waxwings were omnipresent — they seemed to be everywhere. The Pines Trail nesting platform Ospreys could be seen from the road and several Bobolinks were seen and heard in South Field. From the Hellcat dike, we could see the many drake Mallards on Bill Forward Pool continuing their eclipse molt. There were also two drake Green-winged Teal, a pair of Gadwalls, and two Common Terns. Pretty soon the hen Gadwall will be on a nest, being the latest of the waterfowl nesting on Plum Island. Some of us caught a glimpse of a Virginia Rail flying away over the North Pool cattails and Phragmites before diving down into the marsh. The resident Willow Flycatcher was heard and seen from the Hellcat dike, and, of course, Red-winged Blackbirds were commonly seen.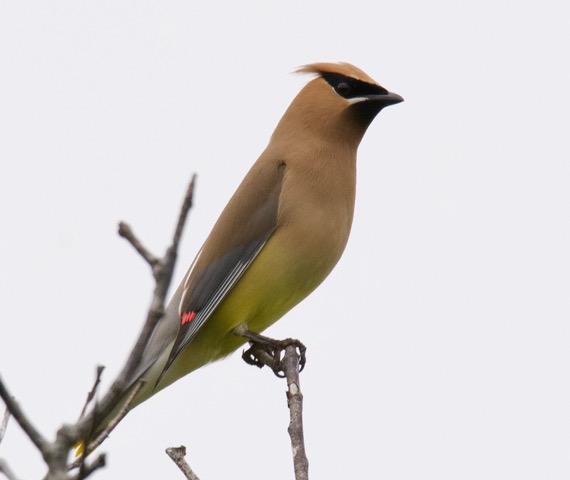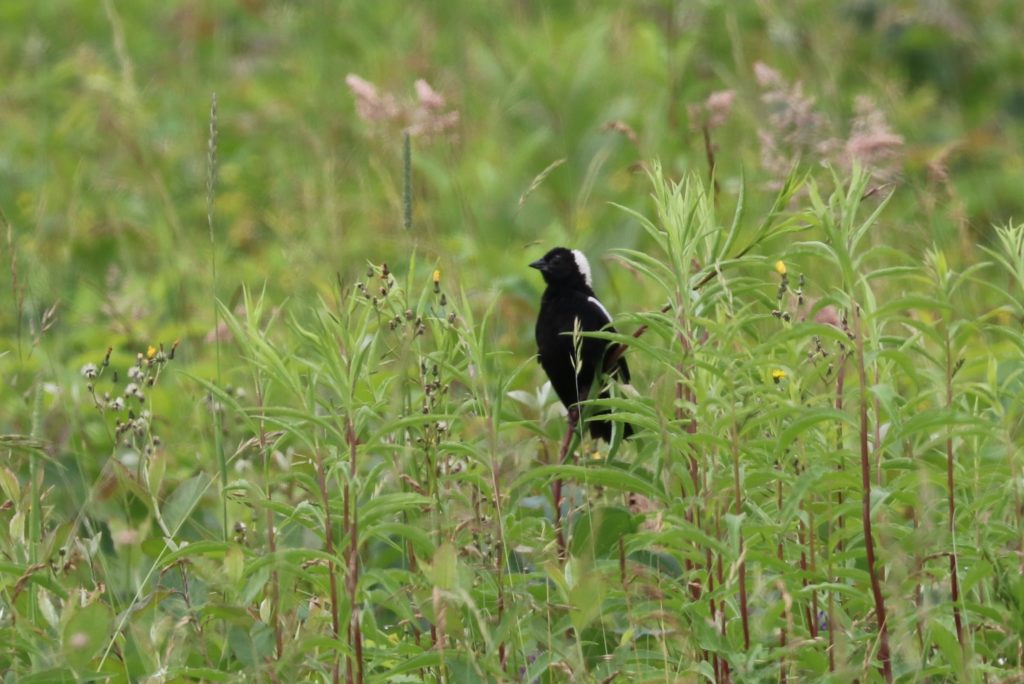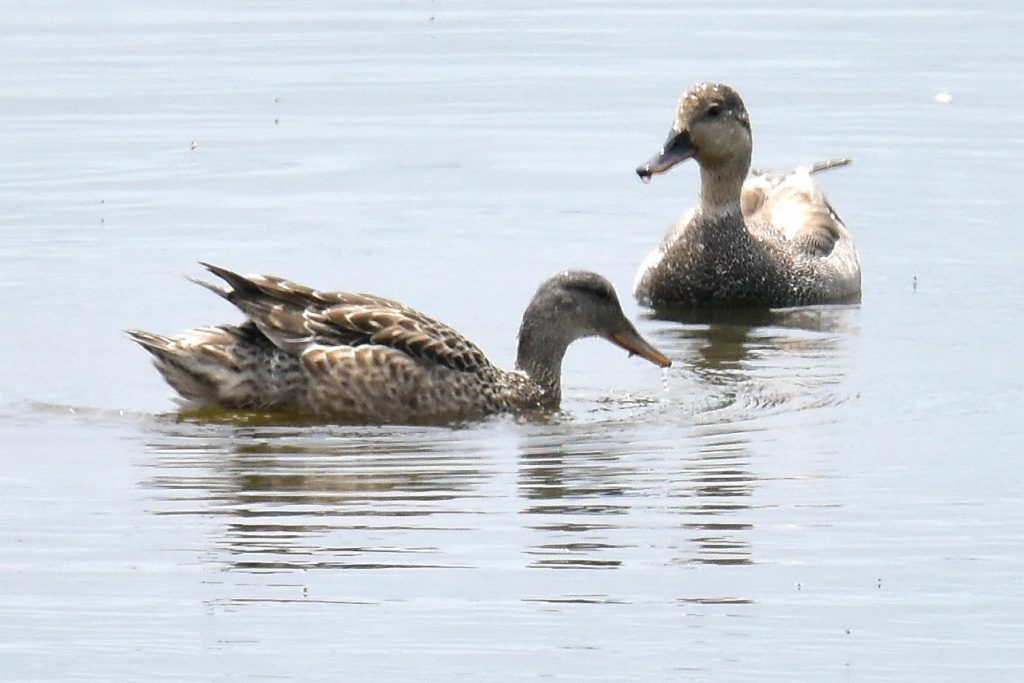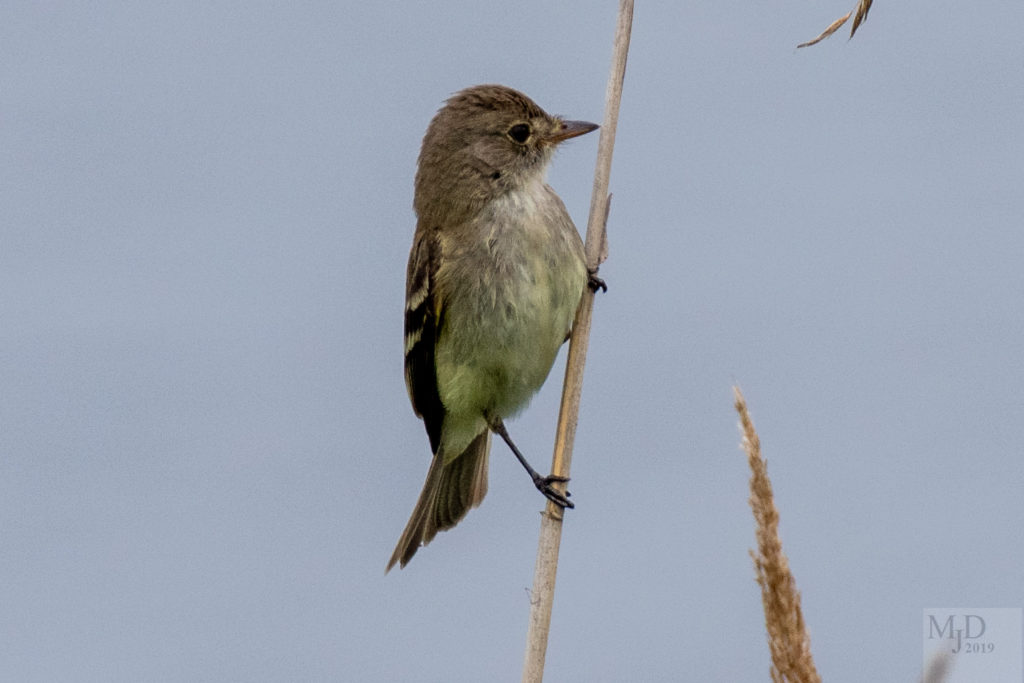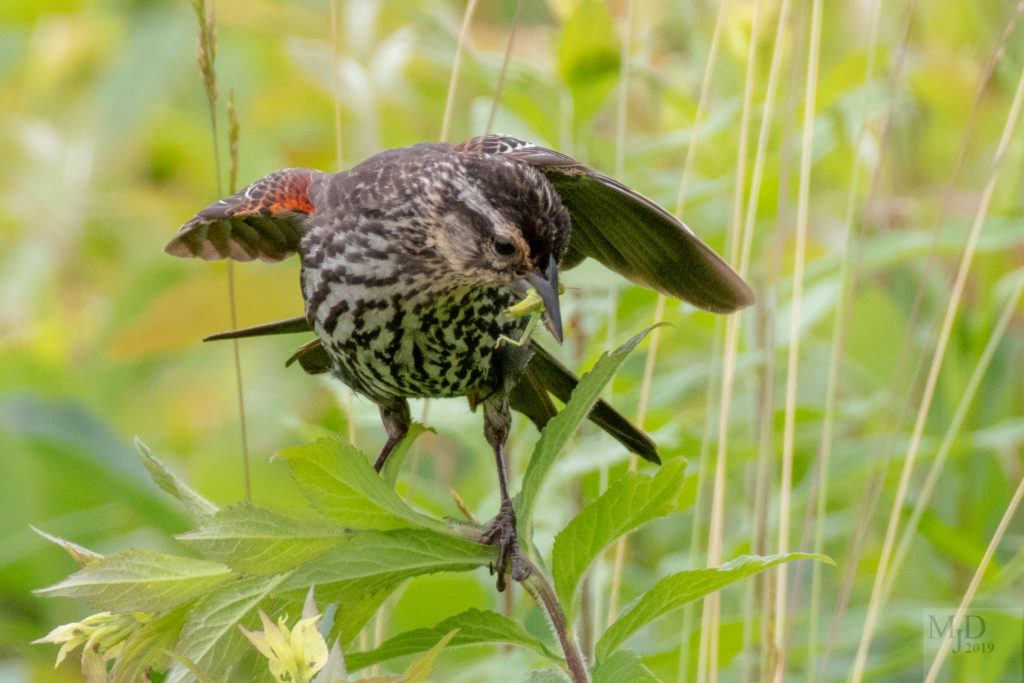 A walk up the refuge road from the Hellcat parking lot gave us bird song from several species, including Gray Catbird (lots!), Purple Finch, American Redstart (the nest we had been following just south of Goodno Crossing was now empty), Common Yellowthroat, Yellow Warbler, and Eastern Towhee. Some of our group picked up an Orchard Oriole along the way and back in the parking lot, there was a Baltimore Oriole, the bright one . . . .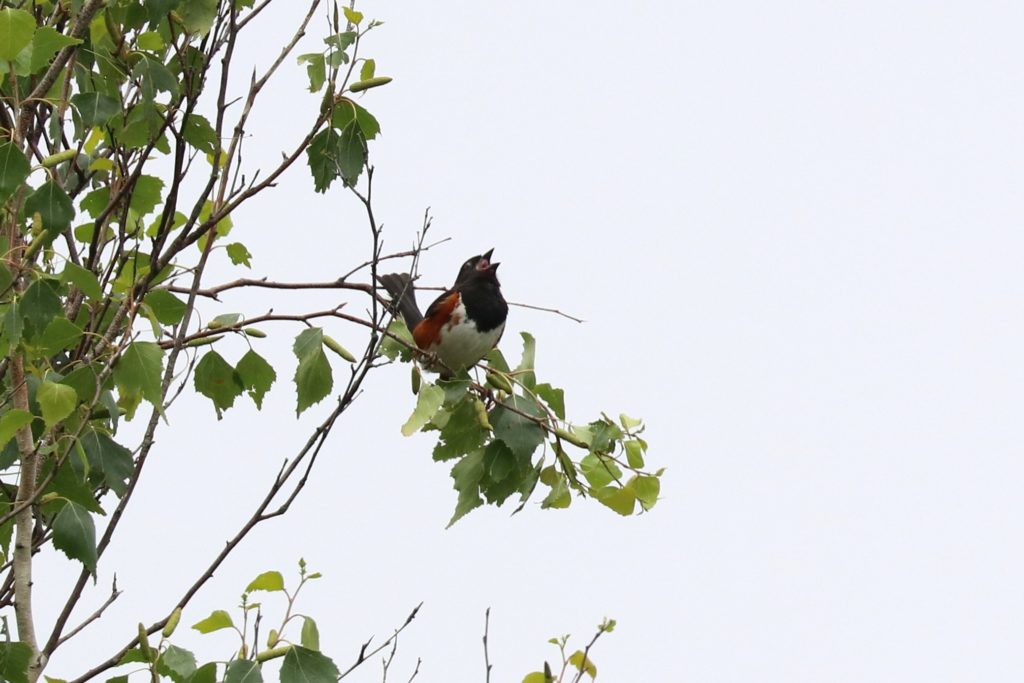 On our way north, at Doug Chickering's suggestion, we stopped at "Lois' Bench" at the north end of the Main Panne to look for Saltmarsh Sparrows. Some of us had success. In my van, Pam had great looks and chalked it up as a "Lifer" for her list. Way to go, Pam! Tom Schreffler returned after the program to get some great pics of this saltmarsh denizen, sometimes called "Johnnie Jump Up" for its habit of popping up from the marsh grass and then just as quickly disappearing back into the grass.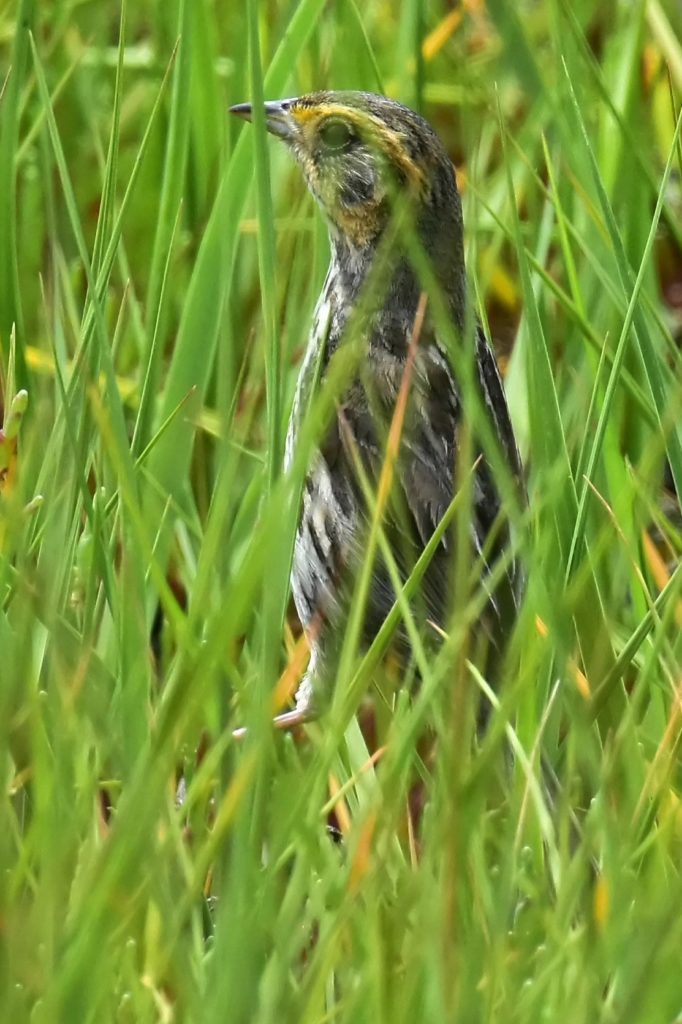 Please be reminded that this week's Wednesday Morning Birding was the last until August 7 as we take our usual July hiatus. I hope that your summer goes well. See you in August!
Best regards!
Dave Weaver
Our list:
Canada Goose (~ 11) – Bill Forward Pool (BFP).
Gadwall (2) – pr.; BFP.
Mallard (~ 65) – BFP.
Green-winged Teal (2) – drakes; BFP.
Common Eider (1) – hen; Emerson Rocks.
White-winged Scoter (1) – Emerson Rocks.
Common Loon (2) – 1, Sandy Point; 1, Bar Head.
Double-crested Cormorant (~ 30) – seven beach.
Great Blue Heron (1) – fly-over; Bar Head.
Great Egret (~ 7) – various.
Snowy Egret (~ 20) – various.
Osprey (5) – 2 on each of nesting platforms; 1, overhead Sandy Point.
Virginia Rail (1) – North Pool from Hellcat dike.
Piping Plover (15) – 9, Sandy Point, including pr. w/ 4 young; 6, Bar
Head – pr. w/ 4 young.
Killdeer (1) – fly-by, Bar Head.
Willet (~ 12) – various.
Herring Gull
Great Black-backed Gull (12) – 2, Sandy Point; 10, seven beach.
Least Tern (~ 30) – 4 on nests, at least one nest with 2 young; ~ 20,
loafing at water's edge.
Common Tern (2) – BFP.
Rock Pigeon
Mourning Dove
Willow Flycatcher (1) – Hellcat.
Eastern Phoebe (1) – Hellcat.
Eastern Kingbird (~ 12) – various.
Blue Jay (2)
American Crow (1)
Purple Martin (4) – parking lot #1.
Tree Swallow (3)
Black-capped Chickadee (2) – Hellcat.
Marsh Wren (1) – North Pool from Hellcat dike.
American Robin – common.
Gray Catbird – common.
[Northern Mockingbird (1) – PI Airport.]
European Starling – common.
Cedar Waxwing – common.
Common Yellowthroat – common.
American Redstart (1) – Hellcat.
Yellow Warbler – common.
Eastern Towhee – common.
Saltmarsh Sparrow (2) – marsh near Lois' bench at Main Panne (thanks,
Doug!).
Song Sparrow (~ 7) – various.
Northern Cardinal (2)
Bobolink (3) – South Field.
Red-winged Blackbird – common.
Common Grackle – common.
Orchard Oriole (1) – Hellcat.
Baltimore Oriole (2) – 1, Hellcat; 1, Goodno Crossing.
Purple Finch (2) – Hellcat.
American Goldfinch (3) – Hellcat.