It was exciting to restart Wednesday Morning Birding this week with Dave Weaver! This year's Joppa Flats hiatus from birding felt especially long due to five July Wednesdays in the calendar. This first week in August, we had a low tide during WMB, so as expected, shorebirds were not numerous on the high tide roosts we visit on Parker River NWR.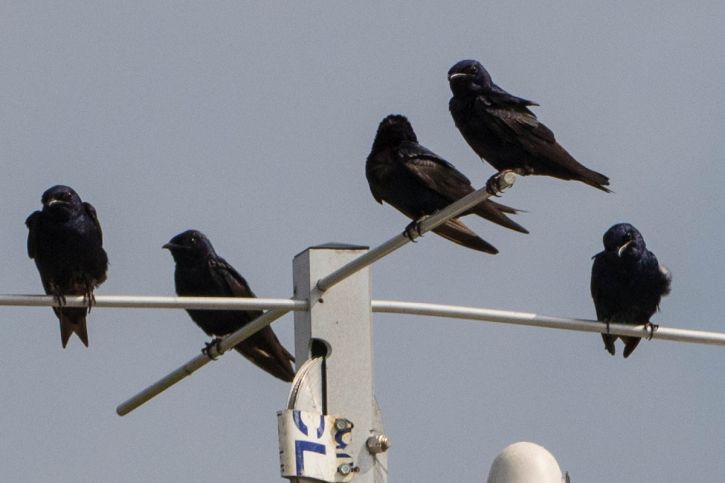 We enjoyed seeing many Purple Martins around the gourd array near parking lot #1 on the refuge, and as we parked in the pull-off at the Main Panne, we found a nice group of shorebirds to sift through. It was obvious, with not much more than a glance, that there was a Least Sandpiper out on the algae mats with a group of 25 or so Semipalmated Sandpipers. With more searching, we found a couple of White-rumped Sandpipers mixed in.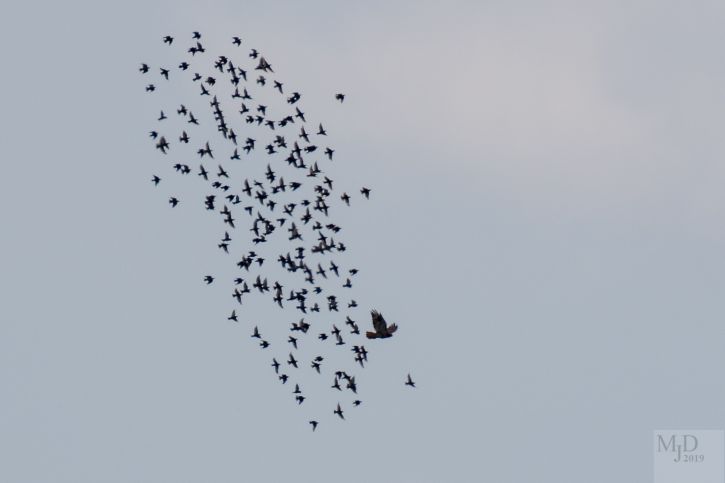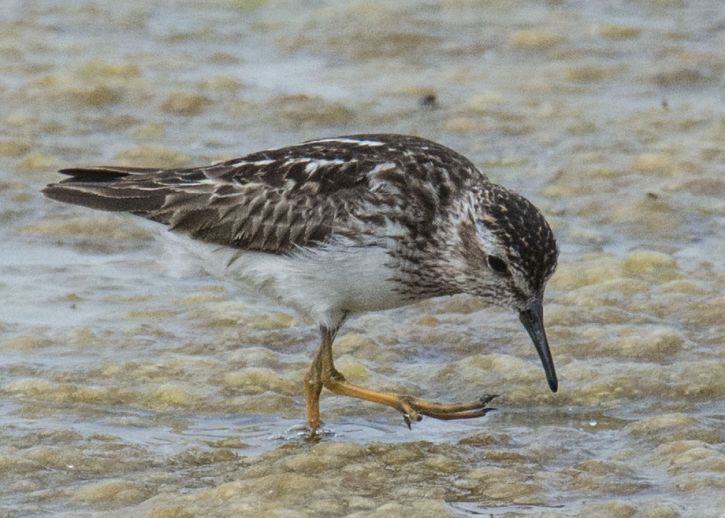 One of the birds stood out as browner, darker, and a bit smaller than we expect in Least Sandpipers, and it seemed to have darker legs. After staring at photos for a while, we now see that it was a Least Sandpiper, as the leg color was a bit off from the dark gray that Semi's have; the legs just weren't as yellow as most Leasts' legs are. It was strange, though, how much more I seemed to be able to see in the bird's "differences" while I tried to imagine it was a Little Stint! I'll probably have to get to know some actual Little Stints more personally before making one up out of a poor little Least with dull legs.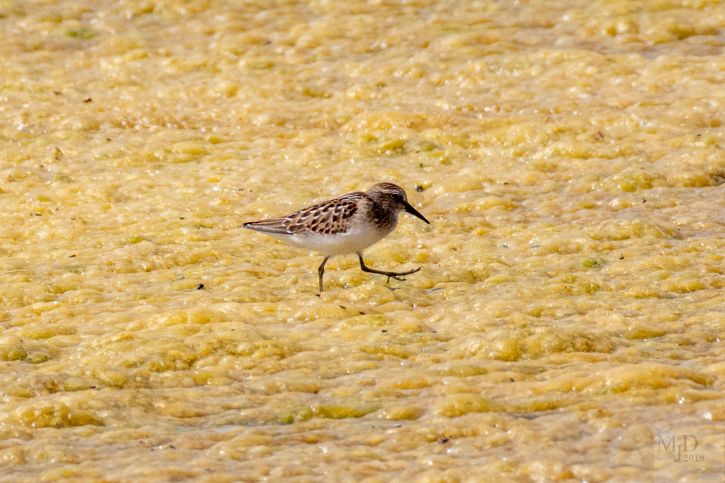 The big algae mats on the Main Panne and other pannes have been causing some concern over past years. The refuge staff's efforts to restore a more natural tidal flow there may or may not change that situation. However, I have noticed a brief apparent benefit to the algae, which is the avid feeding, especially at high tide, that peeps engage in on those mats during migration. Even Least Sandpipers, which much prefer drier mud, are out there finding something to eat. If only we knew what it was. Who wants to spend hours watching them closely to see if those black fly-like things are the main menu item?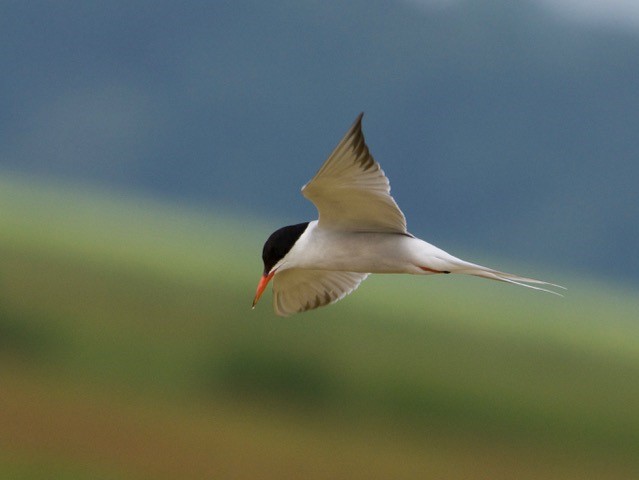 After enjoying up-close observation of little shorebirds for some time, along with a healthy contingent of Least Terns and a couple of Common Terns, we moved on to have our first dose of "lots of Tree Swallows" for the season. Dave Weaver and I decided that the number we encountered on Plum Island, from the gate to Hellcat, was somewhere between 1000 and 5000. While standing at North Pool Overlook, we observed that the tops of the stands of Phragmites all around North Pool were laden with swallows. Quantities of the birds were gusting back and forth, occasionally taking drinks from the pool. Someone found an immature Black-crowned Night-Heron in the cedar on the little island in the pool. Jane Hucks identified a mother Gadwall and ducklings, so we had the opportunity to practice seeing that species without the male's obvious field marks. The young Gadwalls looked small enough to make us wonder if they were a late second brood.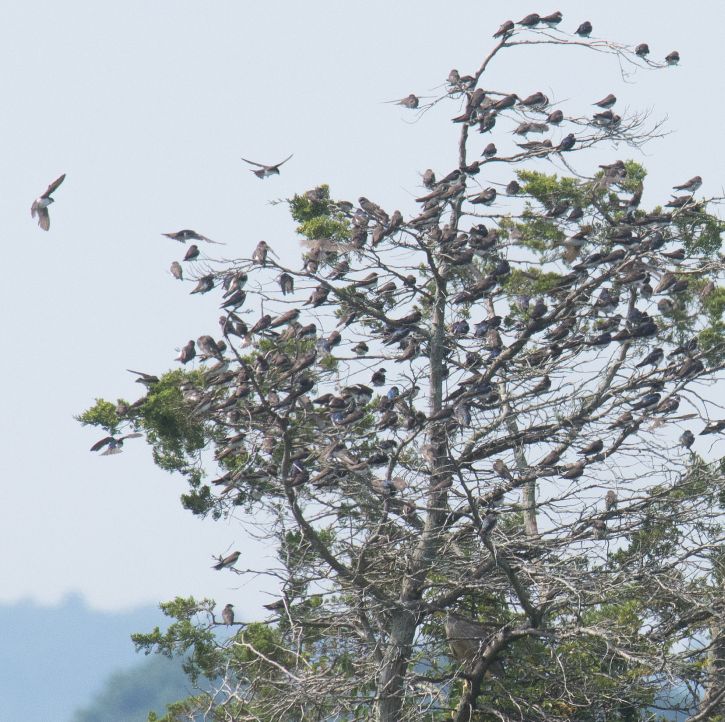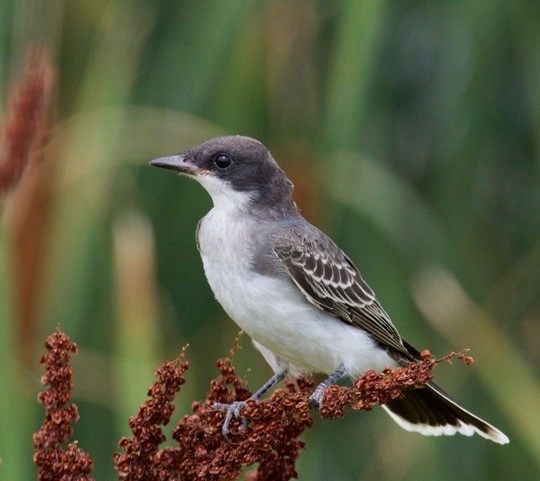 At Hellcat, we found few shorebirds, as the tide was almost low. Later in the day, though, when the Wednesday Evening Shorebirding group returned at high tide, hundreds of Semipalmated Plovers were roosting on the vegetated flats in Bill Forward Pool, while a smattering of sandpipers and Short-billed Dowitchers foraged in the shallows at the edge of the pool. We'll hope for such a show some upcoming Wednesday morning. This morning, we looked hard for a Least Bittern that had been reported recently, but it did not appear. A Bobolink in basic plumage came and went noisily, using an insistent, nasal call. Lots of Tree Swallows came and went over the pools and dike, but while the numbers are rising steadily, it certainly was pre-peak, which is what we expect this early in the season.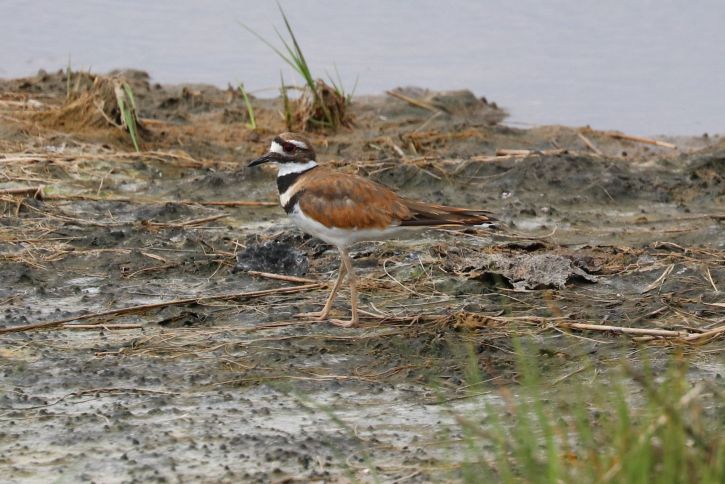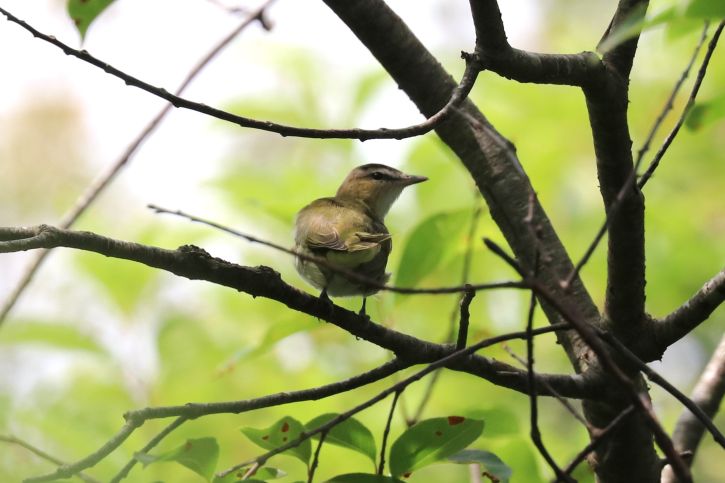 With time to spare, we took a walk along the main road at Hellcat, observing flattened snakes (watch your speed out there, and keep a lookout for creatures!), but few birds. Plenty of passerines called from the thickets. Most of us got a good look at a Red-eyed Vireo, and Barbara Merrill sent a shot of a very molty male American Redstart, but there is still a lot of behavior I would term "sneaking around feeding young in the cover," which makes most passerines hard to detect visually. Thus ended our first shorebird foray of the season, with many more to come, and certainly more diversity and numbers to anticipate with the imminent surge in migration. More favorable tides on another day will also increase our chances of seeing these wonderful birds.

Our list:
Canada Goose (~ 35) – N. Pool Overlook (NPO) & Bill Forward Pool (BFP).
Gadwall (5) – hen + 4 young; NPO.
Mallard (~ 15) – various.
Double-crested Cormorant (~ 20) – mostly BFP.
Great Blue Heron (1) – BFP.
Great Egret (~ 15) – various.
Snowy Egret (1)
Black-crowned Night-Heron (1) – immature; island cedar, NPO.
Turkey Vulture (6) – kettling over lot #1.
Osprey (2)
Red-tailed Hawk (2) – 1 perched e. PI Bridge; 1 flying over BFP.
Semipalmated Plover (1) – BFP.
Killdeer (2) – BFP.
Spotted Sandpiper (1) – North Pool from Hellcat dike.
Lesser Yellowlegs (2) – 1, Main Panne; 1, North Pool from Hellcat dike.
Semipalmated Sandpiper (~ 25) – algae mat, Main Panne .
Least Sandpiper (1) – algae mat, Main Panne .
White-rumped Sandpiper (2) – algae mat, Main Panne .
Herring Gull
Great Black-backed Gull (3)
Least Tern (5) – Main Panne & BFP.
Common Tern (2) – Main Panne .
Rock Pigeon
Mourning Dove
Eastern Kingbird (1)
Red-eyed Vireo (2) – roadside, Hellcat.
Blue Jay (3)
Purple Martin (~ 25) – lot #1 gourds.
Tree Swallow (~ 2,000) – flocking early.
Black-capped Chickadee (3) – roadside, Hellcat.
American Robin (6)
Gray Catbird (~ 6)
Northern Mockingbird (2)
European Starling (100s)
Cedar Waxwing (~ 10)
Eastern Towhee (1) – heard.
Song Sparrow (4) – heard.
Bobolink (2) – Hellcat dike.
Red-winged Blackbird (2)
Common Grackle (2)
American Goldfinch (1) – Hellcat.