It was great to get back to Plum Island this Wednesday, as the past three weeks took us away to Cape Ann and up the New Hampshire Coast. We started at the north end of the island as we often do in the winter because of the abundance of seabirds that forage in the mouth of the Merrimack River. Just as we arrived, a young (second-year) Bald Eagle flew over us and across the river, almost landing on the beach in Salisbury, but then it drifted off. The day was classic in regard to foraging seabirds, though the mix of birds was not typical. The diving ducks in the river were dominated by Black Scoters, which we saw on Cape Ann as well last week.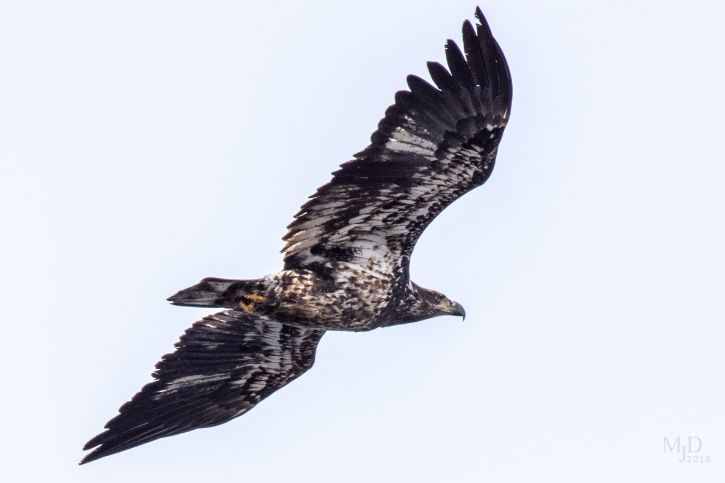 The scoters and Common Eiders were diving onto a presumed mussel bed about 2/3 of the way across the river, in a strong outgoing current. The birds dive down to swallow the mollusks whole, and then are swept out toward the sea as they surface. From there, they must fly back to the beginning of this cold, watery "conveyor belt" of seaduck-feeding activity. We see this pattern there often, with differing mixes of birds, through each winter season. We did see a few Common Loons, but no Common Goldeneyes and not many Long-tailed Ducks. There were a few of the latter across the river and here and there, but not the numbers of both species that we usually see by this time of year. We did, however, have a merry time with two Razorbills that briefly appeared as they floated out toward the ocean.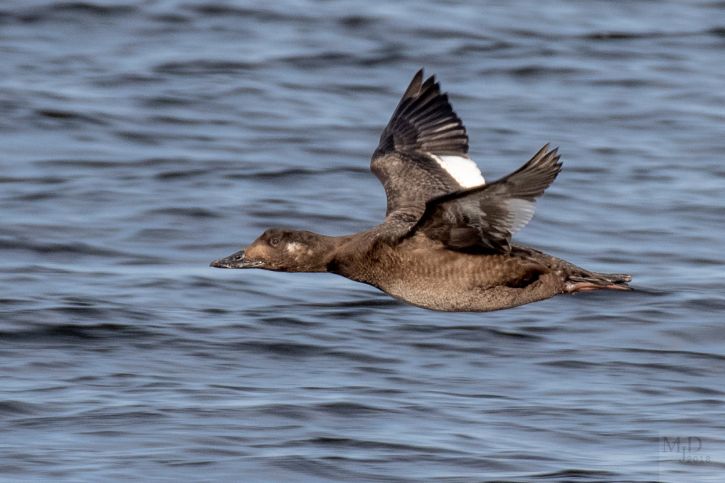 Our outing had a chilly start, but the sun and gentleness of the wind made us feel we could survive up on the dune platform at parking lot #1 on Parker River National Wildlife Refuge. The sea there looked empty at first, but as is often the case, things gradually appeared. Two Horned Grebes kept popping up out in front of us, and four Razorbills spent scant time on the surface not far off the beach a bit north of the platform. Eventually, we spied a few Red-necked Grebes, and flocks of a few White-winged and many Black Scoters moved about. We found a few Red-throated Loons at some distance. Two Northern Harriers foraged and perched on the dunes.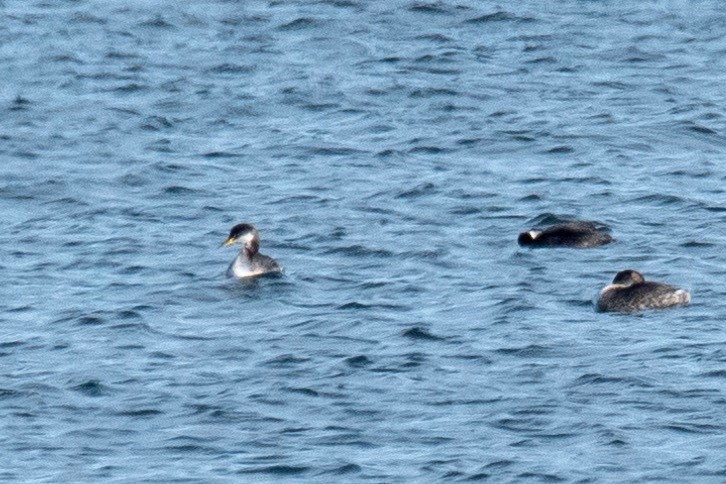 The salt pannes were frozen over, and the thickets yielded nothing more than Black-capped Chickadees as we drove south on the refuge road. We arrived at parking lot #7, however, to a very excited Dave Adrien and another birder with a huge lens, who told us that there were not just one, but two King Eiders at Emerson Rocks. When we reached the platform, the birds were both sitting on the same rock. One that we think was an adult male had his bill tucked most of the time, but the unmistakable blue of his crown showed up. The other bird, a "subadult" male, did not have the pretty looks he will eventually have, but was well on his way to full adult plumage and soft parts. He swam around in the water a bit for better views.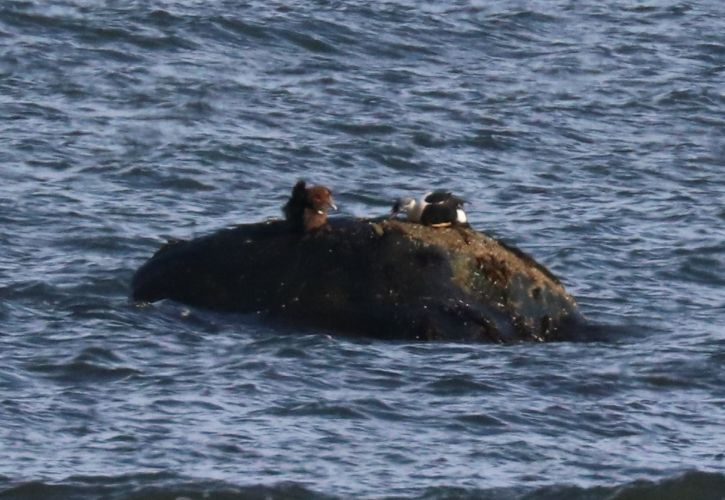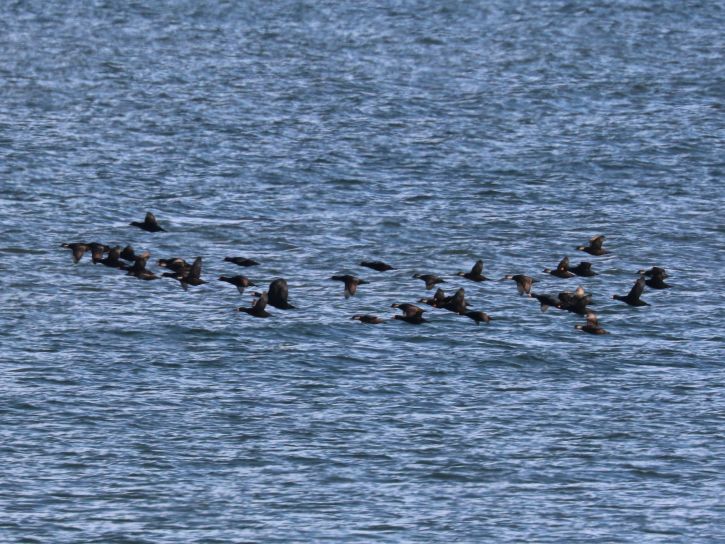 We also saw many Black Scoters and Common Eiders, and more White-winged Scoters than we had seen at the previous locations. A flock of Purple Sandpipers that we rushed to identify, since they were on the rocks, sat very still on a large boulder. Dave Weaver was careful to confirm their relatively straight bills that help distinguish them at a distance from Dunlins. Later, a big flock of Sanderlings with a few Dunlins mixed in arrived and settled on the rocks near the Purple Sandpipers. That goes to show that, just because sandpipers are on rocks in the winter doesn't mean you don't have to look at them carefully!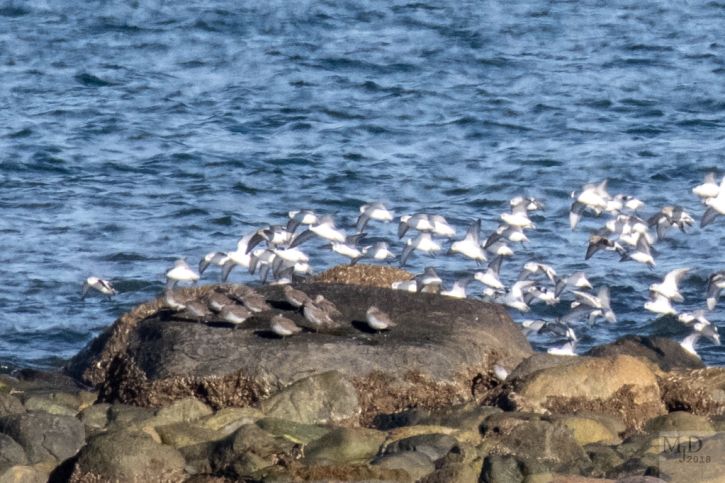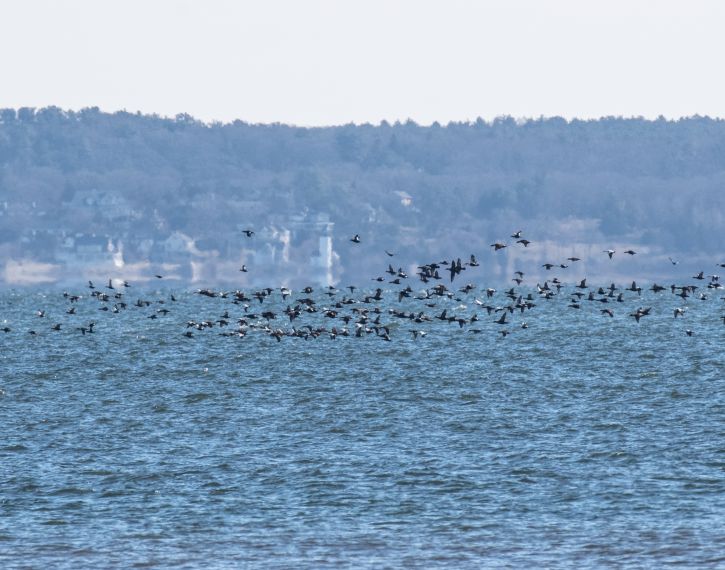 We enjoyed a much closer Horned Grebe and struggled to get good looks at a few more Razorbills that actually did breathe the air for tiny moments off the rocks. Then, out of the mouth of the Ipswich Bay, a giant flock of more than a thousand Common Eiders came flying in to settle all up and down the seascape in front of us. What a show of health and fecundity in our ocean to see all those big ducks out there! We hear much about loss in our seas, so it is a great solace to observe any moment of such abundance, even if they do not occur as often or at the scale they once did.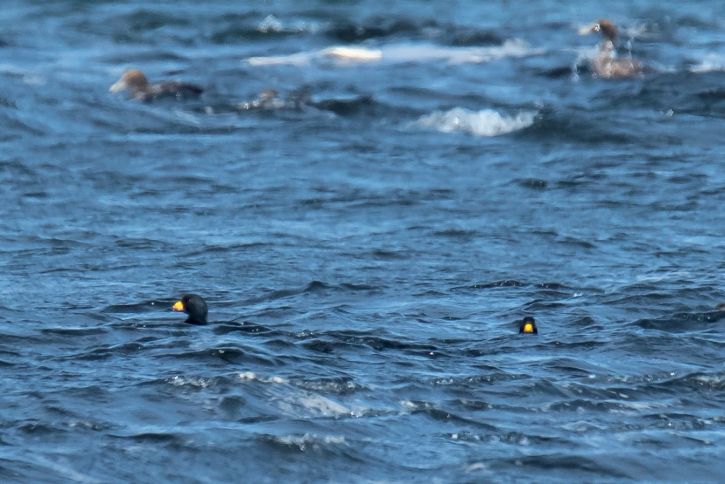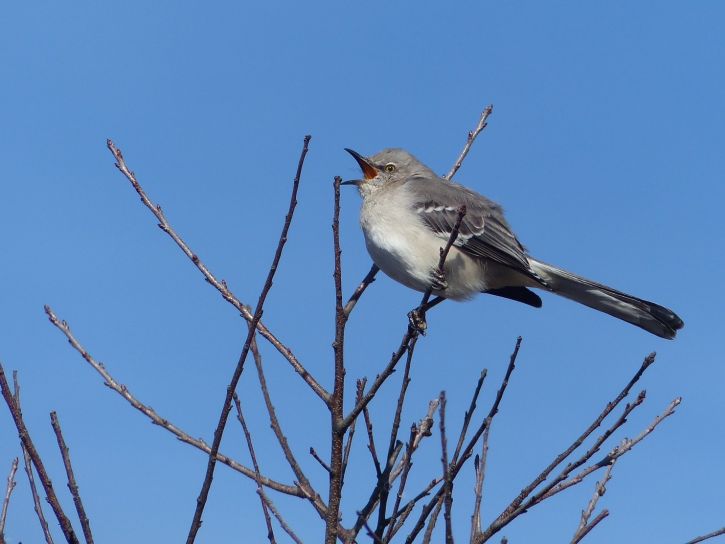 After all that excitement, the thickets, pools, dikes, and marsh at Hellcat were a contrast in bird quietude, unlike the crescendo we sometimes find there. Not even some redpolls that others had seen in the area would show themselves. We did find a pair of adult Bald Eagles near the North Pool Overlook and The Warden's. We encountered a Cooper's Hawk cruising the edge of the marsh as we drove toward home at Joppa Flats, where Dave Larson was preparing his brown-bag lunch lecture on bird flight. Many stayed to enjoy this special perk of the season.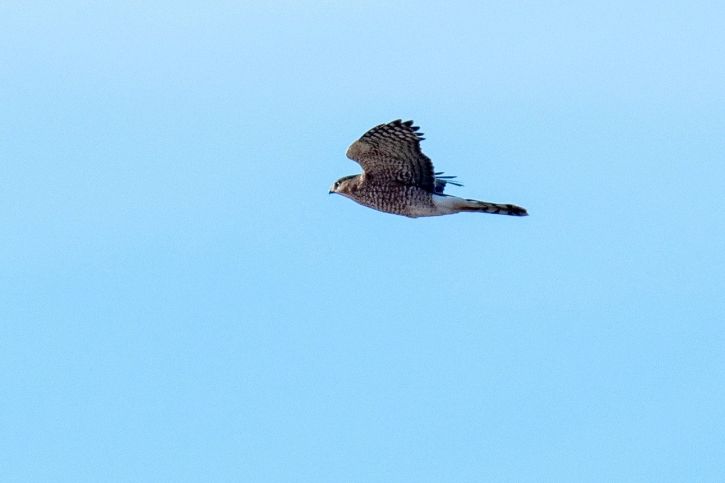 How blessed are we to revel in this natural beauty by the sea, to delve into the details of all these spectacular birds and how they accomplish their feats of every day existence! The marvelous spirit of friendship, inquiry, and love of nature that happens at Joppa Flats every day is because of all of you. With gratitude, we wish you continuing joy as the solstice comes to turn the dark into light again.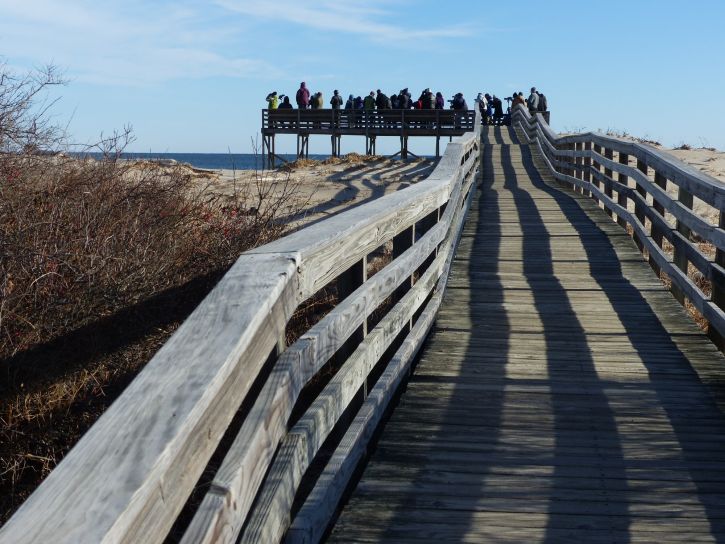 Our list:
Canada Goose – common.
American Black Duck (4)
Mallard (4)
KING EIDER (2!) – both males – 1 adult & 1 subadult; Emerson Rocks.
Common Eider (1500+) – a few on river north end; major share flying from Ipswich Bay to parkling lot #7 (seven) ocean.
White-winged Scoter (~ 35) – parking lot #1 (one) & seven oceans.
Black Scoter – abundant; one & seven oceans.
Scoter sp. (abundant) – far out at sea, especially off seven.
Long-tailed Duck (~ 15) – ~ 12, north end; 3, seven ocean.
Bufflehead (1) – seven ocean.
Common Goldeneye (4) – 2 Plumbush River; pr., seven ocean.
Red-breasted Merganser (1) – hen, North Pool; from Hellcat dike.
Red-throated Loon (3) – one ocean.
Common Loon (5) – 3, north end; 1, one ocean; 1, seven ocean.
Horned Grebe (3) – 2, one ocean; 1, seven ocean.
Red-necked Grebe (5) – one ocean.
Bald Eagle (3) – 1 immature., north end; 2 ads – 1 perched, lollypop cedar, North Pool dike, & 1 soaring high above pannes.
Northern Harrier (4) – various.
Cooper's Hawk (1) – flying s., w. lot #2.
Red-tailed Hawk (1) – perched atop cedar just s. entrance Hellcat parking lot.
Sanderling (~ 30) – Emerson Rocks.
Purple Sandpiper (12) – Emerson Rocks.
Dunlin (4) – Emerson Rocks.
Herring Gull
Great Black-backed Gull
Razorbill (8) – 2, north end; 4, one ocean; 2, seven ocean.
Rock Pigeon (~ 30) – on wires n. refuge entrance.
American Crow (~ 5)
Black-capped Chickadee (~ 8) – various.
American Robin (5) – Hellcat.
Northern Mockingbird (2)
Dark-eyed Junco (1)