This Wednesday, Dave Weaver and I were back on Cape Ann with Wednesday Morning Birding. The weather was fine with lots of sun, appropriately cold temperatures, and not too much wind. Our new meeting place puts us just down the street from the Jodrey State Fish Pier, our traditional first stop. The flock of Common Eiders that was loitering there was composed almost entirely of adult birds of an even mix of males and females. They swam about in a tight raft as the males performed vigorous courtship displays. Excellent light made their show a real treat. The harbor did not have a great diversity beyond the Red-breasted Mergansers and gulls that were scattered everywhere, though several Common Loons appeared singly far out from the pier. We examined many gulls for anomalies, but nothing definitive showed up.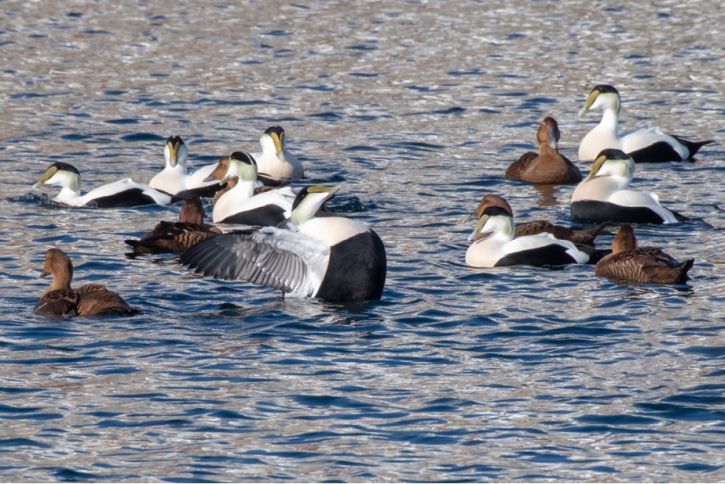 Eastern Point was busy with Gadwalls, eiders, a few Buffleheads, and scoters. Out near the raft of ducks by the breakwater, we found one Black Guillemot that was hard to get a look at. We moved on to Niles Pond, where a medium sized flock of gulls was roosting on the ice near a bit of remaining open water. Two Iceland Gulls were mixed in with the Herring and Great Black-backed Gulls, and a flock of 12 Greater Scaup fit tightly in the little patch of open water. After we examined the gulls and ducks for a little while, a small flock of American Wigeons and a Ring-necked Duck flew in.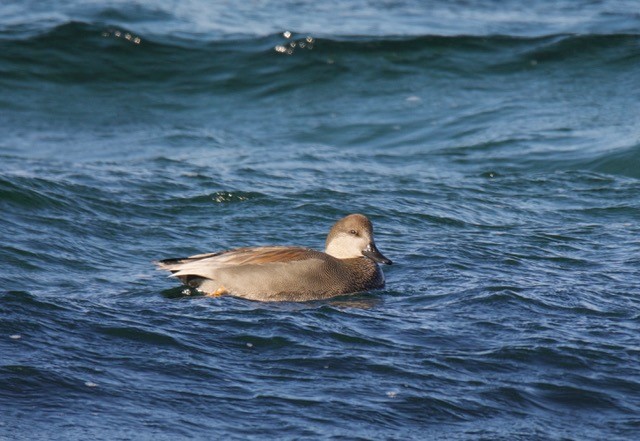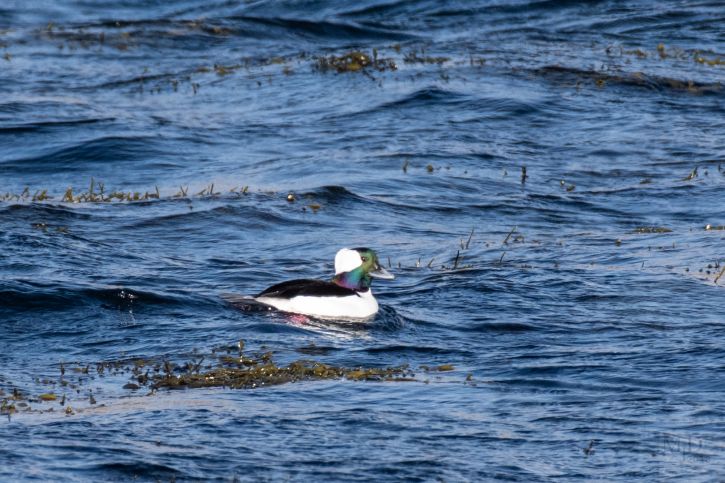 As we began searching the coast along Atlantic Road, "Cormorant Rock" delivered an even 10 Great Cormorants, which clearly displayed their different field marks and plumages in the good light. Two Northern Gannets flew too far out for many of us to get decent looks at them. There were a couple of female Common Goldeneyes near the rock, and we began seeing lots of Black Scoters and some White-winged Scoters, with an unusual preponderance of the former. In the ocean off the Elks Club, we found the usual array of Buffleheads and scoters, and this week we were lucky with a nearby and cooperative Black Guillemot in its somewhat dazzling white winter plumage. After I had found some nice big flocks of Purple Sandpipers there earlier in the week, it was odd to see only two of them perched on a rock in the cove near Bass Rocks.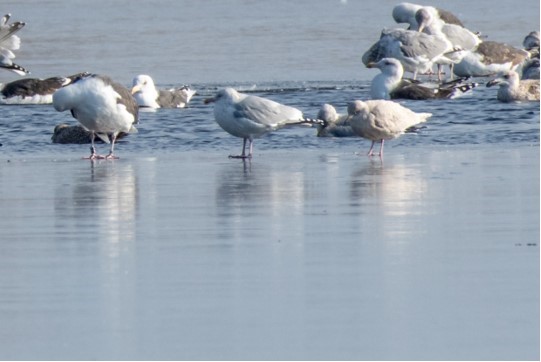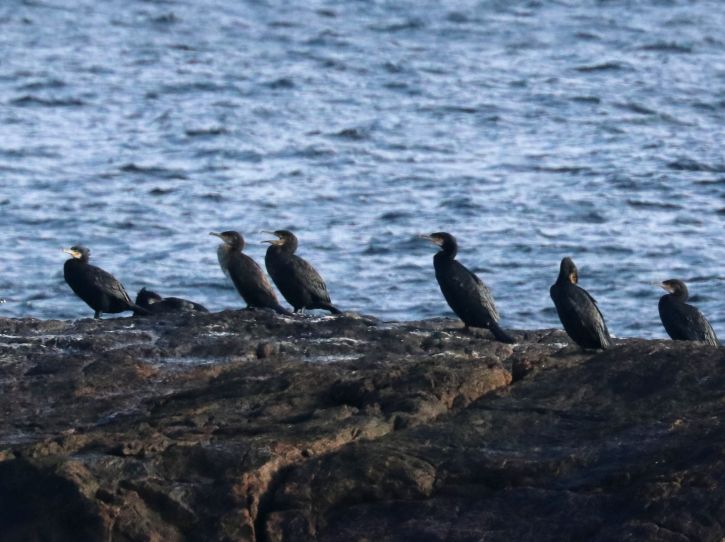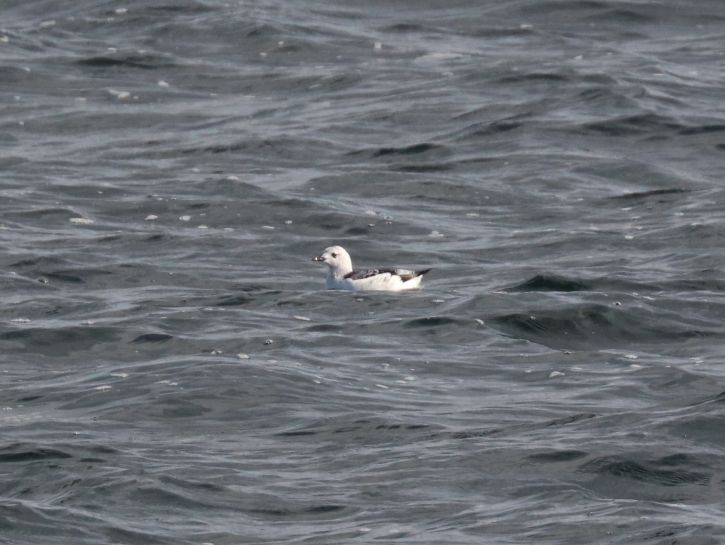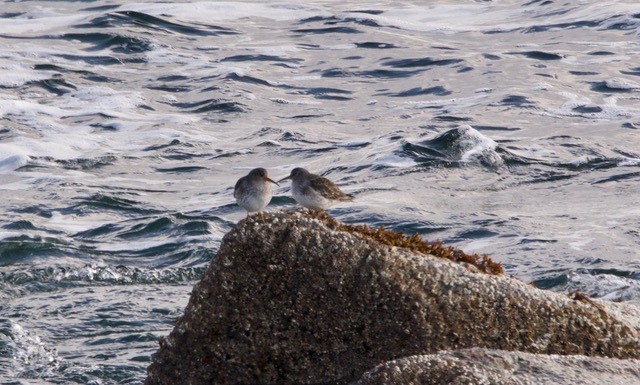 Our pit stop at Rockport Harbor did yield that one odd duck that happens there sometimes, this time a Northern Pintail. One of those was regular there last winter, making us wonder if it is the same bird. Then, on the way out of the parking lot, lightning struck. As we were trying to identify a soaring bird as a Red-tailed hawk, we realized it was actually a Black Vulture circling around over the town. We did a bit of Keystone Cops-style chasing of that bird all over Rockport, and a number of us got good looks. If you want to look for it yourself, the bird has been seen a number of times at the Rockport Transfer Station. A Joppa birding group saw three Black Vultures in the western Massachusetts town of Montague last weekend, and it seems fair to say that the inevitable arrival and colonization of our state by this bellwether of climate change could be taking place at least a little bit more.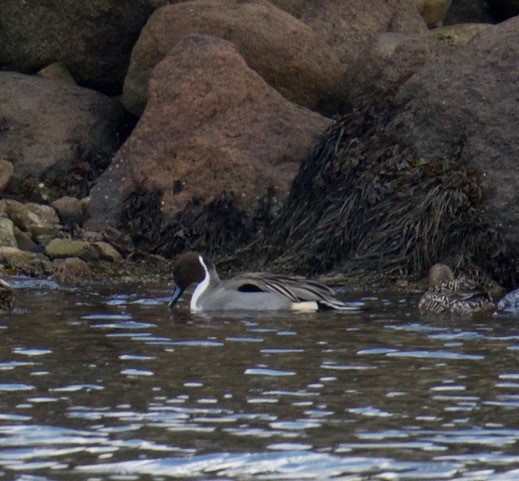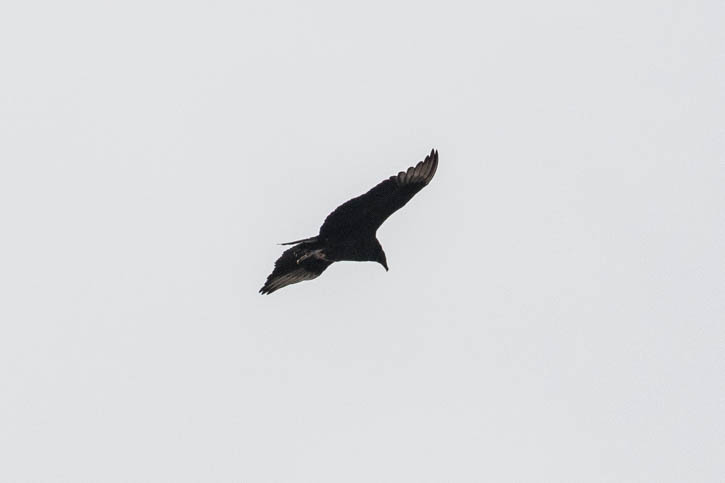 With just a little time left, we went straight to Andrews Point, where again there were lots of Black Scoters. They were a nice mix of drakes and hens, all very close to shore for good photos. Plenty of Harlequin Ducks joined the many eiders cavorting in the surf to create a beautiful tableau of our rocky coast avifauna, capping off a lovely Cape Ann birding trip with some of our favorite species, nearby, well lit, and full of beans.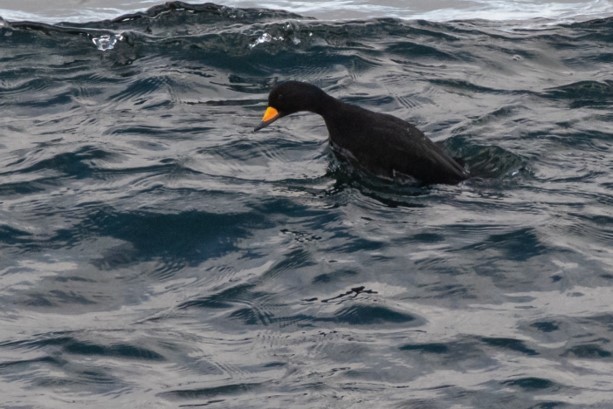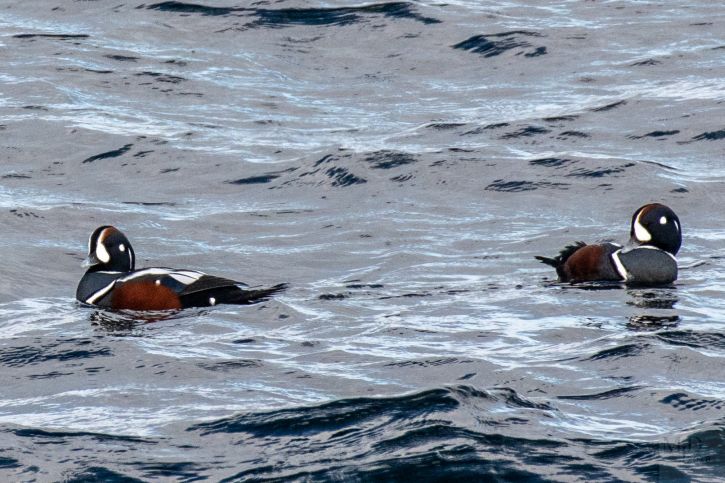 Our list:
Canada Goose (~ 15) – various.
Mute Swan (1) – Rockport inner harbor.
Gadwall (6) – Eastern Point.
American Wigeon (4) – Niles Pond (a small space of open water remaining).
American Black Duck (~ 50) – various.
Mallard (~ 30) – Rockport inner harbor.
Northern Pintail (1) – Rockport inner harbor.
Ring-necked Duck (1) – drake; Niles Pond.
Greater Scaup (12) – 1 drake, 11 hens; Niles Pond.
Common Eider – common.
Harlequin Duck (~ 20) – Andrews Point.
Surf Scoter (1) – Eastern Point.
White-winged Scoter (~ 20) – Atlantic Road.
Black Scoter – common; Atlantic Road & Andrews Point.
Long-tailed Duck (1) – Atlantic Road.
Bufflehead – common.
Red-breasted Merganser (~ 12) – various.
Common Loon (5) – outer Gloucester Harbor.
Northern Gannet (3)
Great Cormorant (10) – "Cormorant Rock"; Atlantic Road.
BLACK VULTURE (1) – seen high over downtown Rockport heading north.
Red-tailed Hawk (1) – over Good Harbor Beach parking lot.
Purple Sandpiper (2) – Bass Rocks, Atlantic Road.
Ring-billed Gull (2) – Niles Pond.
Herring Gull – common.
Iceland Gull (2) – 1st winter birds; Niles Pond.
Great Black-backed Gull – common.
Black Guillemot (2) – 1 at Eastern Point, and one near Elks Club on Atlantic Road.
Rock Pigeon
Blue Jay (2) – Niles Pond.
American Crow (~ 10) – various.
Black-capped Chickadee (2) – Niles Pond.
European Starling
Song Sparrow (2) – Niles Pond.