This Wednesday, Dave Weaver and I were favored by Poseidon, as it was a nice winter day for birding. We went all the way to parking lot #7 on the Parker River National Wildlife Refuge road as fast as sightings along the way would allow, to get to Emerson Rocks before the tide covered them. There were some interesting raptors along the way, however. We were snagged by a other birders looking at a Red-tailed Hawk perched in a cedar near the Middens, and an immature Bald Eagle had us looking carefully as it flew north over the marsh. There were some Common Goldeneyes in the Plum Island River near the boat ramp, of note only because that species has yet to show up in the Merrimack River in the usual numbers. As we slowly drove south, it seemed all the American Black Ducks and Canada Geese of the Great Marsh took to the sky. Some thought they saw a falcon out there, but we know that the Bald Eagle we had seen may have been the instigator. The caboose van people spotted a Rough-legged Hawk in the trees on the west end of Cross Farm Hill. That bird gave us a nice show of its light-phase plumage, and a nice flock of Hooded Mergansers included displaying males on Stage Island Pool.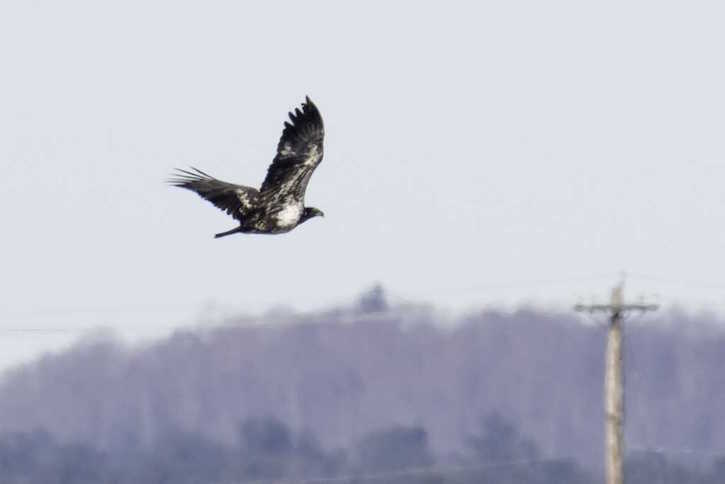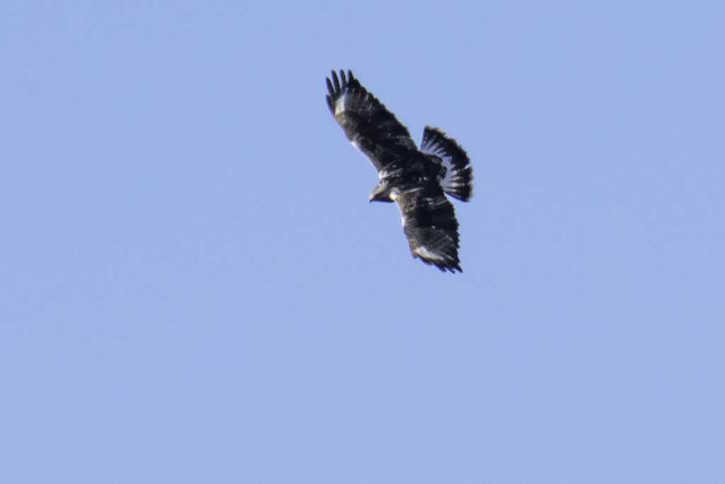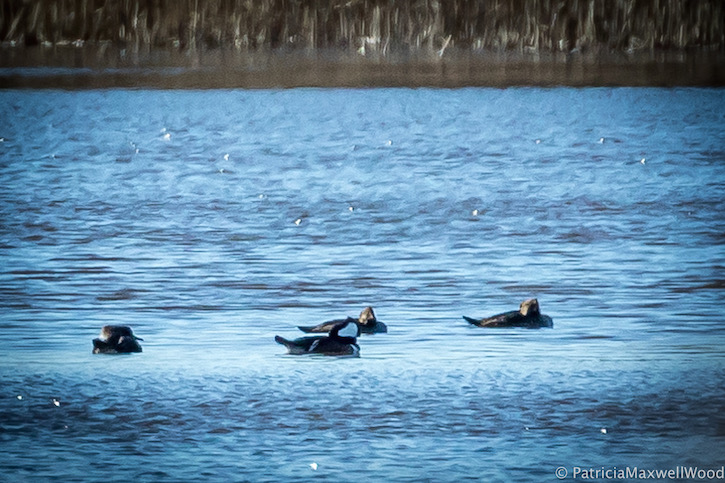 At parking lot #7, the birds we expect at Emerson Rocks were on display. There were Common Eiders and a few Black Scoters and White-winged Scoters, though not in the numbers we saw a week ago. Two pairs of Horned Grebes, only one Common Loon, some Long-tailed Ducks, and a strange Northern Gannet had us searching all the divers for some time. The gannet was a motley young bird sitting on the water and paddling around, but never taking flight. We worried for its health. We also wondered where all the loons are feeding. Early in the season there had been lots of Red-throated Loons, and many Common Loons, but there must be a special on herring in some other patch of water. One little flock of shorebirds flew from the rocks to the beach and back, a Sanderling and three Dunlins.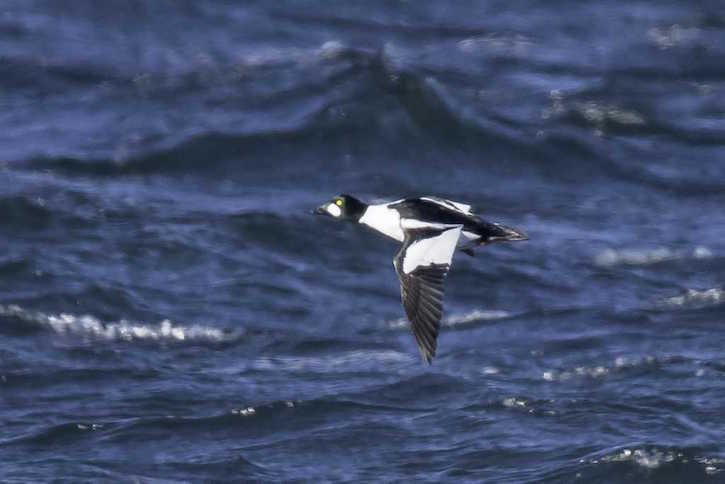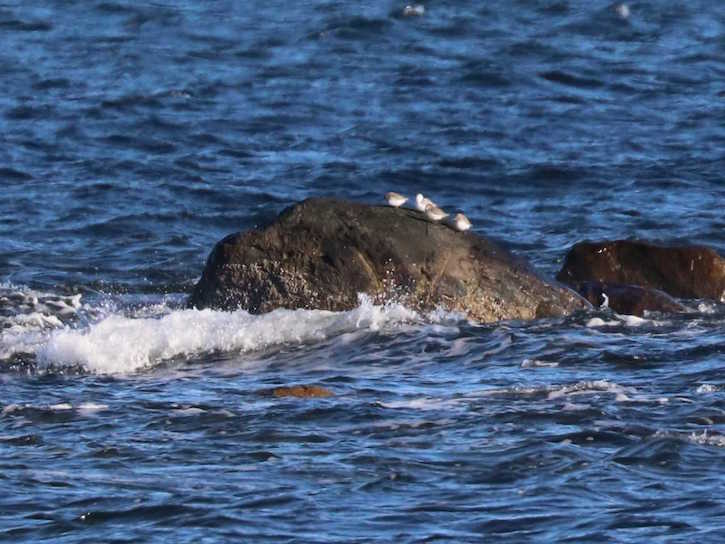 As always, the pools, dikes, and marsh at Hellcat are variable at this time of year. I took my family out there this week to find a Short-eared Owl at dusk. Sure enough, one was perched on the dike near Bill Forward Pool, and took off over the dike as we arrived. You should try this! In my case, my young adult daughter couldn't help make a snide remark about the lack of splendor of our fleeting view. On Wednesday, we hoped for ground birds, but only experienced the chilling wind passing over dead grasses. Our one American Robin of the day departed the trees on the edge of the marsh. We laughed at our discomfort and continued on, buoyed in my case by the knowledge that there have to be moments of nothing to have others of rarities and bounty. Imagining that metaphysical reality can help get one through the dearth.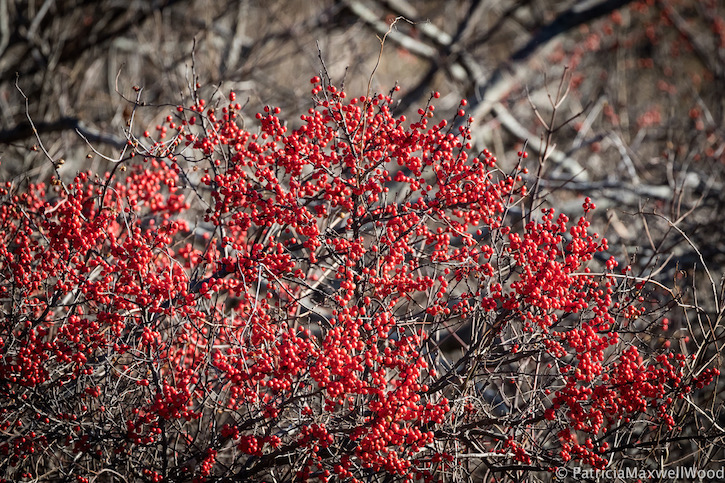 On our way to the north end of the Island, we found another Rough-legged Hawk over the marsh, an adult Bald Eagle out on the Osprey platform across from the boat ramp, and a snazzy Red-tailed Hawk in the neighborhoods. There certainly were birds in the windy last stretch of the Merrimack River, mostly the same varieties we had found at Emerson Rocks, with the addition of Red-breasted Mergansers.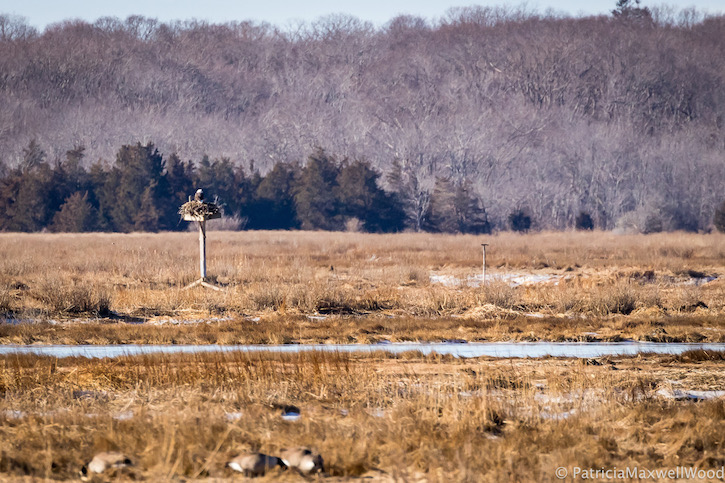 Thus ended a year of Wednesday Morning Birding, with 203 species for this program in 2018. It is amazing how many stunningly beautiful displays of avian life enriched us this year, as they do every year. The lovely mix of birders – loyal regulars, travelers from distant places, people who come when they can over the years, experienced experts, and complete beginners – they bring a spirit to Joppa Flats programs, a spirit of fun, of deep caring for each other and for the birds of our beautiful earth. It is a great joy to be with you and with the birds. Happy New year to you all!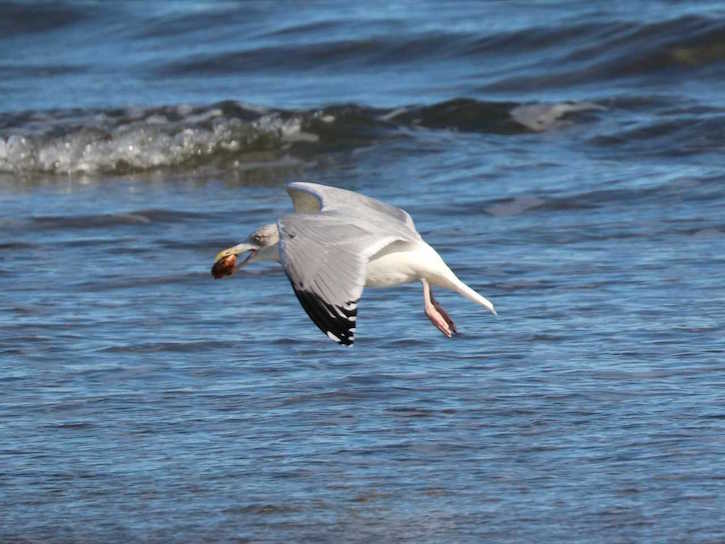 Our list:
Canada Goose – common.
Mute Swan (2) – adults loafing on ice of Main Panne.
American Black Duck – common (many in air at once due to passing immature Bald Eagle).
Mallard (~ 25) – various.
Common Eider – common; parking lot #7 (seven) ocean & north end.
White-winged Scoter (3) – seven ocean.
Black Scoter (6) – 2, seven ocean; 4, north end.
Long-tailed Duck (6) – 5, seven ocean; 1, north end.
Bufflehead (5) – Stage Island Pool.
Common Goldeneye (9) – 5, Plum Island River; 4, seven ocean.
Hooded Merganser (7) – Stage Island Pool.
Red-breasted Merganser (2) – north end.
Common Loon (1) – seven ocean.
Horned Grebe (4) – seven ocean.
Northern Gannet (1) – seven ocean.
Bald Eagle (2) – 1 immature, flying north over marsh west of pannes; 1 adult, perched on nesting platform west of the boat ramp.
Northern Harrier (3)
Red-tailed Hawk (2) – 1, perched in cedar between parking lot #s 1 & 2, west of refuge road; 1, overhead north end.
Rough-legged Hawk (2) – 1, perched in, then flying out of, tree west end Cross Farm Hill; 1, flying south over marsh west of pannes — both light morphs.
Sanderling (1) – Emerson Rocks.
Dunlin (3) – Emerson Rocks.
Herring Gull
Great Black-backed Gull (1) – north end.
Rock Pigeon – several flocks, north of refuge gate.
Blue Jay (2)
American Robin (1) – Hellcat parking lot.
Northern Mockingbird (1) – between new blind & Hellcat parking lot.